A lot of regions in the United States have a BBQ style that's unique to them. However, none has crossed several borders and become a household name across the world quite like Texas BBQ.
Connoisseurs of good BBQ and lovers of sausage, pork ribs, and brisket can attest to the awesome culinary genius that is Texas BBQ. But what is Texas BBQ and why is it so popular?
Let's find out.
What Is Texas Barbecue?
Texas BBQ is uniquely well seasoned and smoked meat associated with Texas.
There's no specific dated period for the origin of this delicacy we've all come to love. However, research estimates its creation to be around the 19th century. Texas BBQ is said to be heavily influenced by the meat smoking techniques of the German and Czech immigrants.
Texas BBQ is not only different from other BBQs worldwide but it's also different within Texas, itself. The East, Central, South, and West Texas sides all have different and unique styles of making barbecue. Of these methods, Central and East Texas BBQs are the most popular.
East Texas BBQ
East Texas BBQ uses slow and indirect heat for smoking. It's also famously known for its "falling off the bone" tender texture. It's generally served with hot sauce or your preferred barbecue sauce and pickles.
Central Texas BBQ
Central Texas BBQ is also known as the origin of barbecue. This BBQ is seasoned with the dry rub method, smoked for multiple hours over low heat using pekan, oat, or mesquite wood. It's mostly served with white bread, okra, or southern macaroni and cheese as a side dish.
South Texas BBQ
South Texas BBQ is also known as barbacoa, and includes a large part of western cuisine. You can also use other cow parts besides the meat, such as the cow head or tongue.
West Texas BBQ
West Texas BBQ is unlike the other known types because it's cooked over direct heat. This makes it similar to a grilling method rather than smoking. Mesquite wood is the most associated with this process. You can also add sausages and pork cuts as extras.
Now let's talk about Texas BBQ and all you need to know.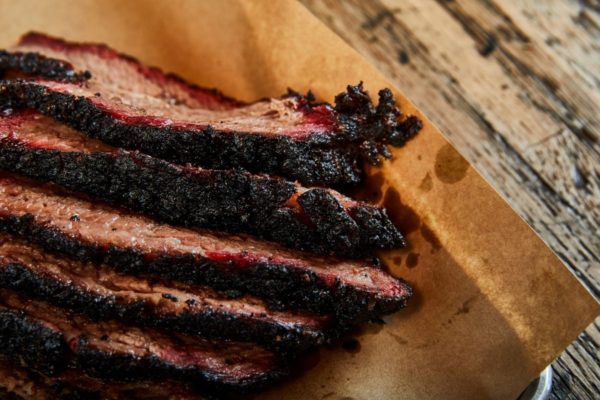 What Type of Meat Do You Need?
Texas BBQ is a sweet trinity of 3 different meat types: beef briskets, pork ribs or barbecued beef, and sausages.
Brisket is a specific cut of cow meat. This beef cut comes from the lower breast muscles of a cow. This part is filled with connective tissue which makes the meat tough and suitable for very slow cooking. The thicker, and arguably fatter, part of the brisket is called the deckle. You have to make sure your brisket contains this cut as it's incredibly juicy.
It's also highly fat-filled which means your meat doesn't dry out during the smoking process.
When it comes to choosing the pork for your Texas-style barbecue, pork shoulder is your best bet. This variation of pork isn't only quite chewy, but it's also extremely tender. Just like the brisket, you also need a specific part of the pork shoulder to get the perfect outcome. This part is just below the pork butt and is rather muscular and tough.
The picnic shoulder is another suitable replacement should you run out of pork butt. This is however tougher and may require more cooking time.
Sausages are finely ground meat products usually from poultry or meat. There are several mouthwatering types of sausages that differ in flavor and are suitable for your barbecue.
What is Texas BBQ? Seasoning Your Texas BBQ
Simplicity is the best way to get the best flavor and taste out of your barbecue. Although famous for its amazing flavor and soft tender melting tastes there's no secret recipe for seasoning your BBQ.
According to original recipes, all you need to season your BBQ are salt, a bit of garlic or cayenne pepper, and black pepper.,However, change is constant and like everything else, you can season your BBQ with more than just salt and pepper without ruining the flavor or taste.
Modern BBQ dry rubs include salt, black pepper, garlic powder, onion powder, paprika, brown sugar, white pepper, parsley, oregano, ground coriander, ground mustard, and olive oil.
The most important part is to get your measurements right. Especially when it comes to seasonings like pepper, you'll want to be sure not to go above the recommended measurement.
Choosing The Perfect Smoker
Choosing the best smoker is as important as every other decision when it comes to making perfect Texas BBQ. After all, you don't want to overcook or undercook your meat.
There are different types of smokers and for different needs, too. Some of these include the electric smoker, pellet grill, charcoal smokers, and offset smokers.
Offset smokers are the best when it comes to smoking meat and frequent barbecuing. They're generally inexpensive (unless you opt for a large smoker) and can last through many years of use.
Early barbecue inventors used different woods such as hickory, pecan, or mesquite for direct or indirect heat. Some styles even include burying your meat in covered holes overnight. There's no time for digging when it comes to meaty cravings in the 20th century and this is why you need to get your grill choice right.
Qualities to look out for when picking out your grill include:
Steel Type: Heavy gauge steels will serve you better as they not only retain heat better, but they're pretty sturdy, too.
Size: This depends on your barbecue needs and the number of people you intend to feed.
Heat Distribution: This is also quite important as it determines the cooking level of your meat. You don't want to serve half-cooked meat.
Offset smokers combine a small firebox to burn charcoal or wood and a big enough cooking chamber for food to make your smoking easier.
The firebox utilizes indirect heat to cook. The heat and smoke also flavor the meat. They come equipped with controls for the heat and smoke level and you can also open and close the smoker as required.
How to Make Texas BBQ
We've talked about getting your beef cut, pork type, and accompanying sausage right. You know what ingredients to use to achieve optimal flavor and taste. Now let's talk about how to make your own premium Texas BBQ.
Seasoning
The first step is getting the right meat cut. Once you have your brisket, pork rib, and sausage ready, you can then season your meat.
For some people who just can't get the dry rub to stick on the meat, you can dab the meat with some olive oil (or a cooking oil of your choice) and then coat the meat with your seasoning.
Temperature
The next step is getting your temperature just right. Set your smoker according to the instructions, paying extra care to the heat level. Brisket is a tough meat and requires extra care.
Slow and steady is the way to go until you've perfected the art of making the best Texas BBQ. 225°F is the go-to temperature for beginners, but keep in mind that this is a very slow cooking method and will take some time to accomplish.
Make sure to toss your wood chips on the coal just before you start smoking. This allows for a strong smoky smell and flavor.
Cooking
Place your washed meat on the smoker with a water pan. Make sure to place your brisket just above the water. Pay attention to be sure the water doesn't dry out.
Check every 30 minutes and turn your meat over as soon as you notice a change in color on the entire meat cut.
Mopping
"Wet meat holds more smoke" is a trendy saying in the meat world. For an extra smoky flavor and smokier brisket, it's important to occasionally spritz your meat with water or broth.
This method cools the meat and slows down cooking as it replaces evaporating moisture.
Texas Crutch
The crutch technique is an important step in Texas BBQ. This method is said to have originated from Texas. It involves firstly smoking the meat for a couple of hours, then wrapping it in foil for a few hours before smoking again.
The heat generated from this wrapping allows the external liquid to mix with the juice expelled from meat thereby creating a braising process. This wrapping method allows you to wrap the meat in foil with a little broth, juice, wine, water, or in some cases honey.
The idea behind this is that it not only makes the meat tender and juicier, but it also reduces cooking time.
It's important to place both sides of your brisket on high heat for a minimum of 10 minutes. This action thickens the soft bark from wrapping. The only downside to this method is you get less bark, less smoke, and less flavor.
Ready
How can you tell when your brisket has had enough heat and is ready to eat? The only way to do this is by the feel. The brisket is a tough type of meat and requires time and patience to cook just right. No two briskets are the same.
The most common way to tell is by sticking a fork in and twisting, if it twists easily then your brisket is ready. Some people, however, swear by the use of a digital thermometer. If the brisket is tender and the internal temperature is 160 to 165 degrees, it should be ready!
Holding/Insulating
Once your brisket is ready, it's time to then take it off heat and wrap it in foil or in a cooler until you're ready to slice and serve.
This process allows further tenderizing of the meat. It can also further melt those tough connecting tissues.
Does Texas BBQ Need Sauce?
The original Texas BBQ recipe doesn't require sauce. Why mess with a good brisket? However some people (and restaurants) don't serve without a side sauce.
A good option is a thin, not-so-sweet barbeque sauce. You can also make your own Texas barbecue sauce at home. To make this, you need pureed tomato mixed with spices, onion, garlic and celery. You can also add your beef broth for extra flavor and taste.
What is Texas BBQ? FAQs
Q: What Can I Serve My Texas BBQ With?
A: You can't have a modern-day Texas barbecue without delicious Southern sides. Some of these include white bread, potato salad, mashed potatoes, baked beans, fried okra, creamed corn, and sometimes a cold beer.
These dishes complement the juicy and tender taste of the brisket as well as its smoky flavors.
Q: What Brisket Size Should I Buy?
A: This totally depends on you. You can go for a whole pack if it suits you or for smaller pieces. It is, however, important to note that smaller pieces tend to be tougher and a bit dry. They also take less time to cook, so adjust your cooking time and attention accordingly.
Q: How Do I Choose The Right Brisket?
A: We recommend that you choose a USDA choice meat or higher.
Q: Can I Inject My Brisket?
A: It's completely okay to inject your brisket with beef brine or broth. This helps to keep dehydration at bay. It can also enhance the flavor.
Q: When Do I Start Cooking My Brisket?
A: The rule of thumb is about 1 hour per pound. When it comes to Texas BBQ, you should always start sooner than you think. Mornings are the best time to start smoking for an evening meal.
Q: How Do I Keep My Brisket Warm?
A: You can keep your brisket in the oven once it's ready. You can also wrap it in tin foil and place it in a beer cooler.
Q: How Do I Slice?
A: Briskets always contain 2 sides, the flat and the point. You'll always want to slice from one end to the other. You can separate them into 2 pieces using the fat layer in the middle or serve as preferred.
Conclusion
Despite the popularity of barbecue all over the world, Texas BBQ remains the king of all barbecues.
Hopefully, we've been able to answer your "what is Texas BBQ?" question and you now understand all you need to know about the history of this highly revered smoked meat. You should not only be able to choose the perfect meat to smoke but to do it yourself right at home!
Check out our other articles on barbecues for all you need to know.
Last Updated on November 7, 2021 by Judith Fertig