It's a fact: When you say "BBQ," most people think of BBQ sauce. Not rub or smoke or that oh-so-delicious bark. Even respectable restaurants and foodies fall prey to the notion that almost anything can be made BBQ by simply adding BBQ sauce. Need proof? Look no further than the glut of recipes for "BBQ Pulled Pork" that are made in crock pots. Or BBQ ribs baked in the oven. The only thing remotely BBQ about either is the addition of sauce before serving.
Still, even if the public at large is mistaken in its belief that sauce is what defines BBQ, they're not wrong for loving it. Or, to put it another, if slightly less original way: If loving BBQ sauce is wrong, we don't want to be right. Because, really, whether you use it for marinating or glazing, dipping or dressing, coating or covering, it makes almost any food better.
One of the best things about BBQ sauce is that it isn't just one thing. There are as many styles as there are regions of the country—from the vinegar-based sauces of North Carolina to the spicy mustard-based style enjoyed in South Carolina and the sweet and tangy tomato-based Kansas City sauces most people are familiar with. And, the more open you are to trying them, the more uses you'll find for BBQ sauce.
While some people take the loyalist's approach to BBQ sauce, partaking in only the style native to their region, we prefer to sample them all, using whichever one satisfies our current craving. Here are 10 great BBQ sauces we love and you should try.
Stubb's sauce is an American classic, it's a tangy, sour sauce mixed with just the right amount of spices. It's an American made, gluten-free, non-GMO food product that tastes amazing on an assortment of grilled meats. It's made with all-natural ingredients, doing away with corn syrup and using real cane sugar instead. The sauce is a thinner sauce, which makes it great for glazing chicken or ribs.
It's your classic Texas style sauce and you can see the pieces of garlic and pepper in it. Call me crazy, but I love putting this stuff on my mashed potatoes. Its tangy, tart taste will leave your mouth watering for more. If you like spicy sauces, this is a really good base sauce that you can add an assortment of peppers and spices too.
Crazy Mooskies is a Canadian made, all-natural barbecue sauce. Sweetened with stevia extract, it's a great sauce for those who are trying to live a healthier life. At only 5 calories per 2 tbsp, you can add a bunch of flavor to your food without having to worry about all the sugars from the sauce. This sauce won't burn as quickly since it has no real sugar in it, so you can apply this sauce a bit earlier than you normally would.
Sticky and sweet with a unique blend of spices, Blues Hog Original is a favorite on the competitive BBQ circuit and easily our best seller. There's truly nothing like it. For years, people mixed the Original with Tennessee Red, a zesty vinegar and pepper based sauce. It became so popular that Blues Hog created its own version, Champions Blend. If all that has you confused as to which Blues Hog sauce to get, try the Blues Hog Gift Set, which includes a pint each of Original, Tennessee Red, Smokey Mountain, and Honey Mustard, as well as a small bottle of Dry Rub.
Because we're nice, when our newest hire started, we handed him a sample of the new Head Country Chipotle sauce. He wouldn't shut up about Head Country, which isn't surprising, since everything we carry is better than anything you'll find at a grocery store. What was unusual is that two months later, he still wouldn't shut up about this sauce. Turns out, the new guy was onto something. Perfectly balanced with just the right amount of heat, and a great price tag to boot, it's become the go-to sauce for most of the office. You might think the lesson here is to listen to the new guy. It's not. The lesson is: Don't give the new guy the good stuff; keep it for yourself.
To call this a Carolina mustard sauce would be misleading, since it doesn't have the same vinegar backbone. It doesn't really matter, though, because it's delicious. Bone Suckin' makes their mustard sauce in two flavors. The original Bone Suckin' Mustard uses brown sugar and molasses to add sweetness and balance the mustard. It works great on everything from sandwiches and burgers to sausage and chicken, and also makes one heck of a dipping sauce. The Sweet Spicy Mustard uses real jalapenos to add a healthy dose of heat that'll give you the sniffles.
Until recently, you probably would have balked at the mere mention of a white BBQ sauce. Unless, of course, you hail from northern Alabama, where it's the BBQ sauce. In the past few years, however, Alabama white BBQ sauce has been all the rage, receiving plenty of press and lots of love. This tangy mayonnaise and vinegar-based sauce goes great on chicken, but can be used on just about any meat. And if you're going to try Alabama White Sauce, it might as well be from Big Bob Gibson, who is credited with creating it.
Brothers Malcom and Waylon Reed may not share all the secrets to their success, but they're willing to share their killer sauce. Named for their championship BBQ team, this is one of those reach-for sauces. A fantastic blend of tangy and sweet with a little bit of heat, once you try it, you'll always want some on hand.
When it comes to BBQ sauce, taste isn't everything. Okay, fine, it is the main thing, but there are times when appearance also matters—like when you're presenting food to judges at competition. Slabs Amazing Glaze doesn't just taste fantastic, it looks incredible. A finishing sauce, it has a nice blend of savory and sweet flavors and leaves a nice sheen, so your food looks as good as it tastes. Try it on ribs at your next comp and you'll see what we mean.
Champion pitmaster Chris Marks created Three Little Pigs BBQ sauces and rubs to reproduce the flavors his family's BBQ team had been using for years and to bottle some of the mojo that won him 8 American Royal Grand Championships and the Jack Daniels BBQ Sauce Championship. This tomato-based Kansas City style sauce has a great blend of sweet and spicey with a hint of smoke and is one of our most consistent go-to BBQ sauces.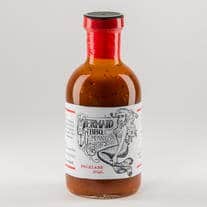 Mermaid BBQ Company makes hand-crafted small-batch BBQ sauces that people who are in-the-know just can't get enough of—no sooner do we get a shipment than Mermaid's loyal customers begin ordering more and cleaning us out to ensure they're properly stocked up. Of Mermaid's sauces, our favorite is Backlash Sauce, which starts off with a balanced dose of sweet and spicy before finishing with a generous kick of heat. If you like all things spicy, go ahead and give this one a shot.
Pair one of these great sauces with a rub. Read The 10 Best BBQ Rubs to learn more
Last Updated on August 17, 2020 by Judith Fertig