If you want to make smoking as easy as possible you need to seriously consider buying a propane smoker.
They are one of the most affordable types of smoker, produce great tasting results, can fit a lot of food at once and don't use up a lot of space on your deck.
We've selected the best propane smokers out of dozens of options to help you make the right decision.
Make sure you read until the end where we go through tips for getting the most of out your new gas smoker.
The Best Propane Smokers Reviewed
The latest propane smoker from Masterbuilt has been redesigned and comes with a bunch of new features.
The most exciting new feature is the thermostatic temperature control which regulates the flow of gas to the burner and gives you a much more accurate temperature for smoking meat.
The MPS 340/G ThermoTemp XL gives you four racks for a total of 792 square inches of cooking capacity.
There's also the smaller 330G model which will save you a little bit of money. We would recommend getting the larger XL model, especially if you plan on smoking full packer briskets or racks of ribs.
You can cook anywhere between 180 to 350°F which is perfect for low and slow. You can also get hot enough for crisp skin when cooking chicken.
What we like:
Thermosatic control for more accurate temperatures – Unlike a lot of propane smokers that use cheap thermometers, the MPS ThermoTemp uses a thermostat mounted at the back of the smoker to talk to the burner system which allows for more accurate and stable temperatures.
LP gas tank connector and fuel gauge – The gas tank attaches to a bracket on the smoker on the side, which makes it easy to move the smoker around. The fuel gauge lets you make sure you won't run out of propane during a cook.
Two door access – If you need to access the chip tray you can open the lower door without distributing your cooking food. The chip tray is cleverly connected to the door, which makes it very easy to refill.
What we don't like
Short warranty period – One year warranty that does not cover paint or rust is on the short side, especially considering other affordable brands like Pit Boss are now offering 5 years.
There's a window on the door so you don't have to open the cooking chamber to look at your food.
There are two locking caster wheels (and two regular wheels on the other side) so it's easy to move the smoker around your deck.
The Masterbuilt MPS 340/G has everything you need in a propane smoker, but the one feature that really sets it apart is the thermostatic control.
Get the latest price on Amazon.
---
If the Masterbuilt MPS 340/G is outside of your price range, the Dyna-Glo 36″ offers a decent set of features at a much lower price point.
You still get 4 adjustable steel wire racks for a total of 784 square inches of cooking space.
There's the double door system which we always recommend so you can access the wood chips without opening your cooking chamber.
The temperature controller is similar to the Masterbuilt smoker, with a 15,000 BTU burner, electronic ignition button, and control dial at the bottom of the smoker.
What we like:
Large smoker box – What you don't realize if you only compare the number of square inches of cooking space, is how important the width of the smoker is. In this case, it's wide enough to fit large pieces of meat.
Water dish & chip tray easy to access – Thanks to the two door design it's easy to top up your water or wood chips during a smoke.
What we don't like:
Can struggle in cold weather – In cold and windy weather the Dyna-Glo can struggle to hit low and slow smoking temp, although this can be fixed by placing hi-temp gasket material around the door.
Inaccurate built-in thermometer – This is the case with so many smokers, you are better off investing in a quality dual probe unit.
This propane smoker isn't built with the highest quality materials, and you will get some smoke leaking out the door. That said, it's great value for money and will get the job done.
This is a great first smoker to learn on.
Get the latest price on Amazon.
---
Cuisinart is well known for producing kitchen appliances, so you might be surprised to learn they sell a very popular gas smoker.
The COS-244 Vertical Propane Smoker has a lot to like at an affordable price, with four 14 x 14 in removable stainless steel grill racks for a total cooking area of 784 square inches.
The design is similar to the other vertical cabinet style smokers we've looked at. You get two doors so you can easily add water and wood chips during a cook.
Unlike the first two smokers we've looked at, the Cuisinart comes up with a 3 year warranty.
What we like:
Quality materials and straight forward assembly – All parts are sturdy and instructions are easy to follow and setup should
Tight seal on the door – While it's normal to see a small amount of smoke leakage, the twist-lock door is very solidly built
What we don't like:
Water and trip tray design – The size and placement of the water bowl and chip tray can block oxygen and heat from rising and cause chips to not light. You can leave the water reservoir empty and then fill it once the chips are lit.
Get the latest price on Amazon.
---
There aren't a lot of options when it comes to portable propane smokers. Which is surprising considering propane is perfect for a tailgate or campsite cook.
You will struggle to fit really large items into the MPS 20B Patio-2 (who came up with this name!), although Masterbuilt claim you can fit up to 4 chickens or two racks of ribs.
The racks are on the narrow side, so a full rack of ribs would need to be cut down to size to fit.
You will need your own 1Lb gas cylinder. You can also buy an adapter hose to run a 20Lb cylinder.
What we like:
Compact size with foldable legs – This smoker only weighs 22 pounds and measures 16 x 24 x 23 inches. The legs fold for convenient transport.
Holds temperature well – For a smoker of this size it seems to hold temperature well.
What we don't like:
Tiny water pan and chip tray – The included pan and chip tray are so small you are much better off placing a disposable aluminum pan at the bottom for water, and buying a 12″ pellet tube to put next to the burner to produce smoke.
If you don't mind using a few hacks like adding a pellet tube and your own water tray, this is a great little smoker to take camping.
Get the latest price on Amazon.
---
This dual burner from Smoke Hollow packs 7 cubic feet of cooking capacity into a 44 inch vertical propane smoker.
With 5 removable racks, you can smoke a huge quantity of food at once.
You get two standard grids, two jerky style grids, and one combination grid/rib rack.
This unit does drink a fair amount of propane though, so if you are only going to be smoking the occasional pork butt and don't need to feed a large group you should probably consider another option.
You can also just use a single burner if you want to get really low temperatures of around 125°F.
In terms of construction, this is a heavy, sturdy unit. The door is on the thin side, but that's standard for all vertical smokers like this.
The two burners (11,000 BTU each) allow you to get to your target temperature quickly
This unit comes without a window if you prefer.
What we like:
Dual chip trays – While the smoker only has 1 door, the two wood chip trays can be opened without opening the main chamber to prevent temperature loss
Solid construction – This smoker is huge! The cabinet is made from welded steel and the grates are chrome plated.
What we don't like:
Leaky door – Like of other smokers we've looked at, this unit can leak quite a lot. This is easily fixed with a high heat gasket kit.
This is a great value for money smoker if you need to cook for large groups.
Get the latest price on Amazon.
---
Other propane smokers worth considering
We reviewed dozens of different gas smokers that didn't make our top 5. Here are some of the standouts:
"Are you smoking meat or robbing a bank?"
This is the first thought that came to mind when we first laid our eyes on this the Camp Chef Smoke Vault.
With its eye-catching design and low price point, we had to know more.
Camp Chef has been around for over 20 years and produces a massive range of outdoor cooking equipment including grills, pizza ovens, and smokers.
The Smoke Vault range of gas smokers comes in a smaller 18″ model, but we've never regretted having extra space and the price difference isn't even that much.
In a world of cheap, poorly insulated gas smokers, the Smoke Vault stands out with its solid construction. Although the door is a bit thin, everything else about this smoker feels sturdy.
Since this smoker doesn't require constant babysitting, you won't have to sit by it all day drinking beer (if you do want to sit outside all day drinking beer, then go right ahead and pick up an offset smoker)
The smoke vault has some other key benefits including:
Straight forward setup – Could be done by one person (although putting the legs on is easier if you can convince a friend/wife to lend a hand)
Very low propane use – We've seen people get hours of smoking on nearly empty tanks.
If we had to single out any other issues with the Smoke Vault it would that the racks feel cheaply made and the metal is on the thin side so smoking in extreme weather should be done with caution.
Other than those minor complaints, this is a fantastic value smoker around the $200 price range.
Get the latest price from BBQGuys.com (Free Shipping).
If you're just thinking about getting into smoking, some of the price tags on the most recommended smokers might put you off.
With any smoker at this price point you have to weigh up the pros and cons.
The Char-Broil propane smoker packs a lot of space into a small 2'x2'x4′ footprint.
With 595 square inches of cooking surface there's plenty of room for racks of ribs, just watch how wide your cuts of meat go and think about grabbing some rib racksto expand your capacity even more.
It's a heavy unit and overall construction is good for the price, although it won't compete with some other smokers in this guide.
The thermometer is somehow even worse than normal for built-in thermometers, so definitely make sure you get a proper thermometer setup.
We aren't fans of the water tray design with space for wood in the middle (hello wet soggy mess!).
Luckily you can fix this with some simple modifications or just add your own small pan at the bottom.
The good news is that this smoker often goes on special so you should be able to get a bargain.
Get the latest price on Amazon.
---
Unless you are going to take advantage of the insane 2,000 square inches of cooking space, we would recommend the newer Masterbuilt MPS 340/G ThermoTemp XL Propane Smoker.
Otherwise, this smoker is super easy to use, can handle all kinds of meat and is pretty straight forward to setup.
The amount of cooking real estate is fantastic if you cook for a large group often. The smoker is wide enough so you can fit 2 slabs of ribs on each of the four racks without having to hack them up.
The wood chip tray that Masterbuilt includes is flimsy and small. One easy solution to this is to just swap it out for a cast-iron skillet.
The water pan is also on the small side. Luckily there are also some easy and cheap mods you can do to solve this. Most people just swap it out for an aluminum pan.
Get the latest price from Amazon.
---
Landmann Smoky Mountain Vertical Gas Smoker
Don't get this confused with the Weber Smokey Mountain charcoalsmoker!
The Landmann offers 1576 square inches of cooking space, solid construction and 10 year warranty.
Other than some issues with the door magnet (you don't want the smoker door popping open during the cook), and ultra-sensitive temperature control, this is a good choice in the larger gas smoker category.
Get the latest price on Amazon.
---
Who gas smokers are best suited for
You should seriously think about getting a gas smoker if you want to start smoking but are put off by the thought of 16 hours slaving over charcoal. Becoming a home pitmaster doesn't require a huge amount of time or skill, thanks to the convenience of gas smokers.
Gas smokers are most similar to electric, with a few differences we'll cover below.
If you want the set it and forget it option for a low price then gas is a good option. While you can get pretty hands off with some charcoal smokers with the right knowledge and skill, it usually requires a much more expensive smoker (like a kamado style ceramic grill) to get the same level of temperature control and stability than you get with some affordable gas smokers.
If you've already done some smoking but are fed up with managing a fire then a gas smoker makes a great 2nd smoker to add to your collection for those extra long smoking sessions.
Unlike electric smokers, many pro pitmasters are big fans of gas:
Steven Raichlen, A guide to vertical gas smokers

A long night spent tending the fires might make you question your decision (not to mention your sanity) to go old-school—it sure seemed a good idea when you bought that wood- or charcoal-burning offset barrel smoker. Hey, what's so wrong with the "set it and forget it" philosophy, you wonder as you grope to silence your 2 a.m. alarm?

If you desire a less demanding mistress (or a good night's sleep) and have a couple hundred dollars to spend, consider a propane-fueled vertical smoker.

These convenient, easy-to-use smokers deliver a lot of bang for the buck whether you're new to smoking or have many long smoke sessions under your belt.
 How gas smokers work
Like their very similar cousin the electric smoker, gas smokers use a very simple design. You will almost always see a gas burner at the bottom connected to a propane tank.
The most popular style of gas smokers are cabinet style. Racks for holding your food are stacked vertically above the water pan, wood pan and gas burner. This explains why you might also hear these described as "vertical smokers".
Meathead goes into more detail about how a typical gas smoker is setup, and why you should always look for a smoker with two doors.
Meathead Goldwyn, Gas Smokers: Buying Guide

There is a burner at the bottom, usually brass or cast aluminum, very durable, with numerous jets. Above the burner is a shelf for a pan for the wood, and above that is a shelf for a water pan.

Above that are four or more shelves for food. The bottom vents cannot be adjusted to make sure the gas gets enough oxygen.

At the top there is either a chimney or a damper or two. You should always leave the top vent open all the way to prevent soot buildup on your meat.

My favorites have two doors. A small one at the bottom so you can check the flame and add wood and water. The main door provides access to the cooking chamber.
The pros and cons of buying a gas smoker
As we've mentioned a lot of the pros and cons of buying a gas smoker are the same as you would see with an electric smoker.
Set it and forget it smoking – There's no doubt that like electric, gas smokers are much less work to maintain than a charcoal or wood smoker
Easy temperature control – Related to the ease of use, most gas smokers have a push button to ignite and simple temperature controls
There are also a few advantages unique to cooking with a gas smoker.
More portable  – Unless you have an electric generator, you're not going to bring your electric smoker camping with you. Because gas smokers use propane tanks they are much easier to take with you camping or tailgaiting
Better smoke flavour  – While a gas smoker still won't rival the cooking with charcoal or wood, general consensus is that gas smokers produce better flavor than electric
More reliable – There's less that can go wrong than with an electric smoker. And because you don't rely on electricity they are more reliable and make a good back up in case you loose power to your house.
Gas smokers aren't without their issues though. Some potential problems include:
Sometimes you'll have to switch out the propane tank during a long cook – You can minimise this by always starting with a full tank and making sure your have a few spares on hand. This isn't really any different to having to top up the charcoal though, but it does give the edge to electric smokers for convenience.
Some models run on the narrow side – Makes it difficult to fit in larger cuts of meat like a whole turkey or large brisket. In our reviews for the best gas smokers above we've commented on width for each smoker.
While this last point isn't unique to gas smokers, there does seem to be a large number of cheaply made smokers that leak heat and smoke. Poor insulation makes it especially hard to maintain and long and stable cook. This can make it hard to produce quality barbecue.
Getting the most smoke out of your gas smoker
When you buy gas you're getting ease of use, for a great price, at the expense of quality. Most issues people have with gas relate to cheap construction. When you look at the price tag compared to some other smokers, that is understandable.
If you want a high quality set it and forget it smoker that's super easy to use, then we recommend saving a little more cash and investing in a pellet smoker.
But before you think we're gas smoker haters, let's make one thing clear:
You absolutely don't have to spend an arm and a leg to produce great barbecue
In fact many home barbecuers are able to produce fantastic results by making some simple modifications to their gas smokers.
1. Replace the shoddy stock wood pan that came with your new smoker
Unfortunately manufacturers seem to insist on providing poorly made wood boxes / pans with their smokers. So when you fire up your new gas smoker you struggle to generate enough smoke.
Luckily there are a few simple and cheap enhancements you can make.
First off the cheap chip box that came with your smoker needs to go. Instead of that you can pickup an 8-12″ cast iron skillet (the biggest that will fit in your smoker).
Watch this video to see how a skillet can replace the crappy box that comes with your smoker.
The best setup will depend on your individual smoker, and may require a bit of experimenting. You can try to place the skillet (with wood) on the tray, or if you are still not getting enough smoke then try placing it directly on the burner
These simple upgrades can make a world of difference.
We also find that big chunks of wood work best. So ditch the chips and grab a bag of wood chunks like these apple wood chunks from Weber.  Add enough to cover the bottom of the cast iron pan without stacking them.
Then you'll need to add 1 or two new chunks every 4 hours or so. While you can use chips, you'll find yourself having to refill much more often, which defies the whole point of going for a gas smoker.
2. Get more smoke with a pellet box
If you can't get your hands on a cast iron skillet, then you can also pick up something called a Amazen Pellet smoker. These work perfectly with electric and gas smokers when you need to keep generating smoke and don't want to be feeding new wood chips in every half hour.
Think smoking pork butts for 13 hours or beef brisket for 16 hours. Not fun at all on a gas smoker without any modifications.
A fully loaded tray should burn for around five hours creating a continuous perfect amount of smoke. While it won't last for an entire smoke, by 5 hours the meat should have absorbed an optimal amount of smoke anyway.
If you really want to keep churning out the smoke you can easily refill it as well.
3. Add charcoal to a gas smoker for better flavor and smoke production
We've seen people have success by adding a second fire box, and placing two pieces of charcoal in their gas smoker. This helps give you the best of both worlds with a little bit of charcoal flavor with the ease of gas smoking.
Just follow these simple steps next time you're smoking and see if it improves the flavour:
Wrap some wood chunks in foil
Make a small charcoal pile above the heat dispersers
Place the wood parcels over the hot charcoal and you should start to see smoke after a few minutes
Other ways to improve gas smoker performance
The above methods can all help you produce better product and none of them will cost you much money or require you to learn how to solder.
The main other ways people get more out of their gas smokers include:
As many gas smokers run hot, it's best to set them to the lower end of the temperature range (think 225°F – 250°F
To ensure the temperature holds steady make sure you invest in a proper smoker thermometer setup (and ignore the in built thermometer that's telling you lies)
One handy suggestion we learned from amazingribs.com was to add two or more rib racks to increase the amount of meat you can fit, as many gas smokers run small.
Can I connect my gas smoker to natural gas?
Most gas smokers run by burning propane gas and cannot be connected to natural gas. If you are really keen to try this, make sure you talk to a proper gas plumber and get them to hook it up for you. You can also try searching for your smoker + gas conversion to see if it will be possible.
Some smokers like the Camp Chef have a natural gas conversion kit that you can buy off Amazon.
Wrapping it up
That wraps up our guide to gas smokers. Hopefully you've narrowed down your options and are ready to decide on the best gas smoker for your situation. Think carefully about how many people you plan on smoking for, and if you want to stick on the budget side, or spend a little extra cash for better build quality and temperature control.
Let us know if you have any questions in the comments below, or if you think we've missed a smoker that should be on this list.
---
Propane vs Electric Smoker – Which Type of Smoker is Better?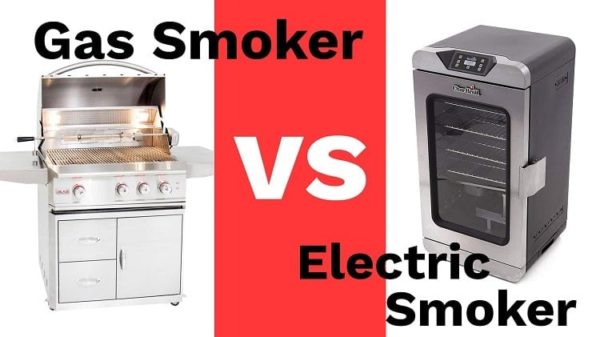 When it comes to certain smokers, the difference is like day and night, for example if we compare electric smoker vs charcoal smoker. If we look at an electric smoker and compare it with a gas smoker, on the other hand, it is actually difficult to find many significant differences.
Despite that, you can give consideration on who is the winner in the clash of gas smoker vs electric smoker. When it comes to majority of comparison of this kind, there is actually no clear winner. The answer to that question usually depends on your expectations and your cooking style.
In this kind of situations, I always encourage to learn the upsides and downsides of both types of smokers, it will allow you to know them better and make the final
Gas Smoker vs Electric Smoker Comparison Table
| | | |
| --- | --- | --- |
| #FEATURE | PROPANE SMOKER | ELECTRIC SMOKER |
| Easy of use | It works in a similar fashion to a gas stove, from the moment of starting the burner you need to control its power in order to maintain your preferred temperature. Seems like a convenient and fast solution, but it does require temperature control once in a while. | Incredibly convenient and easy to use, all it takes is to plug it in, select the temperature using a precise controller and about 20 minutes later you can start smoking already. |
| Flavor | Me as well as many other people believe that the flavor of meat from a propane smoker is slightly closer to that from a charcoal/wood smoker than with an electric smoker. I have to admit, though, that in both cases it all actually depends on the skills. | The food tastes very good as well, one could argue over the details but in the end I believe that it all depends on the method used. |
| Controller | The controller is an on/off switch and a burner knob that has to be adjusted adequately in order to achieve the right temperature. | Each model is equipped with a digital controller that, on top of the basic temperature selection feature, often also comes with several other useful features, like a timer or plugging in a meat probe. |
| Cold Smoking | Without modifications, it is either difficult or impossible to achieve a low enough temperature. | The temperature range and precise control make cold smoking possible. If you're not satisfied with the results, though, it is possible to buy a dedicated cold smoking kit. |
| Features | In most cases it is a simple yet effective device that consists of basic elements ( on/off switch and burner knobs ). | The digital controller, on top of setting the temperature, makes it possible to turn on the light, set the alarm or plug in a meat probe. |
| Grilling Area | They are among the biggest smokers, of course there are slightly smaller models as well, but most offers on the market are medium or big sizes, with the main area of about 1200~ square inches. | Most of the available models come in different sizes, so everyone can find something for themselves, the leading manufacturers mostly offer models sized 30inch and 40inch ( up to 1000~ square inches of the main area ). |
| Temperature Range | It is difficult to maintain a low temperature, although it is possible to achieve one much higher than 300 degrees F ( most models offer 160 to about 350 degrees F ). | They offer a much more versatile temperature range, smoking is mostly associated with low temperatures. Most models offer a temperature range of 100 to nearly 300 degrees F, which makes perfect conditions for smoking meat or for cold smoking. |
| Warranty | Similarly, with most models you can expect a warranty of few months to 2-3 years. | Sadly, in most cases you can only expect few months to 2-3 years ( usually 1 year ). |
| Safety | The propane tank always means risk, provided that you don't pay attention to safety procedures whatsoever. There's a propane tank of some sort in nearly every house and as long as you follow the basic principles, you have nothing to worry about. | You have electric devices everywhere around you, do they pose any actual threat to you? The answer is definitely no, an electric smoker is safe throughout many hours of smoking unattended. |
| Mobility | It gets thumbs up for the ability to use this type of smoker wherever you want as long as you have a full propane tank with you. | As long as you don't mind the sight of an extension cord stretching all across your backyard, one could say that an electric smoker is mobile as well. |
| Weather | Overall there are no contraindications for using a propane smoker in the rain when it comes to the risk of malfunctions etc., but you have to take into account that if the smoker's insulation is poor then you might have slight problems with maintaining a fixed temperature. | I strongly advise against this kind of activity, an electric smoker consists of many elements that rely on electricity. Everyone knows that water and electricity are mortal enemies, there's a digital controller on top of the smoker that has to be protected from water. If the insulation turns out to be poor and water gets into the electronics, you might expect a costly repair. |
Without a doubt, it is a very easy to use smoker that will not cause any trouble even to beginners. Compared to the charcoal smoker, you don't need to worry about getting the charcoal burning, adjusting the air vents or controlling the fuel. Temperature control consists of turning a burner knob, which is sadly not a precise solution.
The source of heat is propane out of tank, which means that the fuel level has to be checked before each cooking, so that it doesn't turn out halfway through the cooking that the tank is empty. The gas burns clean, without impacting the food's flavor, which is why a tray full of wood chips is used to generate smoke that benefits the food.
A propane smoker, just like a propane grill, warms up fast and can achieve pretty high temperatures for a smoker. On one hand, higher temperature might be useful when you want to do something like grilling the skin towards the end of smoking.
On the other hand, a gas smoker causes some problems with maintaining a very low temperature, which might be problematic when it comes to slow smoking at a low temperature ( the lowest temperature in most models is 200 degrees F ).
On the other hand, if you're thinking about cold smoking then sadly it is only possible after making complicated modifications.
Upsides
Higher temperature – It is something that on one hand is an upside but on the other it's a downside. A high temperature, however, will definitely come in handy when you want to grill the meat's surface towards the end of smoking.
Easy to use – All you have to do is plug in a gas tank, start the burner by adjusting it properly and you're done. Once you reach the right temperature, all you have to do is refill the water bowl and the wood chips and you can start smoking.
Downsides
Problems with reaching low temperatures – Sadly, a gas smoker has problems reaching low temperatures. In most models, the lowest  temperature you can set is whole 200 degrees F. This definitely excludes your smoker from possibility of cold smoking where a much lower temperature is required.
Safety – If the installation is regularly checked then you have nothing to worry about. But if you completely neglect the issues of safety then the propane tank poses a genuine threat to you. Accidents happen so try to keep the precautions and never use a gas smoker at home or around flames.
Avoid rain/snow – This type of smokers was not designed with a rainy weather in mind. A gas smoker has to be used in places sheltered from any weather conditions. It is mostly about poor insulation and electronics, which hate humidity.
It is a much more reliable and more precise smoker that its competitor ( gas ). It requires plugging it to a socket, which might seem like something bad to some people. However, imagine smoking for many hours and knowing that you won't run out of fuel ( of course excluding blackouts and things like that ).
Other types of smokers use charcoal, pellets or gas as the source of heat. One shared characteristic of those fuels is that they run out. Before a long smoking, you have to make sure if the amount of fuel is actually enough to finish smoking. When it comes to an electric smoker, all you have to do is plug the smoker in and you're done, you can conveniently smoke like that even all night.
Another advantage of electric smokers is easy availability of different types of cold smoking kits. You don't have to perform any complicated modifications, all the accessories required for that can be easily bought from the most popular manufacturers.
Another advantage is also the precise temperature controller that works almost like a stove. All you have to do is pick the temperature range of your choice and if the weather conditions around the smoker are good, you don't have to worry about stable temperature.
What about the food's flavor? Inside the smoker, you will find a wood chips and water bowl. Such combination creates perfect conditions for smoking meat, which as a result will have a distinctive, smoky flavor.
Upsides
Better at low temperatures – An electric smoker makes it possible to choose a lower temperature that is perfect for cold smoking. On top of that, plenty of manufacturers include a cold smoking kit in their offer, sold separately.
Area – Most models offer a very large smoking area. Around 1000 square inches is something normal, which makes it good news for those who smoke a lot of meat.
Ease of use – All you have to do is plug the smoker in, start it and use the controller to set your preferred temperature. A perfect thing for beginners or those who hate traditional smoking, which requires a lot of skills.
Safety – Electric devices don't pose the kind of threat a propane tank does. An electric smoker is a good choice if you want to smoke without worries over many hours or even all night.
Price – Good quality models from renowned manufacturers in this category are available at affordable prices. The starting price is not something shocking, as is the case with certain types of smokers.
Downsides
Depends on electricity – It's an obstacle to mobility, in order to use it you need to be around a source of electricity. That's why whenever you change your smoker's location, you have to make sure it will have access to electricity.
Avoid rain/snow – Electrics plus humidity is the worst thing that can happen to you. Humidity might lead to short circuit and malfunction of electric components, resulting in the smoker no longer working. You need to avoid exposing it to water, despite the smoker having a good insulation there is still the risk of water getting in wrong places.
Electric Smoker vs Propane Smoker – Direct Comparison
Ease of use – Both those types of smokers are actually very easy to use and perfect for beginners or those who cannot handle the classic BBQ at all. A gas smoker requires regular tank replacement once it gets empty, whereas an electric smoker just needs to be plugged into a socket.
Safety – The electric smoker definitely wins, as its mechanisms are hidden inside the structure and don't pose any threat. In the event of any malfunction, the adequate systems ensure proper functioning of all mechanisms.
When it comes to the gas smoker, the safety depends on whether you properly use this type of smoker. The fuel is propane out of a tank that causes legitimate threat if the installation isn't regularly checked and if the tank is stored in improper conditions.
Food flavor – In both cases, gas and electricity have no impact on the flavor of food, which is why manufacturers have introduced bowls/containers with wood chips, which are there to produce smoke. As a result, it passes the test and the smoked meat has the characteristic flavor depending on the type of wood chips, condiments etc.
Initial price – It mostly depends on the size of the smoker but by taking a brief look at the offer one can conclude that gas smokers have a much lower initial price than electric smokers.
Warranty – Sadly, when it comes to both types we can only expect a warranty of few to about dozen months. It is sad news considering that both types come with plenty of elements in their structures that are prone to malfunctions and that they can't function without.
Temperature range – A much better temperature range ( low, even 160 degrees F ) is available in electric smokers, which I recommend if you plan cold smoking.
A gas smoker has a higher minimum temperature compared to the electric version ( usually 200 degrees F ) which makes cold smoking impossible without complicated modifications. On the other hand, it offers a much higher maximum temperature which is mostly useful when for example you want to grill the surface of meat towards the end of smoking.
Temperature control – In this regard, the winner is an electric smoker with a digital controller that allows to precisely set the temperature. When it comes to gas smokers, you need to properly adjust the burner knob, which isn't as reliable as a digital controller.
Cleaning – Neither gas nor electricity leave behind any traces, like ash for example. It means that all that is left to clean is grease and meat juices, which are drained to a special tray/drawer. Which means that all you have to do is empty the container once in a while or after each cooking and you're done.
Cold Smoking – I have already mentioned it several times that a gas smoker doesn't make it possible to set a low temperature. Usually the lowest is about 200 degrees F which is too much when it comes to cold smoking. You can change that, but it requires complicated modifications which doesn't make much sense.
When it comes to the electric smoker, on the other hand, it is possible to set as low as 160 degrees F, ( a perfect temperature for bacon jerky ). At such low temperature it is hard to generate the right amount of smoke, which is why the leading manufacturers have thought about a cold smoking kit that takes care of the right conditions for smoking.
Features – Both types offer a lot of interesting additions and gadgets that are worth noting. The most popular one is the cold smoking kit that I mention a lot, it is made available for sale by the leading​​​​ manufacturer of electric smokers.