If you love smoked meat, nothing does it best than an electric smoker.  Perfectly cooked smoked food requires the right temperature and a consistent smoke. Best electric smokers are able to provide just that and together with advances in technology, they are available at reasonable prices.
People have always been fascinated with the tenderness, flavor and texture of smoked food. Smoking food involves the process of flavoring, cooking, browning or in certain instances preserving food in smoke from smoldering or burning wood. Meat and fish are the most commonly smoked food.
Smoking meat is one of the age-old traditions that remain popular to this day. Smoking is cooking at very low heat of about 68-176° F for an hour, the whole day or even for a few days. In contrast, barbecuing is cooking at low heat of about 190 – 300° F for about an hour or two. Grilling is cooking at very high heat for only a few minutes.
In today's modern world, smoking food the traditional way is often not feasible. It can be impractical to deal with wood and charcoal smokers.
Luckily, there are best electric smokers that can prepare smoked food with a taste close to the authentic one without the hassle of watching over it all day long.
Top 5 Best Electric Smokers in the Market
What Makes an Ideal Electric Smoker?
There are many things you can cook in an en electric smoker. You can smoke meat and fish, as well as make smoked turkey, bacon pastrami or smoked nuts. You can even load a pound of brisket in the morning and it will be all prepped up when you get home at night.
The best electric smoker comes with these features:
Heating Element. This is what takes the place of burning charcoal in traditional smokers. The best electric home smokers have power of between 1000-1200 watts.
Temperature Range. Electric smokers should have various temperature ranges because different types of food require different smoking temperatures.
Temperature Control. This sets the temperature of the smoker and monitors the internal temperature.
Meat Probe. This is a thermometer inserted on the meat while it is smoking. It allows you to monitor the temperature of the meat without the need to open the smoker.
Some of the best electric smokers also come with a space where you can add some wood chips. Wood chips add more flavor to the meat. The more sophisticated electrics smokers come with a remote control so you can control the equipment from a distance. Some even come with a mobile app so you can control the smoker from your mobile device.
There are two kinds of electric smokers:
Vertical Electric Smokers. These are the cheapest kind of electric smokers. Water in a bowl is placed between the smoking area where food is set and the burning wood. The temperature in the smoker's chamber is controlled by the water that dissipates together with the smoke from the burning wood. Vapor coming from the smoke that reaches the meat adds to its flavor.
Electric Cabinet Smoker. This looks similar to a small refrigerator. A heating element is located at the bottom of the equipment.
Vertical and Cabinet electric smokers have a very simple operation. The heating element produces heat and the wood chips produce smoke.
How We Picked the Best
The choices for the best electric smoker for 2018 are based on standards set forth by many food smoking enthusiasts. The ratings and customer reviews of existing electric smoker users have been taken into consideration.
Best All Around Electric Smoker
Sale
Masterbuilt 20077515 Front Controller Electric...
730 sq inches of cooking space with 4 chrome-coated racks and 800 watt heating element with full foam insulation
Blue led display makes reading temperatures and cooking time in direct sunlight easy
Rf remote controls and monitors temperature, time, internal light, on/off and meat temperature
Redesigned front access drip pan, smoother operating wood chip loading system and side/top air damper
Handle and rear wheels makes moving easy
The Masterbuilt Electric Smoker (20077515) comes with features most people look for in an electric smoker. This 30-inch electric smoker has a 730 square inch cooking area with 4 racks (chrome-coated) that can allow you to cook up to about 80 pounds of food  while keeping intact the food's original taste.
Features
Heating Element
The heating element comes with an 800 watt power. It comes with full foam insulation.
Temperature Controls
Many users of this Electric Smoker like the inclusion of an RF remote control. It gives you full control of the electric smoker from turning it ON/OFF to keeping track of the temperature inside the smoker and monitoring the meat probe to know the internal temperature of the meat.
Display
This electric smoker comes with a front LED type digital control panel so you can monitor everything that is going on inside the electric smoker. The LED display is in blue so reading cooking times and temperatures can easily be done even when cooking under direct sunlight.
Design and Construction
You can visually see the smoking progress through the internal light and viewing window of the smoker. When you open the door of the smoker there are LED lights with high output to keep smoked food illuminated.
On the top side of the smoker is an air damper which together with the wood chip loading system controls the amount of smoke inside the unit. This allows you to control the amount of smoky flavor you desire for your food.  A drip pan on the front ensures a mess-free operation.
A handle mounted on the rear side of the smoker and a pair of wheels makes this smoker easy to move around the house.
A drip reflector diverts food drippings from the heat source to the wood cheap tray to allow grease to flow to where it should for easy cleaning.
Ease of Use
To start smoking your food, plug the electric smoker, turn it ON, set the desired temperature and time in the digital control panel and you are on your way to smoking your food. An RF remote control makes you control everything from your fingertips.
Cleaning and Maintenance
The inclusion of a removable drip pan, grease pan, water pan and wood chip tray makes cleaning a breeze. The drip reflector adds to the ease in cleaning this unit.
Pros
Window in the door and internal light to see smoking progress.
Remote control for easy control of the smoker
Top and side air damper to control heat, circulation of smoke and moisture inside the smoker.
Large capacity electric smoker
Easy to assemble and clean
Certified by the CSA
Cons
Small wood chip tray requires frequent re-loading
Glass window tends to smoke up
Unable to smoke when set on lower temperatures
Verdict
The Masterbuilt Electric Smoker (20077515) is equipped with the right technology and conveniences to churn up excellently smoked food with the least effort and at a very affordable price.
Best Mid-Range Electric Smoker
Sale
Char-Broil Deluxe Digital Electric Smoker, 725...
Insulated, double-wall construction
Advanced control panel with easy-read, blue LED display
Removable food thermometer
Glass door and stainless steel, dual-tone finish
Large, stainless steel locking latch for smoke-tight seal
The Char-Broil Deluxe Digital Electric Smoker is ideal for the professional smoker. This equipment has a 725 square inch of cooking space with 4 smoking racks on a 1500-watt heating element. This electric smoker allows the PRO smoker to create delicious and perfectly smoked food with precision.
Features
Temperature Range
This electric smoker comes with a wide temperature range of between 100- 2750F so you can choose the right temperature for a perfectly smoked food.
Temperature Control
The control panel of this smoker gives you the option to choose between two cooking modes- smoking by temperature or by cooking time. The control panel allows you to monitor the heat inside the unit and make adjustments when necessary. Once the meat has reached the pre-set temperature, this smoker will automatically shift to its keep warm mode to prevent overcooking.
It also comes with a removable internal temperature probe to remove the guesswork on how long it will take to smoke a particular food. You just simply need to insert the probe on the meat, set to your preferred temperature and wait for the alert when smoking is done. A remote control allows you to control the smoker even from a distance. Temperature gauge is also removable.
Display
This digital electric smoker features a LED type and easy to read control panel.  It comes with a blue light so readings are still visible even under bright sunlight.
Design and Construction
The Char-Broil Deluxe Digital Electric Smokers made from stainless steel and comes with a finish in dual tone. It comes with a front glass window so you can view the smoking process and a stainless steel locking system on the side of the door to allow tightly sealed smoking.
The double-wall and insulation of this electric smoker ensures temperatures are consistent and smoke is kept inside the unit. This makes the wood chips ten times more efficient than other electric smokers. The box for the wood chips can accommodate a supply good for 4 to 7 smoking hours without refilling.
For added convenience, this unit comes with an ergonomically designed handle and a pair of wheels for easy mobility. The internal light allows you a clear view of the food with the door open.
Ease of Use
It is such a breeze to operate this product. Once the temperature or time has been set, the smoker will smoke your food to perfection. An alarm will notify you for doneness and the keep warm function will ensure you have a perfectly done smoked food even on your first try.
The removable temperature gauge makes monitoring the smoking process easier.  The easy to refill slide-in porcelain coated water pan adds more to the ease in using this electric smoker.
Cleaning and Maintenance
The stainless steel finish of this electric smoker makes it easy to clean even with a simple wipe with a damp cloth.  The 8.5 cup grease tray ensures all drippings from the food flows to the right place instead of at the other parts of the smoker which may be difficult to clean.
Pros
Box for wood chips is good for 4-7 smoking hours without refilling
Door locking system keeps smoke sealed within the unit.
Comes with a remote control for distant monitoring
Keep warm feature prevents overcooking and keeps food warm until it is ready to be served.
Large cooking space with upgrade option.
Removable temperature gauge
Aesthetically beautiful stainless steel-finish with glass door.
Easy to clean because grease is sure to flow to the large grease tray.
Cons
Limited temperature range
Glass front easily gets slimy
Temperature sometimes tends to be higher than what is displayed.
Verdict
If you are a PRO food smoker, the Char-Broil Deluxe Digital Electric Smoker is a good model. The easy to use and convenient features will encourage you to do more smoking because you will always come up with a perfectly smoked food, with minimal effort.
3. Masterbuilt Electric Digital Smoker (20070910) – BEST BUDGET
The Masterbuilt Electric Digital Smoker (20070910) is the best you can get for below $200. It comes with a generous cooking space of 730 square inches with 4 chrome-coated smoking racks. This 20.4" x 19.9" x 33.3" electric smoker has more than enough space to smoke your chicken, ham, wiener or angle for a large family gathering.
Features
Heating Element
The heating element of this 30-inch electric smoker has a power of 800 watts.
Temperature Range
Programmable temperatures can be set between 100- 2750F. Choose your preferred temperature and the smoker maintains it to allow even cooking.
Temperature Controls
This Masterbuilt model features a top digital control panel for temperature control. It also comes with a programmable timer so you do not need to constantly check for doneness.
Display
This 30-inch electric smoker features a digital LED type display. It also comes with a remote controller. The display is easy to read and allows you to set your preferred temperature and smoking time. The RF remote control allows you to monitor from a distance the remaining cooking time, smoker temperature and even the internal temperature of the food you are smoking.
Design and Construction
The Masterbuilt Electric Digital Smoker (20070910) is a cabinet-type smoker made from powder-coated stainless steel making it durable and long-lasting. It is well insulated thus it is able to maintain heat for efficient and even heat. It comes with 4 adjustable smoking racks so you can smoke food in varied sizes.
Wood chips can be conveniently loaded through the side which keeps the smoke contained and in sufficient levels inside the smoker. The smoker comes with more than enough power (800 watts) for any type smoking modes.
The removable drip pan on the side and air damper at the top of the unit ensures easy cleaning and an efficient operation. This electric smoker can be easily controlled by soft touch push buttons.
Ease of Use
This is a straightforward electric smoker with push buttons on a digital type control panel. To start cooking all you need to do is press the button of your desired temperature and time for a simple "set and forget" smoking pleasure.
Cleaning and Maintenance
The drip tray is one of the most loved features of this Masterbuilt model because it allows easy cleaning. The drip tray is large enough to catch food drippings so they do not splash all over the smoker which may later on be difficult to clean.
Pros
Made from well-assembled and durable materials
Flexible control of smoke levels.
Digital 24-hour timer and temperature control allows the easy setting of your preferred cooking time and temperature without the need of frequent checks.
Removable racks allow different cooking options.
Easy to clean and maintain.
Cons
Electric cord is relatively short.
It takes some time for the smoker to heat to desired temperature.
Verdict
The Masterbuilt Electric Digital Smoker (20070910) is efficient equipment that comes with an amazing low price tag. After all, this unit is manufactured by Masterbuilt, an industry leader in electric smokers.
4. Masterbuilt Electric Smoker (20078616) – BEST PORTABLE
You do not need a large electric smoker to be able to smoke a huge amount of food and the Masterbuilt Electric Smoker (20078616) proves just that. This compact electric smoker can cook up to 50 pounds of meat at one time with its two smoking racks coated with porcelain material and 395 square inch of cooking space.
With a dimension of only 31.49" x 25.39" x 19.13" this portable electric smoker is ideal to bring along on camping trips or even just to neighbor's house because it weighs only 17.5 pounds.
Features
Heating Element
The heating element runs with a power of 1,650 watts.
Temperature Range
The temperature gauge can be set on OFF, high, medium or low and is located on the lid just below the handle. The temperature can reach up to 4000F. This allows the smoker to consistently and evenly smoke various kinds of food with the right temperature.
Temperature Control
This Masterbuilt model features an analog temperature control gauge. Once you have set the desired temperature you can leave it alone to do its job without fear of overcooking.
Display
The easy to read analog type gauge sits on the lid just below the handle.
Design and Construction
This compact and bullet-shaped Masterbuilt Electric Smoker (20078616) comes with a small front door with a heat resistant knob where you can load wood chips.  The removable chip tray is porcelain coated. It also comes with a drip pan to collect all food drippings so grease does not scatter all over the smoker.
This compact electric smoker comes with curved side handles so it can conveniently be carried anywhere. The handle on the lid comes with a curved design as well for easy lifting. It is heat proof too so no need to use kitchen gloves to protect your hands.
The racks have porcelain coats to ensure meat fats do not stick to them during the smoking process otherwise they may be difficult to remove.
Ease of Use
Smoking with this compact and portable Masterbuilt electric smoker is an easy task. Plug in the smoker, add water and some wood chips, set the temperature and off the smoker goes to smoke your favorite meat without so much fuss.
An adjustable air damper will check the amount of moisture and smoke inside the unit so you can adjust it accordingly.
Cleaning and Maintenance
The smoking racks are dishwasher-safe and the inside of the smoker does not need much cleaning and maintenance. All this smoker needs is just a thorough cleaning about every few months or so depending on how often you use it. You need to clean the lid though with a damp cloth after every use.
The water bowl, drip pan and chip tray needs some cleaning but no need to worry because they clean easily. If you leave the smoker outdoors, make sure to get a grill cover to protect it from the elements.
Pros
Consistent and even cooking of up to 4000F
Compact and portable for easy storage and transport
Large cooking space to accommodate a variety of food
Easy to read and simple to use external thermometer
Simple to use
Easy to clean
Cons
Maintaining desired temperature can be a struggle
Difficulty in loading wooden chips
Verdict
The Masterbuilt Electric Smoker (20078616) may be small but it is packed with features often found only in high-end electric smokers. The affordability and practical application of this smoker can be hard to beat.
5. Smoke Hollow Electric Smoker (30162E) – BEST FOR BEGINNERS
If you are just beginning to try smoking food, you can easily get started with the Smoke Hollow Electric Smoker (30162E). This unit will be very helpful for beginners because it is easy and simple to use.
This electric smoker comes with only 3 temperature settings and will not make the beginner smoker panic when outside temperatures affect cooking temperatures. The temperature inside the unit remains constant despite changes in outside temperature.
Features
Temperature Range
This electric smoker comes with a very simple operation with only 3 temperature settings to choose from. This smoker runs on a power of 1,500 watts. Temperature remains constant all through the cooking process even when outside temperature is high.
Temperature Controls
The adjustable temperature control gauge is located on the door of the smoker.
Display
This electric smoker does not come with a control panel display. What it has is an analog gauge on the door of the smoke.
Design and Construction
The Smoke Hollow Electric Smoker (30162E) is perfect for small outdoor smoking parties. It does not have wheels but it has two sturdy side handles you can hold on to when moving this 55 pound electric smoker.
This electric smoker comes with a steel construction in black with double walls for good ventilation. Wood chip box is painted in black and the steel water pan is coated with a porcelain material.
Ease of Use
From an easy assembly to easy handling of temperature controls, this electric smoker is perfect for the new food smoker.
Cleaning and Maintenance
Cleaning the smoking rack, wood chip box and steel water pan is a breeze because they are coated with porcelain material.
Pros
Gets hot fast thus reducing cooking times.
Excellent insulation for consistent and even heat distribution
Works well regardless of outside temperature
Assembles in just a few minutes
Easy and simple operation making it ideal for beginners
Easy to clean
Cons
Inferior construction quality causing some leaks
Verdict
The Smoke Hollow Electric Smoker (30162E) comes with a simple design and operation. It is however not lacking in features that allowing it to churn up delicious and mouthwatering smoked food in your home.
How to use an Electric Smoker
Electric smokers are a relatively new and brilliantly easy way to start smoking meat. They don't have the same problems as charcoal or gas smokers which can require a lot of attention. Electric smokers give you a good balance between ease of use and flavor and make great beginner smokers. Most electric smokers have temperature controls that allow true 'set it and forget it' capability, making it easy for anyone to have that authentic smoked BBQ flavor without the hassle of tending to coals for hours. All you do is put your food into the electric smoker, turn it on and you're cooking. But is it really that simple?
In this guide we'll take you through everything you need to know on how to use an electric smoker – step by step.
Step 1: Choose an Electric Smoker
There are a rang of smokers out there, all of them have pros and cons, but it can be difficult to choose the best one for you. We've written a guide that is perfect to helping you choose the best electric smoker grill for you.
We recommend a few, the Masterbuilt 30 Inch and the Smokin It Model #1 are a couple of our favorites and we'd recommend you reading our in-depth reviews to get a better idea of what to expect from each.
Step 2: Read the manual!
A lot of people simply see the manual and instantly throw it away. The instructions that are inside the electric smoker manual should provide specific details to help you get the most out of your electric smoker. All models of smoker will differ so this is vital to you understanding how your specific model works. Give them a thorough read through and you'll be well on your way to becoming an electric smoker pro.
Step 3: Season your Electric Smoker
Seasoning, or curing, a smoker is when you take a brand new smoker that has never been used before and turning it on with no food inside. This gives the smoker chance to remove solvents, dust and other odors that can be left by the manufacturing process. With an electric smoker we recommend setting the temperature to high and leaving it for a minimum of an hour. If you pick a good smoker like the a Masterbuilt electric smoker then there should be a set of instructions in the manual to help you with this. Let the smoker cool down afterwards so next time you're ready for the real thing.
We have a complete guide on seasoning a new smoker if you're looking for more in-depth information.
Step 4: Preparing the meat
This step will depend on what you're cooking. An easy cut of meat to start with is a Pork Butt. Another relatively easy beginner smoke is a turkey. To smoke a turkey on an electric smoker will require a larger smoker that can reach high temperature, but if your can then this is a simple and impressive first meal. Check out our recipe section for more ideas on your first smoke.
Whatever you do, you'll need to prepare the meat by trimming any fat or brining it to ensure maximum moisture is contained.
Then you should go about seasoning the meat and applying a BBQ rub.
Finally, find out how long you'll need to smoke it for. Our times and temperatures guide will help with this.
Step 5: Preparing the Smoker
Again, this step will depend a lot on which smoker you own. But we'll take you through all the possible steps so you know what to do.
Add water – If your smoker has a water tray then now is the time to top it up. This will help keep the meat nice and moist during the long duration of the cook.
Add wood chips – The wood chips are what produce the smoke. They will be placed on some sort of electrical heating element which heats the wood up and they will start to smoulder and produce the smoker needed to cook and flavor your meat.
Different types of wood can produce drastically different flavors. Lighter, fruit wood, such as apple and cherry generally work well with everything, especially white meats. Heavier woods such as mesquite and oak will transform your briskets or ribs into something incredible. We have a complete guide to wood and different wood flavor pairing on our Ultimate Meat Smoking Cheat Sheet.
The final step will be to set the temperature and turn it on. The temperature you're aiming to cook at should be specified in the recipe.
Leave your smoker for a while to reach the temperature and move on. Check the temperature with a digital thermometer for additional accuracy.
Note: Adding the wood chips can be done after you've reached the ideal temperature, this can be made easier by certain smokers having a wood chute to allows you to add wood in at any time without opening the door.
Step 6: Put the meat in get smoking!
Once the temperature is correct you're ready to put the meat in. At this point it is recommended that you add a digital thermometer probe into the meat so you can check the internal temperature continually throughout the cook.
We recommend the ThermoPro TP-20 as it's cheap and works great.
Quickly open the door and smoothly add the meat to the racks, trying to keep the door open for as little time as possible. Add more wood chips if you need to and then wait.
Cooks can be anywhere from 2-12 hours, so you do have to be patient.
After the meat reaches the ideal internal temperature you're ready to pull it off. A lot of meats benefit from being left to rest for 20 minutes or so after cook, but check your recipe.
Then get eating!
That's it, if you follow these instructions and a few of the links then you'll be smoking on your new electric smoker in no time. If you're still stuck, then comment your problems below or connect with us on Facebook and we'll get right back to you.
For a look at how to use a Masterbuilt Electric Smoker, like we mentioned in the post check out the video below:
Seasoning the Electric Smoker
This is the process of ridding a new electric smoker with industrial factory oil, dust in the inner chambers and other harmful materials accumulated during production.
Seasoning new electric smokers is important because these units are not sanitized well enough in the factory.  It is extremely unwise and unhealthy to immediately cook with the electric smoker after unboxing. Blame it on the high demand for this product which causes manufacturers to produce them on a mass scale missing out on total quality control.
How do you actually season a new electric smoker?
Unpack the electric smoker and make sure all parts and components are in order.
Turn ON the unit.
Load some wood chips onto the wood chip pan
Set the temperature control to 2750F and for 3 hours. This will make all unwanted dust and oil, which may affect the smell and taste of smoked food, evaporate out of the chambers.
After 2 hours, load some wood chips on the smoker to sanitize the inner chamber and make it ready for smoking.
Turn OFF the unit after 3 hours or after all wood chips is burned.
Wipe the bars and the entire electric smoker inside and out with a clean microfiber cloth.
Your new, sanitized and clean electric smoker is now ready for smoking. There is no more need to once again season your electric smoker unless you want to smoke another type of meat other than what you usually smoke.  This is so the flavors do not mix.
Benefits of Having an Electric Smoker
If you are not yet so sure of getting an electric smoker, here are some good reasons to own one.
Authentic smoked food is best made with a charcoal or gas smoker. These type of smokers however require a lot of monitoring, may be dangerous to operate and difficult to clean. An electric smoker on the other hand is the complete opposite. All you need to do is plug the unit and leave it do its job.
There is no need to deal with messy wood pellets and charcoal. Set-up time is lesser.
"Set and Forget" is the theory behind an electric smoker.
Temperature control is the most important aspect of food smoking. An electric smoker automatically and perfectly does this for you so you can do other things instead of constantly monitoring the smoking process.
Savings on time and effort are what you will get when you own an electric smoker. You also do not have to deal with excess smoke inside your smoker.
More importantly, an electric smoker is your best option if you really want to enjoy great tasting smoked meat but you are not allowed to cook with charcoal in your home.
Besides, investing on than electric smoker may in the long term be cheaper than always having to buy charcoal.
Choosing the Best Electric Smoker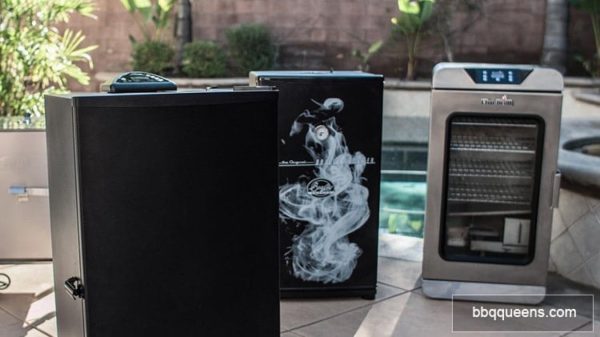 It is not easy to buy an electric smoker. You want to be able to cook the perfect smoked food all the time.  That goal can only be accomplished if you are cooking in a reliable electric smoker. Here then are the things you need to look out for.
Cooking Space. Think of the quantity of food you intend to smoke at any given time and choose an electric smoker that has the capacity to accommodate your food load.
Temperature Control. Cooking with the right temperature is the most important thing in smoking food. Choose a model that has an easy to use temperature control. A digital electric smoker comes with a controller that is a lot easier to handle than an analog one. If you are however more comfortable a temperature gauge (analog), the choice is yours.
Choose the Features. If you are buying your first electric smoker, choose one that comes with a tempered glass door. This will allow you to monitor the smoking process without having to constantly open the door which can make temperatures fluctuate and affect the quality of your smoked food.
Fuel Type. Charcoal and wood smokers are almost reaching extinction and being replaced by the more convenient and practical electric smokers. When you choose your electric smoker, make sure they do not need extra charcoal or wood to fire up. Go for a model that uses wood chips.
Racks, Trays and Pans. Grill and hollow trays are commonly used in electric smokers. Electric smoker grills come up with better smoked food and leave smoke rings on them just like when smoking the traditional way. You should also watch out for efficient looking water pans, drip pans and wood chip pans.
Electronics and Technology. Remote controllers, Bluetooth connections are some of the technologies you need to check. Remote controls allow you to control your electric smoker from a distance. Electric smokers with Bluetooth connections allow you remotely control your electric smoker. Check out each of the included technologies and choose the electric smoker with technologies you are most comfortable with.
Budget is always a main consideration when buying anything. When it comes to cost, always choose one that provides the best value for the money you are willing to spend.
When shopping for an electric smoker, check as many electric smoker reviews as you can so you can come up with an educated decision.
Important Tips in Using an Electric Smoker
To perfectly smoke meat you will need to first have the best electric smoker for 2018. That is the main pre-requisite but it is definitely not the only reason to have perfectly smoked meat.
Although an electric smoker is a "set it and forget it" type of thing, there are certain things you need to do before you set and forget your electric smoker to do its job.
Follow these tips and make your electric smoker work for you.
Season the Unit Before Initial Use. For the best flavorful smoked meat, make sure to season your electric smoker right after unboxing. This is to get rid of all the dust, factory oil and manufacturing chemicals that may still be within your unit. You do not want any of these to contaminate your food.
Pre-Heat the Smoker. This is a mistake many newbies or even the seasoned food smokers often commit. Always make sure to set the temperature of the electric smoker to your desired level before loading the meat. The smoke coming out of the electric smoker should also already be blue and not white. The wood chips should also start to be turning to ashes. This will make sure that you will be smoking meat at the right temperature.
Monitor the Temperature. You can do this throughout the entire smoking process through the control panel and meat probe. You will want to keep the internal temperature constant at between 225 to 2500F to ensure an evenly smoked meat. Higher temperatures outside of the meat will cause it to be dry and overcooked. Always check the internal temperature of the meat to prevent overcooking. Also make sure that the water pan is always with water. Running out of water will cause a sudden increase in temperature.
Keep the Vents Open. Close vents will keep excess smoke inside the electric smoker. This is not good for your food. Open vents will allow smoke to properly circulate over the food and out of the smoker in the proper manner. This will give the inside of your smoker the best ventilation which will in turn produce a clean smoke.
Use the Right Type of Wood. Scrap or treated wood will produce harmful gas. The best wood chips to use are the hardwood ones such as mesquite or hickory. They are the best for food smoking.
The Right Spot. Where you position your electric smoker also plays an important role. Electric smokers should not be placed too close to the wall. There should also not be anything close by (objects, furniture…). The electric smoker should be placed in a spot where smoke can freely escape from the smoker so it will not fill the room. This is also prevent the possibility of a fire.
White Smoke and Black Smoke. Clean white smoke can fill your smoked food with an inviting smell smoked food is known for. This can only be achieved if you allow your electric smoker to have proper ventilation. Improper ventilation will cause your food to burn and emit black smoke which will affect your food. Worse, you might be caught off guard with an unpleasant scenario when you open your electric smoker.
One last important tip you need to always remember. Always make sure to soak your meat with a brine solution before loading it to your electric smoker. This will ensure that you will have flavorful and tender meat.
A good brine solution is a mixture of seasonings and salt. The brine solution should cover the entire meat.  Soak meat in a brine solution overnight to get the best results.
The Best Electric Smoker Brands
Are you looking for the best electric smoker that offers unique features when smoking your favorite BBQ meals? There are different types of electric grills on the market right now. It could be a challenging task to correctly select what you really need.
What would you consider when investing in an electric smoker? Well, for sure, there are lots of things to consider. The product's brand should also be a major determining factor.  There are BBQ smoker brands that are leaders in the industry.
They have the best designs with durable construction materials. Our focus here is on the best brands of electric smokers in the industry. The brands reviewed below have premium quality products that will definitely meet your grilling needs. Let's find out which brands are topping the charts in the industry.
Masterbuilt Smokers
Headquartered in Columbus, Georgia, Masterbuilt is certainly the true master of BBQ smokers. The brand has been manufacturing and designing high-quality smokers of all types (electric, charcoal, gas grills, and camp stoves) since 1973. With their wealth of experience in the industry, they have a rich line of electric smokers for BBQ lovers.
Apart from electric smokers, the company also has other lines of kitchen tools such as patio grills, plates, lapper trays, BBC cookbooks, and a host of other accessories.
Masterbuilt brand places a lot of emphasis on quality and usability. That's why most of its smokers have usability features for better convenience.
Interestingly, the brand offers its products at a very affordable price.  To easily identify Masterbuilt electric smoker models, you will see most of these features in their models.
Features of Masrerbuilt electronic smoker brand:
The brand offers a wide range of size options
Easy maintenance features
Cost of Masterbuilt models are very considerable
All replaceable parts are available
Products are designed with high-quality steel materials
One of its most popular products is the Masterbuilt RF Remote Control Electric Smoker. This electric smoker with remote control provides convenience when smoking your favorite BBQ meals. The brand has other lines of smokers designed to meet the needs of different grillers.  Masterbuilt has certainly built a reputation for itself in the industry. It is synonymous with quality, and many seasoned grillers have made the brand their number one choice.
Charbroil Electric Smokers
Charbroil has undoubtedly brought innovation into the industry. Their innovative principles have enabled them to manufacture some of the best electric grillers in the market right now. The brand began in 1948 with charcoal grills until it added electric smokers and other types of smokers into its production line. Since then, Charbroil has continued to set the pace with durable and high-quality smoker models for both experienced and novice grillers. Charbroil has always stressed performance.
One of its flagship products, the Char-Broil Big easy electric smoker, is the true evidence of what the brand represents. The electric smoker is well designed with TRU infrared for convenience. The infrared technology helps grillers check their food temperature even when they are not close.
Below are some of the unique features of the Charbroil brand:
Most of their smoker models are designed with convenience in mind.
The brand comes with a strong and accurate thermometer
TRU infrared technology on their flagship electric smokers
Most models have well-sized cooking space
The Charbroil brand is a premium quality brand for those who are looking for a very durable and convenient electric smoker. If you want to have the best electric smoker without minding the cost, this brand has ideal products for you.
Bradley Electric Smoker
Bradley infuses technology with performance.  The brand gives grillers total control of temperature and time settings for their food. Their smoker brand is made of stainless steel interior and epoxy steel exterior design, which provides durability. Bradley is one of the most portable smoker brand options you have, even though their cooking spaces are still large enough.
Assemble and usability:
All Bradley electrical models are very easy to assembly, as they do not require special mechanical skills for setup.  One of its best products is the Bradley 4 rack digital smoker. This digital smoker certainly offers a more convenient smoking option with digital temperature control.   Bradley is not only known for electric smokers but other types of smokers as well. They also manufacture charcoal and propane grills.
Below are the features that make Bradley distinguished from other brands:
Easy setup and assembly
Strong stainless steel interior design
Enough smoking space for grillers
More than 2 years warranty for all their models
Bradley smoker may not be as old as Masterbuilt in the industry, but the brand has taken huge strides to ensure it competes favorably with other smoker brands in the industry.   It's certainly among the top quality smoker brands when it comes to convenience and durability.
Smoke Hollow Electric Smoker
Smoke Hollow was founded in 2005. Since then, the company has grown by leaps and bounds, providing some of the best smoker models in the industry. The brand has a wide range of BBQ smokers in their collection, including electric smokers, pellet grills, gas grills, and charcoal grills. It also offers smoking accessories that make smoking tasks easier.
Smoke Hollow has a similar design structure with Masterbuilt. This should not be surprising since the Smoke Hollow brand has now become a subsidiary of Masterbuilt. The fusion of technologies allows the brand to leverage all the benefits of convenience and sturdy design.
Some of the main features of the brand include:
Durable innovative products that provide excellent grilling platform
Consumer-centric designs for all products
Strong steel construction
 A wide range of smoker sizes for different consumer needs
The brand also has great products such as the Smoke Hollow 30-Inch Electric Smoker. Smoke Hollow 30-inch smoker is a very portable electric smoker that allows users to effectively grill their favorite foods with ease. It is ideal for both experienced and novice grillers who are looking to master the act of smoking in the most convenient way.
If you are looking for a top quality brand that delivers great food smoking performance, the Smoke Hollow brand is a great option.
Smokehouse Electric Smokers
Here is another top quality brand for grillers who want excellent temperature regulation and well-flavored BBQ meals. The brand has really come a long way since it was first launched in 1968. Initially, it was designed to provide meat smoking option effectiveness for fishermen who want to smoke their steelhead, trout, salmon, and other seafood.
Today, the Smokehouse brand provides a wide range of smokers and accessories such as insulation blankets, meat grinders, sausage making kits, BBQ pellets, and other accessories for a perfect smoking task.
The brand is seriously committed to helping grillers with the necessary grills and accessories to produce the perfect BBQ meals with rich flavors. Most Smoke Hollow brands have extra space to add your favorite wood chips for superior smoke flavor. And when it comes to assembly and setup, it doesn't require any special technical skills.
At the moment, the brand has become one of the most popular smokers in the market because Smokehouse is synonymous with quality. Smokehouse Little Chief electric Smoker is one of its flagship products. It has a unique design that allows users to effectively manage the cooking temperature.
Smokehouse brand has rich features too:
Most models are made with embossed aluminum
They come with a wide range of accessories for cooking efficiency
Does the brand really matter?
It's not surprising that some people tend to look at popular brands when buying their most ideal electric smoker. They do this because, to them, the reputation of a brand is a good indication of the quality of their products. Most good brands are always careful to manufacture the best products. Otherwise, their reputation in the industry will suffer, and that translates to poor customer turnover.
The leaders in the industry are always looking for new ways to make their products better. They want to remain at the top of their game and stay ahead of the competition.
If you are not really sure which electric smoker model to buy, these brands above are the top companies in the industry. They provide durable smokers with easy-to-use features. And, yes, the brand really does matter when you are looking for a top quality electric smoker.
What's The Best Electric Smoker Brands?
Experienced grillers may not need to consider different brands before making their buying decision on their favorite grills. They know the features that are most important. But a newbie who is just new into the BBQ grilling process will have a different approach.  It's definitely vital that you look up several brands before making a buying decision.
Although it's not 100% guaranteed you'll get a top product from a reputable brand, it's always better to play safe. And you are more likely going to get a great product from a reputable brand with a long list of satisfied customer.  Whenever you want to go shopping for electric smokers, always consider the best brand to get maximum value for your investment.
Among these Materbuilt and Charbroil and Bradley electric smokers are older and more established brands buy Smokehouse and Smokintex and brands like cookshack and others are also making their way towards the top gradually, with their best electric smoker on the market.
Conclusion
There is nothing that can compare to the relaxing aroma of smoke coming from wood together with the amazing flavor and taste of perfectly smoked meat. While proper smoking of food requires a bit of knowledge, it is a skill that is easy to acquire and not exclusive only to the experts.
The concept of smoking food is simple. Smoking is exposing food to smoke coming from a heat source for a long time. The process gives the food a distinct flavor and taste that were passed down for generations.
Traditional smoking has in the past been done with oak and alder wood. The trend later shifted to wood from fruit bearing trees such as apple, cherry and maple. In today's modern world, electric smokers have brought the science and art of food smoking close to smoking the traditional way.
Smoked meat, vegetables and even cheese have become popular these days and only a good and reliable electric smoker can help you come up with the best flavors.
If you want your family and friends to experience the best smoked food, invest in a reliable electric smoker. Choose from among the best smokers included in the best electric smoker reviews included above.