Have you used several food thermometers in the past, but finds the screen too hard to read? Many food thermometers out there have a terrible display, narrow viewing angles, and slow read speed. These problems are exceptionally worse for left-handed people.
The majority of the food thermometer is typically designed for right-handed individuals, while left-handed people have no choice than to use them awkwardly.
Thermopro TP19 Review
Thankfully, there's a food thermometer that goes beyond and above as a permanent solution to these issues. The ThermoPro TP19 is the best, fastest, and instant-read thermometer, coupled with many advanced features for easy temperature reading.
Quick Glance
Coming at a competitive price, ThermoPro TP19 is a reliable instant-read thermometer available in the market.
Quick Read as fast as 3 seconds
Comes with advanced features which we never imagined
Generous temperature ranges
A reliable alternative to Thermapen
ThermoPro TP-19 Specifications
Average Response Time: 2-3 seconds
Accuracy: ±0.9°F (±0.5°C)
Auto Shut Off: 90 seconds
Probe Length: 4.5 inches
Temp Range: -58°F – 572°F (-50°C – 300°C)
Warranty: 3 years
What's Inside The Thermopro TP-19 Package?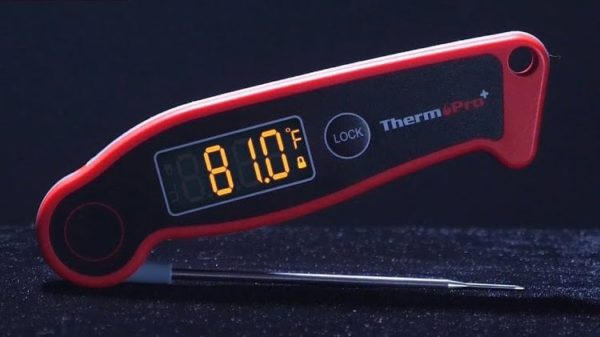 The complete kits packs other equipment such as the thermometer, Packaging, and instructions
Features
Although this shouldn't be considered a feature, that's why the ThermoPro TP-19 exists in the first instance- the price. The price of this food thermometer is competitively affordable and about three times less than the cost of Thermapen.
The price is what you'll need to have in mind considering other features the manufacturers have managed to add to the package. ThermoPro TP-19 matches with the incredibly fast response time of the Thermapen.
Their read time is about 2-3, and we found this to be pretty accurate when we tested them.
When we tested the two thermometers close to each other, we noticed that the screens correlated reasonably identically.
We were also impressed by the accuracy of the ThermoPro TP-19 for grilling. Although the read thermometer is rated at ±0.9°F, which is lower in quality than the Thermapen, we barely noticed it.
Display
One of the excellent features of this read thermometer is the unique quality display which is good.
The superior precision technology keeps this model's reading at numbers to I decimal place. We also love the clear and bright skin.
ThermoPro TP-19 comes with a rotating feature that makes it rotate in 180°, unlike the better Thermapen's 90°.
Incredible Lock Function
ThermoPro TP-19 comes with a reliable lock button that stabilizes the temperature value on the display.
We found this function useful, and we won't hesitate to use it regularly. The lock feature is highly intuitive, especially when you can lock by pressing only a single button and unlocking by pressing the button again.
Design And Build Quality
Both the TP-19 and Thermapen share similar build quality. The design is gorgeous and straightforward, with plenty of space to accommodate all these features.
The product, made from rubber and plastic (similar to other thermometers), has an excellent build quality. Although we've only used it a couple of months, we're confident that the read thermometer will last long. Many past users have testified to using the product for many years and not thinking of changing it anytime soon.
Aside from these features, here are other excellent features of the ThermoPro TP-19 to watch out for:
IP67 waterproof
Sleep and wake functions to save battery
Comes with calibration function
Magnetic back
Antimicrobial coating
Kitchen hook
Comes with a meat temperature chart
100% waterproof design
It allows you to give your thermometer an easy rinse
Pros
Excellent value at an affordable price
It cost three times less than the price of the Thermapene even when they have the same accuracy and read the time.
Many features
For easy reading, the 2 inches backlit display makes it easier to read by rotating on different angles automatically. The motion sensor automatically sets the thermometer to
"sleep" mode after 90 seconds. It later turns on when you withdraw the probe.
Simple To Use
One of the things we love about the ThermoPro TP19 is that you can quickly flip open the box and probe, insert a battery and start reading temperatures. However, it may not be that quick if you don't have a standby battery.
On the other side, inserting the battery might require you first to open the back, enter your AAA battery, and then screw together again before use. This may not be a problem, unless if you don't have a screwdriver or a battery in handy.
Everything becomes easier once you've had the battery installed. The intuitive flip motion turns your thermometer on and off.
The kick buttons allow you to remember your readings easily. There's also a switch button at the back to allow you to change from Celcius to Fahrenheit and vice versa.
Cons
Less read speed
Although the read speed is good, it's not as fast as advertised.
Bottom Line
Introducing ThermoPro TP19 Waterproof Auto-Rotating Display Instant-Read Thermometer
Conclusively, theThermoPro TP-19 is an excellent instant-read thermometer. However, its accuracy does not match up with the Thermapen and also does not include a battery which makes it inconvenient. But it performs fantastically and packs plenty of features at a competitive price.
Last Updated on October 17, 2019 by Judith Fertig