Barbequing meat on a smoker or grill is no cakewalk. Well, no matter what kind of meat you have, whether a brisket, pork, or lamb chops, it needs to be grilled and smoked at the perfect temperature so that it cooks evenly on all sides while retaining its inherent juiciness and moisture.
So, what is the best way to ensure the perfect temperature?
Always smoke your food with a smoker thermometer, of course! A good quality smoker thermometer ensures that you always have the exact temperature of the smoker at all times. This way, you can have confidence that the meat will turn out exactly as you want it.
If you ever thought that you can barbeque without a smoker thermometer, you couldn't be more wrong. That would amount to just shooting arrows in the dark. After all, how would you know whether your meat is cooking at the right temperature or whether there is too little or too much heat inside the smoker?
You might have heard friends or acquaintances boast that they always know exactly when their meat is done and that they have never once used a meat thermometer. Maybe they happen to be especially lucky, but in reality, even professional chefs and barbeques use a meat thermometer.
You should feel no shame about using a smoker thermometer. It will give you yet another way to ensure your meat cooks perfectly and reaches the right temperature for your health and that of your guests.
So, now you know why you need the best smoker thermometer. But which one is the best pick?
The 7 Best Smoker Thermometers Reviewed for 2020
To make the decision-making process easier for you, we have put together a list of the 7 best smoker thermometers. Each of these has its own unique features, and one is sure to end up the perfect pick for you.
1. Editor's Choice – ThermoPro TP20
ThermoPro has several units on this list for good reason. in short, they make quality meat thermometers. This first one on our list is probably one of their best units.
The ThermoPro TP20 has two probes, which are rated for temperatures up to 716 degrees Fahrenheit. It also comes with a very long five-year warranty on the sensor.
This is a professional level unit that is simple to use. It has nine presets for different types of meat (ground beef, ground poultry, veal, chicken, pork, beef, poultry, lamb, and fish). You can also check for different levels of doneness (rare, medium-rare, medium, and well done).
Another feature we really enjoyed is the large, backlit display which allows it to be used at night.
Pros:
Dual-Probe Design – The dual probe design allows you to monitor your smoker and meat simultaneously.
Large Backlit Display – Being able to see the unit easily in less than ideal lighting is a great feature.
Cons:
There is a loud beep every time a button is pressed.
Read more:
2. Best Bluetooth Smoker Thermometer – Weber iGrill 2
Those who prefer to keep all their gadgets and devices updated with the latest technology would love using the Weber iGrill 2 meat thermometer.
Unlike other wireless thermometers, this smoker thermometer makes use of Bluetooth technology. You can easily connect the thermometer with your phone or tablet and monitor the smoker temperatures in the palm of your hand.
Top features
The thermometer comes with two probes that monitor temperatures even while smoking different kinds of meat.
You also have the option of buying two additional probes so that the thermometer can have up to four working probes at a time.
You can give each probe a nickname, making it easier for you to monitor the temperature settings and readings.
The thermometer's Bluetooth connection can be started by simply downloading Weber's app on your phone and activating it to connect to the thermometer.
What we like about it
The iGrill 2 does a pretty efficient job of monitoring smoker temperatures and gives a fairly accurate reading. It is a great product for those who are tired of traditional thermometers. The iGrill 2's compatibility with the latest tech have made it a popular product in this category.
What is not so good about it
Though radio-style thermometers may seem outdated compared with the iGrill's Bluetooth connectivity, they did have the advantage of providing a better range for the thermometer.
With the iGrill, you may have to make some compromises on the connection range. In other words, you must ensure that there are no obstructions between you and your grill; otherwise, you will not get a smooth uninterrupted connection.
3. Maverick ET-733 Thermometer
Considered one of the best all-round thermometers, you will find the Maverick ET-733 on the list of recommendations by both professional chefs and backyard barbeque enthusiasts.
Top features
The smoker thermometer comes with two probes and a 300-foot range.
It has a large backlit screen where you can view the temperature of the smoker at each step of the recipe.
The temperature readings are accurate with very little margin for error.
The temperature settings are easy to understand and control; you don't have to fiddle around too much to get the thermometer to do the job.
Maverick provides a 90-day warranty for this meat thermometer.
What we like about it
The Maverick ET-733 is actually an upgrade to the ET-732, which was also a pretty popular smoker thermometer from Maverick. The new model does have some significant improvements; specifically, it has two probes instead of the single one in the earlier model.
It also has an upgraded interface that allows you to preset some of the settings. Considering the minimum error margin on the temperature reading and the reliability of the Maverick brand, this thermometer ensures a decent buy.
What is not so good about it
The thermometer does not provide very quick readings, which can be a problem when smoking thin meats like chicken or ribs. It requires some time to read the temperature after the probe is inserted.
Moreover, you will need a screwdriver to access the battery compartment of the transmitter. Some users might consider this somewhat of a hassle.
Read more:
4. Budget-Friendly Option – ThermoPro TP08
The ThermoPro TP08 is another ideal smoker thermometer for backyard smokers and grills. It has all the basic features that you want in a smoker thermometer. Additionally, it is available at a very decent price point, making it the best budget thermometer on the market right now.
Top features
The thermometer is completely wireless and can be used for monitoring temperatures from a distance of up to 300 feet.
It comes with dual probes to assess temperature readings.
You have the option of manually setting the temperature readings so that you don't have to constantly adjust the temperature when you start smoking.
The 1.5 x 1.3-inch LCD screen makes temperature readings easy to read.
The thermometer has an in-built alarm that will beep and flash red if your smoker temperature goes over the temperature settings you have set.
What we like about it
The ThermoPro TP08 is the best budget thermometer. We highly recommend it for those looking for a thermometer for their smoker that does its job well without too many hassles.
There is also an upgraded model to this thermometer, the TP20, which has only one improvement over this one: it comes with preset temperatures. However, in our opinion, setting the temperatures manually is much more convenient.
You will especially like the built-in alarm, as it allows you to leave the smoker unmonitored while you stroll around and enjoy the party. You can spend extra time with your family and friends without any stress of your meat getting burnt up behind you.
What is not so good about it
The thermometer's design could use some improvement; it lacks the up and down buttons for adjusting the temperature. You may also face a difficult time in understanding various other buttons that control its settings.
However, you can easily overlook these minor flaws considering that you gett a pretty good thermometer at a very low price.
Read more:
5. ChefAlarm by ThermoWorks
Although a double probe thermometer is more popular, by far, because of the increased accuracy as well as convenience, those looking for a single probe smoker thermometer do not need to look further than the ChefAlarm by Thermoworks.
Easy to use with top-notch quality, the ChefAlarm will prove itself as a thermometer you will never regret buying.
Top features
The thermometer has a very strong and durable build design. It is designed with a stainless steel 47" probe cable along with silicone buttons and sturdy hinge mechanisms. This thermometer will last through years of use.
The thermometer is lightning fast in getting temperature readings in the smoker. You can get readings within four to five seconds of inserting the probe cable.
The thermometer is waterproof so that you don't have to worry about accidentally getting some of the marinating solution sprayed on it while spritzing your meat.
It has a magnetic back which allows for easy attachment and detachment within a matter of seconds.
The interface has been kept user friendly. The large LCD screen is great for clearly viewing the temperature readings.
What we like about it
The thermometer has been built with the best quality materials making it a sturdy, reliable, and durable thermometer. It gives accurate temperature readings and at an extremely fast speed.
If you prefer a single probe thermometer, you will find this the best you can get on the market today.
What is not so good about it
The major drawback is obviously its single probe design which reduces its efficiency compared to the double probe thermometers. However, its hassle-free design enables you to easily measure temperatures while smoking a single piece of meat.
The ChefAlarm's programming can also be a bit confusing when you start using it; however, a quick read of the user manual will surely resolve most of your doubts.
6. ThermoWorks Super-Fast Thermapen
The Thermapen by ThermoWorks is not a smoker thermometer in the traditional sense. Nevertheless, we recommend any aspiring barbeque enthusiasts to have one of these in their barbeque kit.
While the bigger thermometers are good for measuring temperatures while grilling bigger cuts of meat, the Thermapen is ideal when you smoke smaller meats like ribs, fish, or burgers.
Top features
The Thermapen gives an instant reading of the temperature in less than two seconds.
The design of this thermometer allows you to insert its sensory tip into any part of the meat to get the exact temperature of that portion.
It has a bigger than average digital display, which makes it convenient to quickly note the temperature readings.
What we like about it
The Thermapen is an instant-read thermometer, which comes in really handy when you want to check the temperature of the smoker frequently without holding the lid open for long.
For smoking smaller meats, the Thermapen is a must-have device. Another advantage of buying the Thermapen is that you can also use it for other recipes. For example, you can use it to check the temperature of a candy mix.
What is not so great about it
The Thermapen proves inefficient when smoking larger meats that require at least 12 hours of cooking time. For this limited use to only smaller meats, it can seem a bit pricey for those who already have a traditional smoker thermometer.
7. Thermoworks Smoke
Every single product in the market has one manufacturer that stands out from the rest of the competition because of their sheer dedication to quality. Among mobile phone manufacturers, it is Apple; for smoker thermometers, it is Thermoworks.
Although you will find a number of cheaper options available, the smoker thermometer by Thermoworks offers superior quality.
Top features
The thermometer has a large LCD screen that is easy to view. It is even backlit so that you can read the temperature in the dark.
The thermometer settings are easy to understand; it will take you only a couple of minutes to figure out how to use it. You will likely find it much easier to operate than some of the other smoker thermometers available.
The temperature readings show up really fast. You will hardly have to wait a few seconds before the thermometer gives you the readings.
The thermometer has a temperature accuracy of 1.8 degrees Fahrenheit for temperatures up to 248 degrees F.
An add-on WiFi gateway can also be connected to it so that you can view the thermometer readings on your phone.
What we like about it
Thermoworks has gone all out in designing the most user-friendly and reliable smoker thermometer with a top-notch construction. This thermometer has everything that other smoker thermometers do not.
Marketed as a thermometer for professional BBQ chefs, you will find it proves itself as a thermometer par excellence for home use as well. The unique features of the thermometer such as the add-on WiFi gateway as well as the temperature reading accuracy make sure that you will never go wrong with your smoking and grilling.
What is not so good about it
The primary consideration while buying this thermometer would be its price point, which is significantly higher than thermometers by brands such as Maverick. However, you do get much better quality for the price that you pay, which makes it worth the extra cash in the long run.
You may also dislike the fact that all the temperature controls have been given on the transmitter itself. This means you will have to walk out of your house and to the smoker every time you want to increase or decrease the temperature.
However, you can always preset the temperature to save yourself the trouble of changing it while the meat cooks.
Who is this guide for?
We are pretty confident that you will find the thermometer that best fits your needs from among the choices that we have listed out. The guide is meant to provide you with a range of smoker thermometers that are quite different from each other. This way, you can pick the one that suits you best.
The first five products listed in our best smoker thermometer guide are the traditional digital smokers, which should be considered by those who frequently cook large meats such as briskets. These thermometers are best suited for slow-cooking recipes. By keeping a constant check on the temperature of the smoker, you can have a perfectly smoked piece of meat.
On the other hand, the instant thermometer has been listed for the benefit of those who prefer to smoke smaller meats like chicken or fish. A single probe thermometer also works great for getting the perfect temperature reading for smaller meats.
Read more:
How to correctly use the smoker thermometer
If you are using a smoker thermometer for the first time, keep the following points in mind before starting your recipe:
The internal temperature of the smoker needs to be consistently low; it should vary between 225 degrees and 250 degrees Fahrenheit. This is the ideal temperature for slowly grilling the meat without it getting dry or crusty.
Not sure why you need to constantly monitor the internal temperature? The protein in the meat starts to break down at a certain temperature point, which can ruin the meat if not corrected. You will have to pull the meat off the smoker if that starts happening and let it rest at an ideal temperature.
A dual probe thermometer is always recommended over an instant-read thermometer or a single probe thermometer. Two probes help you in simultaneously monitoring the temperature readings of the meat and the grill.
With products like the Maverick ET-733 and the ThermoPro TP08, you can easily monitor the temperature readings of the grill and the meat if you installed the thermometer when you began your cooking.
Wireless thermometers are ideal if you hope to move around the house or your backyard and get busy with other things.
A huge drawback to using an instant-read thermometer is that you will have to open the smoker lid every time you want to insert it in the meat to check the temperature. This results in loss of heat and affects the flavor of the meat.
How to get an accurate temperature reading
The accuracy and error margin of smoker thermometers varies from one model to the next.
At the same time, you can get as accurate a reading as possible by placing the thermometer at the ideal point in the smoker. Check out the following tips for ideal placement of the thermometer that will give you accurate readings:
The probe should not be touching the grill. It should be raised off the grill and closer to the meat.
Make sure that the probe is not too close to the meat; the initial coldness of the meat will give false temperature readings.
Most smokers tend to be hotter in the middle and less hot on the edges. Make sure that the probe is neither too near the edge nor right in the middle.
Try to place the probe near the middle of the meat to get the most accurate reading. Avoid placing it against bone or gristle.
You can get a thermometer probe clip to ensure that the probe stays in place.
To increase the probe's life, you can nestle it inside a scrunched up ball made of tin foil so that it does not come in direct contact with the hot grill.
Are the dome thermometers any good?
Pre-installed or built-in dome thermometers are a regular feature in all top-of-the-line smokers and grills. You can even find them in some products that fall somewhere in the middle as far as price and quality.
Though it may seem convenient to simply use the dome thermometers instead of buying and setting up a separate wireless thermometer, we do not recommend that. The reason is that a dome thermometer hardly ever gives an accurate reading of the temperature inside the smoker.
The reading given by a dome thermometer is more than 50 degrees Celsius cooler than the actual temperature. This is because the dome thermometers measure the temperature in the air that is above the food.
If your grill or smoker remains closed, you are more likely to end up with a fairly accurate reading. However, once you open the grill and the cooler air rushes in, the temperature on the dome thermometer will drop. You will have an inaccurate reading.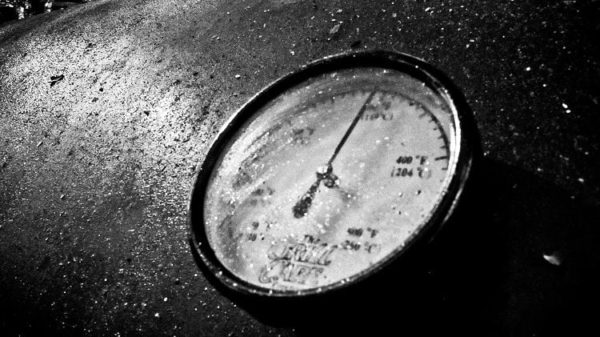 How to Take Care of the Thermometer
Smoker thermometers of good brands such as those that we have listed above are generally designed to be sturdy and long-lasting. However, they do require some maintenance and care, which will increase their life even more. Simply follow the below tips to take good care of your smoker thermometer:
Do not rinse the probes or dip them in water. Submerging a thermometer in water will damage a thermometer and affect its accuracy.
You can clean them simply by wiping them with a damp paper towel. Use alcohol swabs or a saline solution to wipe down the inserts and keep them clean and ready for the next use.
Each thermometer has a temperature rating that should not be exceeded under any circumstances. Most thermometers have a 700 degrees Fahrenheit temperature rating, which should be sufficient for all BBQ recipes.
The probes should be stored neatly. Ensure that the wires do not get crimped or bent.
Read more:
What Are Other Decent Picks?
Our guide to the best smoker thermometer is sure to land you with at least one smoker thermometer that you would like to have in your cooking kit.
However, if you are wondering what other choices you will find under this product category, you can browse through the following smoker thermometer models. Each one of these is decent, but far from the best:
Maverick M Remote Smoker ET-73
Maverick is a reputed brand for producing top quality smoker thermometers. The ET-73 can be considered for its ease of use and brand reliability. However, it has a short wireless range of just 50 meters. You might also experience a drop in connection if there is even one wall between you and the thermometer.
ThermoPro TP20
As we mentioned above, the ThermoPro TP20 is the upgraded smoker thermometer from ThermoPro. It comes with an option to preset the temperature. While this is good if you want to strictly follow the USDA recommendations, we feel that manually setting the temperature settings helps you customize the recipe and gives a better end result.
Maverick ET-735
Maverick has jumped on to the "smart" device bandwagon with the ET-735 which can be connected to your Android or Apple phone with the help of an app. However, the reviews are not too great regarding its connectivity so it may be a bit of a risk buying this thermometer.
ThermoPro TP16
Another good thermometer from ThermoPro, this one failed to make the cut for our list because of its low reliability regarding accurate temperature readings. The preprogrammed settings it comes with are also inaccurate.
Ivation Long Range Wireless Thermometer
Though this thermometer has all the features that the Maverick ET-733 does, its interface is really hard to use. For this reason, it falls short on our expectations. Available at the same price point as Maverick ET-733, we can safely say that it is much less popular among users.
Amagarm Meat Food Thermometer
This meat thermometer will check the temperature in a few seconds, and is also purported to work well with deep frying, candy-making, and baking. As a digital meat thermometer, you flip the probe out and insert it to get the reading. Then, you pull it back out, and the unit powers off automatically. With a backlit display, you can read the values in dim light. One drawback to this device is the difficulty users have found in putting in and removing the battery. Although the price is low, the design is not the best.
Conclusion
Choosing the right smoker thermometer can be a tough task, especially if you don't have a lot of ideas about which features are necessary and which you can do without.
Accuracy of temperature, good connectivity, and ease of use are some of the top considerations that you cannot compromise on while choosing a meat thermometer. You might also want to give preference to a double probed thermometer that can give fast temperature readings.
We hope your decision making will be made easier with our list of the best thermometers and our tips. Do let us know what you think about it and which thermometer you decided to go with.
Last Updated on August 16, 2020 by Judith Fertig