Are you an outdoor grill cooking fan who frequently struggles trying to balance your time as you try to pull off a successful cookout?  Are there times when you overcooked your food just because you were sidetracked trying to ensure all the things were going on right as they should? Do you often miss the big play as everyone else is watching the game just because you were stuck on your grill hovering it? The Weber iGrill 2 Thermometer may be your best solution for all these and much more.
Overview
Weber iGrill 2 Thermometer is a Bluetooth enabled thermometer which makes it possible for one to monitor up to four different temperatures at the same time which makes grilling a lot easier and fun. Grilling equipment and smart cooking have of late become a hot trend. The Weber iGrill 2 Thermometer is a major player in this category.
Quick Specs
Ease of Use 100%
Accuracy ±1°F
Average Reading time (seconds) 16.25
Temperature Range -22 to 572
Response Time (Seconds) 3
Wireless Range (Feet) 150
Weber iGrill 2 Thermometer Features
Weber brand is a trusted in the grilling industry and is popularly known for producing top quality items. Their thermometers range in use and price. For example, the iGrill 2 thermometer has been designed with the smoker and griller in mind. It comprises of both standard and advanced features compared to other grilling thermometers found in the market.
Read more:
Weber iGrill 2 Box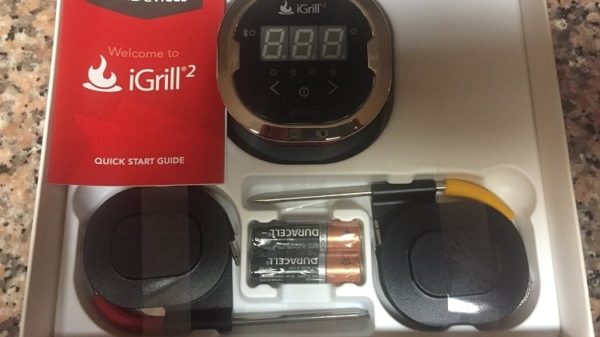 The Weber iGrill 2 Box refers to any smoker or griller device. It consists of four probes and comes with two high temperatures Pro probes. This box features a magnetic mounting and it is also powered with two AA batteries with up to 200 hours of battery life.  This Weber iGrill 2 Thermometer is capable of checking temperature of any liquid or food ranging from below freezing to beyond what most standard ovens check.
Majority of the digital thermometers of similar type do not have automatic shut off feature and they do stay on indefinitely.  This Weber iGrill 2 Thermometer also comes with an auto off shutdown feature whenever it is not in use or when there is no probe connected. In case the probe is inserted into the food and it is paired to a smart device, this unit will not be able to shut off. Having the probe inserted and no pairing, it will automatically shut off at the 8th hour mark. In case there is no probe and no pairing, the auto shut off will come after five minutes. This is known to be an excellent feature that helps prevent the batteries from accidentally wearing out.
The Quad Probe Support
The wireless Weber iGrill 2 Thermometer is in a position to support up to four Pro probes and its single read out is capable of displaying any by press of a button. One has the freedom of choosing the option to have the iGrill2 cycle through every probe automatically read out. The probes are also known to have temperature ranges from 22 to 572 degrees Fahrenheit. This will ensure that all your foods doneness is well covered.
The iDevices iGrill2 with Quad Probe Capability
In case you are grilling using several probes, it is possible for you to set individual alarms for every probe at specific temperatures. This can be of great advantage if you have a family that likes different doneness levels for their steaks.
With the high levels of heat resistance temperature probes that are capable of withstanding temperatures up to 620 degree Fahrenheit for extreme outdoor smoking and cooking. The probes are also known to come with colored coded and heat resistant sleeves for easy tracking.
For instance, the Weber iGrill Pro Ambient Probe consists of a probe clip that is used for mounting it on the grill grate to help one tell what the temperature where their food rests is. However, the ambient probe is never included in the iGrill 2 since only the two Pro meat probes are standard.
Any serious griller will agree that being aware of the precise cooking control temperature is important for smoking or grilling success. It is therefore true that the ambient temperature probe is worth the cost. In case you are interested in one, feel free to check out the price here.
Illuminated LED Display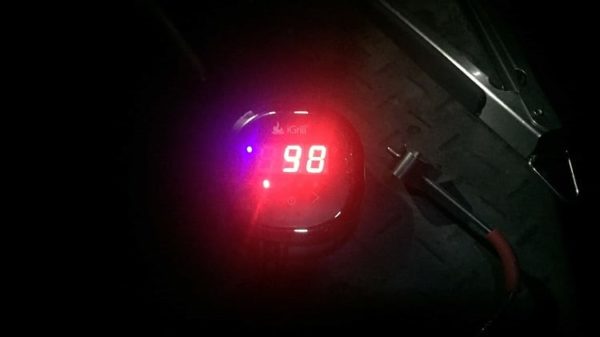 Weber iGrill 2 Thermometer comprises of a bright and large illuminated LED display which is easy to read. This ensures that reading the temperature in lower light conditions is much easier. The display also reveals temperature in Fahrenheit or Celsius. However, this will depend on your choice. It also reveals the timer function which is another important feature.
It can be used as a Standalone Thermometer
This iGrill 2 Bluetooth enabled digital thermometer can be used without having a smart device. Hence, it is possible to use it as a standalone thermometer. This thermometer can tell one the food temperature on its large LED display despite it not being paired with your smart device.
Free Downloadable App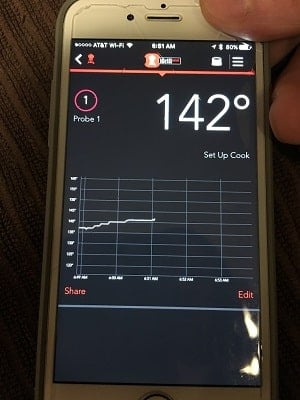 Easy To Use Mobile App
It is possible for one to download the free app to help monitor their meat or the internal BBQ temperature. The app can function on both the iOS and the android devices. iGrill 2 uses similar smart device app as the iGrill mini. Lucky enough, I have also had the chance of using and reviewing the iGrill mini which is another top product. It is recommended for those who are on a tight budget.
App Customization and Presets
The app will allow you to choose from the large list of preset meat options such as fish, beef, lamb, poultry and pork and doneness list choices for each. The presets will make it possible for you to select settings on which you can comfortably cook your meat which can either be rare, medium rare, medium-well or well. It is also possible for one to create their settings for each food probe.
When you have reached the temperature settings, you will be notified by an alarm. You can always name and save the custom created settings to help you in future.
The app also has charts that help in monitoring and tracking temperature changes. The app will enable one to set custom alarms for every probe and will even send one push notifications immediately your food hits the preset mark.
One has the freedom of renaming the probes within the app by either the colored food or type of food. Setting up multiple timers for the probes in use is also possible.
It is also possible for one to view the temperature vs. time graph in the application and thereafter export it to the CVS file for future referencing by using of the Microsoft Excel spreadsheet.
Some few extra fun perks which are different from majority is its ability to view different recipes in the application that you can use in your next grilling or smoking. The app will also enable you to view and take photos and share your cookout with other iGrill owners on different social media platforms such as Facebook.
150′ Line Of Sight Bluetooth Connection
Try imagine being able to pair the Bluetooth device to your smart phone within 60 seconds without experiencing any problems.  This can all be attributed to the App on screen prompts. It makes it easier to navigate through the menu and it is self explanatory.
Weber iGrill 2 Thermometer consists of a wireless range that can last up to 150 feet away although it might differ depending on a number of factors. However, it is shorter than several such wireless thermometer brands and this feature is one of the reasons why most people prefer it.
200 Hour Battery Life
The Weber iGrill 2 Thermometer manufacturer claims that the thermometer has a battery life that can last for up to 200 hours. Although I have never gotten an opportunity to test the batteries myself, what I can say is that I have managed to use my battery for 2-3 weeks for over one year now and I have so far changed the batteries only once.
Magnetic Mounting
Weber iGrill 2 Thermometer base units comprises of magnetic disc that allows one to mount it on their oven or grill. The base unit is very convenient.
The base unit comes with a magnetic disc that lets you mount it on your grill or oven. I found this very convenient.  If your grill or oven is not made of metal, it also comes with a small circular magnet with adhesive on one side.  That way, you can stick the adhesive magnet to any surface and then stick your unit to it.
Probe Storage
Whenever the thermometer is not in use, you need to wrap the probes around using a plastic probe wrap which makes storing the 48-inch heat resistant cable much easier.
Read more:
Benefits of using Weber iGrill 2 Thermometer
Weber does have a well regarded line in its iGrill wireless meat thermometer. You will be able to get high end thermometer that comprises of a wide range of features with the iGrill 2 bluetooth smart meat thermometer.
Retailed by Weber together with their excellent customer service, the Weber iGrill 2 Thermometer offers one with the thermometer they dream of having. Just like any other Weber product, this thermometer also comes with an excellent quality. It offers some of the best features that are found in the wireless grilling gear while they are at an affordable price.
Weber iGrill 2 Thermometer with Probe
You can step away from the smoker or grill and keep an eye on the progress using tablet or smart phone that is much more practical when preparing side dishes or  for the longer extra long cooks.
When you are able to keep your hands free, you should never worry about carrying a heavier receiver with you like other competitors. Here, you will not have to worry about more broken belt clips or trying to remember where you had set down the darn receiver. All you have to do is keep on cooking and moving since your phone is the receiver.
Performance
The Weber iGrill 2 Thermometer is in a position of withstanding wider range of temperatures compared to most of the grill thermometers. With temperature ranges from -22 to 572 degrees Fahrenheit, you will be in a position to use able to use for more purposes other than just a grilling thermometer since it has the ability of reading below freezing temperatures.  This thermometer also has a great impressive response time for just 3 seconds.
Most of the Weber iGrill 2 Thermometer users find it to be very accurate. Its manufacturer claims the thermometer is accurate within one degree Fahrenheit which has been proved as true on a number of tests. Despite not being an instant read thermometer, it has proved to be a faster thermometer than others.
This iGrill2 contains a wireless range of up to 150 feet and although it is long compared to what others have, it is still long enough it is enough let you go on the sitting room and check out your favorite program on the TV or relax by the poll side while your food is cooking.
How to Use the Weber iGrill 2 Thermometer
To use the Weber iGrill 2 Thermometer, you need to plug your probes into any of the four probe ports. Power on the device and toss your favorite piece of meat on the grill.  Ensure you stick the probe inside the thickest part before launching the application and walk away.
Weber iGrill 2 thermometer is known to be very intuitive. It is therefore recommended that one goes through its user manual before starting to use it. After you power it up, there is a three step process that you need to follow.
Insert the probe into the center of the food. Ensure it is in the center of the thickest part so that you do not end up with uncooked meat.
Open the application and choose one of the preset temperatures which have been named by several meat types.
If you like, customize the range by increasing the temperature alert and reducing the low temperature alert by pressing < button or the > button. This will be determined by your taste.
You are now ready to roll. The thermometer will always update you on the probes temperature and send you alerts whenever your temperature goes out of the set range.
Who is Weber iGrill 2 Thermometer Meant For?
The Weber iGrill 2 Thermometer is meant for casual or serious grillers who are in need of an accurate thermometer. In case you are looking for a new wireless thermometer, then this is the right option for you. The style and features are worth the money.
For sure, it is worth the investment in energy and time and not to mention the accuracy of cooking that comes with this thermometer. It also provides on with a peace of mind knowing that you will not have to worry about getting sick from the under-cooked meat. This is one thing that you together with your family need to be thankful about.
Pros and Cons
Pros
It is super user friendly.
Has a good battery life.
It hands off the freedom and grilling from hovering over the grill.
Its temperature readings are accurate within 1 degree Fahrenheit.
It is much easier to navigate through the menu.
Cons
It only has 150' line of sight Bluetooth connection whereas there are products with up to 300'.
The meat probe can easily get damaged if it is handled or used in a wrong way.
There is no chance you can save cooks in the application for future reference.
Conclusion
Weber iGrill 2 thermometer is an upgrade of the iGrill. It is a must have digital thermometer for anyone who intends to have a great grilling and barbecue experience.
Read more: 
The accuracy, multiple probe support, response time and app makes it be one of the best Weber iGrill 2 thermometers in the market.
Despite the presence of similar priced thermometers out there, the ability to link iGrill2 to your phone makes it to be ranked top among other products. It can be great if Weber can incorporate the device to be able to connect via Wi-Fi as well. In my opinion, Weber iGrill 2 is able to make your next cookout a winner. You will never try grilling without it again.
Thanks for your time and hope the Weber iGrill 2 thermometer review was helpful. If you or a friend of yours is interested in grilling thermometers or if you find this information helpful, feel free to share it on social media or with your grilling friends.
Feel free to leave a comment or add on something concerning Weber iGrill 2 thermometers.
Last Updated on January 23, 2019 by Judith Fertig