Smoke by ThermoWorks Features Video
Thermoworks  Smoke thermometer is considered to be a direct rival of the Thermopro TP20 and Maverick ET-733. iGrill 2 will be a better pick for a more adventurous person who are interested in viewing the smoker temperatures on their phones wherever they are.
Smoke™ 2-Channel Alarm thermometer, a new tool specifically meant for outdoor cooks has been released by ThermoWorks, a maker of some top thermometers for grill, food and oven.
Previously, people who were interested in a more durable thermometer with easier program lacked other options. The arrival of the changed everything. Improving on ease of use and core features, Thermoworks have finally succeeded in coming up with a thermometer for smokers.


Thermoworks have also managed to come up with a new product known as Smoke Gateway. Smoke Gateway makes it possible for the smoke to work on your Wi-Fi and it comes with a mobile application responsible for monitoring your temps. You will learn more about the Smoke Gateway later in the review. 
The Smoke Thermometer contain several features and is currently considered to be among the top-selling wireless meat thermometers on Amazon.
Whilst the Smoke uses traditional radio frequency signals to communicate with the receiver, Thermoworks have introduced a new product, called the Smoke Gateway. This allows the Smoke to work on your Wi-Fi and has an accompanying mobile application to make monitoring your temps even easier. Keep reading this thermoworks smoke review to find out more.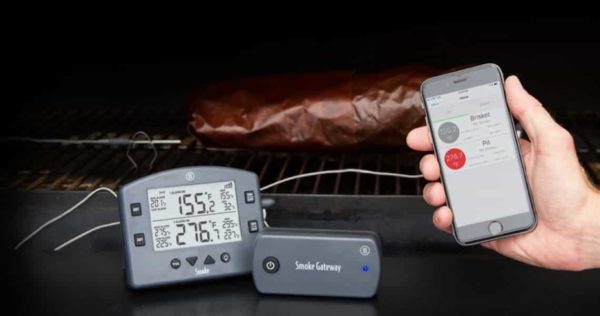 Overview
It is responsible for sending temperature readings to the receiver. You can place the transmitter anywhere within 300 ft.  You will first notice the size of the smoke immediately you take it out of its box.Here are some of the things you will notice at your first sight.
Its LCD screen is larger compared to that of its competitors. This makes it possible for the users to easily read its temperature. In case you do have a bad glare or if it is dark, you can still tap on the button on the transmitter or the receiver making it illuminate for approximately twenty seconds.
You should not have major problems in setting up your smoke thermometer if you have previously owned a digital thermometer. You can get a transmitter which can accept two temperature probes at a go for as low as $99. Transmitter refers to the part that sits next to the smoker.
The Smoke thermometer does feature a rugged housing consisting of molded in seals that ensures splash proof protection making it very durable.
You will continue appreciating Smoke thermometer design the more you continue using it. Thermoworks focused on making both the Smoke setup and operations easy and simple and removed unused features.
The receiver and transmitter are paired hence you will never confuse the set up process. Setting low and high alarms is simple. In case you have previously owned a thermometer, you will appreciate its up and down buttons that are used for setting right temperatures.  Despite sounding like a small feature, there is nothing that is disturbing like having to start from scratch after overshooting temperature by 1°.   A loud noise will always beep whenever temperature gets or drops below the standard limits when you set low and high alarm. One can also track the minimum and maximum temperature they get to when cooking. This is beneficial as it will help check if there are any flare up when cooking. You can get more information on Thermoworks website.
What's included
Components that comes with a Smoke Thermometer
A wireless smoke receiver w/Lanyard
A thermoworks smoke base unit
Six inch pro series high Temperature cooking probe consisting of a 47" cable.
User Manual
2 Year Warranty
Product Specifications
Life of Battery: 1800 hours
Display:

Receiver: 1.30 W by 2.15 H inches;
Smoke: 2.95 W by 2 H inches

Probe Range: -58 to 572°F (-50 to 300°C)
Probe Cable Range: Max 700°F (370°C)
Accuracy changes between different temperatureranges:

±1.8°F (±1.0°C) from -4 to 248°F (-20 to 120°C)

±3.6°F (±2.0°C) from -58 to -4°F / 248 to 392°F(-50 to -20°C / 120 to 200°C)

±5.4°F (±3.0°C) from 392 to 572°F (200 to 300°C)

Resolution: 0.1°F (°C)
Units: °C/°F switchable
Water Resistance: IP65 (excluding probeconnector)
Operating Range: 32 to 122°F (0 to 50°C)
Backlight: 20 seconds (both Smoke &Receiver)
Max Sounds Volume: Smoke: 90dB / Receiver: 75dB
Sensor: Thermistor
Transmission Range: 300-feet line of sight
Thermoworks Smoke Thermometer Features
Smoke Thermometer consists of a number of features that sets it apart from other models. Its durability and ease of use ranks it top of the list. Setting up the temperature and keeping an eye on it is a breeze even when you are suffering from temperature flares while cooking.
The Thermowork Smoke Transmitter, Receiver and Probes
One main issue with most wireless thermometers is that there are times when their range is not able to meet your requirements especially when you are not in a direct line of the  . Smoke thermometer will offer a sight range of up to 300 ft and although there might be drops when you inside, there are times when the connection will remain strong to ensure the receiver is used through a number of walls.
This transmitter consists of a larger back lit screen with larger digit display that ensures the temp readings are as painless as possible. This transmitter also consists of an easy to use high/low and Min/Max alarms that contain adjustable volume to help one set the exact amount of smoke they want. The receiver also contains a large back lit display made of vibration and  audible alarms.
In case you are part of the BBQ team or you are involved in any type of competition, you will be happy to hear that the Smoke thermometer will allow addition of several receivers to a single transmitter.  This gives the entire team an easy time to see temperature hence; no one will ever miss the right time of removing brisket.
Both the Smoke and each of the receivers does use two AA batteries for powering up. The batteries can last for up to 1,800 hours hence, you will rarely have to change the batteries. However, it is advisable that you have some kept just in case the batteries run out.
Build and Design Quality
The quality of the Smoke transmitter and  receiver build and design are as good as never before. Both the transmitter and receiver build are made from high quality plastics and are very rugged and splash proof. The quality of the build is what you get from Thermoworks. In fact, it is among the best currently available in the market.   Expect the transmitters' and receivers build to last for long and be in a position to withstand bumps and knocks.
The Smokes design satisfies what we expect from Thermoworks.  Using  this thermometer is easy and one does not have to go through a lot to clean them. Smoke also consist of several buttons each having a different use that makes it  easier to use. 
We don't have many faults on the Smoke although having a clip to help in hanging the transmitter on smokers in absence of a side table. The Smoke thermometer probes are the best.They are very reliable and easy to use. However, it's only time that will tell if they survive they frequent use. This is an excellent feature that should be included in all the best digital thermometers. 
Ease of Use
One running theme that is common across most of the Thermoworks products is their ease of use. Whenever you are obsessed on getting a pork butt or brisket, one last thing you would consider doing is being distracted by a complex tech which is supposed to make your life easier.This is one thing the Smoke thermometer will never do. It has excellent controls which can easily be used by the least savvy person.
One good thing concerning the Smoke Thermometer is that its receiver and transmitter are pre-paired. This means you will not waste your time going through manuals trying to figure out how to connect the receiver and the transmitter since Thermoworks have done that.  It is much easier to add another receiver since all you have to do is pressing the single button after turning the transmitter over.
How to use the Smoke Thermometer
Using the Smoke thermometer is very easy. However, you will have to remove the screen protectors the first time you start using it. It also consists of pull tags to help in automatically removing battery protectors which will turn on the unit.
Every probe that is plugged into the unit together with the temps should automatically start reading. Its LCD screen is divided into two. Probe 1 is reserved for the top half while probe 2 for the bottom half. Every button which is of decent size is strategically positioned.
Choose "Set" to set up the probe limits on the transmitter's left side. You can press the "Set" thereafter use the up and down buttons located at the units center to help you get the right temperatures.  When done, press "Set" to lock it.
Guide for Quick Start
Press  ON/OFF switch located the receiver's back to switch on the unit.
In case youwill be using the air probe, ensure it is connected together with the High Tempcooking probe.
Click on"Set" and choose your high temp by adjusting the arrows. Thereafter press set to lock it before you start toggling low temperature. For instance, for a low and slow cook, you can set 250 degrees to be your high while 200 degrees to be your low. In case you are using a meat probe, choose the right temperature in relation to whatever you are cooking.
After setting up your smoker, thread air temp probe and have it attached to the grill clip.
Ensure that the temperatures are displayed on both the transmitter and the receiver.
You can now start cooking! Most people are known to leave their transmitter next to their grill beside the smoker.Although it does have a magnet at the back, the WSM usually gets too hot to get attached to it directly. In case you have a cooler surface, you can consider attaching it to that.
Turn of the receiver in case you are going out. This will help you save the power of your battery. The transmitters' large LCD screen will help you to easily check the temperature by peeping on the window. In case you are busy watching a program on your Television set or cooking something else, it is advisable that you have your receiver closer to you.
 In case the temperature gets past or below the set limit, both the receiver and the transmitter will start producing loud noise. The receiver will also start vibrating making it extra obvious.
Smoke Thermometer Gateway
Smoke Gateway refers to Smoke thermometer Wi-Fi Bridge. This simply means that it is in a position to add internet connectivity to the Smoke thereby making it possible for one to follow up on whatever they are cooking from their tablets or Smartphone's regardless of where they are located.

Check the latest price of the Smoke Gateway.
 How it Works
The Smoke connects to the Gateway by use of radio frequency.  Thereafter the Gateway will connect to the Wi-Fi which will send temperatures that alerts Gateway app on your tablet or Smartphone.  With this,you will be in a position to monitor and track your cook with the help of push notifications, graphs and extra alarms. This is similar to what the automatic temperature controllers of BBQ Guru CyberQ Cloud and the Flame Boss 300 have previously done.
The real Gateway unit is well constructed using same design that is used in Smoke. The unit is made from similar tough plastic and it is splash proof. Its chunky and big making it feels awkward.However, it's only a bridge that we can easily forgive for that. You can always keep it inside hence easy to hide away just next to your router to help it maximize on the strength of the signal. It contains one button for powering and connecting. It also uses a rechargeable battery that is capable of providing up to 100 hours of battery life.
Its connection process is a bit simple and the Gateway application will see you through the entire process. You will have lots of different extra statistics and resources to help you monitor the cook once you are connected. You can change or set the alarms directing from the app, hence you will not have to go back. Another important thing to note concerning the Gateway unit is that the alarms which have been set on the application are independent of the Smoke transmitter alarms. You might have been a bit disappointed at the lack of application features if you had previously used the CyberQ Cloud. However, there are still plenty of features that will still help you get the best cook.
Who can Use the Smoke Thermometer
Thermoworks specifically designed the Smoke thermometer for serious griller's, professional cooks and competitive BBQ teams.  In case you cook on a frequent basis, especially low and slow, you will require a wireless thermometer and the Smoke Thermometer is the best choice. This thermometer is affordable and can pay for itself several times and you will never have to upgrade it for anything better or bigger. It was built to last!
In case you prefer high-tech grilling gadgets, the Smoke Gateway is readily available as an add-on.
Who Should Not Use Smoke Thermometer?
Smoke Thermometer can be of waste if a cook does not smoke of or very often slow cooks. You will not be pleased with it if you are not a wireless technology fan. However, you need to remember that this is not a Bluetooth device.
Despite being the best wireless thermometer in the market, you can consider going for ThermoPro TP20 which costs $40 less if you are turned away by the Smoke's high price.
Pros and Cons
Pros:
It comeswith two probes.
It is veryversatile.
Has a splashproof.
Capable oftransmitting up to 300 feet.
It is capable of pairing several receivers.
Its transmitter has a magnet on the back.
It is accurate within a degree of up to specific temperatures.
Cons:
Its accuracy reduces with increasing temperatures.
Both its receiver and transmitter are quite large.
Thermoworks Smoke vs ThermoPro TP-20  Thermometer 
Most probably you are wondering which one is better. Although it is a tough question, Smoke Thermometer is the clear winner.
Smoke thermometer is a bit easier to program, much more reliable and has few more features. However, that does not mean that we will always recommend it over the ThermoPro TP-20. Smoke costs $40 more than the ThermoProTP-20. In case you are on a tight budget, we definitely recommend the ThermoProTP-20 or Maverick ET-733. Despite being luxurious, you will not get what you pay for from the Smoke. The ThermoPro TP-20 has a clearer display hence,reading it is much easier.
Despite Thermoworks Smoke Thermometer winning it in almost every aspect, it lacks a clip or somewhere to hang it whereas the ThermoPro TP-20 does. It means you must use a side table on Smoke thermometer. It is far from the deal breaker but capable of causing inconvenience especially when cooking on something that  lacks somewhere to place your Smoke.
We do recommend Thermoworks products every time. However, the model you go for will depend on what you want.
Where to Buy Smoke Thermometer
Are you considering buying a Smoke thermometer? The best place to shop for one is from the Thermoworks site. With growth in internet usage, you will come across several sellers buying here and selling them there at a higher price in some of third party sites such as EBay and Amazon.  Be sure of getting the best price when you purchase directly from Thermoworks.
Overall Thoughts
Thermoworks Smoke thermometer is similar to other products from Thermoworks in that it is also an excellent smoker thermometer. In fact, it is among if not the best in the market. However, for you to use it, you will have to pay premium amount.
Smoke contains all the features any person will need to help them keep track of their cook. It is well built and easy to use and contains some of the best probes. Inclusion of Smoke Gateway comes up with a completely new way of monitoring whatever you are cooking although at an extra cost. In case you can with stand the high cost, then it is highly recommended that you at least go for the Smoke unit since you can do without the Gateway. However, if you have some money to spend and you aspire in making your cooks easier, then you can get the Gateway as well.  Due to the reliability and high quality of products from Thermoworks, you will end up paying less compared to other brands in the long run. 
We hope the review has helped you understand Thermoworks Smoke thermometer better. In case you have any question, kindly feel free to ask it in the comments section.
Last Updated on January 4, 2020 by Judith Fertig