Welcome to BBQQueens! We'll be presenting to you the best gas grills you can ever find under $500. This guide will cover all you need to know about the best gas grills under $500, plus we're going to dish out factors you need to consider before you buy your next gas grill. We also did a series of tests to ensure that you get the best grill under this price.
What Do We Want To Achieve With This Guide?
Not everyone can afford to buy a gas grill in the thousands of dollars range. And for some, they don't think spending thousands of dollars on a gas grill is worth it. If you fall into any of these categories, this guide is for you.
As expected, there are boatloads of gas grills in the market that selecting the right one can be confusing. On the other side, that you spend a huge sum of money does not necessarily mean you're getting the best quality. I've seen people who used expensive brands and the quality was not up to the mark. For example, some expensive brand are small-sized, and you can only cook a few burgers. Some are poorly designed or cannot keep a consistent temperature.
At BBQQueens, we are not only here to recommend the best gas grill under $500, but also to make sure the gas grills can sear streaks and also work at the lowest temperature.
In this guide, we scouted for the best six gas grills based on popularity, quality, and review from past users.
We selected brands with 3-5 burgers and ensured that each one comes with a Temperature range, warming rack, and Hanging shelves. And we also checked for their BTU. However, I have an important secret to reveal about BTUs.
BTUs- What's The Fuss All About?
While doing our research, we noticed that the term "BTU" is thrown all around the place. Well, BTU is technically defined as the number of heat the grill disbursed within an hour, during operation. Don't get caught up in the huge BTU fuss. It's only a trick manufacturers use to wow customers. The truth is; BTUs aren't the first thing to consider.
So what should you prioritize? That's the design and quality of the material. Kindly note that design and build quality is far more critical than the quantity of BTU.
For example, a gas grill with a 50,000 BTU but with poor build designs and quality material will perform less than the one with a 12,000 BTU with quality designs. Although back in the days, BTUs were highly relevant, the table has turned.
How We Tested And Selected The Best Gas Grills Under $500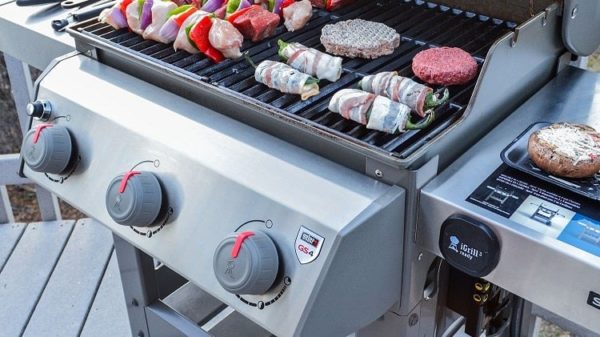 To ensure that you're getting the best gas grill under $500, we examined how each model performs in terms of grilling and slow cooking.
Although we appreciate the convenience, ability to sear a streak, and ease of use offered by the gas grill, that shouldn't be all. It's also important to consider if they have some charcoal grill features. Let me take you through some of the features we tested.
Heat distribution quality
One of the most essential qualities to consider in a gas grill is how well it distributes the heat during operation. Here's how we tested for their heat distribution quality:
We placed our slices of bread on the surface of each grill. The more the heat distribution, the better the bread toasted.
We were able to note down the ones that did excellently well and those that performed woefully. Remember that although the amount of heat distributed isn't the most critical factor if when toasting bread, it can be very crucial for an expensive brisket or ribeye.
Flavorizer bars
We don't have much to say about this. They're pretty straightforward. The flavorizer bars function as a cover to the vertical burners. What they do is to ensure an even heat distribution while ensuring that smoke flavors are added to the cooked food.
Burners
Burners are these vertical flat metal tubes that you can find at the base of your grill. Just lit them and watch as they create a flame.
Heat maintenance Capacity
One of the things that differentiate gas grills from another is their ability to maintain a steady temperature when smoking. We noticed some common traits with gas grills that failed to maintain a steady temperature.
Most of them have their lids, vents, and seals poorly designed while the burners of some of these grills are vertical by structure.
Major Problems Of The Gas Grills
Size of the vent and position of the burner
One major challenge we discovered with smoking through a gas grill is the large vent at the rear of its lid.
When smoking, we discovered that heat escaped through the large vent, affecting the even distribution of heat. This leaves me with chunks of uncooked meats. Also, when we tasted the meat, we felt less of the smoky taste.
Apart from the large vent, the burner's orientation also affects the distribution of heat.
Many gas girls out there have their burners vertically oriented rather than being horizontal. The problem with the vertical position is that only one side of the grill experience more heat, leaving it to escape before coking the other meats.
The Best Gas Grills Under $500 For 2019
Now, let's dive right into the best gas grills under $500.
🥇 Our editor's choice: WEBER SPIRIT II E-310
Features
Number of Burners: 3
Grates material: Cast Iron
Primary Cooking Area: 408 Square Inches
BTUs: 32,000
Maximum Grilling Load: 19 burgers
Assembly Time: 1.5 Hours
This gas grill is our favorite on the list. We enjoyed a great sear on burgers and steaks. Although all the products we reviewed were able to sear on streaks, what caught my attention with the WEBER SPIRIT II E-310 is that even with the high grilling power, it was still able to slow cook.
We cooked the racks of ribs on this grill, and it delivered an impressive result of a delicious and smoky meal. All thanks to the aluminium design and the even best distribution. The grill is sturdy (solid cast aluminum steel made), and many users have testified to its long-lasting ability.
Honestly, the price of the weber spirit does not equate with its heavy-duty function. Weber's spirit did a great job here. Talk of the build quality, this product is built with solid cast aluminum, with the lid made with excellent stainless steel material.
Weber understands that the most crucial part of a gas grill is the design and build quality, and that is what they kept in mind when creating this best gas grill under $500.
Don't expect any fancy look with this has a grill; it's just your regular everyday reliable grill.
Surprisingly, this model has a lesser BTU than other grills we reviewed. I hope you can see that performance and build design is the most critical part of a gas grill.
When we checked under the grate, we found five different favorites, and as I said earlier, they are the brain behind the even distribution of heat in this grill.
That's also where the fat drilling turns into the flavorful smoke that goes into your smoked food. I also find these grates easy to clean (literally took me a few minutes to clean)
We also noticed the new GS4 Grilling system of this model that boost the way your grill holds heats and distributes them evenly. That way you can quickly sear your steaks and grills your burgers. It also helps you keep heat even when you're performing slow cooking.
We also noticed a spot on the WEBER SPIRIT II E-310 where you can insert your digital thermometer. That's why I prefer this model to the cheap grills out there that only have a poor quality bi-metal thermometer.
Overall, there no denying the fact that the WEBER SPIRIT II E-310 is a reliable performing grill with great features and an unmatched level of durability. And we don't declare it as our top pick.
🥇 BROIL KING SIGNET 320
Features
Number of Burners: 3
Grates: Cast Iron, Reversible
Primary Cooking surface Area: 400 square inches (630 in total)
BTUs: 40,000
Maximum Cooking Load: 20 – 25 burgers
Additional Features: Drop down side shelves
Average Assembly Time: 1.5 Hours
After WEBER SPIRIT II E-310, came this excellent yet affordable gas grill. We tested it with our barbeque, and we are surprised at its extreme hotness.
Not surprised though, as this grill puts out over 40,000BTUs with just three burners. The gas grill can sear your steaks and burger at up to 800°F. Despite the high searing temperature, it also maintains a low temperature to keep an evenly distributed heat when cooking.
Well, thanks to its aluminum cook box that helps maintain an evenly distributed heating for your slow-cookings.
The big stainless steel tubes inside the burner create flames that are bigger and more evenly distributed.
There's a feature that mimics the favorites in Weber. It is called the Flav-R-Wave heat tents. It distributes the heats and turns the drippings into the smoky flavor on your grill.
One thing I love about this grill is the highly durable grates. We were able to make a deep searing without a fault. At the side of this drill, you can find the stainless shelves where you can cook extra meals.
But, above all, I noticed that the built quality is not impressive. Parts like the side shelf bends easily. Apart from these little flaws, the BROIL KING SIGNET 320 is another best gas grills under $500, with a well-designed build-up, even heating and can get very hot ( I can testify to that).
Also, it feels great to know that you're covered with the mouth-watering warranty. Your burner gets a 10-year warranty, your parts get two years, and of course, your cook box is covered for life.
🥇 Char-Broil Performance 475 4-Burner
Features
Number of Burners: 4
The material of Grates: Porcelain-coated cast iron
Total cooking surface area: 475 square inches
BTUs: 36,000 + 10,000 side burner
Maximum Grilling Load: 20-25 burgers
Extra feature: Side burner
Average Assembly Time: 2.5 Hours
This model comes at a 475 square inches of surface cooking area. You can as well quickly clan up the porcelain coated grill. You can also set its gas gauge anywhere from 50°F- 100°F.
If you want a quality grill and some great sense of smoking, don't hesitate to go for the CHAR-BROIL.
🥇 Dyna-Glo DGE Series 4 Burner
Features
Number of Burners: 4
Grates: Stainless Steel
Primary Cooking Area: 530 square inches
BTUs: 40,000 + 12,000 for side burner
Maximum Grilling Load: 26
Additional Feature: Side burner
Average Assembly Time: 2.5 Hours
Initially, we thought this grill would take the runner up position because it looked great from afar. But when we tested it, our expectation was drastically reduced. Although it came at a large cooking area, it was unable to cook our burger evenly. However, when we tested it with slow cooking, it did an excellent job, and the result was not as bad as we thought, even with those numerous opening. The 96 pounds gas grill from Dyna Glo is constructed using stainless steel materials.
The cooking areas are about 646 square inches alongside a side burner feature and elegant stainless steel grates.
Of course, the four main burners puts out a total of 40,000BTUs (that means each came out at 10,000BTUs). As I said before, there's also a side burner, and it also puts out 12,000BTUs, making an overall 52,000BTUs.
There are two things I love about the enameled steel firebox. Firstly, it radiates heat well and that you can easily wipe clean it which can make it lasts for long.
What we dislike about this product is that it can be challenging to assemble. Also, when we closed the lid, we still noticed a large opening at the rear end. Dyna Glo can improve on the quality of design and durability.
🥇 Nextgrill 4 Burner Propane Gas Grill
Features
Number of Burners: 4
The material of Grates: Stainless Steel
Primary Cooking Space: 26″ X 17″
BTUs: 48,000
Maximum Cooking Load: 15 (4″) burgers
Because of the price and review, I will try and go a bit easy in this grill. But the performance was nothing to write home about when it comes to grilling or smoking.
It doesn't cook evenly and even the ribs we smoked came out too dry. Not until when I re-cooked and placed the ribs towards the burner before they eventually came out nice.
The design is not the best in town, and the manufacturer can improve on quality. This gas grill is just an "Okay" option.
🥇 Kitchenaid 3 Burner Gas Grill
Features
Number of Burners: 3
Grates material: Stainless Steel
Primary Cooking Area: 24″ x 19″
BTUs: 36,000
Maximum Cooking Load: 20 (4″) burgers
Additional Features: Side burner
This gas grill under $500 cannot compete with other great models. When we cooked with it, we noticed an uneven distribution of heat. The grill was not as hot as we thought (except at the rear). Although you can still smoke a rack of ribs, it's not the best to steaks. However, the grill looks appealing.
Other Factors To Consider Before Buying The Best Gas Grills Under $500
Fuel source
The two sources of fuel of a gas grill are natural gas and propane. While both are excellent choices compared to charcoal, natural gas burns a lot cleaner than the propane.
Natural gas reduces more cost, especially if you're a frequent griller. But, propane is the more popular of the two, occupying over 64% of the gas grill. Many people find propane to use rather than installing the gas pipe.
Propane is usually Available at stores, garden centers, or even your local gas station.
Grill hood
Are you planning to cook something bigger like burgers? What you need is an excellent hood.
The hood on your grill determines how well or how fast your food cooks by insulating the grill to facilitate a more evenly spread of heat.
A double-walled hood will not allow heat to escape the cooking surface. You'll need a large hood to cook a large amount of meat.
Ignition System
One of the essential benefits of using a gas grill is the ease of start. Gently push a button, and they'll ignite within seconds. That way, you don't have to hunt for matches. Battery Powered ignition usually works better because it doesn't damage easily.
Manufactures like weber features their built-in ignition system to keep the quality of the grill's ignition.
Wrapping Up
We hope we've been able to show you how to get the best gas grills under $500. It's not only about size, or your cooking skill, but also the overall build quality of the grill. Considering construction quality, coupled with the overall grilling technology, we choose the Weber Spirit II E310 as our top pick.
While, we also reviewed larger products with the excellent feature, the style, the build quality, excellent grilling performance, and 10-year warranty of the Weber Spirit II E310 makes it top our list. Now, go ahead and make your choice. Enjoy your grilling!
Last Updated on August 6, 2020 by Judith Fertig