So, we've all been there, barbecuing at a friend's house, you take a taste of the sauce they made, and it just blows your mind. A melody of flavors you never thought possible rolling around gleefully over your taste buds, you absolutely need to know how this sauce was made. You ask your friend what he put in but alas, they won't give you the scoop.
You go home thinking and pondering about what was in that sauce, later that evening your friend sends you a message, letting you know that it was a store-bought sauce all along! How embarrassing, that grandeur of flavors you thought could only be devised by a well-seasoned pit master, was purchased from an online retailer. Now it's time to do your research, so you fire up your computer and start looking for some delicious BBQ sauces online. There are so many to choose from, how are you going to know what sauce you are going to like?
Luckily for you, we have done our research and came up with 5 of the best BBQ sauces you can buy from Amazon. We also put together a few tips to take your bland, boring barbecue sauces from zero to hero without breaking a sweat. Take your time to read through this article and get ready to take your imagination on a wild ride of flavor! Let's get to it!
Stubb's Original American BBQ Sauce
Stubb's sauce is an American classic, it's a tangy, sour sauce mixed with just the right amount of spices. It's an American made, gluten-free, non-GMO food product that tastes amazing on an assortment of grilled meats. It's made with all-natural ingredients, doing away with corn syrup and using real cane sugar instead. The sauce is a thinner sauce, which makes it great for glazing chicken or ribs.
It's your classic Texas style sauce and you can see the pieces of garlic and pepper in it. Call me crazy, but I love putting this stuff on my mashed potatoes. Its tangy, tart taste will leave your mouth watering for more. If you like spicy sauces, this is a really good base sauce that you can add an assortment of peppers and spices too.
Ingredients:
Water
Tomato paste
Cane sugar
Vinegar
Molasses
Brown sugar
Salt
Spices
Flavor profile: Stubb's Original American BBQ Sauce has a nice sour and tart taste, less sweet than a regular ketchup loaded barbecue sauce.
Crazy Mooskies Original BBQ sauce
Crazy Mooskies is a Canadian made, all-natural barbecue sauce. Sweetened with stevia extract, it's a great sauce for those who are trying to live a healthier life. At only 5 calories per 2 tbsp, you can add a bunch of flavor to your food without having to worry about all the sugars from the sauce. This sauce won't burn as quickly since it has no real sugar in it, so you can apply this sauce a bit earlier than you normally would.
Ingredients:
Water
Vinegar
Tomato paste
Gluten-free soy sauce
Stevia extract
Spices
Flavor profile: This is a tartar sauce and not as sweet as the others. It has a decent mix of flavors and spices, and Crazy Mooskies tastes great for a naturally sweetened product.
Sweet Baby Ray's BBQ sauce
Sweet Baby Ray's BBQ sauce is an American made award-winning recipe. It sticks to ribs and wings well and can even be used for cooking in the oven. This is a sauce you can slather on and not regret doing it, great for dipping fries too! It's a versatile sauce that comes in a plastic squeezable bottle that has a perfectly balanced sweet and tangy flavor. It's a delicious sauce on its own, but also does a good job mixing with other spices like jalapeno or chipotle.
This classic barbecue sauce is an award-winning Kansas City style sauce that has been around for a while. Tasting this sauce is what you would think a classic American sweet tasting sticky rib sauce tastes like!
Ingredients:
Corn syrup
Vinegar
Tomato paste
Food starch
Spices
Juice concentrate
Flavor profile: Sweet Baby Ray's BBQ Sauce is a very sweet barbecue sauce, with a slight tang.
Dinosaur Bar-B-Que Sensuous Slathering Original BBQ Sauce
Dinosaur Original BBQ Sauce is a well balanced and tasty sauce. It works great on beef, chicken, pork, rice, and even vegetables. With only 6 grams of sugar per serving, this sauce still packs a great melody of flavors with a refreshing sweet and sour taste. Dinosaur Bar-B-Que Sensuous Slathering Original BBQ Sauce is all-natural and gluten-free, with no artificial ingredients or preservatives.
This sauce was made famous by the Dinosaur Bar-B-Que in Syracuse, New York, where they serve it on almost all their restaurant's dishes. It's not as sweet as other store-bought sauces and works well when using it in the oven. Out of all of the other barbecue sauces in this article, this is by far my favorite, I try not to go without at least having one or 2 bottles stocked at all times.
Ingredients:
Crushed tomatoes
Sugar
Vinegar
Mustard
Brown sugar
Salt
Molasses
Spices
Flavor profile: Dinosaur Bar-B-Que Sensuous Slathering Original BBQ Sauce has a good balance of sweet and sour, with a slightly spicy aftertaste. It has that homemade fresh taste to it and really works well on anything.
CATTLEMEN'S Master's Reserve Kansas City Classic BBQ Sauce
CATTLEMEN'S Master Reserve Kansas City Classic BBQ Sauce is a well-balanced tomato-based BBQ sauce with a good amount of spice. Its tangy taste is sure to impress you, and it's not nearly as sweet as most other Kansas City barbecue sauces. This is a gluten-free sauce that comes in a 1-gallon jug. It's a treat on ribs, wings, and brisket and does a great job making the meat taste better, instead of overpowering it.
Ingredients:
Tomato paste
Corn syrup
Vinegar
Molasses
Salt
Spices
Flavor profile: CATTLEMEN'S BBQ sauce has a tangy tomato kick that still has a little bit of sweetness to it. This Kansas City BBQ sauce is best used in pulled pork.
What makes a good BBQ sauce
A good barbecue sauce should compliment the food you are adding it to, not overpower it. It should add a balanced mix of sweet, tangy, tart, and spice to the food it's being put on. Sometimes you want a bit more of one of these flavors, so a single barbecue sauce isn't necessarily going to better than every other sauce. After all, it comes down to personal preference in the end.
A good sauce must be made with great ingredients. All-natural sauces are taking over the industry because of their commitment to using safe and fresh ingredients. You are going to see a lot of non-GMO and all-natural products becoming a part our regular diets. Even so, at the end of the day, the sauce needs to have a good flavor profile whether it is all natural or not.
When it comes to different styles of sauces, there are two styles of sauces mot people associate with being a barbecue sauce. One style which gets its name from where it originated, the Kansas City style sauce, has a thicker texture with more of a sweet flavor. They are great for slathering up ribs and wings or any other meat, as well as perfect for dipping or putting on your burger.
Vinegar based barbecue sauces are more popular in states such as North Carolina and Texas. They usually have more heat and are a bit tangier than Kansas City-based sauces. Sauces like this are great on all types of meat and work well as a flavor booster to a lot of foods you normally cook.
How to improve store-bought sauces
Barbecue Sauces have a wide variety of different flavor combinations, and you can alter them easily by just adding some simple ingredients you can get at your local grocery store. When trying to improve a store-bought barbecue sauce, be sure to add little amounts of extra ingredients at a time, there's nothing worse than ruining a sauce by putting in way too much vinegar.
Quick Tips #2: Enhance Store Bought BBQ Sauce | TruBBQtv
If you are trying to add a bit more heat to your barbecue sauce, you might want to try adding a bit of cayenne pepper or chili flakes. You could also get some jalapeno or habanero peppers, chop them up and put them into the barbecue sauce if you really like the heat. Be mindful of other guests when spicing it up, not everyone likes to feel like they have a hot coal in their mouth.
To get a little bit of smoke flavor, you can use chipotle sauce or peppers, again this will also add to the overall spiciness of the barbecue sauce so be careful with how much you put in. You can also use cumin powder to get a bit of a smoky flavor without all the heat from the chipotle.
For a tangier taste, try adding a bit more vinegar to the sauce. It can really overpower the flavor quickly so only add a small amount and taste it before adding more. You can also mix in a bit of tomato paste to give it a bit of tang and thicken it up slightly.
Making a sauce sweeter is self-explanatory, add a bit more sugar to the barbecue sauce to give it a sweeter taste. You can also use brown sugar, corn syrup, or molasses if you want it to thicken up. For a tart barbecue sauce, you can use lemon or lime juice.
How to use BBQ sauce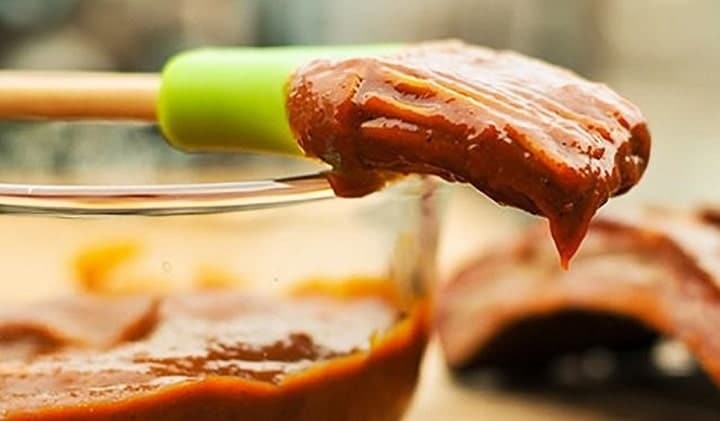 Applying barbecue sauce is an easy process, but it takes some time to really get it right. When grilling with barbecue sauce, you usually want to smother it on about half an hour before the meat is done. You can also turn the heat up to get a nice sizzle on the sauce., make sure to apply to both sides and keep flipping it to make sure the sauce doesn't burn. With the sugar content in barbecue sauce, it is likely to burn and if that happens you might as well throw out the whole piece of meat.
The right amount of barbecue sauce to put on takes some practice to figure out, and it depends on how thick the sauce is. A thick sauce will stick to the meat you're grilling easier and it's easy to overdo it. If you put too much sauce on, most of it will end up on your grill instead of the meat and that's just going to be a headache to clean later.
Once you are done with the barbecue sauce, throw out the remainder that you used to cook your meat with. It was in contact with raw meat and bacteria that is in the meat can spread easily and quickly. To prevent anyone from getting sick don't use it as a condiment after your done and dispose of it properly. If you do want to keep some of the sauce, add some of the sauce to a separate bowl that you can use to sauce the meat with.
Summary
Barbecue sauce can make or break a good meal so hopefully, you now have a better understanding of what to look for in a barbecue sauce, whether its one you buy online or make yourself. You should always be trying new things in the kitchen and on the grill, you never know what you could have been missing out on for all these years! So, stay creative and start trying new sauces, if you're up to it, try improving them too!
What are your favorite barbecue sauces? Or do you have any questions about anything that wasn't covered in this article? If this post was helpful, share it with your friends! Thanks for taking the time to read the article, happy grilling!
Last Updated on August 17, 2020 by Judith Fertig