Both goat meat and sheep meat taste wonderful and are a great addition to any hearty meal. Because they come from different animals, they also have different tastes and one may work better than the other for certain dishes.
The method you use to cook these different meat types will determine how much flavor you can draw out and the tenderness of the meat.
If you're having a BBQ party and are trying to decide between goat meat vs sheep meat, we've compiled the differences between both meat types and the best way to cook them!
Goat Meat Vs Sheep Meat: The Differences
Goat meat and sheep meat, especially lamb meat, have their similarities. For instance, they can both be used for grills and BBQs, and they both also have distinctive flavors. However, there are some subtle differences that set them apart.
These include:
Marbling
The most notable difference between both types of meat is in their fat content. Goat meat has less fat content than any type of sheep meat, which makes it a leaner type of meat. One disadvantage of this is that goat meat tends to be tougher than sheep.
The amount of fat on each meat type is immediately made evident by the degree of marbling on their surfaces. Marbling is the white fatty marks across the surface of the meat that gives it a marble-like effect – hence the name.
Also called intramuscular fat, meat from sheep has plenty of marbling that runs along the surface of the meat. Once exposed to the heat of cooking, the fat melts and the marbling disappears and soaks into the meat to give it more flavor.
Texture
Goat meat has a tougher texture than sheep meat. This is also because of the lower fat content. Slow cooking methods like smoking, roasting, and grilling can break down the connective tissues between the meat and make it more tender and juicy.
However, this difference in texture is still notable when both types of meat are compared.
When in a pinch, you can use tender cuts from kid meat to replace lamb in recipes that call for it. You can also marinate, brine, or tenderize them beforehand to make them suitable for grilling and barbecuing.
Flavor
Aside from the tougher texture that goat meat has, another way that the fat content differentiates both kinds of meat is in the flavor.
Goat meat has a more gamey flavor and can be slightly sweeter than lamb. One way to use the gamey flavor of goat meat to your advantage is to smoke it. That way, the sweet flavor remains locked into the meat.
However, if you grill goat meat, then it will lose some of that flavor, dry out, and become tougher.
One other difference (which gives one type of meat an advantage over the other) is that lamb meat is more readily available to buy than goat meat.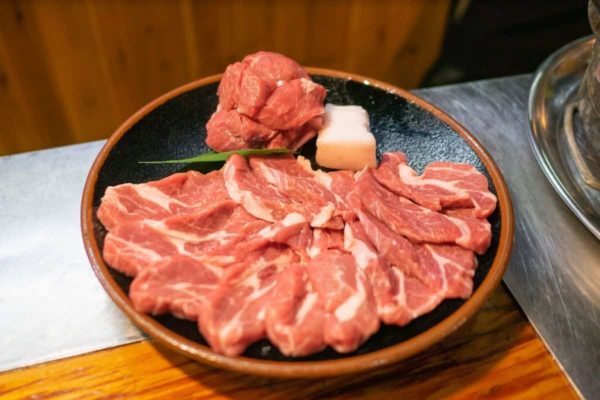 Goat Meat
The meat from older goats is called chevon or mutton, while meat from baby goats is called kid. Like other types of meat, there are different meat cuts to choose from when cooking with goat meat – the flesh or the offals.
Goat meat is lean red meat (the color ranges from light pink to deep bright red) with light marbling on its surface. It can serve as a healthy alternative to beef because it has less cholesterol, more protein, and more iron, which would make it a wholesome addition to any diet.
Goat meat resembles lamb meat, but has a more mild flavor. It's known for its strong, gamey, flavor and smell and can be cooked using several methods. It's a good idea to take the meat's thick odor and taste into consideration when choosing the types of meat you want to cook and the cooking method.
Different Goat Meat Cuts and The Best Way to Cook Them
Goat meat has a high bone-meat ratio, especially when compared to other meats. In fact, their large bones are probably one of the first things you'll spot when you go to buy them!
The perk to boney meats is that this makes it easier for you to spot any blemish on the outside of the meat. So take your time to inspect the meat cut for any bruises or blemishes that a fat layer of skin would otherwise have hidden in other meat types.
Goat meat has a thicker internal fat layer than most other types of meat, which is immediately noticeable once you slice into it. However, this doesn't mean that the fat makes it unhealthy to eat.
Some of the best goat meat parts come from young goats because they're juicier and more tender. Meat from goats that have not been wethered has a tender, firmer texture and carries a more pronounced flavor and aroma.
Common Cooking Methods
Depending on the cut, goat meat is either prepared by slow-cooking, smoking and cooking on low heat, or by quick cooking. If the parts best suited for slow cooking are cooked by any other method, it will cause the meat to lose its moisture and tenderness.
This is because its light marbling causes it to become tough when cooked on high heat. Low heat and slow cooking also cause the fat to melt away as the meat cooks and add an extra layer of juicy flavor to the meat.
Keep in mind that goat meat has to be cooked with some adjustments to make up for its high-fat content. In the following sections, we'll be taking a look at the different goat cuts and the best ways to cook them!
Goat Leg
The goat leg is any part of the meat that's cut from the leg joint at the thigh. It can be cooked with the bone, deboned, or stuffed. If you want meat that has more fat content than the leaner cuts (like the loin chops or ribs) then the leg is your best bet.
The best method for cooking goat leg is slow-cooking. If you leave the bone in, it gives it an extra flavor, especially when roasted low and slow.Roasted goat leg meat can be served as is or on warm bread or buns, either as patties or shredded with herbs, garlic yogurt, and pickles.
Goat Loin
Goat loin is the very tender and popular meat harvested from the top of the back of the goat. It can be easy to overcook goat loin because the meat doesn't have a layer of protective fat.
Goat loin is further subdivided into loin chops and saddle (rolled loin). Loin chops are chunky, boneless meat best cooked by grilling, frying, or BBQing. This little-to-no bone content gives more room for marbling, making them a higher quality cut than any part.
The rolled loin is perfect for a mini roast and can be cooked as is (rolled), or unrolled, stuffed, and then re-tied.
Rack
The goat rack is taken from the goat rib and is one of those meat cuts that's best for quick-cooking. The rack is a great cut because it's low in fat, very rich in flavor, and tender when cooked well.
It can either be cooked whole or divided into cutlets. You can get a lot of flavor by quick roasting or grilling the rack.
Shoulder
Cuts from the goat shoulder are similar in texture to those from the leg. Therefore, they require slow-cooking methods, like a slow roast, to really bring everything together. We recommend chopping the shoulder into pieces to use as a filling for buns.
Neck
The neck of a goat has a high bone and fat content. It's best to braise or slow cook the meat to allow the marrow and fat to be released onto the meat. For the best flavor, cook the neck meat with a lot of spices.
Shank
The shank, like the leg, also requires slow-cooking. The low heat and longer cooking time allow the connective tissues around the joint to break down and produce a flavorful, tender dish that's delicious when paired with vegetables and mashed potatoes.
Marinade your goat shank meat in a lot of fresh herbs, garlic, chili flakes, and olive oil to bring out the best flavors.
Breast
The goat breast meat has a generous fatty layer that gives the meat extra juiciness and flavor as it slowly cooks.
Generally, meat from the rib, loin, and rump is more tender than those from the shoulder, flank, and legs. They can also be cooked using quick-cooking methods on high flame while the others are tough, chewier, and require a longer time to cook.
If you want to cook meat from the front of the goat (leg, shoulder, breast, shank, neck) by grilling, we recommend marinating or brining them way beforehand. That way, it remains tender when cooking and doesn't dry out too quickly.
Sheep Meat
Sheep can be called mutton, hogget, or lamb depending on how it's harvested. Meat from a young sheep is called lamb, while meat from adult sheep is called mutton or hogget.
One way to tell the difference is the color of the meat. The darker the meat, the older the animal was.
Lamb meat has a red color that varies from light pink to light red. Younger lamb meat is more popular and, in turn, more expensive because of its tender and milder flavor. To avoid making a mistake, or worse, being ripped off take note of the meat color.
Mutton or hogget isn't as commonly sold or used in the US and UK. Mutton's popularity is in no way comparable to that of lamb.
How to Cook Lamb
Like goat meat, lamb also has a gamey flavor, but the taste is much deeper than that of goat meat. It also has a higher fat content than goat meat, which makes it able to withstand grilling, roasting, barbecuing, and higher cooking temperatures.
If you want to reduce the gamey taste and smell of lamb, you can trim off some of the fat before cooking and drain off excess fat while cooking.
Different cuts of lamb have varying degrees of flavor. They also have different fat content. Those with a lot of marbling are perfect for slow cooking and roasting because of their high fat content.
Lamb shoulder is very fatty and can be cooked by barbecue smoking it. Lamb chops are prized cuts, but worth every penny for special occasions. You can cook them by barbecue grilling or smoking to create medium-cooked meat and seared skin.
Lamb legs are lean and therefore have less fat and marbling than the other parts. Once cooked, they taste more like plain white turkey meat. They're best cooked by barbecuing or slow roasting.
You'll need to be attentive to the cooking process so that the meat doesn't become too dry. Marinating or brining the meat beforehand will also impart more flavor. Using mint as a herb instead of thyme will add more depth to the flavor of your meat.
How to Cook Mutton Meat
Mutton meat has a deeper red color and more fat than lamb, which means it's tougher and gamier.
People don't always choose mutton meat as their first pick or meat alternative and as a result, it's become old-fashioned. It doesn't help that it's harder to find mutton meat to buy, as people would rather eat goat or lamb meat and the demand is relatively low.
However, those that can find mutton meat and stand its strong gamey taste can cook using slow cooking methods to break down the connective tissues. Mutton works well in sausages and other dishes where strong flavors and spices are used.
Final Thoughts
All of these are the things you need to weigh when trying to decide between goat meat vs sheep meat. The method you want to use to cook the meat, the amount of prep time you have, the seasoning, and the availability of the meat all determine the meat you should choose.
If you want a quick fix and can't wait for hours to get your meat ready, then lamb meat would be a great option. On the other hand, if you have more time to spare, goat meat is full of flavor and perfect for slow-cooked dishes.
If you enjoyed this read, check out our other reviews and BBQ tips.
Last Updated on November 7, 2021 by Judith Fertig