Top 9 Best BBQ Subscription Boxes for Meat, Sauces and Rubs
Barbeque subscription boxes deliver meat, rubs, sauces, and other ingredients straight to your doorstep. The providers do the packaging and delivery, and source for the best barbeque items.
These services should save you a lot of time by ensuring that you get quality barbeque ingredients and accessories delivered directly to you, rather than having to shop around for them.
How Do I Choose the Best Barbeque Subscription Box?
What's in the box?
You should choose a service that packages a variety of meats, spices, and ingredients every month. Otherwise, you might end up getting the same items every month; for an adventurous soul like me, that would be unacceptable.
What's the source of the food?
Food safety is a big issue. The CDC reports that one in every three Americans gets sick from contaminated foods every year.
It would be best, therefore, to find a barbeque subscription box provider that can prove they adhere to high safety standards in sourcing, packaging, and transporting their meats and ingredients.
The best services will provide grass-fed meats. Free-range organic is also a mark of healthy and quality meats. Similarly, organic spices are much healthier than standard spices and sauces.
Can you customize your package?
When I grill, I like to play around with a variety of meats and sauces. It would be unfair, therefore, to restrict me to a few types of meat and sauces. If you are like me, you will find a barbeque box subscription package that allows you to decide what you want in your box.
Auto-renewal or per-order billing?
You want to be careful with this one. With an auto-renewal plan, the providers will deliver items and bill you even when you don't feel like having barbeque.
While I like to deal with the per-order billing plan as I do not like to tie myself down, you might decide the opposite is ideal for you.
The Best Barbeque Subscription Boxes
1. Grill Masters Club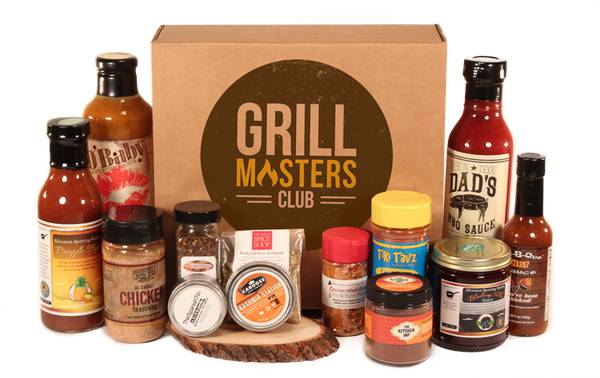 Their branding promises high-quality barbeque ingredients from all over the country. This subscription service reportedly has a barbeque judge that provides quality control of the rubs, spice blends, sauces, marinades, and all that goes into your box.
What's in their box?
The monthly box you get from Grill Masters Club contains:
Rubs
Marinades
Sauces
Recipes
Other unspecified items
So, when should I get the package after I sign up?
Grill Masters Club delivers their boxes on the 7th of every month. The latest you can order is the 4th, and then you will get your package after three days. However, if you order on the 5th, 6th, or any date after the 7th, your order will get delivered the following month.
What's the billing plan?
They offer a recurrent billing that happens after every subscription. Your account is charged the amount on the 15th of each new month unless you cancel your subscription. This company has a 1-, 3-, 6-, and 12-month subscription plan, with the lowest rate at $27.95 a month.
Pros
A variety of sauces and spices
Three types of boxes, each with different components
Various subscription packages
Cons
You may find the rubs to be extra salty
No meats included
If you don't order before the fourth of a month, you will only receive your package the following month
2. Porter Road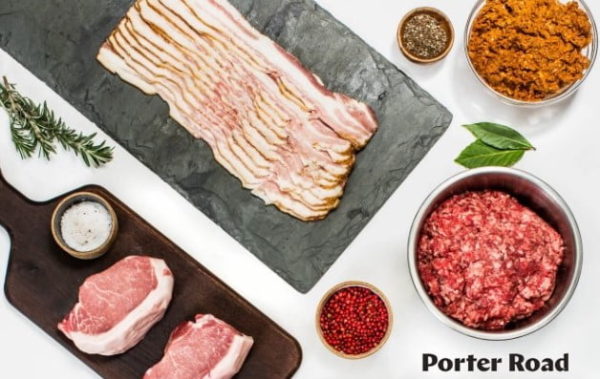 Want more meat? Porter Road is another barbeque subscription box that could help you get on top of your grilling goals this weekend. This company has been in existence since 2010.
What's in the box?
You can choose a package that contains beef and pork or beef alone. The beef is dry-aged, and the pork is pasture-raised. These aspects could be an indicator that their meat is healthier and tastier than most.
Beyond the two packages above, you can also select the Butcher's Choice box that comes with steak, pork chops, beef, and bacon. This ability to choose what you want is what I would consider most in a barbeque subscription plan.
How is their payment plan?
Porter Road has various plans for their subscription. You can choose between a two-week, four-week, and even an eight-week plan. Payment starts from $70, depending on what you wish to have in your box.
Pros
Grass-fed meats
You can customize your package
Cons
No spices
Limited variety of meats
3. Crowd Cow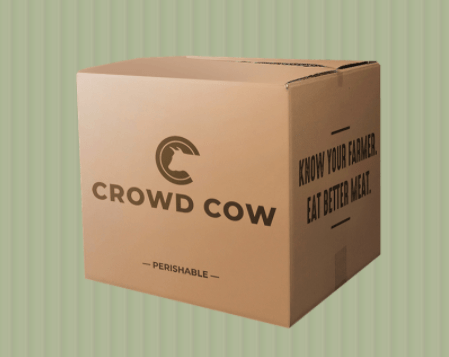 With Crowd Cow, you get meats sourced from various vetted farms. You can select the variety and amount that you want. The items are delivered straight to your doorstep.
What's in their box?
You can choose all types of products from options such as pork, beef, chicken, and even seafood. You can get the New York Strip End Cut, the Wagyu Bugger Patties, Sirloin Steak, and ground beef, among others.
How's the billing?
The subscription costs start at $99 a month for the custom box.
Pros
Customizable by types and size of meat
A large variety of meats
Cons
No spices included in the monthly subscription
The subscription has no recipes
4. Fresh Jax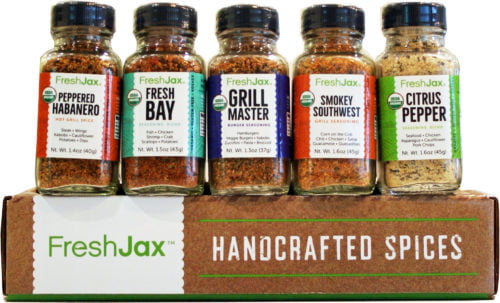 Their website states that for every box sold to a client, one meal is donated to needy children. That's something I would feel good about … along with the enjoyment of the great products in the box!
Another reason to consider Fresh Jax is that all their ingredients are organic. For someone looking to get even healthier, this subscription box could be ideal.
The Fresh Jax barbeque spices are also said to be gluten-free. For anyone with problems in this area, this barbeque subscription box service cares for your troubles.
What's in their box?
Fresh Jax's barbeque package includes spices such as:
Island Spice Jamaican Jerk
Rosy Cheeks Maple Bourbon BBQ Rub
Grill Master Burger Seasoning
The company prides itself on being a family operated business. There is a certain level of trust that father-son companies inspire, although it may not always be a guarantee. Fresh Jax has been in business since 2011.
What's their subscription plan?
Unlike Grill Masters, Fresh Jax can deliver your order at any time. You don't need to subscribe. Billing is done with each order.
Pros
Gluten-free and organic ingredients
You can buy the boxes on platforms like Amazon for $24.99
Cons
They have a limited variety of spices
No meats are included in the boxes; only spices
5. BBQ Box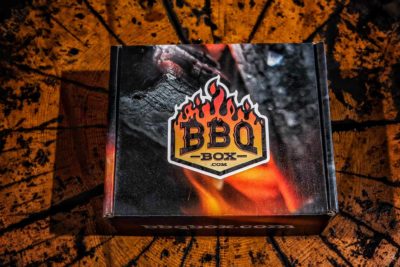 Regular Price: $26.00 per month
Deal of the Day: Save $12.50 on BBQ Box if you SUBSCRIBE NOW
What's in their box?
BBQ box specializes in sauces and rubs. The spices are reportedly hand-selected and shipped directly to you every month. In each box, you will receive:
One sauce
One marinade
A snack
One spice/rub
Wood chips
Recipes
Please note, however, that you don't get to choose the specific items that you want. That can be a bummer if you need a specific spice or sauce.
Does the payment plan make up for that?
Maybe, maybe not. Their monthly subscription starts at $26.00. Depending on how you look at it, this might be the cheapest barbeque box subscription plan so far in the review.
You can also get the three-month subscription plan at $77.88, the six-month plan at $149.88, or the 12-month plan at $275.88. Their shipping window is between the 25th and 30th of every month.
Pros
A variety of items in the box
Cons
No ability to customize your package
6. Gold Belly's BBQ Subscription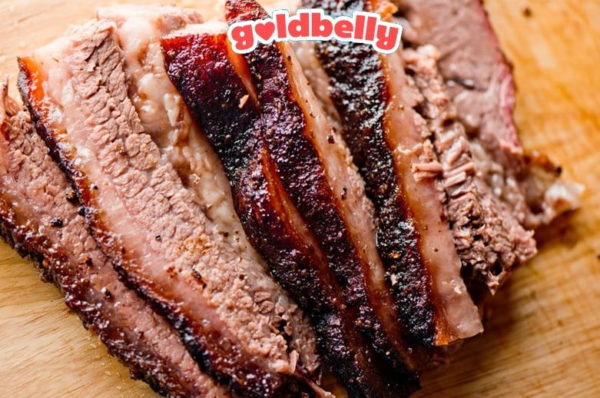 Like the BBQ box, you can customize what's in your box with Gold Belly. You can buy three months, six months, or a full year subscription.
What's in the box?
Prepared meats are what you find in Gold Belly's BBQ subscription boxes. This service may, therefore, be ideal for those who are too busy to light their grills. Once your package arrives, you just start to dig in. Food items you can expect include:
Austin's Salt Lick BBQ Texas Brisket
Kansas City's Jack Stack BBQ
North Carolina's King's BBQ ribs and pulled pork
How does it work?
You can create or cancel your subscription at any time. Your ordered items are prepared at the shop and shipped while still fresh.
What's the billing like?
The three-month subscription plan is charged at $75 per month.
Pros
A wide variety of ready-cooked meats
Has plans for pizza, deli, and more
Cons
The items are pre-packaged
There is no customization
7. My BBQ Box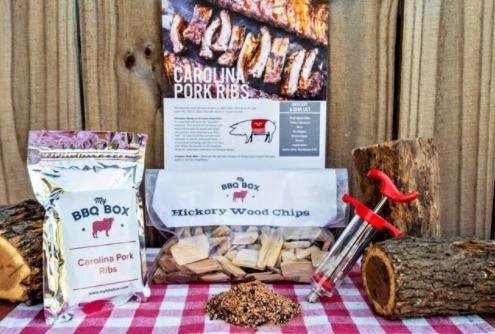 Custom spice ingredients and
recipes
are what you get with the My BBQ Box subscription. They ship out custom-crafted dry rub every month, plus recipes and an unspecified special gift to help you master your barbeque skills.
How does this one work?
You can subscribe to the month-to-month plan or choose the prepaid plans of three, six, or twelve months. The items are shipped between the 5th and 7th every month. The 12-month plan costs $227.99 a year.
What's in the box?
12 unique recipes
Rubs
Gifts like spice shakers
Do they ship meats and pre-cooked items?
No. You will have to light your grill for that. My BBQ just supports you with ingredients and accessories.
Pros
Variety of recipes, rubs, and spices
Cons
You cannot customize your package
8. Rastelli's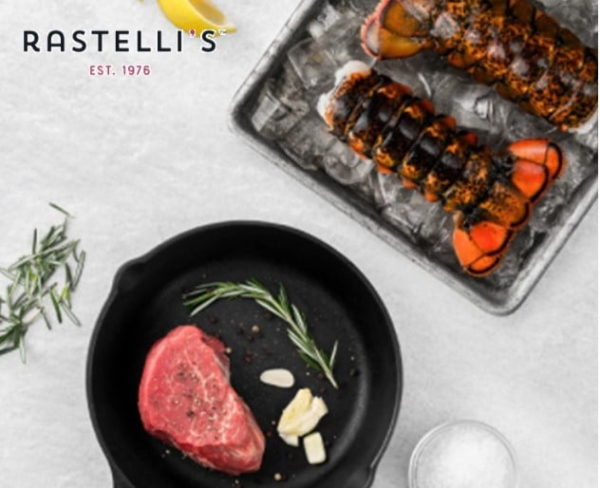 Rastelli's Meat Plan auto delivers a variety of meats to you every month. Their box is packed with meats that are reportedly "antibiotic-free" and humanely raised. You may be able to choose from a variety of meats such as steak, shrimp, salmon, chicken, and beef.
What's in the box?
You get to decide what you want. You can choose from the options mentioned above. Different meat items are packaged separately.
How does it work?
The subscription plan starts at $99 a month. You get free delivery for items that are over $200.
Pros
Variety of meat items
Sourced from vetted farms
9. Butcher Box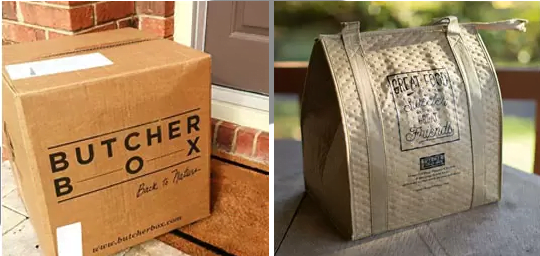 Here you have a barbeque subscription box that comes with meats. Butcher Box delivers frozen meats, which are packed in an insulated box.
The subscription plan is customizable. You can decide how often you want the package shipped to you. You can also cancel your plan anytime you want. Sounds easy, right?
How does it work?
Here is how different this subscription box is from the two seen earlier. Apart from the fact that it comes with actual meat, users get to decide what's to be included in their packages. The company doesn't choose for you.
This could give you plenty of room to play around with options like chicken and pork, beef, lamb and game, month after month.
Sounds great
The boxes also contain recipes that you can use to create tasty treats. Like Fresh Jax, these guys seem to have turned on their healthy gear; the beef is grass-fed, the chicken is free-range organic, and the pork is heritage-breed.
Perhaps one drawback is that they don't have a wide variety of meats. Oh, and they don't pack the meats with spices.
What's their billing plan?
This is a subscription package with the curated box being the least costly, going at $129 per month; the custom packages start from $149 per month, depending on what you choose.
Pros
They package meat
They allow you to choose what you want
Cons
Limited meat varieties
No spices
The Best Pick
For a barbeque box for meat, Porter Road stands out as the best choice. This company has a long history in the business. Their box contains a variety of meat items, including pork and beef. Users get the chance to customize what they want in their box. These meats, they say, are sourced from pasture-raised animals, giving you one more point on your health score.
For a barbeque subscription box for sauces and rubs, Fresh Jax is the pick of the bunch. Its unique selling points include organic ingredients, gluten-free, and anytime delivery. They don't follow a subscription routine.
You might also appreciate that a small percentage of what they earn from you goes towards feeding the hungry children of the world.
Last Updated on August 29, 2020 by Judith Fertig