I was born to cook briskets, especially the Texas Style Brisket at that. Nevertheless, despite my extraordinary cooking skills, and a big family to feed, there are always a few pounds of leftover meat that still find its way in the refrigerator. After all, who cooks a little bit of brisket?
If you are a Grillaholic like me, then you know the struggle that we undergo when reheating leftover brisket. Once reheated the brisket tastes nothing like the juicy, lip-smacking piece of meat that it was the day before. If you are sick of eating dry leftover briskets, then I am here for your rescue.
I have been experimenting on reheating leftover brisket in my laboratory (technically my kitchen) for long, and here I have a perfect guide to help you out. In this guide, I will walk you through the 3 perfect ways of reheating alongside a few barbecue secrets that I don't usually let out to the world.
First Things First: Storing & Freezing Leftover Brisket
No matter how hard you try reheating your brisket like a pro, it's never going to work out unless you get the basics right. The basics mainly include two factors: freezing and storing the brisket.
We all get lazy after a barbecue night with family and friends, and thus, the brisket goes straight into the freezer which would be sliced later.  Nevertheless, there are these Grillaholics who slice their brisket before freezing them?
There are both pros and cons related to both these methods, so let's take a look at it.
Slicing Before you Freeze
Pros:
When the brisket is sliced before freezing, the slices can be reheated individually later. This is very handy when you only have the requirement of reheating a couple of slices at a time.
The whole brisket comparatively takes up more space in your freezer than sliced briskets.
Cons:
Reheating sliced briskets needs much attention because if you aren't careful enough, you will end up with a dried out brisket.
High hygiene standards will have to be maintained when freezing sliced briskets. There is more surface area that is exposed to contamination thus the brisket slices should be stuffed in the freezer as soon as they are prepared.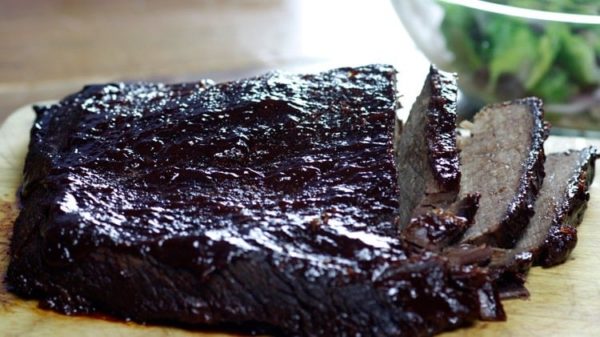 Slicing After you Freeze
Pros:
The brisket as a whole will contain more moisture when frozen whole.
As the surface area to exposure is minimal, there would be fewer chances of contamination.
When the brisket looks much fresher when reheated as a whole, and then sliced later.
Cons:
The brisket as a whole can take up more space in your freezer.
Reheating the whole brisket can be time-consuming than reheating slices.
Secret Tips To Keep Your Brisket Moist
Sliced Brisket
If you are the Grillaholic who sliced your brisket before freezing, then let the brisket cool by placing them in its own juices. This is to make sure that the slices remain as moist as possible.
Additionally, when freezing sliced briskets, spread them out on a sheet of baking paper so that they freeze separately. Once frozen, pop them into a ziplock bag. You can now take them out and use them separately depending on your needs.
Whole Brisket
According to Malcom Reed of howtobbqright.com, letting the brisket rest and then separating the fat out of the cooking juices leaves the excellent au jus behind. Later, the whole brisket and au jus are placed in a large food service pan which is then vacuum sealed.
This can be frozen up to three days and can be reheated as such to 140 degrees internal.
Let's Get To Business – Perfect Ways To Reheating Brisket
Throughout my experimental career as a brisket lover, I have found a few ways to reheat brisket without making it too dry. From the below-listed methods, choosing one would depend on the amount of time you have, and how frozen the brisket is when you are ready to reheat it.
A few tips for your health:
On another note, it is crucial that you don't keep an eye on the clock but check the temperature when reheating. For the meat to become safe to consume, its internal temperature must at least reach 160 degrees Fahrenheit.
Furthermore, ensure that the brisket has defrosted for at least two days in the fridge before reheating it either in the smoker or the oven. Thawing in the fridge is considered the best option as the brisket tends to lose much moisture when thawed in cold water baths. When thawing in cold water baths there are also chances that the brisket will enter 40 – 130 degree Fahrenheit, which is known to be the danger zone for briskets.
Method 1: Reheating The Brisket In Oven
If you chose to freeze and then slice the brisket, then the fastest and the stress-free way to reheat your meat would be the oven. So, how do you do it?
Preheat your oven to 325 degrees Fahrenheit.
After the brisket is defrosted, and the oven has been preheated, place the brisket in a baking tray, and pour some original cooking juices to the bottom of the tray. Then cover it with a foil and slip it into the oven. In case you don't have cooking juices, try adding some moisture which can be two cups of reduced apple cider or apple juice mixed with barbecue sauce. Additionally, you will have to make sure that there are no holes in the foil. Thus try adding two layers of foil as holes in the foil means a dried brisket.
Depending on how big the brisket is, it can take around an hour for it to be ready and for its internal temperature to hit 160 degrees Fahrenheit. Thus, it is advised that you plan in advance or go on a hunger-related shock.
Method 2: Reheating The Brisket In Smoker
Smoker is another equipment that does a brilliant job in reheating the leftover brisket. If you ask me, I would say reheating in a smoke is very much the same as reheating in an oven. Nevertheless, reheating in a smoker consumes more time.
In a guide written by Meathead Goldwyn of amazingribs.com, I found this following method of reheating the brisket in a smoker.
Heat your grill to 225 degrees Fahrenheit.
If you are familiar with a smoker, then you would know what the 2-Zone cooking setup would mean. So, use the very 2-Zone cooking setup for reheating.
Wrap the brisket in a foil, and place it in the indirect zone and wait until the meat's internal temperature reaches 155 degrees Fahrenheit.
Take the brisket out of the indirect zone, and remove the foil. Finish off with cooking the brisket over the direct zone for around 5 to 10 minutes. Be extremely cautious when heating the brisket over direct zone as there are chances for it to burn.
Ensure that you check the internal temperature (160 degree-Fahrenheit) before serving.
As an important note, set the heat to medium when you are cooking the brisket on a gas grill. This will ensure that you get the brisket perfectly reheated.
Method 3: Reheating The Brisket Using Sous Vide
I have to admit this is not my idea. All the credit for this method goes to foodfirefriends.com. I personally love this method because you will never overcook or burn the brisket when reheating it in sous vide.
Don't fret if you aren't familiar with sous vide. Because I wasn't aware of what it was when I first heard of this method. Sous vide can be described as the fancy word for the water bath, and this method of cooking has been gaining popularity in the past years.
Check out the video below if you're interested to learn more.
A Beginner's Guide to Sous Vide Cooking- Kitchen Conundrums with Thomas Joseph
Though sous vide guarantee you briskets that don't look feathery and dried, you need to have the right equipment to reheat brisket using this method. Furthermore, this method is time-consuming as well because a 4 inches thick brisket will take about five hours to get cooked up completely. Nevertheless, pre-sliced briskets of the thickness 2 inches take around 2 hours. Thus, it's your take whether you want to follow this method or not.
Wrap the leftover brisket in an air and water tight plastic wrap.
Heat the water up to 110 – 175 degree-Fahrenheit.
Leave the plastic wrapped meat in the water bath until the internal temperature of the meat reaches the same as the water.
When it comes to the specialised thermometers used to check the meat's internal temperature, there are not many of them out there that are used outside commercial kitchens.
Should You Boil Or Microwave The Leftover Brisket?
At one point in time, each of us has this temptation to pop the brisket into the microwave to reheat it. After all, who doesn't love to get things done faster, especially when it comes to food?
However, microwaving leftover briskets are a bad idea. Let me take you to the physics class to look at the working principle of a microwave.
Microwave works by transforming water molecules into steam. To put it simply, the leftover brisket that you put in would be steamed inside out, leaving it dry and rubbery. If you still think that the meat would taste okay though it's dry, let me tell you it tastes horrible.
Okay, so you might have dropped that idea. But what about boiling?
Similar to the sous vide method, when the brisket is boiled after wrapping it in an airtight plastic wrap can yield good results. Neither does the meat dry out, and nor does it taste horrible.
When boiling the brisket, the only thing that you will have to master is to make sure that the internal temperature of the meat has reached 160 degree-Fahrenheit. You could try referring to some sous vide cooking charts or videos but they don't usually reach the water temperature when boiling.
Leftover Brisket Cookbook
Tired of having the same leftover brisket over and again? If you are open to experiments like me, there are numerous different ways in which you could cook something extraordinary out of leftover brisket. Here are a few of my favourite idea to give you some inspiration.
Beef Stroganoff: With its creaminess and heartiness is a family classic that all of us treasure. If you have some leftover briskets in your freezer, there is nothing better to do than whip up some Stroganoff with it.
Cottage Pie: If you are in search for a quick and easy way to stir up something delicious, beef version of the cottage pie can be your saviour. Cut the leftover briskets to chunks and make up some delicious tasting cottage pie.
Tacos: Any Mexican friends here? No matter which part of the world you belong to, at one point in time, tacos are the only thing that can make you feel comfortable. Grab those tortillas lying around, and use the leftover brisket with some cheese and sauce to fire it up. Pickled onions and avocados make for a great topping.
See also:
Wrapping It Up
I believe that briskets are made in heaven because there is nothing beautiful than a barbecue night with your family, friends, and some spicy briskets. Through this guide, I hope you found your way around to tackling the leftover brisket reheating problem. If you know how to freeze, reheat, and whip up something amazing, then there can be nothing better than leftover brisket on a lazy day.
If you love briskets, then the methods listed above can be easy as a pie to master. The oven is definitely the quickest method, but sous vide guarantee juicy briskets though time-consuming. Either way, I truly hope that you enjoy preparing leftover briskets using this guide.
Which according to you is the best way of reheating leftover briskets? Do you still have any doubts that are left unanswered by this guide? Pour out your comments, because we can't wait to read them.
Last Updated on August 18, 2020 by Judith Fertig