If you are serious about smoking your meat, then this guide will provide you all the information you will need before choosing your Weber Smokey Mountain. As such, we'll also compare it with over famous smokers on the market so that you can make a better choice. You'll find weber smokers for sale in a lot of places, but you'll want to make sure you are buying at the right place, right price and the right model for you. Before we get right into it, below is a little description of what is a Weber Smokey Mountain.
Before we continue, here are the products we will be reviewing(comparing):
Product
 Image
Dimension

(Inches)

Weight
 Price
WSM Cooker 14-Inch
31.4 x 14.8 x 14.8
23 Pounds
Check Price
WSM Cooker 18-Inch
21 x 19 x 41
39.1 Pounds
Check Price
WSM Cooker 22-Inch
24 x 23 x 48.5
68 Pounds
Check Price
What is a WSM smoker?
The Weber Smokey Mountain is a closed multistory (multi-level) smokehouse in which smoke spreads homogeneously around grills and cooking foods. A large opening makes it possible to refuel fire from wood chips without losing smoke, and as many times as your recipe or cooking requires. This system makes it easy to use in most weber smokers.
If you are planning to buy or finding a place to buy Weber Smokey Mountain, then you'll find what you need in this review. However, before getting into that, we'll provide you a description of what a Weber Smokey Mountain does in general and how you can use it since there are different Weber Smokey Mountain sizes and Models.
Meathead Goldwyn, Weber Smokey Mountain Cooker Reviews

WSMs are high quality, charcoal fueled, bullet-shaped smokers. They are often seen competing head to head with large commercial cookers at practically every competition. And winning. They take very little time to master

Smokey Mountains cook at a remarkably steady temp for hours and raising or lowering temp on this small model is fairly easy by opening and closing the vents.

Construction is solid and finish is beautiful. Weber really knows how to make long lasting porcelain and chrome coatings. The legs are sturdy and there is a bowl-shaped aluminum heat shield attached to them. If you cook on a wood deck, we recommend setting your WSM on a grill mat.
How to use Weber Smokey Mountain?
Flavoring
The smoking technique involves spreading smoke from scented wood chips to flavor meat and fish during cooking. Formerly used to preserve these foods, it is now appreciated by connoisseurs to give them a typical flavor and appearance. The smoke released by the wood chips in contact with the heat diffuses its fragrance and permeates the food to give them an incomparable taste. This smoke can be more or less strong and bring more or less taste.
Different Woods for different aromas
Weber enhances the pleasures of cooking by smoking with a variety of wood flavors that can be used with all their charcoal and gas barbecues. The sweetness of apple and cherry blends perfectly with poultry or pork. Mesquite, more pronounced, is perfect for vegetables or fish. Pecan walnut and hickory, more powerful, sublimate a red meat. Depending on your recipe, you can vary the uses to infinity. As you can see, weber does provide a variety of cooking method for different types of food.
For an even more intense smoky taste, Weber offers cedar smoking boards on which food is placed directly. In contact with the heat, the scent of the board is diffused in the food to give it an incomparable woody flavor. This accessory is ideal for cooking fish and poultry and is compatible with gas, coal or electric barbecues.
Now since you know a bit about what the Weber Smokey Mountain (WSM) is and what it does in general, let's get into the WSM smoker reviews, Weber Smokey Mountain Cooker reviews  as well as a guide to buying Weber Smokey Mountains and Smokey Mountain Grills.
Weber Smokey Mountain Smoker review as well as buying guide and comparison
Weber Smokey Mountain Review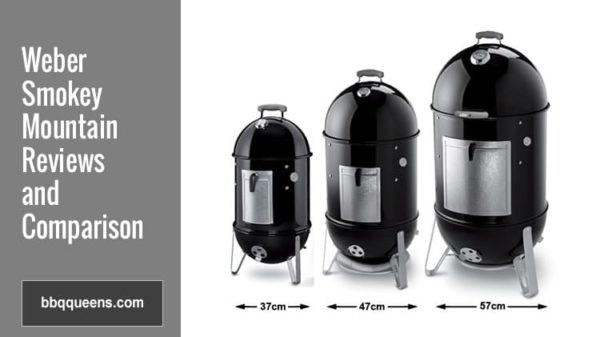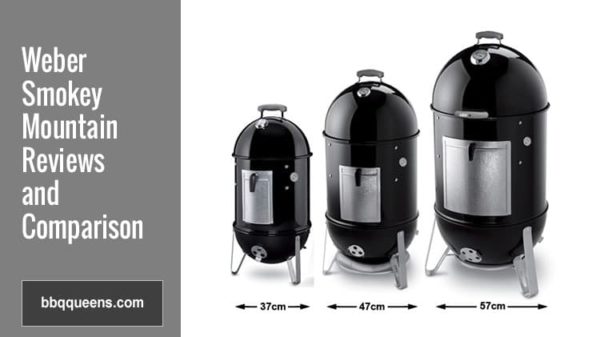 This Smokey Mountain from Weber has built up a solid reputation between the amateurs and professionals of smoked meat fanatics. Since you can pretty much find all about it online, it is advantageous of you buying on,  meaning you will always find a solution to any issue or "how to use" problem you have. Also it was first introduced in the year 1981, the latter has been improved over several years and you can now find them in different sizes which are extremely convenient. In addition to that, you'll also find that they are made of much stronger material as well as having built in thermometer. Taking all these into account, you can now understand how even the most serious pit masters use it.
Charcoal fueled as being as being bullet shaped smokers, Weber Smokey mountains are always of high quality. In practically every competition that you attend or watch, you can see that they are most of the time competing directly against the largest commercial cookers. The latter which provides the Weber Smokey mountain competition, are most of the time on the losing side, since WSMs, being easy to use and understand does not require a lot of time to master. Smoking made easy for long hours just by the opening and closing of the vents, the latter which helps in lowering or raising the temperature as needed onto this model.
Overall, the WSM is strong and the legs are study, with the construction extremely durable and solid while the finish doesn't look bad either. The latter will look very good in your backyard with its chrome plating. You won't have to worry about the heat either since it has an aluminum shield shaped like a bowl that is attached to the legs.
Like Most Smokey Mountains it has its pros and cons. Here is what we found.
Pros:
Require little time to master and easy to use
It has a built in thermometer that is convenient smoking
Temperature can be easily controlled with the opening and closing of vents
As for the cons, since it comes in different sizes, we will get into it once we start reviewing them below.
Weber Smokey Mountain 14.5 Reviews
This is the smallest of the 3 smokers and will cost around $100 less than the 14.5″ and $200 less than the 18.5″ models. If you live alone, have a small cooking area or plan on cooking for only a few people, then this model should meet your needs without spending lots of money.
The difference of the Weber Smokey Mountain 14 vs. 18 is that although the cooking time doesn't change, it uses much less of fuel (charcoal and wood) and as a result will save you in that regard. Also being smaller, it is much easier to transport and can be used in tighter spaces.
It does however how about nearly half only of the area that the 18.5 have accounts to 165 inches per level. It should however be noted that it cannot take a whole turkey.
Pros:
At around $200, it is affordable for products of the same kind
Since it is small, it is easily transportable
Ideal for small cooking areas
Cons:
It has much less cooking area that the 18 inch one
Although it is possible to cook a whole chicken, you cannot put a whole turkey in it
Weber Smokey Mountain 18.5 Reviews
For most users, this is considered to be the ideal and most popular size since it is perfect for a small party or event as well as for a large family. With its cooking surface of 481 square inches, then it can easily cater for the needs of about 6-8 adults and even a bit more if there are kids. Now even if you aren't so good in math, then we'll tell you what you can cook at the same time so as to have a rough idea.
So you can simultaneously cook about 6-7 chickens with 6 spare rips as well as well as an 8 pounds brisket and enough space left for a 20 pound turkey.
You will notice that for all these benefits it is cheaper and like its predecessor, it doesn't consume as much fuel.
One thing we might add is that although it has no cons, if you are mostly about cooking surface then, for weber Smokey Mountain 18 vs. 22, the Weber Smokey Mountain 22 has more of it.
Pros:
For the cooking area it has and at around $300, it is one of the best prices and affordable
Possible to cook many things simultaneously
Perfect for small home parties and events
Cons:
As a matter of fact, we couldn't find any cons for this one.
Weber Smokey Mountain 22.5 Reviews
The Weber Smokey Mountain 22.5 is perfect for you if you often cooking for large crowd or even have backyard parties. Many people who've bought the mid-size Weber sometimes wish that they had bought this one since it has a superior cooking space.
At about $100 more than the mid-size one, it is still pretty much on the cheap side. However, if you decide to buy this and use only to cook for a small family, then you'll lose in terms of fuel consumption, making it a bit overkill.
Pros:
It has a much superior cooking space that the other 2 Weber Smokey Mountains
Ideal if you cook for large amount of people
Still affordable despite being about $100 more than the mid-sized one
Cons:
Not flexible since cooking for a small family consumes too much of fuel
How water smokers work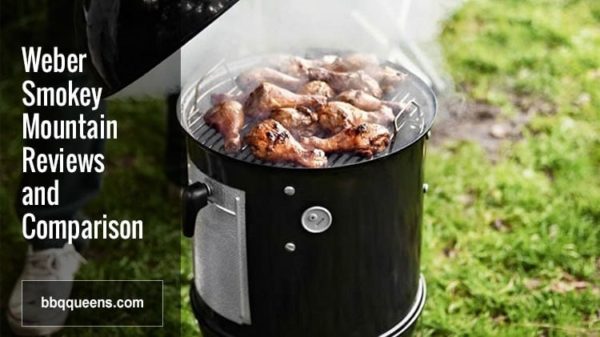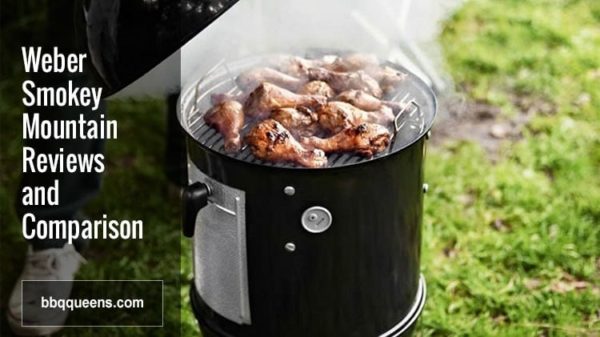 The Smokey Mountain is part of the water smoker category. The latter is ideal if you don't have enough space or if you prefer multiple grills and smokers, and even though they are small, they sure pack a lot of punch. So as to generate heat as well as smoke, the Smokey Mountains will use wood chips and/or charcoal. It gets its name from its key feature that is the bowl of water that lies between the cooking grates and the fire. While adding humidity to the smoke chamber, the bowl of water also aid in keeping a stable smoking temperature.
Many WSM uses think that this special feature enable them to bypass the foil wrapping stage of meat partway when cooking.
The water smoker is usually made up of three sections:
For the smoke wood and charcoal to go, a firebox and for airflow controlling, a grate
A water pan in the cooking sections, 2 cooking grates as well as to add charcoal/wood, an access door
Finally a Domed Weber Lid
The ease of use compared to other smokers is one of the leading reasons why most people will choose waters smokers such as the WSM. Smoking with a WSM is so easy that even total beginners can get good results.
At the bottom of the charcoal ring, lit charcoal should be piled
Either use water or you can experiment with other fluids such as apple juice or cider when filling the bowl.
Above the bowl of water, the food will go onto the racks
To obtain the desired temperature of 225 degrees, just add some wood chunks to the coal as well as adjusting the vents
Then for every hour or so, check the temperature. Although the WSM come with a built in thermometer, some people sometimes prefer to buy other thermometers.
Weber Smokey Mountain VS Kettle Grill
If the Smokey mountain is your first smoker then you are probably thinking it if it was worth spending around $200 – $300 when you could probably have gotten a Weber Kettle Grill of a hundred of dollars less. You choice will depend on what consider to be the most important for you since the kettle can also be converted into a smoker easily as well as being more versatile and cheaper while as a smoker, the Weber Smokey Mountain is much better.
Weber Smokey Mountain Cooker reviews
With the Weber Smokey Mountain, you'll have the following advantages:
Better Temperature stabilizing – If you are smoking meat, then the latter, over long amount of time will require consistent and stable heat. If you have a kettle, then this can be done, but it will however require adjusting the air flow on a regular basis which will take you a lot of time to master, leaving you with half smoked meat. On the other hand, the WSM can go on for hours without you verifying every hour. You also have the built-in thermometer in it that will show you the temperature.
Controlling and Keeping at Lower Temperatures – Without any risk of temperature spikes, you can get a better overall temperature control with the WSM while with the kettle, you'll always have to judge from direct contact with the heat.
More Cooking Surface – You'll get much more cooking surface to fit all your food in the WSM than the constraint kettle surface.
Cold Smoking – The WSM is much more innovating for cold smoking since it can be both done using the snake method of 2 x 2 charcoal and filling the reservoir with ice or simply, buy a pellet smoker to use in the bottom of your grill.
If you have a small family then with some practice and several accessories, you can get rather good end product when smoking meat since the Weber Kettle is versatile. However, if you desire high quality smoked meat then the Smokey Mountain is a much better overall smoker and well worth the extra money spent.
Weber Smokey Mountain Cooker VS Big Green Egg
So for this one it's the Weber Smokey Mountain vs.Kamado – the Big Green Egg (Kamado Cooker) is often compared to the Weber Smokey Mountain. In Japanese, Kamado means stove, and the cooker is named after the same word and is usually made of a plethora of materials such as ceramic among others.
Why would you buy this distinctively designed Kamado style smoker you might ask?
Meathead Goldwyn, Big Green Egg Ceramic Cooker

"For many, the Big Green Egg is the Weber of Kamados. They introduced Kamado cookers to the USA and are often viewed as the industry standard.

The Large Egg is big enough for a 20 pound turkey and has an 18" diameter grate. Made in Mexico the BGE design is simple, it is built to last, and it has a limited lifetime warranty.

Round Kamados work as good as or better than standard charcoal grills for most recipes. They are, by design, excellent ovens and smokers because once the ceramic settles at the desired temperature, it stays there for hours"
The Pros of getting the BGE
Compared to the WSM, the BGE has a much superior insulation and air control.
The Weber Smokey Mountain also burn much more fuel than the BGE
The material (ceramic) of the BGE is much less affected by snow and cold weather
Without any modifications, the Big Green Egg can also act as an Oven
Since it can act as an over, it is possible to cook bread, pizza and other things of the sort and although the WSM can do this too, it comes at an extra cost since you'll need to purchase a pizza oven kit and remove the centre section.
As an all-round grill, the BGE is better, but for this review, we'll be concentrating mostly on the best smokers but it's good to know what the BGE offers too.
Although the BGE sounds like the best thing to have, in terms of cost, you'll be investing much more than you would for the WSM 22.5″. With the latter, you are pretty sure of getting much more cooking space than the Big Green Egg.
A large BGE is around $849 while the Weber Smokey Mountain is much more affordable at around $399.
Also, that's the only average price since as opposed to WSM, BGE's are only sold by authorized dealers.
If we count the cost per square inch, then you'll be paying $3.20 for the Large BGE compared to only $0.55 for the WSM.
The price will drive people to take the WSM over the BGE most of the time and if you want the highest level of temperature control and price isn't a big deal for you then the choice is BGE but if we're speaking simply in terms of smoker, then WSM is the way to go.
Offset Smoker VS WSM
An alternate popular choice when people want to get serious about meat smoking is the Offset smoker which is also known as horizontal smokers. The main difference it has in contrast to the WSM is that the experience of fire management is completely different on that of an offset style smoker.
Offset smokers usually cost over $1,000 and while people think they are an upgrade over the Weber Smoking Mountain, they are wrong since the only extra thing they are paying for is the extra cooking surface. It does however come at a cost, the cost being the additional burning of fuel and since the cooking area is larger, there is a higher frequency of fire management so as to maintain a consistenttemperature. In contrast to 12.5″ which cost just under $200, you are assured of getting a higher quality smoker. At the price which the offset smoker is, you're just getting additional space and nothing else.
Offset smoker vs. Weber Smokey Mountain:
In terms of cooking capacity, then the offset will win hands down since you paid for that extra space when you bought it.
The WSM requires only setting the cooking and leaving it be while the offset cooker will require frequent fire management to keep a stable temperature.
Overall, comrade to the BGE, the WSM will end up being more economical to you in terms of fuel and price. It is generally agreed that you'll have better temperature control with Weber, however, if still don't mind spending the extra amount and burn some wood, then the offset is the one for you although WSM in terms of value wins this one.
Smokey Mountain VS Traeger Pellet smoker
Most smokers we've reviewed so far uses charcoal and wood for heating and creating smoke, and you are worried about fire management then the Pallet smokers might be another option you might want to consider.
Although they look like offset smokers, you already have a side mounted hopped that can be filled with wood pellets that are cylindrical which is much better than a fire box. Since the pellets are delivered to the fire pot from the hopper, the resulting smoke and heat from the combustion of the pellet will smoke your meat.
The latter while drawing electrical current from a household source also has a built in digital controller which enables you to choose any temperature you prefer,
Steven Raichlen, New Kid on the Block: Pellet Grills

"It's easy—maybe a little too easy," I told the crowd of Barbecue University students gathered around the first wood pellet grill many had seen. People nodded—we had an understanding, right?

Smoking and barbecuing are supposed to be hard work. If not chopping wood, then at least breathing in charcoal dust and smoke and laboring to maintain a steady temperature during a barbecue session that could last the better part of a day. Or night.

Certainly no self-respecting pit master would subscribe to a "set it and forget it" philosophy. Pellet grills are a fad, I thought to myself, that will flame out fast.

That was five years ago.,"
This Traeger is a mid-range pellet smoker which provides a great taste of smoked meat, excellent temperature control and convenient to use.
If you are not a fan of fire management, dealing with charcoal, wood and so on, then the Traeger is probably the best option for you.
For an all-round value, the WSM will win hands down, since the cheapest Traegar grill is over $400 with only 292 square inches of cooking surface, whereas even the 18.5 WSM has 481 square inches of cooking surface.
The Traeger does however makes the cooking a bit more automatic which might take the romance of smoking off it but it does the job. All will depend on your choice and preferences when choosing.
Where to buy Weber Smokey Mountain
Weber smokers for sale, that's usually what you'll see and hear when looking around to get your new WSM. You'll have a couple of options for that. The usual ones are normally via Amazon and BBQGuys.com. For Weber, the WSM is rarely on sale online but you can probably find second hand ones on EBay and if you want new ones then you have to check their website and the different dealers that can sell their products.
How to setup your new Smokey Mountain?
Seasoning Weber Smokey Mountain and Calibrating your Smoker with dry runs
One of the first things to do once you get your new grill or smoker is to assemble it. Once you are done assembling, you should do a few dry runs without any food so as to calibrate and season it. The reason for this is to burn off any sort of manufacturer grease as well as giving you a sense of how to set it up and strike the two most important temperature targets that are the 225°F and 325°F which are used on most recipes.
In order do the above, it is important that you have a good digital oven thermometer. Most thermometers that comes with smokers or grills are rather cheap and unreliable, thus the reason of getting a digital oven thermometer or like the weber smoker, it is in the dome where the temperature is different from where the meat sits.
The most significant thing to do once you get your smoker is to make sure that it is well seasoned. Until you're able to season the inside, new WSMs will tend to overheat. You need to do the following which is one of the fastest ways to season it:
You need to cover the water pan with aluminum foil completely and lite a full load of Kingsford blue bag briquettes or equivalent then let the smoker get as hot as it can without water in the pan so as to burn off any manufacturing residue it has. One done, clean out the ashes.
Take unlit briquettes and full the charcoal basket about halfway full. So that you can see the center, make sure you hollow it out. Once done, in the middle, fill the chimney around halfway with lit Kingsford briquettes in the middle. This will result for 3-5 hours a slow burn on a 72°F day. So that the dome thermometer shows 275°F, you have to adjust the vents. Take any scrap meat you don't plan to eat like pork fat, chicken part or bacon strips and put it in. The aim is to generate a lot of vapor from the fatty meats. To generate some smoke, you can toss in additional tennis ball size wood chunks.
Before cooking meat that you will eat, it is necessary to repeat the process atleast twice before. So as t avoid rancid old oil smell or fires, it is also necessary to empty the ash from the bottom as well as greasing the foiled water pan before cooking. WSMs are better used for beef, poultry or pork cooking rather than hotdogs and seafood since they destroy aroma. If you plan on cooking the latter, then better get a second small smoker especially for it.
After cooking, it is also advisable to scrape of grease and creosote using a wire brush but make sure not to scrape off the dull black coat.
Cooking with your WSM: Steps you need to follow
So that nothing blocks the air intakes, it is essential that the ash at the bottom of the smoker is cleaned. Apart from the fact the heat is absorbed by ashes, if possible, then you should purchase another bottom grate and lay it on top of the other one in your WSM so as to create a checkerboard pattern. As a result, it will stop wood chips and coal from falling through it.
You should also open halfway the bottom vents and the top vents all the way.
Rather than following the recommended method by Weber, are a lot of other methods of how to start and maintain the fire. If as Weber recommends, you light all the coals at once, the latter will burn their highest temperature first and then cool off. What we want is to get the pit at a certain temperature and maintain it. You can choose one of the many variations of the Minion Method to set up your fire.
Below are some of the best methods that you can try. You should first do one or two dry run without any food so that you can know exactly how many coal will work for you.
Original Minion Method. This one says to pour a chimney of hot coals on top of unlit coals in the ring.The new coals will fire up as the hot coals burn out. This method is good at maintaining a steady tempera­­­tures as when the old ones burn out, the new ones will light up.
The Fuse. For this method, a donut has to be created so as to put a big rock or either a stack of bricks in the middle. As a result, the coals won't fall into the hole. Then you should take a chunk of the donut of about 8″ so that it now forms a big C shape. Before getting the coals fully engage, make sure to fill the WSM chimney about halfway. Rather than the center, the lit coals should be poured over one end of the C. Three chunks of wood should be spaced in a line near the hot coals. The rest of the coals will slowly ignite like a fuse but not before provide you with heat and smoke and as they burn around the C shape, it will produce a good even heat for a long time. The brick or rock will absorb and release heat which will help maintain the temperature.
The Pyramid. This one is the easiest since the only thing you have to do is to make a pyramid of coals in the middle of the ring. Before lighting it up, make sure to put a Weber paraffin cube under the top coal. This will result in it not overshooting the target temp easily as it will start up more slowly.
Now that you know how to start the fire, let's continue with the process.
So that you can scrape them clean, you should place the cooking grates right on top of the hot coals so as to heat them up. The flavor of your food can be tainted by old grease and rust, so now just remove the clean grates.
So that it is easily accessible, position the door while putting together the rest of the smoker. The water pan should also be lined with heavy duty aluminum foil as it will make your cleanup easier after. Once you've set the water pan in it, take hot water and fill it within 1/2″ of the top. The reason why hot water is used it because the latter absorbs less heat and will thus aid in getting the oven up to temperature faster.
It is normally recommended to control the temperature with the bottom vents while keeping the top vents open, however, the WSM door leaks so much that the coal will get air from there. So it is much better to close the top and bottom vents together so as to lower the temperature since the suction is created by the top vent, also known as the draft, the act of pulling oxygen through the door. Once you see that the temperature has risen around 200°F, and on a hot day it will reach that quickly, you should then throttle the vents about 1/3 open and until you have stabilized the temperature at about 225 to 250°F, you should keep fiddling with them. On the new unit, it might be trickier to regulate the temperature since in the inside, it has a built it deposit of carbon. Since they are reflective, newer units can run a bit hot.
Making sure the probe isn't into direct contact with the bone, you should insert a meat thermometer in the middle of a large cut. If it is possible for you to fit all of it in one grate, then it is better to remove the lower grate and use the top one so that it doesn't get sloppy from the drippings. If however you do need to use both, make sure to put the faster cooking one on top making it easier to remove after. Never put fish or poultry under beef or pork since the top rack will drip on the lower one. If you want both of the meat to finish simultaneously (almost), then you'll have to swap the bottom and top a few times during the cooking session. An oven thermometer should also be placed near the meat without touching the grate and it should be at least 1″ away from the meat since there are cold air bubbles around the meat. One of the main issue that the 18.5″ WMS have is that their grates are around 15.5″ meaning it will not fit larger slaps of ribs. Without cutting them off, you can bend them to fit and doing the same on thetop and lower grate will make 4 fit easily.
Once the smoke has stopped, if you know what you're doing, then you can add more wood. There is however always a risk of over smoking, so until you master the device, it is better not to add more wood apart from the one you've already added. You should check the water pan every two hours to make sure the water pan has not dried out. When the water level get low, take some hot water and add it carefully. Once you're done, so as to preserve them for the next cook, close all the vents so as to smother the coals. One thing to make sure is the shake the ash off and when them out before using the partially burned coals again. Once it is time to store the WSM, make sure to take the door off so that is does not get moldy from the humidity and leave the vents open. Finally cover it with a high quality cover, making sure it goes low enough to prevent the rain from getting into the lower seam.
Weber Smokey Mountain Tips
If you happen to use a good quality digital thermometer then you'll be sure to observe that the one on the dome is inaccurate since the temperature dome is hotter than that of the top grate and the top grate is hotter than the bottom one. The difference will depend onto the temperature of the water in the pan as well as the weather outside, sunny or windy and so on. For example, if it is a sunny and hot day, it is possible that the dome will absorb lot of heat and the bottom shelf might be a lot cooler if you also happen to have just added water. The temperature will vary depending on the season and weather, for example, if it's the summer and the temperature is around the 70s, the smoker is in the shade and there is no wind, then the dome will be around 10 to 15°F hotter than the top grate. The top grate will also be 10 to 15°F than the bottom one but it may vary.
Conclusion
The Weber Smokey Mountain Smokey as you've seen is worth every penny, from the smallest to the biggest one. The reason for that is that it is easy to master even if you are a total beginner in smoking meat. In addition to that, the price compared to most products of the same kind is much more affordable. However depending on your needs and budget you may come up with a different conclusion but we hope we helped you with this review.