You can ask as many BBQ experts as you like and they will all tell you the same thing. If you want the perfect BBQ every time, you need to use a meat thermometer. Just like you can't imagine playing soccer without a ball, you can't do a good BBQ without a meat thermometer. More importantly, besides a tasty BBQ, it will make your life a whole lot easier.
Now that you've decided to buy one, there are lots of options to choose from. There are thermometers of various types from numerous brands. But if you ask us, we just have four words for you: SmokeBloq WiFi Meat Thermometer.
About SmokeBloq WiFi Meat Thermometer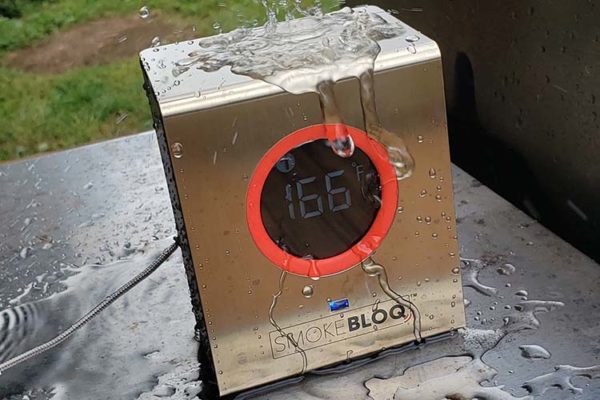 If you've ever had an urgent errand to run but couldn't because you were smoking some meat, you'll know how annoying it is to be stuck inside your house during a BBQ. That is precisely why SmokeBloq invented their WiFi Meat Thermometer. Unlike other wireless thermometers that still require you to stay within a range, SmokeBloq allows you to go as far as you like while still monitoring your grill.
Even though SmokeBloq is a relatively new name in the market, it has quickly built up a strong reputation among BBQ enthusiasts. Its meat thermometer is simple yet effective, making it a must-have tool for anyone planning to do a BBQ. Let's take a look at what this thermometer has to offer.
When you first look at this thermometer's sleek design, you'll be impressed by the appearance while having doubts about its durability. However, despite its fancy look, it has a solid build. The thermometer has a stainless steel exterior which gives it its sturdy structure. Moreover, the thermometer is also well protected against common weather conditions.
Whether it's placed under direct sunlight, rain, snow, or even in the wind, the thermometer will continue to show accurate temperatures without getting affected or damaged. Similarly, the accompanying probes are also of the highest quality. The commercial-grade, thermocouple probes can withstand all kinds of weather elements without affecting the precision of the temperature reading. Additionally, the thermometer has waterproof ports.
The thermometer can support up to four probes so you can comfortably monitor more than one type of meat at a time.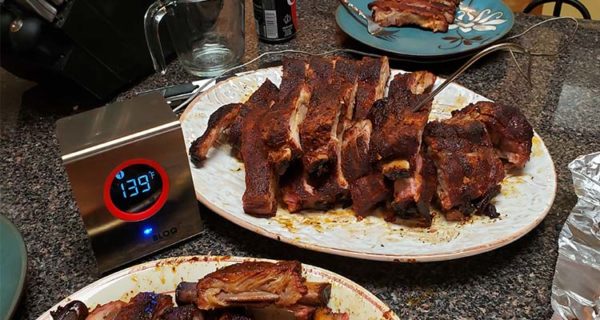 From setting it up to monitoring the temperatures on your phone, the SmokeBloq thermometer is straightforward and quite easy to use. There are no complicated mechanisms or operations. The thermometer features a bright display that is easy to read.
Moreover, as mentioned earlier, it has four probe ports, which can be pretty convenient when you're cooking for a large party. Although, besides the two probes already included, they have to be purchased separately. Other than that, this battery-powered thermometer can run for 150-200 hours using just four AA batteries. The long battery life saves you the hassle of always having to change batteries or charging the thermometer.
Along with the thermometer and probes, you get a user manual as well, which makes setting up your app for the first time quite easy. Even though this thermometer is ideal for smoking, it is versatile as well as it can be used for grilling too at times. Moreover, the probes can rate up to 575 degrees Fahrenheit.
We've saved the best for last. Even though many thermometers claim to operate wirelessly, they usually rely on Bluetooth or something similar, which is limited to your house or a specific limit. However, the SmokeBloq works wirelessly through your WiFi connection. As long as you have a WiFi connection on your phone, you can monitor your grill temperature from anywhere on earth.
So, the next time you have an important document to sign at the office or you have to pick up your kid from school, or even if you just have to run to the corner store, you can do so without any worry of burning your brisket. All you need is the SmokeBloq App, which itself has loads of features such as customized settings, previous recipes, notes, alarms, etc.
What's in the box
The contents comes secured inside a thick black cardboard box. The probes are bound up and secured with twist ties. The packaging looks well thought out.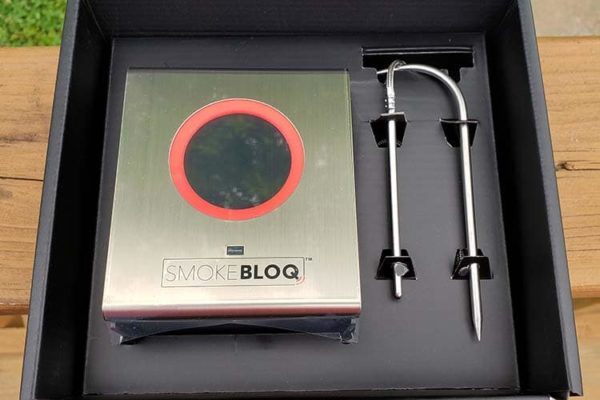 What's in the box:
Smokebloq base unit
1 meat temp probe
1 ambient temp probe (pit probe)
Setup Manual
The Downside
As with all things in life, the SmokeBloq thermometer also has areas that could use some improvement. While the meat probe is fine, the grill probe has no clip or any similar feature to actually mount it on the grill. Even though it's not much of a problem but having some sort of clip can make the whole operation more secure.
Similarly, the thermometer itself has no magnetic base or some feature to help mount it. So if your grill doesn't have a shelf right beside it, it might be a little tricky to find a right spot to keep the thermometer. Moreover, besides the design, the app could use a bit of tweaking too.
The thermometer itself displays real-time temperature, but the app registers it slightly later i.e., after around a minute. While this might not be a problem if you are smoking, but if you've got, for example, a chicken on the grill, a minute can make a lot of difference.
Pros
Durable
Weather-resistant
Accurate readings
Four probes for various kinds of meat
Easy to set up
Easy to use
Long battery life
Versatile
Can use the app anywhere
Value for money
Cons
No clip on the grill probe
No mounting feature on the thermometer
Have to purchase additional probe separately
Won't work without a WiFi connection
App a little slow
Comparison
One of the leading thermometers in the market is the ThermoWorks Signals Thermometer. In comparing both the thermometers, there is quite a difference yet a lot of similarities too. Both have WiFi, Cloud, and app features. Moreover, both have sturdy, weather-resistant, four-probe, and battery-powered design.
However, ThermoWorks has better protection with an IP66 rating. It can operate through Bluetooth and work as a standalone unit as well. Additionally, it has a rechargeable battery and a power adapter too. But all of this is at a higher cost. ThermoWorks is priced almost $100 more than the SmokeBloq. Furthermore, SmokeBloq has a better battery life too.
Final Words
Overall, the SmokeBloq Thermometer doesn't have tons of features like some other thermometers in the market. However, what few features it does have are pretty cool and make it a very convenient tool to have. More importantly, at the price of just $139.99, it definitely shines brighter than the rest.
Last Updated on September 2, 2019 by Judith Fertig