There is so much that you can do with your smoked sausages. You can make an appetizer, snack, comfort food, or party food with them.
You can use them to make your veggies edible or prepare soups to help get you through the winter (minus the chills). If you love smoked sausages as I do, here are the best recipes to try this year.
Smoked Sausage Recipes
I was once a diet freak and it took my partner a long time to convince me that smoked sausages can be healthy too. Nowadays, all I can think of when I need fast and on-the-go meals and snacks are smoked sausages. I like them spicy and laced with vegetables.
The best thing about smoked sausage recipes is that you can get your meal ready in less than 30 minutes. If you are a man who doesn't like spending ages in the kitchen, you might appreciate that kind of speed.
On top of that is the amazing fact that most of these are one-pan recipes. In other words, you don't have to worry about the gruesome burden of washing dishes after the meal.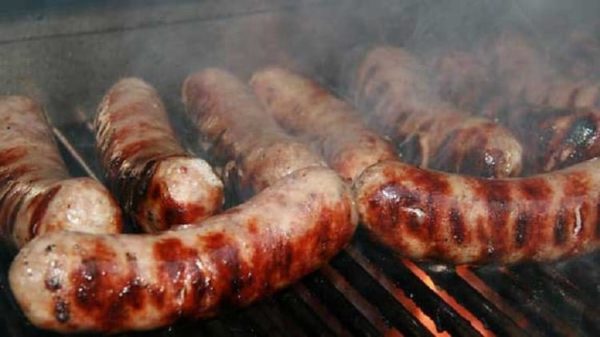 You can make stews
All you need for a lip-smacking smoked sausage stew is the right assortment of veggies, spices, and herbs. The ingredients, in this case, are easy to find and budget-friendly. Best of all, you can use leftovers to save even more on your budget.
You can make pasta dishes with smoked sausage
Whole grain pasta is good for your cardiovascular health. There are many smoked sausage and pasta recipes that you can use for health benefits such as a reduced risk of diabetes and breast cancer.
Risotto smoked sausage recipes
Rice dishes can make a great combination with smoked sausages too. If you are keeping a watchful eye on your health, like I am, try recipes that use plenty of veggies and brown rice. The meal that comes out of your kitchen will have the potential to reduce your risk of heart attacks.
Smoked sausage salads
Dice tomatoes and onions, mix it with smoked sausage slices, and what have you got? You've got a protein-rich and vitamin-packed tasty snack that can save you from the risk of high cholesterol and hypertension.
The possible health benefits of smoked sausage recipes include:
Lower blood pressure and cholesterol
Proper kidney function
Stronger immune system
Better skin health
Good mood
The Best Smoked Sausage Recipes of the Year
Italian Sausage Tortellini
The Italian Sausage Tortellini is cheese tortellini with smoked Italian sausage and tomato cream sauce. The tortellini sausage is among the best tortellini recipes in the world
If you are looking for a flavorful smoked sausage recipe, you will definitely like this one. The recipe is simple to hack even for those with little experience in the kitchen.
The Italian Sausage Tortellini will be one of those meals your friends will rave about for days on end.
I particularly like that the tortellini recipe is a one-pot meal. That makes it fast and easy to make. Because it cooks in one pan, you won't have dozens of dishes to washes at the end of the day.
Ingredients
2 cups diced onions
1 tbsp. olive oil
1 lb. Italian smoked sausage
3/4 cup chicken broth
1/2 cup regular cream
Minced garlic cloves
5 oz. petite diced tomatoes
9 oz. fresh tortellini
2 cups baby spinach
Salt and pepper
Process
Heat olive oil over medium heat and add the onions when the oil is hot
Remove the sausage from its casing and add into the pan
Break up the sausage into small pieces using a spatula
Slightly raise the heat and cook while stirring until the sausage is brown
Reduce the heat to low, add the garlic, and stir for about 30 seconds
Add the cream, broth, tortellini, and tomatoes and keep stirring to combine
Raise the heat to medium-high so the mixture can boil
Cover and simmer for about 15 minutes to get the tortellini tender and cooked
Add spinach and cook until the veggies are slightly wilted
Add salt and paper and prepare to serve
Smoked Sausage, Kale, and Potato Soup
If you need comfort food after a heartbreak, look no further. You can whip up smoked sausage, kale, and potato soup for lunch or dinner any day without running into kitchen-related complications. The advantage is that this is a tasty meal that can be used for breakfast … if you end up with leftovers.
Culinary experts have branded this smoked sausage recipe a winter best friend. You get the smoky flavors of the summer in the middle of winter with this heartwarming kale and potato soup.
Make this for a friend, and you may never lose them. Best of all, this is a low-calorie recipe that could be safer for your waistline.
Ingredients
2 tbsp. olive oil
1 tbsp. butter
3 chopped garlic cloves
Diced yellow onion
14 oz. package smoked sausage, sliced
4 cups kale leaves
1 sprig rosemary
1/2 tsp. dried thyme
2 cups of soy milk
3 cups cubed potatoes
32 oz. low sodium chicken broth
Process
Heat the olive oil and butter in a soup pot
Add the diced onion and garlic
Add the smoked sausage slices, kale, pepper, salt, thyme, and rosemary; stir to combine
Cook the mixture for 8 minutes at medium-high heat
Add the diced potatoes and cook while stirring occasionally
Add soy milk and the chicken broth and bring to a boil.
Lower heat to a simmer and cook for 10 minutes until the potatoes are nicely cooked and tender.
Remove from heat
Remove the rosemary sprig and serve
Cheesy Smoked Sausage and Cabbage Casserole
Here is another healthy, low-carb, one-pan, flavorful dinner. My mom used to make this a lot because it was the only way she would get us to eat vegetables. The delicious smoky flavors of the sausage and the cheesy goodness would transform the cabbage into something that was "not so bad after all."
You might love the way this recipe is cheap and easy to pull off. The work here involves chopping your veggies and smoked sausage and then sautéing everything on a range top before putting it in the oven for 15 minutes.
This recipe leads to generous servings, and the food can last for up to 3 months if stored well in a freezer. If you do not waste food and appreciate your veggies, then roll up your sleeves. Even if you have family members that don't like to see cabbage on their dinner plates, this recipe could be a game-changer.
Some dieters might call this recipe an excellent keto diet meal idea. Someone else might label it comfort food, gluten-free, low calorie, and all that. For me, the biggest selling point is that it gets my kids to eat their veggies. And the casserole also makes it possible to use leftover food over and over again.
Ingredients
2 tbsp. olive oil
1 chopped yellow bell pepper
1 diced cup onion
Minced cloves garlic
Sea salt and black pepper
1 sliced green medium head green cabbage
2 tbsp. butter
1 1/2 cup crushed tomatoes
5 oz. diced tomatoes
14 oz. smoked sausage, smoked
1 1/2 cups shredded mozzarella cheese
1/4 cup roughly chopped Italian flat-leaf parsley
Process
Preheat the oven to 400°
Heat the olive oil plus butter in a large pan over medium heat
After the butter melts and the pan gets hot, add the chopped cabbage onion garlic, bell pepper, sea salt, and black pepper; cook for ten minutes
After the vegetable are crispy and tender, and the cabbage is slightly wilted, add diced tomatoes and crushed tomatoes; finish with the sliced smoked sausage
Sauté for about 10 minutes
Transfer the mixture to a large dish and top it with cheese
Bake for 15 minutes
Top with parsley and serve
One-Pan Sausage & Veggies
The cafeteria near your workplace might not be to your liking. Maybe their cooking isn't good enough, or perhaps you need something tasty and cozy after a crazy morning in the office. In all these cases, you may find that smoked sausage and veggies makes the best-packed lunch recipe.
For starters, it is simple to make. All it takes is cooking a mix of veggies and sausages in a skillet and you are done. It is easy and healthy, and you can make it Sunday evening and enjoy it for the next few days.
The recipe is very forgiving. You can customize it by adding quinoa rice to the mix and turn it into a hearty dinner. You can experiment with other veggies that are not on the ingredient list. If you end up using red potatoes, ensure that you chop them into tiny slices so they can bake uniformly with everything else.
You can use Italian sausage, turkey sausage, or whatever sausage you have available. Chicken sausages may also lead to surprisingly positive results. And if you serve this fresh, consider topping it with fresh Parmesan cheese. It is a game-changer for the veggies.
Ingredients
2 cups carrots
1 small-medium zucchini
2 cups red potatoes
1 head broccoli
2 red peppers
1/2 tsp. onion powder
16 oz. smoked Italian, turkey, or chicken sausage
1/2 tbsp. each of dried basil, parsley, oregano, garlic powder
1/8 tsp. red pepper flakes
1/2 tsp. dried thyme
1/3 cup freshly grated Parmesan cheese
4 1/2 Tbsp. olive oil
Salt and pepper
Process
Preheat oven to 400 degrees F.
Prepare a large pan with foil and set aside.
Prepare the veggies so they can cook uniformly
Carrots should be peeled and very thinly sliced
Red potatoes chopped into small pieces, approximately 12 pieces per potato half
Chop the zucchini into slightly thick rolls
Broccoli should be roughly chopped
Chop the sausage into thick rings
Pour everything on the sheet pan
In a separate bowl, mix ½ tsp salt and 1/8 tsp pepper with olive oil and stir to mix
Coat the veggies and sausage with the seasoning and olive oil mixture
Put it in the oven and heat for 15 minutes
Take it out and stir the mixture, then bake for another 10 minutes until the vegetables are tender
Remove and top it with grated Parmesan cheese and parsley
The sausage and veggies can be served alone or on top of rice/quinoa
BBQ Smoked Sausage Bites
This is a smoked sausage appetizer in hot sauce. You can make the sausage appetizer on the stove, in the oven, or in a slow cooker. The barbecue sauce comprises no more than five easy-to-find ingredients. You can use this recipe to make party bites for game days when your home is teeming with college football fans.
You can take the recipe on the road for your camping and tailgating engagements. Given the speed and ease of preparation of this recipe, you will never miss the gameplay.
The smoked sausage is served bite-sized and makes a great snack before the main meal. You can also store it in the fridge for your mid-afternoon snack all week long.
Instead of hot sauce, you can experiment with buffalo sauce, satay, or ketchup. Coat the smoked sausage slices and cook them until they garner a luscious finish.
I used to make these in a pan until I discovered my barbecue grill works even better. I could eat this year-round and never complain.
Whenever there is a party at my place, you can almost always expect that BBQ smoked sausage bites will be on the menu. They are a crowd-pleaser.
Ingredients
2 14-oz packages smoked sausage
2 cups hot sauce/ barbecue sauce
Process
Cut sausage into bite-size pieces
Put the pieces into a bowl and pour hot sauce over the sausage bites
Stir until well coated.
Cover and pop into the fridge until just before barbecuing
Turn the grilling flame to low
Spray a grilling pan with nonstick spray
Transfer the smoked sausage bites into the pan and grill
I have a feeling you will like this last recipe more than most because all you need are two ingredients: smoked sausage and sauce. The preparation process is fast and easy too.
But for my health freak buddies who recently crossed over from the vegetarian side of the fence, I recommend the Cheesy Smoked Sausage and Cabbage Casserole. It's not only tasty and healthy but also leads to large servings.
In other words, you can feed your family without draining your wallet.
Last Updated on September 25, 2020 by Judith Fertig