Do you love grilled sausage? If so, you're not alone. Grilled sausage is a delicious and satisfying meal that everyone seems to love. But what's the best way to cook it? The first thing you need to think about is the temperature of the grill.
If it's too hot, your sausage will burn on the outside while being raw on the inside. If it's not hot enough, your sausage will end up tough and dry. In this blog post, we'll discuss the best grill temperature for cooking sausage so that you get perfectly cooked links every time.
What Temp to Grill Sausage?
Like all meats, sausage should be cooked to an internal temperature of 160°F. This is because sausage is ground meat and can contain bacteria like E. Coli or Salmonella. Those bacteria are killed at this cooking temperature, it's important that you use a thermometer to ensure the correct doneness so you don't undercook or overcook your sausage.
The best grill temperature for cooking sausages is around 350°F – this will create a nice, even heat that will cook the sausages through without burning them on the outside.
You can also cook sausages over indirect heat by setting up your grill so that there's no direct flame under where the sausage will be cooking. This can be done by turning off one or two of the burners in a gas grill or piling coals on only one side of a charcoal grill.
When grilling sausages, you'll want to turn them over every few minutes so that they cook evenly. They should be cooked to an internal temperature of 160°F, which usually takes around 20 minutes.
Sausages are a great addition to any grilling menu. With the right target temperature, it's easy to cook them up perfectly every time. So next time you're firing up the grill for some burgers or chicken, be sure to add some sausage to the mix.
How to Grill Sausage
You don't have to be a master chef to grill sausages. All you need is the basic technique. Follow this simple step-by-step guide and you'll be enjoying delicious sausages in no time.
Preheat your grill to medium-high heat and have your frozen sausage types thawed out.
Place the fresh sausage on the grill and cook for about 15 minutes, turning occasionally until they are browned and heated through. If you want to add some additional flavor, try brushing your raw sausage with barbecue sauce or grilling them over mesquite chips.
If you want your sausages well done, cook them until they're charred on both sides. If not, leave them slightly undercooked in which case they should be plump enough still to hold their shape when sliced open with a knife or fork.
Remove the sausages from the grill and allow them to rest for a few minutes before serving.
Serve with your favorite sides. Some of our favorite sides to serve with grilled sausages are roasted potatoes, macaroni and cheese, or some grilled vegetables.
Tips When Grilling Sausage
Grilling sausages can seem like a daunting task, but it's actually quite simple. Just follow these tips and you'll have perfectly grilled sausages in no time:
Grill sausages over medium heat, making sure to turn them often.
If using a charcoal grill, wait until the coals are gray before cooking the undercooked sausages.
Place the sausages on a wire rack so they cook evenly and don't get soggy.
Do not slice the sausages before grilling.
Slice the sausage after it has cooked to ensure it stays juicy and tender.
Serve with your favorite grilled vegetables or on a bun with your favorite toppings.
If you are using a gas grill, make sure to turn all of the burners on medium-high heat and wait until they're hot before adding the sausage.
If you are using a charcoal grill, make sure to spread the coals evenly over the grill grate.
Make sure that you are using a spatula or tongs when turning your sausage to prevent it from falling through the grate or wire rack.
Do not use metal skewers if you want to keep those nice grill marks on your sausage.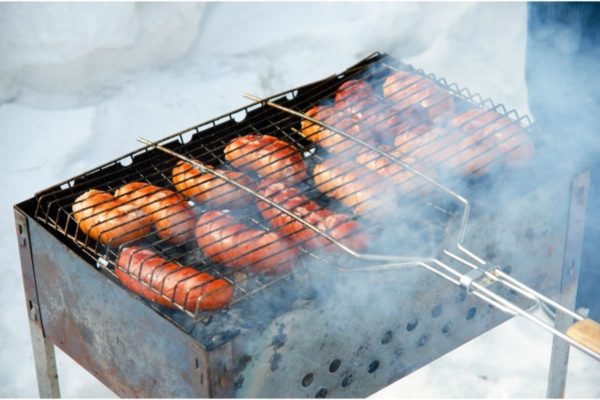 Alternative Ways To Cook A Sausage
There are a few different ways to cook a sausage other than grilling. We're going to look at the two popular and effective ways.
One other way to cook a sausage is by frying it. This is the most popular way to cook a sausage, as it's quick and easy. To fry a sausage, heat some oil in a pan over medium-high heat, then add the sausage. Cook for about four minutes per side, or until golden brown on both sides and the internal temperature is at least 160°F.
Another way to cook a sausage is by boiling it. To boil a sausage, fill a pot with water and bring to a boil. Add the pork sausages and cook for about eight minutes, or until cooked through.
Factors To Consider When Buying A Grill
Buying a grill is not the same as buying any other home appliance. It requires more than just going to the nearest store and making your purchase. Here are some factors that will help guide you when buying a grill for yourself:
The size of the grill: This is one of the most important factors you have to consider when buying a grill. Do you want something that will fit in your backyard or do you need something bigger that can accommodate a lot of people? The size of the grill will also determine how much fuel it consumes and how long it lasts.
The type of grill: There are different types of grills available in the market. Some are for charcoal, others for gas and there are also electric grills. You have to decide which type of grill will work best for you and your needs.
The features: Not all grills are created equal. Some come with more features than others. If you want a grill that has a lot of bells and whistles, then you'll have to pay more for it. But if you're just looking for something simple, then there are grills available that fit that description as well.
The price: This is the last thing you have to consider when buying a grill. Like with anything else, you get what you pay for. If you want a high-end grill with all the features, then you will have to pay more for it. But if you are just looking for something basic, then you can find something that is more affordable.
Finally, always do your research on the different types of grills that are available in the market before making your purchase. This will help you make an informed decision about which grill is right for you.
FAQs about Grilling Sausages
Here are some common questions asked about grilling sausages:
How long does it take to grill sausage?
It takes anywhere from 15 to 20 minutes. It's important not to rush it and cook the sausages on medium heat so they get a perfect golden brown color with no pink spots left in the middle.
Do you grill sausage covered or uncovered?
It is a better idea to grill sausage uncovered because I like my sausages to have nice, crispy skin. If you cook them with the lid on, they will steam and won't crisp up.
Should I flip sausage while grilling?
Yes, it's very important to flip your sausages frequently to ensure that both sides are done evenly and there aren't any pink spots left in the middle.
What are the different types of sausages?
There are many different types and varieties of sausage, but some of the most common ones include breakfast sausage, Italian sausage, bratwurst, and chorizo. Each type of sausage has its own delicious flavor and texture.
How do I grill a sausage?
Grilling sausage is a simple process. First, you want to make sure that your grill is preheated to medium heat.
Next, place the sausages on the grill and turn them in every two minutes until they are cooked through. You can use tongs or a spatula to turn the sausages over while cooking. It's important not to overcook the sausages or they'll become dry and tough.
What should I do if my sausage is charred on the outside but still undercooked inside?
If your sausage is charred on the outside but still undercooked inside, you can place it in a pan on the stove and finish cooking it that way. Be sure to keep an eye on it so that it doesn't burn.
How do I know when my sausage is done?
The best way to tell if your sausage is done is to use a meat thermometer. The temperature of cooked sausages should be 165°F. If you don't have a meat thermometer, you can cut into one of the sausages to check for doneness.
What should I do if my sausage is overcooked?
If your sausage is overcooked, you can either eat it anyway or try to salvage it by chopping it up and adding it to a soup or stew. Overcooked sausages will be dry and tough, but they are still safe to eat.
Final Tips for Picking a Cooking Temp
There are a few factors to consider when deciding on the best grill temperature for sausage. Sausage is most commonly grilled at 350°F, but if you want your sausage dry and crispy, try grilling it at 450°F or higher.
If you prefer moist and juicy sausages that don't stick to the grate too much, then lower the heat by about 100-200 degrees with 325°F being an ideal starting point for cooking any kind of sausage. This will give you delicious results every time.
Last Updated on April 29, 2022 by Judith Fertig