What are the Best George Foreman Grills to Buy?
A grill is a perfect addition to any dorm room or home kitchen. Whether you have to feed a whole family or cook a small burger patty for those late-night hunger pangs, grills are your best companions.
It is a great appliance for those who prefer to add a personal touch to cooking instead of reheating yesterday's pizza in the oven. Also, it is a good option for those who enjoy healthier, more natural cooking.
George Foreman, Silver, 12+ Servings Upto 15 Indoor/Outdoor Electric...
George Foreman 4-Serving Removable Plate Grill and Panini Press,...
George Foreman GRP4842MB Multi-Plate Evolve Grill, (Ceramic Grilling...
George Foreman 9-Serving Classic Plate Electric Grill and Panini...
George Foreman GR10B 2-Serving Classic Plate Electric Indoor Grill and...
George Foreman, Silver, 12+ Servings Upto 15 Indoor/Outdoor Electric...
George Foreman 4-Serving Removable Plate Grill and Panini Press,...
George Foreman GRP4842MB Multi-Plate Evolve Grill, (Ceramic Grilling...
George Foreman 9-Serving Classic Plate Electric Grill and Panini...
George Foreman GR10B 2-Serving Classic Plate Electric Indoor Grill and...
Last update on 2023-09-21 / Affiliate links / Images from Amazon Product Advertising API
Ovens can also cook food well but the charring effect by the grill is a class apart from the plain and bland heating of an oven. Moreover, grills are more versatile and come with multiple functions that can reduce the need for buying multiple appliances, thereby saving money and as well as countertop space.
Buying a grill should be an easy decision for most of us. All we have to know about is the top-rated George Foreman grill. The company is the leading manufacturer of all kinds of grills in the country and provides low priced but highly durable products.
Bringing a George Foreman piece home means investing in good quality. The products are so durable, they stay with you forever, quite literally. The best thing to note about these grills is that they are 100% electric. You can simply plug them in and make your favorite grilled meats and vegetables with ease.
Here is a list of Best George Foreman Grills
You can also look into George Foreman indoor/outdoor grill reviews on how you can achieve the same taste from regular grillers. Here are some of the best George Foreman grills you may consider in the market.
1. George Foreman 15-Serving Indoor/Outdoor Electric Grill, Silver, GGR50B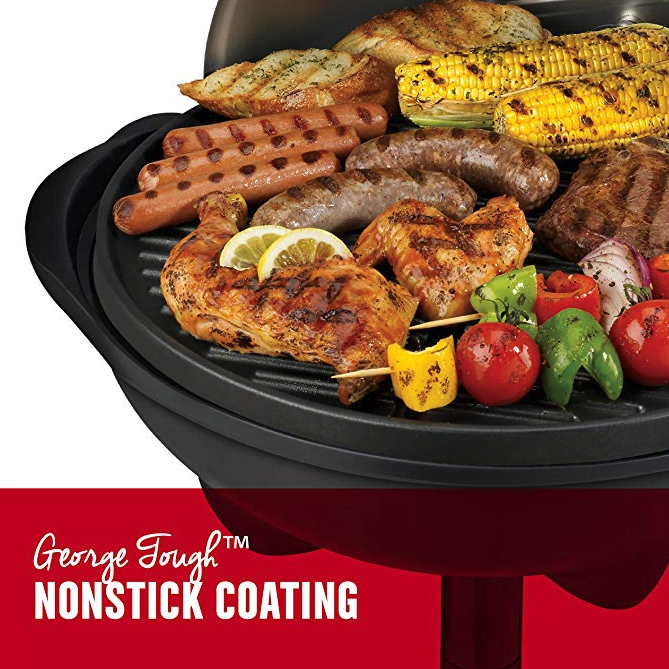 Do you like zero charcoal, zero-emission grills? The George Foreman 15-Serving Indoor/Outdoor Electric Grill, Silver, GGR50B could be the product you are looking for. The best thing about this grill is its super-size. With 240 square inches of space, this product can easily cook more than 15 servings at a time. You can not only feed your family but an entire house party. The circular grilling surface makes it very easy to cook your food more evenly because of which you get the perfect taste every time.
Like most other top-rated George Foreman grills, you will get George Tough Nonstick Coating in this product as well. It makes the product highly durable and easy to clean. Additionally, it makes you use less oil and butter in the food because of which you get much easier cooking. The best thing about the product is that it can be used both indoors and outdoors. It comes with a removable stand that can easily withstand the weather and keeps your food warm, giving stronger support to keep the grill.
The product also comes with adjustable temperature control. You can choose from five heat settings that provide you the best results, no matter what you are cooking. The fully electric system is perfect for use in condos and apartment buildings as well. This feature helps you in getting smoke free, charcoal free and propane free grilling experience. No chances of flare-ups and caustic smoke exist while you are using this product.
Pros
240 square inch, big cooking surface for 15+ servings
Removable grilling plate, dishwasher safe
Comes with George Tough Nonstick Coating
Comes with fat removal slope
Indoor and outdoor use with the help of a supportive stand
Unique rounded cooking surface to fit in foods more easily and cook more evenly
Smoke-free, 100% electric grilling
Perfect for getting an authentic grilling experience and taste
Cons
Basic design. Doesn't come with a panini press, toaster, waffle maker or other added functionalities
2. George Foreman 4-Serving Removable Plate Grill and Panini Press GRP3060P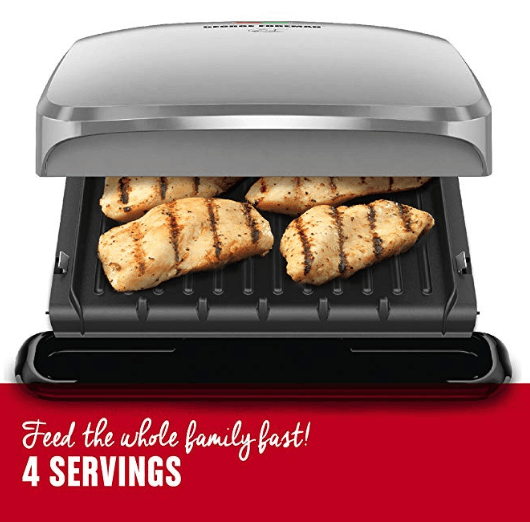 Your search for the top-rated George Foreman grill ends here. If you want to feed your family of four amazing grilled chickens, burgers and steaks, this grill is the right option for you. What's more? It even comes with a panini press option. You can make awesome sandwiches, some cool stir-fried vegetable dishes and add some hot dogs, crisps and grilled fish in the mix for a great dinner. It is great for Sunday brunches too.
The George Foreman 4-Serving Removable Plate Grill and Panini Press, Platinum, GRP3060P is also very easy to use which makes it perfect for first-time users as well. It can easily serve dinner portions to a small family. Like other Foreman grills, it comes with a unique fat removal design. The sloped surface helps in draining as much as 42% of the oil and grease of the product. Because of this, the food becomes leaner, lighter, and healthier. If you are conscious about the macros in your diet, this grill is for you.
It also comes with the signature advanced George Tough non-stick coating that provides more durability and lets you cook without adding extra oil. The plates are of high quality and durable build. They are removable and dishwasher safe as well. It also has a 1-inch adjustable floating hinge that accommodates a variety of meats and vegetables with ease. The product also offers 35% faster heat-up times as compared to its previous models. It also claims to make a meal in about 10 minutes.
Pros
High quality, nonstick and removable plates
Fat removing slope for 42% fat drainage
35% faster cooking time, cooks meals in 10 minutes
Ideal for small families, singles, and couples
Cons
Some users claim that it doesn't cook adequately for four people at once
May release a caustic smoke on the first usage
3. George Foreman GRP4842MB Multi-Plate Evolve Grill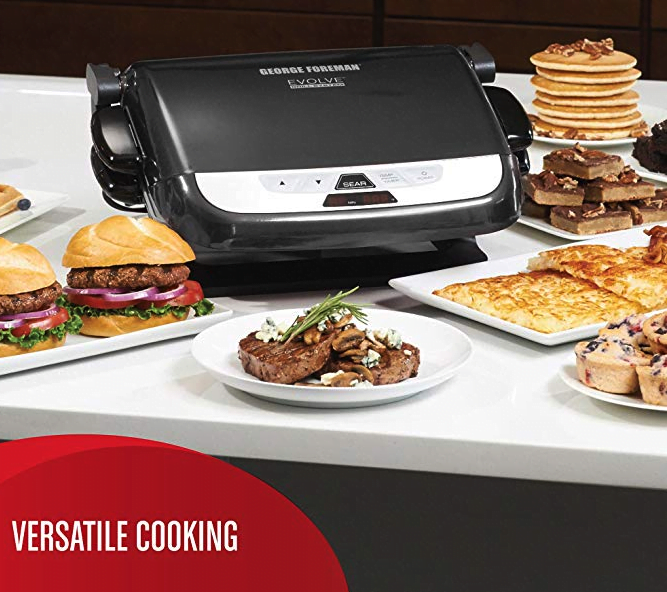 If you want only the best George Foreman grills and don't want to compromise on features, then try this amazing George Foreman GRP4842MB Multi-Plate Evolve Grill, (Ceramic Grilling Plates, and Waffle Plates Included), Black. It comes with a multitude of features that can help you make waffles, grill food, and make awesome panini dishes.
The 3-in-1 grill, panini and waffle maker is perfect for the most demanding customers who want the best quality and the most versatile products in the market. The ceramic grill plate of this product makes all the difference in its functioning. Because of the durable and beautiful ceramic plate, you get more evenly cooked food. Also, you can rest assured that the plates will last forever. You can cook veggies, chicken, burgers, and steaks easily on this grill or use the panini to make awesome sandwiches and stir-fries. The waffle maker could make delicious desserts for you. Bringing this device home is like buying a three-course meal maker.
It comes with a unique 500 Searing Burst option. When you are searing meats, this feature allows you to sear the meats at a temperature of 500 degrees for 90 seconds. These small high-temperature bursts could help you get restaurant quality seared meat. The 4 serving grilling has two waffle plates. It has a digital display panel that you can use to control the temperature or functions of the equipment with ease. The temperature range of the grills moves from 325 degrees to 450 degrees. It comes with fat removal slope as well which helps in removing up to 42% of the greasing with ease and help in leaner, healthier cooking.
Pros
Advanced multilayer ceramic coating provides evenly cooked food
Plates are removable and dishwasher safe, also PTFE and PFOA free
Plates come with a Cool-touch release feature
Adjustable cooking angle with 2 waffle plates
Serves a small family of five easily.
500 burst searing option for meats
Fat removal slope with removable drip tray
Cons
The coating could wear off with time
Not recommended for excessive searing
4. George Foreman 9-Serving Classic Plate Electric Grill and Panini Press, GR144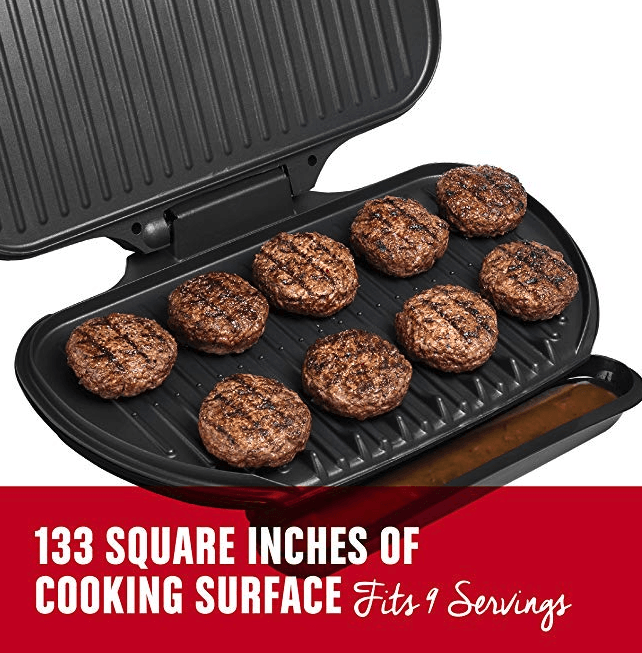 Looking for a grill that can be used for a large family with ease? Look no further than the all-new George Foreman 9-Serving Classic Plate Electric Grill and Panini Press, Silver, GR144. There are several small and medium sizes grills in the market but when it comes to their larger counterparts, all claims go down the drain. This is not the case with this efficient product. It is the best foreman grill you can find in the market. Unlike other large-sized grills, it offers you more even cooking and helps you get well-made hotdogs, burger patties and more.
This family-sized grill can feed you as well as your guests. Want to throw a party at home with awesome grilled food? Go ahead and do it. Your new George Foreman grill can handle it easily. The 144 square inch of space is perfect for cooking up to 9 servings at a time. It is a highly durable product that comes with the signature George Tough Nonstick Coating, which doesn't just distribute heat evenly but is also super easy to clean.
Like all the best George Foreman grills, this one comes with a fat removing slope along with a drip tray. These two features help you in getting the most out of your grill, keeping all your products grease-free. The slope could remove as much as 42% of the oil and fats used in the cooking which slowly drops down to the drip tray. It is all collected here and can be removed easily, without creating a mess. The grill also comes with a safety feature- a 'ready indicator' light. It glows when the appliance has been plugged in and is ready to grow. The awesome grill comes with panini press features to cook your burger patties and create awesome sandwiches and vegetable sides as well.
Pros
Grill and panini press functionality for dual surface heating
Large cooking surface that makes up to 9 servings at a time
Perfect for large families or people who like bigger portions
Comes with a fat removal slope and removable drip tray
Ideal for cooking veggies, sandwiches, burgers, hotdogs or more
Cons
The electrical cord could be too short
The nonstick coating should be maintained properly, or it may wear off
Takes up larger space on the countertop
5. George Foreman 2-Serving Classic Plate Electric Indoor Grill and Panini Press, GR10B
If you are looking for the best foreman grill that fits into a shoestring budget, try the George Foreman 2-Serving Classic Plate Electric Indoor Grill and Panini Press, Black, GR10B. It is a small but versatile appliance that can be used by teens, students as well as busy professionals who want quick and simple grilling for cheese sandwiches and burgers.
The 2-servings model is perfect for satiating anyone. Couples and small apartment dwellers will also like it. It is a very small and portable machine that will fit anywhere on the countertop. It doesn't take up much space so feel free to buy it and keep wherever you like. It comes with a durable classic plate grill that cooks the foods quickly and gives you the amazing George Foreman cooking experience. It also comes with George Tough Nonstick Coasting. This coating makes it stronger and more durable. Moreover, your grill becomes very easy to clean. For the health-conscious, it reduced the need for lathering your food in butter and oil, giving you healthier food.
Every Foreman grill comes with a fat-removing slope and a drip tray that further helps you get a leaner grilling experience. The slope could get rid of at least 42% of the fat added to the meals. Therefore, you get the taste but never have to stick with an oily grill. The dishwasher safe drip tray collects all these oils, so your grill doesn't become a mess.
It has an adequate cooking surface as well. Other 2-serving grills often keep burger patties or hot dogs crammed up. However, this Foreman grill takes care of it all. Your food is always sizzling hot. The plate-based grills can also be cleaned very quickly.
Pros
36-inch cooking surface cooks dinner for two easily
Unique Foreman design with high quality heating elements
Dual contact heating system makes meals quickly
Fat removing slope accompanies with a drip tray
Cons
The cooking surface could be too small, as experienced by some users
The chord of the grill is very small
Read more:
Why buy George Foreman Grill?
An important feature about electric grills by Foreman is that they are very beginner-friendly. Even if you have never touched a grill in your life, it will be easy to operate this product. It is just like using a plain oven or a toaster. Just plug it in and get started. The best Foreman grill comes with a variety of heat control options. These options are good for people who are very specific about the temperature scale. Because of this, you get very evenly cooked food at the temperature of your choice.
Some of the grills come with toaster functions as well. If you like to make quick breakfasts and burgers, this kind of grills are always good. You can cook the patties and sides on the grill and toast the bread for a meal you will love. Some other grills come with three or more functionalities. Most offer a grill with a panini press but some advanced models could even give you a waffle maker. If you like a versatile product in your kitchen, these grills will certainly be the products of your choice.
A unique feature of George Foreman grills is that they come with unique non-stick coated grilling plates. Though they are not ideal for frequent searing, they are perfect for getting that everyday grilling experience. Most of the time, the grills are available at a very reasonable cost as well. If you buy them at online market places like Amazon, you could get great discounts as well.
How to select the right grill for your home?
George Foreman grills are the best for everyone who is looking for quality products at a reasonable price. However, there is a wide variety of products available from this manufacturer which could mean some confusion for people. Let's help you understand how to select the perfect grill for your home.
1. Define the size
To find the best Foreman grill, first, define the size of the equipment you will need. How many people are you going to serve food to? Do you frequently hold parties and get together for which you may need a bigger product? Are you single or do you have a small family? Answering these questions will help you in selecting the right size of products.
2. Temperature control
What kind of temperature control facilities are looking for? Do you want more temperature control setting or are you looking for a machine with relatively less variety? Some people are very specific about the kind of temperatures they want to cook their foods on. Therefore, the heat settings are very important.
3. Wattage
The wattage of your grill is an essential component you should note. As it runs on electricity, it doesn't get charcoal's steady heat when you lift the lid to turn the meats over. A powerful machine should have enough power to retain its heat. It should also have a powerful heating element so that the temperature comes back to normal quickly after the lid is lifted. This small feature could have a major impact on taste and doneness.
4. Removable cooking plates
If you want to maintain your grill for years to come, you should pay attention to its cleaning and maintenance. Most grills come from Foreman come with removable grilling plates which are super easy to clean and are dishwasher safe as well. Most grills will become dirty over time if they have non-removable grilling plates. No matter how much you try to clean them, you won't get satisfactory results. Cleaning the plates by hand or in a dishwasher keeps them shining like new and improve the durability of your products too.
5. The grill's location
Do you want a large electric grill that can be used to cook outdoors, or you simply want a countertop model for indoor use? Depending on the location of the use of the grill, you can find the model that works the most for your specific needs.
6. Evenness
No matter how big or small the grill is, if the food is not evenly cooked, there is no point in keeping it at home. Some low-quality products on the market come with very low-quality plates. As a result of this, there could be too much charring on one side or hot spots or cold spots on another side. Because of this lack of even cooking, you would end up with an overcooked or undercooked side.
You need to buy a grill that provides you with even cooking on all surfaces. Excessive charring could occur in plates that heat unusually fast and grills that do not have temperature control features.
7. Price
Though the best Foreman grills are available for very reasonable prices, you should still think about your budget before deciding which model to buy. The good news is that some popular models are available for around $100 while some basic grilling products can even be available for less than $50, with discounts on online retailer sites like Amazon. Only Foreman grills are designed to fit into every budget- whether you are a young student who wants dorm room grilling or a millionaire who prefers patio grill parties.
8. Durability
Whether you are spending $50 or $500, a grill will only be worth its price if it lasts for the next 3 to 5 years. Unfortunately, many grills these days come with barely a year's warranty. Some manufacturers provide up to 3 years of limited warranty as well. Regardless of this, the product should be sturdy and made of quality products. If you spot cheap plastics or parts that will easily break after a few weeks of use, don't but it. Whatever you spend on these products will only go down the drain as durability is next to negligible and you could even face health hazards.
Conclusion
Whenever you are wanting to buy a grill, only look for the top-rated George Foreman grill options. They can help you in cooking delicious meats and veggie dishes every time and boast of durability and high quality. The grills are also comparatively cheap which could fit into any budget, whether you are a teenager who has just moved away from home or a large family. There is something for everyone. Just check out your options and you will find what you are looking for.
Last Updated on August 14, 2020 by Judith Fertig