Smoked salmon is perhaps the best way you can cook this kind of fish. The process typically involves a fillet which is then hot or cold smoked in a smoker. The best smoked salmon recipes come at a price as salmon is not the cheapest type of fish on the market. For this reason, it is considered a delicacy.
Many people confuse salmon lox with smoked salmon, considering the two to be the same, but they are actually different products. Salmon lox, also called salmon belly lox, is salmon that has gone through a brining process, such as being cured in salt.
Although this terminology for salmon is often used interchangeably, we will keep our focus on smoked salmon in this discussion. Specifically, we will cover the how-tos of preparing salmon in an electric smoker.
Benefits of making smoked salmon in an electric smoker:
Smoked salmon is not just a delicious kind of fish to tantalize your taste buds, but it also has a number of other health advantages. Before we get into the nitty-gritty of smoked salmon cooked in an electric smoker, we want to offer information on the health benefits of smoked salmon:
Smoked salmon prepared in an electric smoker has many nutritional advantages. Salmon provides a good source of Vitamin B, Vitamin D, selenium, magnesium, and–above all–protein.
Smoked salmon is also known to have docosahexaenoic acid in very large quantities along with omega 3 fatty acids and eicosapentaenoic acid, all of which are good for your health. The omega 3 fatty acids facilitate brain function and are known to offer some form of protection against depression and dementia.
Smoked salmon provide humans with all the essential minerals and iron as well. These minerals enable your blood cells to supply the needed oxygen to your tissues.
It is our moral duty to inform you about this food's potential risks as well. As smoked salmon is known to be very high in sodium, excessive consumption is not recommended.
If you are using cold-smoked recipes, the salmon should be moderately cooked first. This is because cold-smoked salmon is not the ideal approach to killing bacteria in salmon.
As always, keep health and safety in food preparation foremost in your mind while you are learning new ways to prepare any kind of food.
Best electric smokers to make smoked salmon at home:
The below are the top 3 out of many electric smokers that you can trust for hot smoked salmon as well as cold-smoked salmon recipes:
This smoker has a spacious internal capacity of 730 square inches. It is a high tech system that comes with the monitoring of time and temperature. It also includes an internal light and an RF remote control.
The four chrome-coated racks inside the unit make it a perfect option for smoked salmon.
You can check the latest price on Amazon.
This Char-Broil smoker is good for wild smoked salmon recipes, especially with the inclusion of double-wall insulated construction from the inside, which does not let flavor leak outside.
This feature is further strengthened by the large stainless steel latch that provides you with a smoke-tight seal–very important when it comes to smoking meats. The food thermometer, which you would use to regularly check the cooking status of your salmon, is removable.
Check the latest price on Amazon.
This product's aluminum construction makes it a perfect candidate for enabling you to enjoy smoked salmon outside the house or even somewhere in the wilderness.
This spacious unit does not require any assembly. On top of that, you get this package with a bag of hickory flavor wood chips. The quick Alaskan smoked salmon is best cooked using this electric smoker.
Check the latest price on Amazon.
The best smoked salmon recipes:
Love eating smoked salmon? Here are some of the best-smoked salmon recipes you should try:
Alton Brown smoked salmon recipe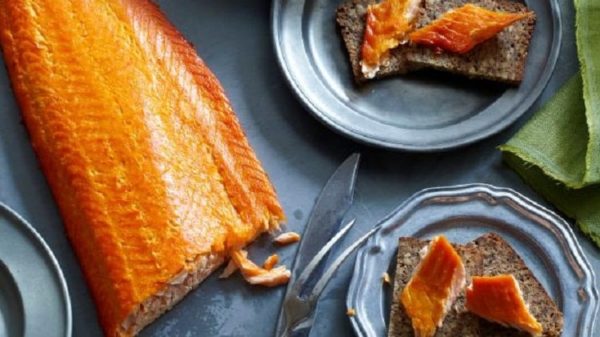 Ingredients:
Kosher salt – 1 cup
Sugar – ½ cup
Dark brown sugar – ½ cup
Black peppercorns – 1 tbsp., crushed
Salmon fillets – 2 large-sized, bones removed
Steps to prepare:
Take a bowl and mix the salt, brown sugar, and sugar.
Take aluminum foil and spread it a little more than the size of the fillets. Set a piece of plastic wrap, of equal size, on top.
Sprinkle one-third of the prepared rub over the flesh of the salmon. Turn it over and sprinkle the remaining rub should over the top piece of the skin.
Fold the plastic wrap over the edges of the aluminum foil and roll it tightly around the fillets.
Place the wrapped fillets over a plank, such as a wooden cutting board, and set another similar plank on top.
Refrigerate it for 12 hours.
After 12 hours, flip the fillets and refrigerate them for another 12 hours.
Rinse the fillets with cold water after unwrapping them and pat them dry using paper towels.
Keep the fillets at room temperature for 1 to 3 hours, depending upon the level of humidity. (You may use a fan for speeding up the drying process.)
Preheat the smoker.
Smoke the fillets until the internal temperature of the fillet reaches 150 degrees F at its thickest side.
Your dish is ready.
Enjoy the best-smoked salmon appetizer that you will ever taste. You may also refrigerate it for three days of safe storage after tightly wrapping it.
Vital Stats:
Initial preparation time: 30 minutes
Cooking time: 30 minutes
Total recipe time: 25 hours
Read more:
The cold-smoked salmon gravlax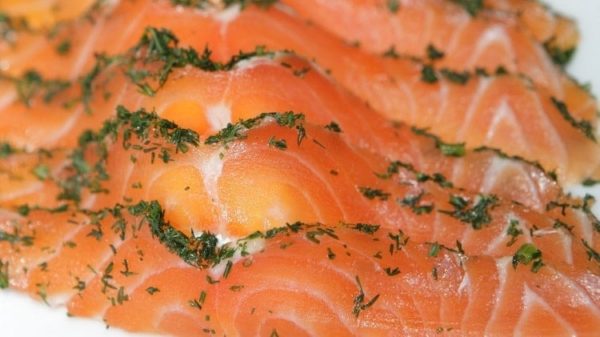 Ingredients:
Salmon fillet – 2 pounds, sushi-grade with skin on
Sugar – 1 cup
Kosher salt – 1 cup
Freshly grounded black pepper – 1 Tbsp.
Dill – 2 bunches
Steps to prepare:
Take a bowl and thoroughly mix together the ground black pepper, salt, and sugar
With the fillet's skin side up, sprinkle half of the salt mixture and rub it all over the fillet.
Arrange one bunch of the dill on the bottom of the dish, which should be spacious enough to accommodate the salmon fillet for smoking.
Set the salmon fillet over the dill with the skin facing down.
The remaining salt mixture should then rubbed all over the sides and top of the salmon fillets. Once done, top it with the other bunch of dill.
Cover the baking dish with a plastic bag and refrigerate it for a couple of days with a weight kept on the top.
Rinse it under cold water and pat dry using paper towels.
Let it remain at room temperature for an hour or so.
Start the electric smoker with its lid open until you see that the fire is fully established.
Preheat the electric smoker for five minutes with its lid closed.
Place the salmon inside the smoker and then place ice in a baking pan under the salmon.
Smoke it for 30 minutes.
Thinly slice the salmon after removing it from the smoker.
You may serve it with cream cheese, red onion, capers, lemon, and some more dill.
Vital Stats:
Initial preparation time: 30 minutes
Cooking time: 30 minutes
Total recipe time: 25 hours
Read more:
Tips, tricks, and precautions for smoked salmon recipes
Properly wash your utensils and other equipment in the kitchen with bleach and water.
Wash and dry your hands before and after handling raw salmon, as it may contain bacteria.
Salmon in brine should be kept for eight hours or overnight.
The fresh and vacuum packaged salmon can be stored for six months without any problems.
If you are looking to thaw salmon in the fridge, make sure to pierce the packaging. This helps in fighting the Clostridium Botulinum bacteria.
In the case of cold-smoked salmon, consume the leftovers within 3 to 4 days once thawed. Eating it after this could be harmful to your health as bacteria will likely develop after four days.
The best smoked salmon brine:
Pour one gallon of water into a bucket. Stir in one cup brown sugar, one cup kosher salt, lemon pepper (to taste), one cup white sugar, parsley (to taste), and three ounces seasoning mix.
Add and mix four lemons (sliced and crushed), one lime (sliced and crushed), one yellow onion (sliced), two oranges (sliced and crush), garlic and, hot pepper sauce (to taste).
Submerge salmon in this mixture and refrigerate for 12 – 36 hours.
And here is a very basic and useful recipe for smoked salmon brine:
One gallon of water and 1 ½ cups of kosher salt and the same quantity of brown sugar for four pounds of fish.
In order to enhance the taste, you may also add wine, soy sauce, chopped onion, fresh garlic, hot peppers, fresh herbs, and spices, as per your taste.
The best smoked salmon rubs:
For a simple smoked salmon rub, combine salt, brown sugar, dill, and ground pepper. Once they are thoroughly mixed, then pat/rub it over the top of the salmon.
Place it in the refrigerator for an hour before smoking it.
There is also an option of sweet smoked salmon rub.
Mix 1 Tbsp. garlic (granulated), 1 Tbsp. onion (granulated), 1 Tsp. savory (dried), and 1 Tsp. tarragon (dried).
Pat this prepared dry rub over the salmon and refrigerate it for one hour before smoking it.
Great meals ideas with smoked salmon
If you enjoy smoked salmon, you might be of the opinion that it tastes good with absolutely anything! Smoked salmon with a peanut butter and jelly sandwich? Go for it!
But if you have just begun to learn how to make great smoked salmon in an electric smoker, you might also be on the lookout for a few ideas of meals that go well with smoked salmon.
Here are a few:
Smoked salmon and baked potatoes (don't forget the sour cream!)
Avocado toast with smoked salmon on the side
Scrambled eggs and toast with smoked salmon
Smoked salmon potato bake
Potato Chowder with smoked salmon on top
Smoked salmon and pasta (some shredded cheese and spring onions sprinkled on top)
Once you start trying out these dishes, you'll likely discover a few new family favorites!
Closing Thoughts
Smoked salmon recipes are quite popular among seafood lovers, not only for their exquisite taste but also for their health benefits, when consumed in limited quantity.
You can spruce up the taste of the smoked salmon with the selection of your preferred brine or rub.
Finally, the selection of the right electric smoker plays a pivotal role in cooking your smoked salmon in a way that looks delicious and tastes great.
Wishing you many happy and healthy salmon smoking adventures!
Last Updated on September 10, 2020 by Judith Fertig