There is so much to worry about and plan when you are hosting a party or a barbeque or simply having your family over for some roast. You need to pick up the best recipe, get your tools and stove ready, picked the wood chips you'll be using, well the list is endless. And to top it all guessing the amount of food you need to buy. Especially the right amount of meat to buy can be a real pain. And if you try to guess how much meat per person you are going to need, you will either end up with too many leftovers or run out of meat. The guesswork has to be replaced with planning and a few simple calculations. The best tip I can share is to plan the entire menu with all possible details before you set out to estimate the quantity of meat you'll need. This will ensure that you have a better idea of how are going to serve the meat and help make your calculations and estimations more accurate. Your choice of side dish too influences the amount of meat you will need. With a side dish of lasagne, pasta or mashed potatoes you don't need too much meat. But if you plan to serve meat as the hero and go for pork ribs or a steak with a few veggies on the side. Also, remember that lunch portions tend to be smaller compared to dinner, by about 5%.
An average adult will eat about 1 pound of food. Hence a good rule of thumb is to go with 1/2 a pound or 8 ounces of meat per person. This is when the meat is your main dish. You can adjust the amount by increasing it for teenagers and decreasing it for younger kids. This estimate is for raw meat only. You would already know that all meats lose moisture and fat. On an average yield for meats will be anywhere between 25-40% after cooking. Yields depend upon the choice of meat, the choice of cut and the method of cooking too. Meats with high-fat content tend to have lower yields.
Meal Considerations and The Role of Meat
The amount of meat people consume during events can differ for different cultures and for the type of event you're hosting. Let's quickly take a look at the role of meat at different types of events.
Birthday Parties
At birthday parties, the main focus is usually on the cake. You may serve other foods like small burgers, pizza, or other snacks, but everyone always has their eyes set on the cake. You can get by with very little meat products at this type of event.
Sit-Down Dinners
For an average family dinner, the rules of portion control apply pretty well. Portion control rules dictate that each person should consume a piece of meat the size of their palm. This usually counts for a quart of the food that's served. The more lavish your family dinner is, the more meat products can be served at your party.
Holiday Dinners
People tend to focus more on meaty products for holiday events like Thanksgiving, Christmas, and New Years. More focus is put on creating mouth-watering meaty meals that you don't see on your everyday plate of food. It's safe to say that one third of the foods you serve should consist of meat products.
Barbecues
You'll need the most meat products for a barbecue get-together because everyone's mouths will be watering for a juicy steak, some smokey sausages, or a couple of tasty patties after smelling the glorious aroma of the fire. We can safely say that at least 50% of barbecue party food should consist of meat – although some carnivores might lean towards a 90% figure.
People of different cultures have a very different take on the correct meat portions. For example, people from Switzerland consider meat a rare delicacy. An average meat serving size for Swedish people is much smaller than the portion size of your average American.
Educational factors also play a part in the amount of meat people prefer to consume. Health conscious individuals tend to consume smaller meat portions compared to families who aren't too concerned about their diet, and Vegans refrain from consuming animal products entirely.
All of these factors can make it hard to decide just how much meat you should be serving. Here's a quick look at some recommendations that chefs usually work with to make accurate menu calculations.
When Meat is The Main Part of The Dish
Meat can be the main entrée in certain dishes or at certain events like BBQs. When meat is the main focus, you should allow for generous portions even though you might have quite a few side dishes on the table.
Chefs recommend serving about 1/2 pounds of meat per person at these types of events. If you're serving several meat types then you should consider that each person will take equal parts of each meat type. It's recommended to serve 1/4 pound of each type of meat per person.
When Meat is Just Part of the Dish
At simple events like birthdays, anniversaries, or casual parties, meat can be served as just part of the main dish. In these cases, you might get away with less meat. When meat is an ingredient in dishes like pasta, curry, or stew, you only need to serve about 1/3 – 1/4 pounds of meat per person.
A quick guide to estimate after cooking yields of different meats and cuts
While you're shopping for tasty meats to add to your table, you should keep in mind that the prepared yields of meat are much different to raw meat yields. While you're cooking meat, a lot of fat and moisture will evaporate or drip from the meat. You may also find certain bits and pieces like bone or fat unappealing and might wish to cut these away before cooking it.
Here's a quick look at the average yields you get from different meat types and cuts.
Whole chicken – 35%
Whole turkey – 50%
Brisket (both point and flat) – 43%
Brisket (only flat) – 52%
Pork Loin – 65%
Pork ribs (baby back ribs) – 50%
Beef (ground) – 85%
Beef steak
Fish – 30%
Let us move on to finding out actual quantities of meat you will need to buy. Once you have an estimated quantity you can mark up for additional guests or markdown as needed. I tend to mark up, as a few leftovers are always welcome. For detailed knowledge on yields you can refer to this USDA guide.
Read more:
How much chicken per person
Estimate about 4 to 5 ounces of chicken per person. Keep in mind that 10 ounces of uncooked chicken will give you about 6 1/2 ounces of cooked meat. And boneless thighs will give you about 5 1/2 ounces so, shop accordingly. For chicken, you can also calculate by pieces instead of weight. If chicken is not the main dish and you are serving you will need about 1.5 pieces per person. For chicken thighs keep about 2 per person for adults and guests who are big meat eaters. For others, 1 chicken thigh per person should be enough. Similarly, keep 2 drumsticks per person for adults and big eaters and one for kids and the rest. If I am serving chicken wings as the main dish I keep about 4-6 pieces per person. If you plan to have a number of other appetizers too then 2-3 pieces per person will do. If your calls for a whole chicken then calculate the quantity keeping in mind that a whole chicken will be good for 4-6 people.
How much turkey per person
We generally do not serve turkey on its own, it is always with sides, dressings or gravy. Estimate about a pound for each guest as a turkey typically gives a yield of about 50%. So an average 12-pound turkey can work well for 12 people. But most of your guests will prefer a slice of the breast meat over the leg or the wings. If you are planning to have some leftovers go for 1.5 pounds estimate per person. So the estimate for the 12 pound turkey will be 8-10 people.
How much steak per person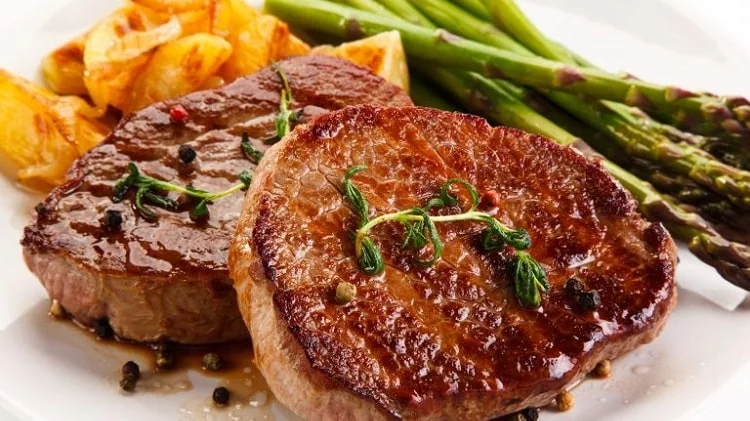 Cooking steak is always tricky and if it turns out well is always a crowd pleaser. As you start to calculate how many pounds of meat per person when cooking steaks, follow the rule of thumb of cooking 8 ounces per person. But this is just the starting point, the portion size per person will also depend upon the kind of steak you are cooking. For a cut that gives a yield of about 70% like a bone-in steak, you might need about 16-17 ounces or one pound per person for adults with a reasonable appetite. An average of 14 ounces is a good bet for boneless steak.
Read more:
How much brisket per person
For something like a brisket that loses a lot of fat and moisture, and taking into account the trimming the yield is about 50%. A safe bet is to get 2 pounds per person so that you will be able to serve about 6-8 ounces after cooking. If you are like me and don't mind a few leftovers for breakfast sandwiches, go with this estimate.
How much beef tenderloin per person
Beef tenderloin is an expensive and lean cut. With very little fat and hence the shrinkage is low and the yield high. 8 ounces of raw meat should be good per person. For cooked meat, it will yield about 6 ounces.
How much rib roast per person
To serve your guests 12 ounces of prime rib roast you will need to get about 1 pound of raw meat. This cut will give you about 50% yield.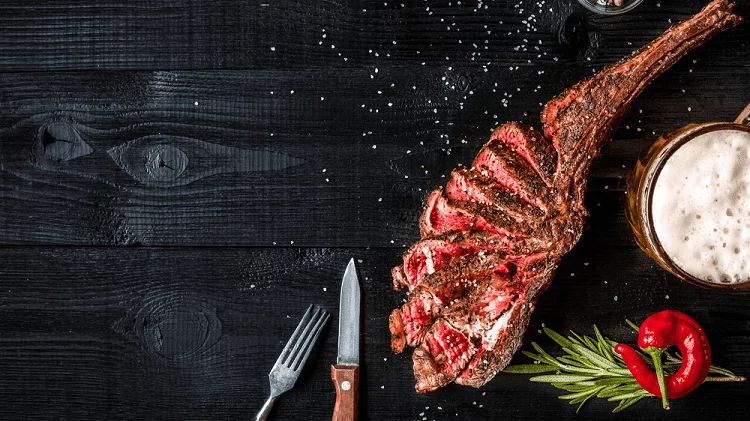 How much pork per person
Pulled pork is always a favorite with everyone at the barbeque. For pulled pork, you will need about 6 ounces of cooked meat per person. You will get around 35% to 50% yield after cooking. So plan to buy double the amount of raw meat. For every person by 6*12 ounces of raw meat. In case there is going to be more meat items for the guests, you will need fewer quantities. How do you plan to serve it will also play a role in the amounts you are going to need. For small buns, 4 ounces of pulled pork is enough whereas each slider will take up to 6 ounces of meat.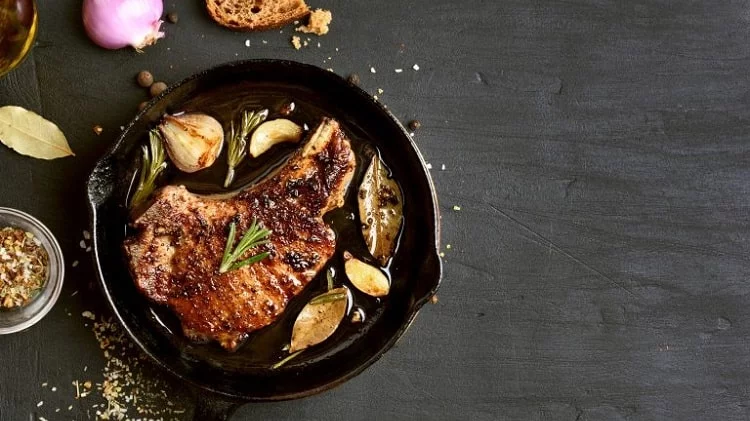 How much fish per person
For both fish fillet and fish, steaks estimate between 5-8 ounces per person. If you are expecting some big eaters go back to the golden rule of having 8 ounces per person and simplify your calculations. If you are planning to serve pan-dressed fish keep about 8 to 12 ounces per person. Fish tend to yield about 30%. So take about 2 fillets per person on an average, or between 10.5-12 ounces of raw fish per person.
Read more:
How much rib roast per person
When estimating for ribs I generally go with the number of ribs and not weight. As you would expect the portions will depend upon the cut you are cooking with. While both spare ribs and baby backs have about 13 ribs on. rack. But the baby backs weigh only about 1.5 to 2 pounds and also have smaller bones. For the baby back cut ribs are about 3-6 inches long and are good for 2 people. Spare ribs, on the other hand, are larger and weigh more. They are about 2.5 pounds in weight and can serve up to 3-4 people.
How much lamb per person
The yield for lamb is greatly influenced by your choice of cut. 11 ounces of raw lamb chops will give you about 5 ounces of cooked meat (about 45% to 50%). And about 8 ounces of lamb leg (boneless) will yield about 5 ounces when cooked. Lamb leg with bone-in will give you about 5 ounces from 11 ounces of raw meat. For lamb leg off the bone, you will need about 8 ounces per person. And for lamb leg bone-in you'll need about 11 ounces per person.
Other Aspects to Keep in Mind
The above recommendations will put you in good stead to calculate how many pounds of meat per person you should buy for your next party. Before you start estimating and calculating, get your entire menu organized. Another important aspect is to pay attention to your guest list and have a fair estimation of their appetites and preferences. A guest list with a teenager will need you to bump up your meat requirement estimates.
Whereas one with vegetarians or kids will need you to bump up your sides or appetizers. If you are planning hearty sides go a little easy on meat portion estimates. Same goes for a menu with a good number of appetizers, the main meat-based dish quantities needed will be lower. And in case you plan to serve more than one type of meat, just divide your portion size by the number of meats you plan to serve.
How many pounds of meat per person you need, can be best mastered with experience and planning. With experience, you will develop your own estimates and will know just the right quantity for each type of meat. While I use the 8-ounce rule, here' another quick formula you can use. When you plan to have meat as your main dish just multiply the number of guests with 0.75.
Read more:
Conclusion
We hope that our "How to Calculate Meat per Person?" guide would have proved to be useful in your culinary journey. Make sure to leave us a comment. Oh, and if you have some more tips that we missed, you are most welcome to share for other readers' benefit!
Last Updated on September 2, 2021 by Judith Fertig