Don't you just salivate thinking about delicious steaks and scrumptious ribs? If you are a barbecue enthusiast like me, then I am sure you have. To get a perfect balance of taste, smokiness, and tenderness, you need the best charcoals or wood pellets, delicious recipes, and succulent meat. Most importantly, you need to find the best pellet smokers to get evenly cooked food consistently.
Since the market offers a variety of smokers and grills, it can be quite confusing to choose one that suits your needs. Hence, we have helped you out by comparing two great pellet grills, REC TEC Bull RT-700 Pellet Grill vs Yoder YS640 Pellet Grill.
YODER VS REC TEC PELLET GRILL COMPARISON
REC TEC Bull RT-700 Pellet Grill vs Yoder YS640 Pellet Grill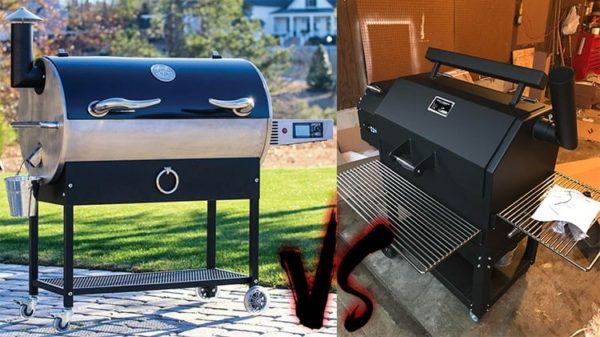 Since the invention of the first pellet grill in 1985 by Joe Traeger, many brands came out with their own versions and models. REC TEC and Yoder, both, offers us a series of grills with different features.
In the following article, we have discussed and compared the features of the REC TEC Bull RT-700 Pellet Grill grill and the Yoder YS640 pellet grill to help you compare and reach an informed decision.
Based in Augusta, Georgia, REC TEC Grills was founded by two friends, Ron Cundy and Ray Carnes in 2009. These two committed to building high-quality grills that can not only maintain temperature but also last a long time.
RT-700 Pellet Grill is constructed from high-grade stainless steel without the use of any paints. This prevents any metal rusting or corrosion and peeling or cracking paints. It is designed with multiple useful features including horn-shaped bull handles for easy transportation and a towel ring to conveniently hang your towel. The built-in controller shelf holds large dishes and protects intricate components.
Apart from this, the steel hopper lid functions as a warming station and has handles that provide easy access from the sides. The heavy-duty lid is also powder-coated, which gives a shiny appearance and makes it easy to clean. Moreover, the smoke-stack cap can hold up very high temperatures with ease.
Along with pull bar handles, the 195 pounds heavy RT-700 comes with locking casters and wheels for portability and locking it in place. Additionally, this grill has tool hooks to keep your tools close-by and a bottom shelf for stability and handy storage. It also contains a light inside which can help you barbecue easily at any time of the day.
As for safety precaution, this brand has installed rubber grommets around wire holes, high-temperature bearing RTV stalks, and portholes for the probes. This pellet grill also has built-in heat vents for protection and easily accessible component panel.
Like all the other REC TEC grills, RT-700 works on Smart Grill Technology which maintains the temperature within a narrow range. It uses another technology called Wi-Pellet WiFi, which controls your grill through a REC TEC app, allowing you to cook from any place. This grill also features an automatic lighting and shutdown feature which protects it from dangerous fire starters and cools your grill down with just a button.
RT-700 has a temperature range from 200ºF to 500ºF that can be adjusted in five-degree increments. This grill also comes with two meat probes which eliminate the need for a thermometer and even has additional LO and FULL settings to go beyond the temperature range.
RT-700 offers a large cooking capacity of 702 square inches which can even fit six huge racks of ribs. This grill comes with an additional large shelf which increases the cooking space to 1054 square inches, enough to feed a large crowd. The hopper can hold almost 40 pounds of pellets, enough to cook continuously for more than 40 hours.
As the auger is also comparatively smaller, the pellets don't have to scatter far. You can also use any type of pellet with this grill.
This grill uses wood pellets instead of charcoals, making it much easier to clean it after each use. Also, the Smart Grill Tech produces less ash in the pot compared to other grillers. Such that, after removing the ash, only the drip cups need to emptied, cleaned, and reused. These drip pans remove the grease from the chamber for easier clean-up.
Along with this, the grates are made from stainless steel and can be washed without causing corrosion. In the case of external spills, the surface can be wiped with mild soap and water.
Pros
Large cooking space
Constructed from stainless steel for durability
Internal lighting
Precise temperature controller
Easy clean-up
Six-year warranty
Portable
Less expensive
One of the best customer support in the industry
Cons
Cannot remove fire pot for cleaning
No release mechanism for pellet mechanism
Finally, you get those signature REC TEC bull horn handles which on their own make this grill worth considering in our opinion!
👉 Get the Latest Price Here!
---
Yoder YS640 Pellet Grill Review
Yoder Smokers was founded in Kansas, USA, in 2007 and are considered as one of the top brands of smokers sold all over the world. They provide a lifetime guarantee for their grills and are widely used in competitions, restaurants, and even backyard cooks.
To begin with, ys640 pellet grill weighs almost 335 pounds and comes with large integrated orange casters to allow easy transportation. It has a 10-gauge heavy-duty steel cooking chamber and 14-gauge steel hopper and cart. Just like other smokers, the whole body is built from heavy steel to make the grill more durable.
The steel grates have been chrome-plated for additional protection against rusting and high temperatures. Steel constructions have also been powder-coated to provide a high-heat finish and a shinier outer appearance.
However, the grills can get scratches and are more prone to rusting. Apart from this, this grill has a hard chrome-plated side and front shelves for easy storage of important utensils close-by.
Ys640 comes with a counterbalanced single-layered lid and an internal baffle to adjust the air and heat flow. The addition of a probe port hole prevents the pinching of the probing wires in the lid. This pellet grill also includes handles to help move the grill without burning your hands.
The Yoder YS640 grill has a temperature range from 150°F to 600°F, which can be adjusted in five-degree increments. Using the Ceramic ignition system and Yoder Smoker ACS, the temperature can be maintained within a narrow range. These grills come with a digital control system that allows you to regulate the temperature and start grilling by just pressing a button.
It also comes with the latest Adaptive Control System (ACS) with WiFi. The new feature with cloud connectivity allows you to use your smart devices to control the temperature.
Yoder offers you the choice to directly grill by using the set of three optional grill grate. Such that, the heat deflecting plate has to be removed and the standard grates have to be replaced with heavier Aluminum ones. This option allows you to reach higher temperatures, like 700°F, too grill delicious steaks.
Additionally, this grill has a feature called variable displacement damper. This lets you adjust the smokebox from left to right to either concentrate or distribute the heat.
The 640 in the ys640 pellet grill originates from the grill's primary cooking space of 640 square inches through the two main 16-inches x 20-inches grates in the cooking chamber. This space can be increased to 1070 square inches by using the second level sliding shelf with dimensions of 15.5-inches x 28-inches.
The spacious 12-inches tall cooking chamber lets you cook for a large crowd easily with just one pellet grill since it can even fit a turkey or beer can chickens. With a 20-pound pellet hopper on the side, this grill lets you cook for hours continuously without a break.
Apart from being easy to use, it is important that the pellet grills are also easy to clean. Yoder YS640 grill comes with a grease drains that removes the grease from the cooking chamber, making it much easier to clean-up. After each use, ash and dirt from the fire-pit and the ash-pan can be removed using a shop vacuum.
In case of external spills, the gunk can be removed using a mild soap or even just a sandpaper. Since these grills are prone to rust, Yoder includes a spray paint for easy maintenance.
Pros
Large cooking capacity
Easy to clean-up
Precise temperature control
Direct grilling on high temperatures
Cons
Grills are more likely to rust
Reduced heat retention
More expensive
Comparison
To further help you out, we have also compared the different features of both the cookers in the form of a table. Thus, read the following to choose the best one according to your requirements.
| | | |
| --- | --- | --- |
| | REC TEC Bull RT-700 Pellet Grill GRILL | Yoder YS640 GRILL |
| Cooking Capacity | 702 or 1054 sq. inches | 640 to 1070 sq. inches |
| Hopper Capacity | 40 pounds | 20 pounds |
| Temperature Range | 200 – 500ºF | 150 – 600 °F |
| Fuel Source | Wooden Pellets | Wooden Pellet |
| Price | Less expensive | More expensive |
| Weight | 195 pounds | 335 pounds |
| Warranty | 6-years | 10-years |
| Price | Check price | Check price |
Conclusion
Even though both the pellet grills have their merit, the REC TEC Bull RT-700 Pellet Grill offers the most features at an affordable price. Not only is it cheaper and lighter, but it also has multiple other advanced features like Wi-Pellet technology that makes it a modern solution to all your problems. With the REC TEC grill app, you can even cook and maintain the temperature in the grill from any place.
Its large cooking and hopper capacity ensures that you cook can for long hours without any break. Furthermore, this grill is entirely made from stainless steel, and comes with better wheels, making it durable and easy to move. It also requires only minimum maintenance.
If you are looking for a pellet grill with a variety of useful features, then surely invest in RT-700 for all your future needs.
Last Updated on December 16, 2019 by Judith Fertig