If you're a grilling and barbecuing enthusiast, you're probably used to using a conventional charcoal or wood pellet grill. Using an electric grill might be a new experience for you. However, electric grills offer a great alternative to conventional grills and give you an excellent cooking experience. In this article, we learn all about how to smoke pork butt in an electric smoker.
Mouth-watering and deliciously smoked pork butt is one of the favorite BBQ dishes for people all over the world. Barbecue lovers all over the world choose pork butt as one of their favourite options when it comes to smoking meat. This is because of the amount of fat that is present in the dish. A high fat content makes the cooking process much easier, and if you're a beginner at grilling or just starting off with using your first grill, an electric grill would prove very easy to use and give you an overall convenient grilling experience.
If you are just beginning to learn how to smoke a pork butt and that too, in an electric smoker , there are few things you need to consider and few steps in the process to remember. So, let's get started on the journey of smoking pork butt and savoring a tasty barbecued dish.
The Preparatory Ingredients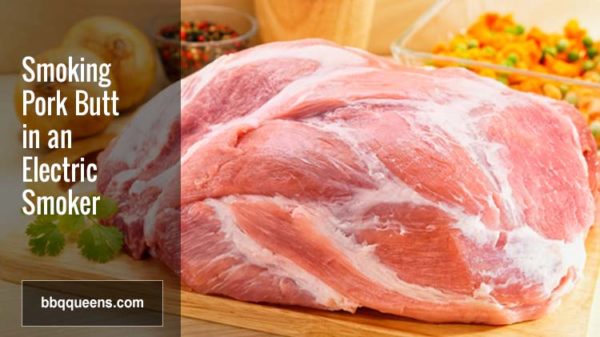 The Preparatory Ingredients Before we move on to the process revolving around how to smoke a pork butt in an electric smoker, let's look at what you need. Needless to mention, an electric smoker, preferably a pellet smoker is the basic requirement. You should ideally arrange for pork meat on the boston butt that is the top half of the shoulder. About 10 lb of this pork butt is good to begin with.
The next most important item you need is a digital thermometer that can help you strike the ideal temperature because smoking is largely about effectively controlling the temperature . You will need to wrap the pork in so, get some butcher paper or aluminium foil ready. A good rub is also essential and this can be anything from yellow mustard to apple juice, provided that it must also bind the meat well. Lastly, although it is not an ingredient, per say, you must have enough time, especially the first time. It is not less than 8 to 9 hours before you actually get to taste the meat.
Read more:
Choosing the Pork Butt and Getting it Ready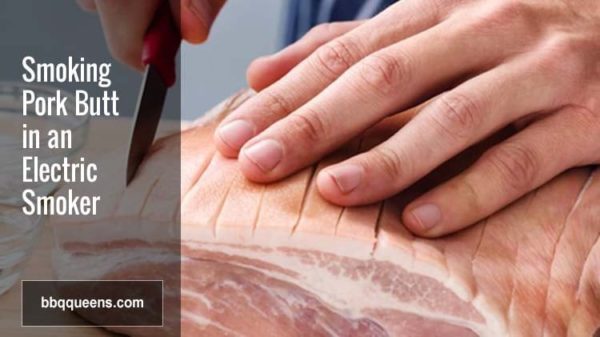 Questions like how long to smoke a pork butt or smoke pork butt recipe details might be revolving around in your mind. But it is best to go step-by-step in the process and the very first step is choosing a good pork butt. Ideally, you should ask your butcher or (in case you buy from a store), ensure that the pork is a grass fed one, which means the pig has been raised on pastured grass. Once you have chosen the meat, it is time to cut a piece that promises the maximum amount of fat for adequate flavoring and moisture.
Smoking a pork butt is certainly not just about selecting the best-quality meat and putting it in the smoker. You need to get the meat ready and cover it with layers of ingredients that will ultimately make your pork butt tasty, juicy and just the way you want it to be.
If you have chosen the boston butt, you are not required to do any sort of trimming. So, you can go ideally ahead applying a binding agent prior to rubbing it. This binding agent can be yellow mustard if it is available or else, apple juice, apple cider vinegar, olive oil or canola oil can work equally well. The idea is to use something wet that can hold the pork butt and its dry rub together. Another purpose of adding a good binding agent is imparting additional tenderness to the end product. Now, whichever binding agent you use, just make sure that you apply it all over the meat, including the fat portion also.
After the binding agent, you need to put the rub all over the pork butt in a similar way. There are different types of barbecue rubs available out there and you can choose one depending on your choice and taste. However, remember that the best rubs are the ones that combine sugar, salt, chilli, pepper and paprika. It is combination of all these flavors that make smoked pork butt taste the way it does. In fact, you can prepare this rub yourself at home too.
The amount of rub you apply is an important factor here. Do not overuse it enough so as to create a rather thick cover over the meat. The meat should be visible from under the layer of the rub. Also, there is a common misconception that you have to leave the rub overnight or so, which is absolutely not necessary. Just leave it for a while as you get the electric smoker and all set for the subsequent step in the process.
Cooking the Pork Butt inside the Smoker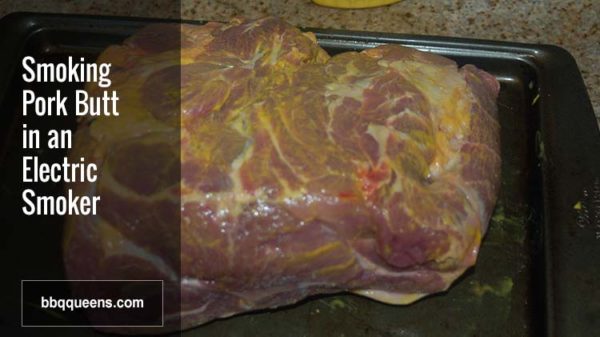 Now that your pork butt is all ready to be cooked, let's actually get into the process of how to smoke pork butt and how long it takes to smoke pork butt.
It is best to begin low and slow, even as the BBQ and smoking experts suggest. So, the temperature should be around 225 to 235 degree Fahrenheit. A few temperature spikes in between is nothing to be worried about. In fact, reaching up to 250 degrees is absolutely fine.
Begin by placing the pork right at the centre of the smoker. Point the fat portion of the butt down so that it ultimately protects the rest of the meat from the heat. For beginners, using grill racks is highly recommended as these make it more hassle-free to move the butt around. Spray it with a bit of cooking oil to avoid sticking. If the meat gets stuck, it can lead to a terribly frustrating situation when you have to try to release it with one hand while holding the lid with your other hand. With an electric smoker, it is overall easier because you don't have to arrange for good smoking wood then.
Make sure wearing gloves through the entire process to avoid cross-contamination. Let it smoke for about halfway of the total cooking time to let it gradually develop the bark and get into the much-needed smoked flavor. As for the time estimate, you can go by an estimation of 1 hour per pound of meat at 220-240 degree Fahrenheit. However, the cooking time will largely be determined by the quality of the meat you have chosen for smoking.
Keeping Track of the Meat during the Smoking Process
Keeping Track of the Meat during the Smoking Process If you are wondering as to how long it will take to smoke the pork butt or when can you check its progress, it is not less than 3 hour when you should first monitor the temperature. You can use a digital meat thermometer for the purpose. In this regard, it is best to use a dual probe thermometer that can assist in monitoring both the temperatures, one inside the smoker and the other is the temperature of the meat.
Using dual probe thermometers is the smarter thing to do when you're using an electric grill instead of a conventional grill. This is because the uniformity of temperature when it comes to conventional grills and electric grills differs widely, and having a thermometer handy can make your job much easier. After reaching about 160 degrees, the meat won't require any further heat and then you should promptly wrap it up to avoid over smoking and thereby, running the flavor.
Wrapping the Meat Well for Moisture Retention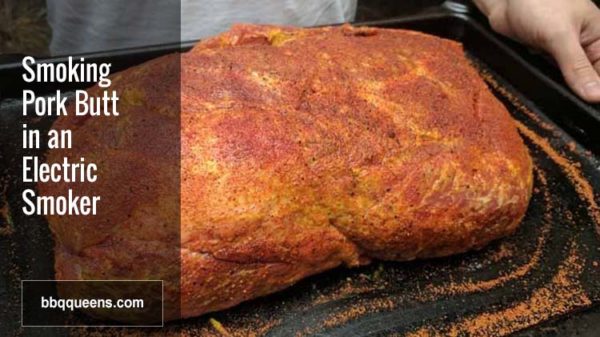 Wrapping the Meat Well for Moisture Retention Just as the meat reaches the 160 degree mark, it is time to wrap it up. The smoky fragrance and the bark color will well indicate to the perfect time to wrap the meat. As much as you think wrapping might be a rather straightforward task, there are certain things you need to follow.
The whole purpose of wrapping is to let the meat hold onto the fat and the moisture that actually lends to its juicy quotient, something that is so unique about smoked food. The more the internal fat content, the more juice it is. Remember that the meat is burning hot at the moment so to wrap it well, wear insulated gloves. We mentioned aluminium foil or butcher paper as an essential preparatory item and now you need it to pull the pork off and place it on a large sheet. If the moisture seems a little less at this point, you can add some apple juice to make up for it.
So, once the wrapping is done well, just place it back in the smoker.
Keep your temperature probe in and keep it wrapped with the foil too. And from now again, you have to wait for some time till the internal temperature gets to around 195 degrees, which will be in about 3 hours. The look and the smell will all tempt you to grab a slice but hold on to some beer before you actually get the chance to do that.
The Last Phase of Pulling it Right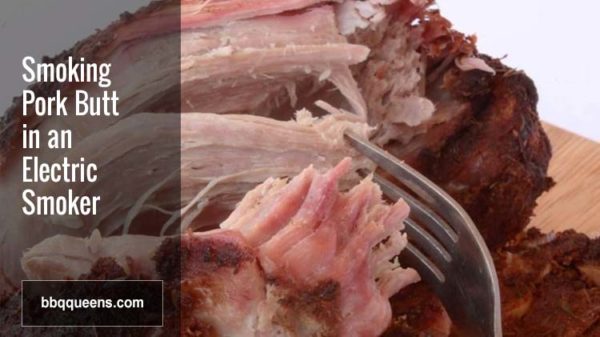 The Last Phase of Pulling it Right You are almost there and ready to savor a tasty smoked pork butt, but be careful about this last phase, which is an extremely crucial one. When your thermometer is at 185 degrees or so, get set to pull the pork. Transfer it to anywhere in the kitchen or outdoors where it will rest for some time.
So, now let the pork butt rest for about half an hour allowing the moisture to be spread all over it. Even without braising or sprits, the juice build up should be good. Looking for a cue or a validation of how well you have cooked it? Well, if the bone comes out well, know that you have been largely successful. Slide the foil off slowly, avoiding chances of ripping. The small bits of foil that get stuck on the meat should carefully taken off and thrown away. Pour the juice thereafter and remove the fat only when the meat has considerably cooled down. Reheat the juice and mix it into the cooked/smoked pulled pork again.
Like in the last stage, here again, you need to be careful enough and wearing gloves to ensure that you don't end up burning your hands. If the meat has become tender, pulling it with your hand will not be a complex or difficult task at all.
With the process executed in the above-mentioned manner in a step-by-step way, you are now ready to jump into it and taste what you have cooked so dedicatedly. This is the best process to follow as a beginner since you are not yet in the position to experiment by yourself.
And once you have mastered the art, be ready to invite in friends and relatives and have a delicious, smoky dinner right in the comfort of your home.
Check out the video below to see these steps in action.
Smoked Pork Butt | Smoking Pork Butt for Pulled Pork HowToBBQRight with Malcom Reed
Bottom Line
While cooking pork butt is a popular activity and a lot of people love this part of the meat, using an electric grill for this particular side might not be a very mainstream activity. Electric grills function differently than conventional charcoal or wood pellet based grills, which means that you have to cook your meat in a slightly different manner when you're using this alternative cooking method.
This article talked about how to smoke pork butt in an electric smoker, the implications of its high fat content on the cooking process, and how different types of meats affect the activity.
We hope that this article has helped you figure out the best way to smoke pork butt. If you're interested in similar articles about barbecuing, please feel free to check out our other articles, as well!
Last Updated on July 25, 2021 by Judith Fertig