Do you wish you can cut down plenty of meat for sandwiches, pizza, BBQ or to make jerky? Or you want to slice those veggies for easy grilling? What you need is the best meat slicer for your home.
Meat slicers have gone past an ordinary tool for butcher shops. You can now use them at home to process plenty of meats, including cheese and vegetables. A meat slicer is available in a manual and electric form to help you easily slice your meat to your desired thickness.
With different varieties of meat slicers available in the market, how will you make the right choice?
We've tested different brands in the market and come up with the top 10 meat slicers. Plus, we'll also guide you through how to select the right meat slicer and everything else you should know. Let's get started.
1. Editor's Choice – Chef's Choice 615A Electric Meat Slicer
Are you looking for a fashionable, high-quality meat slicer with excellent design features? You may want to check out the 615A from Chef's Choice.  While the meat slicer is best for home use, it also serves some light commercial purposes.
The slicer boasts of great design, optimal control, and power to serve both casual and complicated purpose.
What we love about the slicer:
Easy to detach and clean: we love how users can easily clean the 7-inch blade of this meat slicer. Just separate the blade from the main machine and clean it. Furthermore, you can also remove the deflector, food carriage, and thickness guide plate for proper cleaning.
Excellent stainless steel material: the meat slicer is nicely coated in a beautiful stainless steel material. The stainless steel is not just appealing but also durable. Many users have testified to the susceptibility of the meat slicer to rust.  I've been using it for long, and the stainless steel never has rust.
Strong and efficient motor
We tested the meat slicer and saw how the powerful torque motor sliced through even the most robust meat.
The downside
Comes with serrated blade: You can only use serrated blades to make casual meat slicing. A serrated blade may find it difficult to slice specific meat types. That means you may need to purchase a separate blade for heavy-duty meat slicing. Also, you may find it difficult to sharpen a serrated blade.
Inability to cut meats to the thinnest – If you're looking to slice ribbon thin, we'll recommend going for another meat slicer.
2. Budget-Friendly Option – Elite Platinum EMT-625B Ultimate Meat Slicer
If you're on a budget and would love to have an excellent meat slicer, check out the Elite Platinum EMT-625B Ultimate Meat Slicer. While it cannot handle heavy-duty tasks, it can easily slice through your ham, salami, or turkey.
What we love:
Durable Cast aluminum material – The meat slicer is coated in die-cast aluminum material to keep it sustainable and prevent rusting. All these come at a reduced price.
Adjustable thickness – You can easily adjust the thickness level of the meat sliced to your desired level.
Safety guide – it is safe to use. All you have to do is to monitor the operation. You don't have to risk your finger of cut.
 Downside
Slow and noisy operation – Its motor can be very noisy during operation. Although it can cut through thick and thin slices, you may need to wait for a longer time to complete.
3. Best Commercial Alternative – BESWOOD 10" Premium Chromium-Plated Electric Meat Slicer
Do you want a high-end meat slicer that can compete with commercial slicers? Have a look at the BESWOOD 10" Premium Chromium-Plated Electric Meat Slicer. The meat slicer is, however, heftier than other brands of slicers that we reviewed.  The meat slicer is coated in both aluminum and stainless steel for durability and longevity. You can easily slice your meat to thin. Also, the slicer can easily cut your semi-frozen meat to your desired size.
What we love
Carbon steeled blade and material – The chromium coated blade is also made of carbon steel. These materials are known to improve the longevity of the tool while protecting against damage. With that, you won't even have to sharpen your blade every time.
Less noise – The meat slicer has a v-shaped feeding bely which makes it quiet during operation while vibrating softly.
Large 10" blade – Are you planning to cut large chunks of meat? BESWOOD 10" Premium Chromium-Plated Electric Meat Slicer has a broad blade size to fulfill your needs.
 The downside
The blade can be hard to remove – Although you don't need to sharpen the blade often, it does require occasional cleaning. You need to unscrew the blade from the whole slicer to remove it. That's a tedious task to perform.
Other Meat Slicers Worth Considering
4. Cuisinart FS-75 Kitchen Pro Food Slicer
If you're looking for an average quality slicer, check out the Cuisinart FS-75 Kitchen Pro Food Slicer.
What we love
Removable parts – we love how users can easily remove almost all parts of the meat slicer for a thorough cleaning.
Excellent thickness range – the meat slicer boast of between 1/32- 1/2 thickness range. That way, you can quickly identify your ideal size of meat slice.
Downside
Low quality plastic meat holder – you may need to hold your meat with hand and concentrate on avoiding injury.
Gets hot – Meat slicer runs hot after 10 minutes of operation. You may have to put off to cool down. This reduces your food slicing efficiency. You may only do less in more time.
5. VEVOR 10" Blade Commercial Deli Meat Slicer
If you want a meat slicer with an excellent blade and a more efficient power, VEVOR 10" Blade Commercial Deli Meat Slicer will be a good buy.
What we love
Comes with whetstones – You don't have to separately purchase a sharpening tool because the meat slicer kit already comes with whetstones for effective sharpening. Just press a couple of buttons to initialize the sharpening operation on the blades.
Stainless steel blade – the stainless steel blade is durable to keep the blade last longer and free of damage due to rusting. The cover is waterproofed- it features a cover that prevents the slicer from getting damaged due to water.
Downside
A bit heavy- although manufacturers say it is light and small, the 50 pounds weight means otherwise. That might be too much for someone who prefers something light for their kitchen.
6. NESCO FS-250 Stainless Steel Food Slicer
NESCO FS-250 Stainless Steel Food Slicer is one of the meat slicers on the market with a very high power motor. The blade is excellent and highly effective as well.
What we love
Powerful 180W motor – the powerful motor cab easily slice through the thickest of meat within a short time. The blade edge can easily cut through tough chunks of meat.
Combines die-cast aluminum and Stainless steel – the food press is aluminum while their blade is stainless steel-made. These coatings help to enhance the durability and longevity of meat slicer.
Powerful slicing guard – the durable slicing guards are very thick, keeping your finger safe during operation.
The power switch is professionally designed – the manufacturer pushed the power switched into thee slicer chassis.   That way, you will never mistakenly flip it on or off.
Downside
Smooth blade unavailable – unfortunately, only a serrated blade is available. This can be an issue because you only need a smooth blade to cut some meats.
Factors To Consider Before Buying A Meat Slicer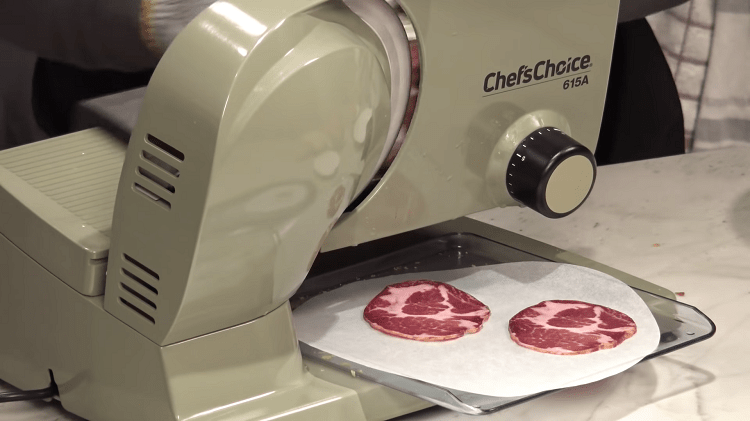 Before you choose the best meat slicer for home use, you need to consider certain factors. They include:
Efficiency of Motor
The motor in meat slicers determines how fast your meat is cut and the level of power it invests in each chunk of meat. The efficiency of motor power is usually displayed as horsepower. The higher the horsepower, the better the efficiency of a slicer.
Lighter-duty slicers usually have been 1/4-1/3 horsepower. They are typically efficient for a maximum of one hour of slicing daily. These meat slicer types are best used to cut thinner meats.
Average-duty slicers usually have between 1/3-1/2 horsepower. These slicers are best for cutting cheeses and meats for some hours daily.
Higher horsepower motors typically have over 1/2 horsepower. It's the best option for those who want to use meat slicers every day. Most high-duty slicers can work throughout the day.
But if you plan to use your meat slicer on a few occasions, go for the lower horsepower models. They are generally budget-friendly, so you'll be able to save money instead of buying an expensive one which you necessarily don't need all day.
Blade size
The size of a blade is also essential. A large-sized cutting blade works best for heavy-duty cutting and allows you to cut other foods, apart from meats.
Smaller-sized blades work better for light-duty cutting or to slice up thinner meats.  You can also easily clean smaller blades.
Overall, low-duty slicers typically have a blade of around 9-10 inches. Strong slicers usually fall between 12-14 inches mark. Most powerful commercial meat slicers typically have their blades around 12 inches.
There is no one-size-fits-all blade. Choose the size that perfectly fits your needs and provide the best results.
Safety
Many meat slicers come with safety features that make the cutting process risk-free. Meat slicers may cause injury, so it's better to go for a model that is designed for safety.
Specially check the blade guard that comes with the meat slicer. You can buy a cut-resistant glove if you want to stay safer.
Ease of Use
Two types of meat slicers are available in the market; they include, the automatic and manual. Automatic slicers are quite more comfortable to use. All you have to do is place the meat you want to cut, and they automatically do the cutting. You don't have to operate the blade for every cut.
You can also use automatic slicers to chop off large quantity meats into short ones. We'll recommend buying an automatic slicer if you plan to slice meat every day.
Most automatic slicers also come with a manual setting for better cutting control. Overall, automatic slicers are the best option for large scale operations. However, manual meat slices are super easy to use and require less prep time.
Cleaning leg kickstand
Furthermore, you need to consider whether or not to purchase a meat slicer with a kickstand or a cleaning leg. A cleaning leg or kickstands allows you to clean your meat slicer easily.
Meat tray size
Also, consider the size of the meat tray. Meat tray with larger sizes allows you to cut more meat. The smaller tray may require you to frequently remove the already-cut meat before putting another, which might be stressful if you're cutting more meats.
How To Use A Meat Slicer
Although there's a variation on how to use an individual meat slicer, most of these meat slicers operate on similar principles. All meat slices require that you put the food inside a sliding tray.
Put your meat into the tray
Lift the clamp arm of your meat slicer and swing them out from the slicer's main body.
Now put your meat into the tray. Now swing back the arm to keep the meat secured in place.
Adjust the knob
Most meat slicers come with an adjustable knob which determines the thickness level of the end meat slice after the cut.
Preparation time
During the preparation time, we'll recommend wearing a resistant glove for safety purposes. Also, ensure that the end of the slicer has a deli tissue or wax paper. That way, you can quickly cut and wrap up your meat.
Now pass the tray over the rotating the cutting blade. The blade then cuts the meat according to the required thickness level, repeating the process as necessary. You can use your blade either manually or automatically, after switching it "on."
Finally
Make sure you thoroughly clean the meat slicer after use, to avoid contamination.
Is it possible to cut raw or frozen meat with a slicer?
Although it's possible for a slicer to cut frozen meat, you might be doing more damage to the blade. Therefore, we don't recommend cutting frozen meat with a slicer, unless if you're left with no choice. Some expensive meat slicer brands can cut through partially frozen meat without problems. Meanwhile, always clean your meat slicer thoroughly after cutting raw meat to avoid issues of contaminations.
Furthermore, some raw meats can be tough to cut unless if cooked a little or allowed to chill in the freezer.
Can I use a meat slicer to cut through bones?
A meat slicer can cut through bones, but you'll be doing a lot of damage to your blade. So we don't recommend using them to cut through bones.
How To Care And Maintain A Meat Slicer
Just as with other kitchen tools, maintaining your meat slicer after use will keep it last for longer without rust.
How frequent should your meat slicer be cleaned?
Always clean your meat slicer after each successive use. After use, meat juices and bacteria coat the blade. Bacteria are also stuck inside the slicer if not removed. Also, always try to clean and sanitize your best slicer weekly or periodically, even if you haven't used it for long.
Keeping the blade under good condition and removing excess dirt will help maintain the quality of your meat slicer.
How to clean a meat slicer
You'll need water and a sanitizer concentrates to clean your meat slicer effectively. Avoid using regular soap because they might damage the blade.
There are various commercial sanitizers online. Don't forget to use protective gloves when applying the sanitizer. Sanitizers are usually rough on the skin.
Always rinse you're meat slicer after sanitizing, and dry to prevent rusting.
Finally, ensure that the moving parts of your meat slicer are well lubricated, including the feeder tray.
Best way to sharpen a meat slicer
Make sure your meat slicer blade is periodically sharpened. That way, your meat slider will continuously produce the best results even after a long time use.
Most meat slicer kits come with a sharpener. Otherwise, you may have to buy sharpening equipment separately.
You can also apply a sharpening oil to the surface and edge of the blade.
Now, place your blade against the edge of the sharpener. Then sharpen till you know the blade has sharpened enough. You should be able to know when it sharpens. Alternatively, you can test with meat.  Make sure you don't over sharpen the slicer blade.
Conclusion
Conclusively, the Chef's Choice 615A Electric Meat Slicer is an excellent choice for cutting meat. The parts are easily removed for cleaning and maintenance. The incredible stainless steel coating makes it durable and lasts for long without rusting. All the other best meat slicers, which we review will also give you a versatile and efficient meat slicing experience. With all the information provided, we hope you'll be able to make the right choice.
Last Updated on January 4, 2020 by Judith Fertig