If you're wondering if smoking a turkey is a good idea, the answer is yes. Smoking a turkey gives the meat a robust flavor that you just can't get by baking or deep frying. If you've ever tried a turkey that was smoked properly, I bet you would agree. Without further ado, here are 11 things you need to know before smoking a turkey.

Click to jump straight to each topic:
Will My Smoker Work?
When smoking a whole turkey, you are going to want to use a smaller sized bird. This is to make sure that the bird will cook evenly and most importantly just simply fit into the smoker! There are also other things to consider, are you going to be "spatchcocking" (cutting out the spine and breastbone to lay the turkey flat on the grill)? Or Do you plan on cooking the whole bird altogether and stuffing it? If your smoker is at least 18" you should be able to fit a 10 to 12lb turkey on it.
What Smoker Should I Use?

Smokers have a variety of different shapes, styles, and sizes, but for a turkey, your best bet is a bullet smoker. The 18" Weber Smokey Mountain Cooker and the 22" Weber Smokey Mountain Cooker will be a good choice for a bullet style smoker. If you're interested in other brands the Masterbuilt 20060416 Charcoal Bullet Smoker works well too.
You will need a smoker with at least 18" of grill space to cook a whole turkey. You can check them out on Amazon to get a better idea of what each individual smoker offers.
Other Items You Need to Smoke A Whole Turkey
You are going to need a few other things than just a smoker to cook a whole turkey, here's a list of things you will need with some explanations.
Brine bucket

Before even putting the bird on the smoker you're going to want to brine it for 24 hours beforehand. A brine bucket like the one by Yeti will work perfectly. If you don't want to fork out the cash for the brine bucket system you can use an old cooler and a Ziploc bag big enough to fit the turkey in.

Digital Thermometer

A digital thermometer is a must-have when smoking a turkey. There are quite a few good options on the market, some with more robust features but a simple digital thermometer will do just fine.

Kitchen Utensils

You're going to need a knife, some kitchen shears, cutting board, some bowls to mix spices, a lot of this stuff you probably already have.

Ingredients

You are going to need some ingredients for the brine, stuffing and dry rub. You can always buy the seasoning premade but I will show you some recipes I like to use for this stuff.

Injectors

Injecting the turkey makes it taste WAY better. All you are doing is loading up the meat with some seasoned butter that will melt down and flavor the turkey. It's almost necessary when smoking a turkey.

Canola Cooking spray

I like to use this stuff on the turkey before I rub any of my spices on, it also helps the seasoning stick on the bird better than without it.

Pellets / Woodchips / Sawdust

Depending on what smoker you have you will be using different smoking fuel, I like the pellets because of the variety of flavors, you don't want a strong wood flavor on the turkey, a nice light pecan pellet will do great.
Turkey Size
The smaller the turkey the better when it comes to smoking. We want to be able to cook the meat evenly and a large turkey is going to give us a hard time with that. A 10-12lb turkey is a perfect size for smoking.
Cooking Time
There's a lot of time that goes into the preparation of smoking a whole turkey, but the actual cooking time really isn't that long. It should take about 2.5 to 2.5 hours to smoke a turkey to a golden brown, ready to eat delicious bird!
Prepping the Turkey
The Brine
The first thing you're going to want to do when prepping the turkey is to have it sit in a brine for 24 hours, this will make the cooking time much quicker and add a whole lot of subtle flavors to the meat. Here's a recipe I like to use, feel free to look around for others, there are plenty!
Ingredients
1-gallon vegetable broth
1 cup sea salt
1 tablespoon crushed dried rosemary
1 tablespoon dried sage
1 tablespoon dried thyme
1 tablespoon dried savory
1-gallon ice water
After you have that all mixed up you simply place your turkey in the bag or smaller bucket and fill it with the brine making sure that the turkey is completely submerged. Now place the container with the turkey into your cooler or larger brine bucket and fill that container with ice. Let it sit for 24 hours and you will be good to go.
Cooking choices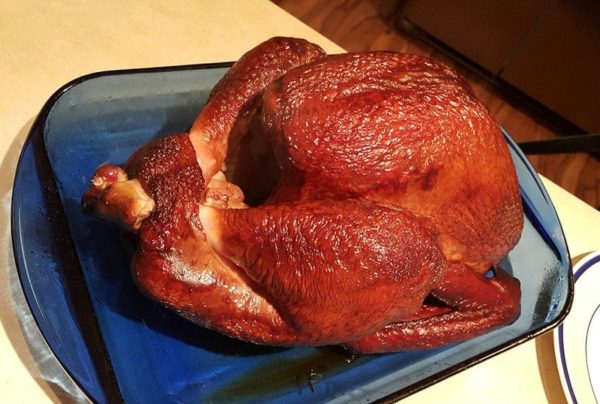 You can cook the turkey whole, as is and it will still turn out delicious, but if you want to take your turkey to the next level, I would suggest spatchcocking the turkey but for today we're just cooking the bird whole.
For those interested in spatchcocking a turkey I will give you a quick rundown.  Basically, spatchcocking is a term used to describe the process of removing the spine and breastbone of the bird to lay it flat out on the grill for the most even cooking you can get. I think it's worth the time and effort as it makes the turkey not only taste better but it will cook a bit quicker as well.
To start spatchcocking the turkey grab your kitchen shears and start cutting along the side of the spine. There will be a couple of tough spots but just muscle through it and do the same to the other side. You should now be able to remove the full spine from the turkey.
Flip the turkey over so the inside of it is facing you with its legs point towards you. Make an incision with a kitchen knife along the cartilage in the center of the bird at the top of the rib cage. There is a big bone hiding behind this that we can take out that will make everything down the line easier. Push down on either side of the cut until the breastbone starts to show itself. Make small incisions to help pull the bone from the turkey, you should be able to grab the big end at the top and pull it right out.
Injecting Turkey
A crucial step when smoking a turkey is injecting the meat, it adds a whole new range of flavors and makes the turkey so moist and tender. It's honestly the best way to cook any kind of poultry, I really suggest that you try it out. You can grab some off the web or you can make your own. My personal favorite pre-made injection butter is the Cajun Injector Creole Butter Marinade. You can make your own easily too! All you need is a few simple ingredients.
Ingredients
½ cup chicken broth
2 tablespoons butter
1 tablespoon lemon juice
½ teaspoon black pepper
½ teaspoon salt
¼ teaspoon white pepper
Melt the butter over low heat in a saucepan and add all the ingredients then mix thoroughly. Let sit for 10 minutes and you can start injecting your turkey!
You need to pump and inject both of the breasts and thighs of the turkey, there is no point in injecting the wings because there isn't as much meat to soak up the flavor.
Dry Rub
Before putting all of my rubs and spices on the turkey I like to cover it with canola oil or canola cooking spray, I find the spray makes the job easier but use whatever you like. When smoking a turkey, I like to keep it pretty simple with a basic Cajun rub like Sisi Lola's Turkey Natural Spice Seasoning. You can make your own too, here's one of my favorite rub recipes.
Ingredients
¼ cup salt
2 tablespoons onion powder
2 tablespoons paprika
1 tablespoon oregano
1 tablespoon garlic powder
2 teaspoons cayenne pepper
1 teaspoon thyme
After you spread or spray the canola oil on the whole turkey, just take your rub and put a nice thin coating all around the bird. You want to cover the whole thing but you don't need to pile it on. Make sure to get in all the crevices to make sure the whole turkey gets the flavor.
Starting the Smoker
Starting the smoker is pretty simple but it all depends on which smoker you have. Some smokers have built-in pellet feeding systems where you just have to set the time and temperature, push a button and you are good to go. Others require that you light it first, wait about 10 minutes for it to heat up, then you add your wood of choice.
Either way, your smoker's manual should have the right information required to start up your smoker. To cook a whole turkey, you want the temperature to be around 275 to 300 degrees.
Cooking
Once the smoker is sitting around 275 to 300 degrees you will want to put your bird on the grill. Make sure to center it for optimal even cooking. You will want to rotate it every half hour or so, but don't check it too often because every time you open the lid you are cooling the smoker down and it will have to fight to get back up to temperature. You should give it a baste every time you rotate it as well to keep the turkey nice and juicy.
A 10 -12lb turkey will take about 2.5 to 3.5 hours to fully cook. You are looking to get the breast and thighs around the 165 – 170-degree mark. Do your best to keep the turkey from getting too brown. If your turkey is darkening up quicker than it is cooking, you can add a tinfoil tent over the top of it to circulate the hot steam more towards the inside of the turkey.
Glazing
The last step is glazing the turkey. This is like the sprinkles on a cupcake, it just makes it taste and look so much better. You can glaze a turkey with almost anything from honey, dissolved brown sugar, whiskey, or even maple syrup. My personal favorite is a maple syrup-based glaze but that's probably just the Canadian in me talking.
Here's a recipe for my favorite maple glaze.
Ingredients:
½ cup of pure maple syrup
1 teaspoon ground paprika
½ teaspoon salt
½ teaspoon pepper
½ teaspoon garlic powder
½ teaspoon onion powder
½ teaspoon dried crushed thyme
1 pinch of cayenne pepper
Just mix it all together and when you got about 10 to 15 more degrees left in temperature on the turkey, drizzle it on. Try not to rub or brush the glaze on as it will take off the dry rub we put on beforehand. Just take a spoon and drizzle it on top without touching the turkey.
Once the turkey is at the right temperature, take it out of the smoker and let it sit for 5 -10 minutes with a tinfoil tent over top. All you need to do now is carve it and eat it!
Sale
Weber Smokey Mountain Cooker 18 Inch Smoker
Porcelain-enameled lid, bowl, and center section retain heat and won't rust or peel
Two cooking grates provide ample room for smoking two large items at once
Silicone temperature grommet monitors the internal temperature of your smoker
Control the temperature of your smoker by easily adjusting the dampers
Fuel door comes off to make adding charcoal and wood easier while smoking
Summary
With all of this information, you should be much more confident in your ability to smoke a whole turkey. You now have all the resources you need to go from the preparation to the dinner table. Thanks for taking your time to read this article, enjoy your turkey!