With the BBQ season around the corner, there's a growing number of debates related to which type of grill is the best. Let's assume that you have chosen a grill where the source of fuel is charcoal (lump charcoal or briquettes ).
The thing about grills and their fuel is that there are so many manufacturers and you have to know how to tell apart a good product from a bad one.
If you have chosen lump charcoal then chances are you have another problem, which is about finding a manufacturer who has a good quality hardwood lump charcoal at a decent price in their offer.
Without a doubt, lump charcoal should be 100% natural ( No fillers or chemicals ) and made of clean, hard wood. Does every manufacturer follow these rules? Of course not.
That's why I have prepared this guide in order to help you choose the best lump charcoal that will be 100% natural and made of high quality hard wood.
The Best Lump Charcoal Reviews for 2020
---
#1. Best Hardwood Lump Charcoal
Jealous Devil All Natural
Made of wood called Quebracho Blanco ( South American wood ), the manufacturing process takes place in Paraguay. It is the number one on my list, in my opinion the best lump charcoal available on the market.
It is characterized by high quality of wood, large percentage of medium-sized chunks in the bag, lack of any kind of fillers or chemicals and lack of weird elements or junk.
It burns pretty fast and easily, it produces very little ash and can reach one of the highest temperatures. It is definitely very hot charcoal and of surprisingly good burning time ( especially in kamado type grills ).
I especially recommend it for long cooking, for example in ceramic grills like Big Green Egg or Kamado Joe.
What stands out right away after pouring out an entire bag is the minimal amount of wood chips and dust combined with a large amount of medium-sized chunks ( majority ) and a small amount of big chunks.
According to the manufacturer, you won't find any unidentified objects in the bag, like wood without charcoal, junk or anything unwanted. I can definitely confirm it, lump charcoal from Jealous Devil only contains high quality chunks of wood without garbage or additives.
Jealous Devil holds the deserved and unquestioned top place in my ranking. It has characteristics that the best lump charcoal should have – Natural quality of the hard wood, burning purity, small amount of ash, the ability to reach very high temperatures, small amount of dust and wood chips whereas about 2/3 of the bag contains medium-sized chunks of charcoal.
The only thing you may not like is the smoke itself and its intensity, but that's a matter of personal taste, which is something everyone has to check for themselves.
Check Latest Price on Amazon!
---
2. Best Lump Charcoal for Grilling
Fogo Super Premium
Made of wood that comes from Salvador (a Central American evergreen Oak species ) it is also this country where the manufacturing process takes place. It takes the second place in my ranking despite being as great as Jealous Devil Lump Charcoal.
First and foremost, it is a lump charcoal that is free from chemicals and other additives, and you won't find any junk or unidentified elements in the bag.
Upon opening the bag and pouring out all the charcoal, you can clearly see that the chunks of charcoal are big. About 80% are medium-sized and big chunks, with medium-sized taking about 50% of the bag.
It's a truly remarkable result, the biggest chunks may have to be manually broken into pieces as they won't fit in certain grills/smokers.
When it comes to dust and wood chips, there is very little of that, only about 5%.
A small downside and likely the main reason why this lump charcoal takes the second place on my list is the burning time. It requires quite a lot of paper in the chimney and it takes a lot of time to catch fire. It is not something very important that would impact the results of cooking, I would suggest to mostly take it as a piece of trivia.
Fogo Super Premmium Hardwood lump charcoal doesn't get good results either when it comes to the maximum temperature. Compared to other manufacturers it looks average, next to Jealous Devil it looked pretty poor. But does it really matter that much if it is still hot enough to allow you to do pretty much anything you need.
When it comes to the charcoal burning time and ash creation, the results are very satisfying here. Having so much medium-sized and big chunks of charcoal makes it burn long.
Fogo Super Premium is mostly great due to the quality, burning time, large chunks of charcoal ( small amount of dust ), price and most of all being natural ( 100% Hard Wood without any additives ).
Check Latest Price on Amazon!
---
3. Kamado Joe KJ-Char
Made of as many as 3 different types of Argentinian hard wood (Guayaibi , Guayacan, Mistal and White Quebracho hardwoods ), the manufacturing process also takes place in Argentina.
KJ-Char Hardwood Lump Charcoal is first and foremost 100% natural without any additives in form of fillers or chemicals. Upon opening the bag, you won't find any unidentified objects or junk.
When it comes to the flavor, it feels very good to me, although I realize that to a large extent it's a matter of personal preference which is why it would be the best for you to see it for yourself.
It burns for pretty long and doesn't produce much ash, but my main gripe is about the size of pieces. The manufacturers advertise their product by saying that the chunks of charcoal are very big. The reality however is completely different, the size of the biggest pieces doesn't actually differ much from regular supermarket-brand lump charcoal.
Another downside is a pretty big amount of dust and wood chips as well as their large ratio to the entire bag. Thinking I got a wrong bag, I checked reviews from others and they sound similar.
Overall, it is very good natural hardwood lump charcoal that burns fast, doesn't produce much ash, reaches high temperatures and has a pretty long burning time. When it comes to the size of chunks of charcoal, however, I am kind of disappointed.
Check Latest Price on Amazon!
---
Buyer's Guide
The right quality lump charcoal that is also 100% natural and only made of hard wood is something incredibly important. Good quality charcoal not only burns longer, better and leaves less ash, but also has a much better impact on the food's flavor.
There's a lot of different manufacturers, which is why if you grill a lot it's a good idea to verify which of them offers only high quality lump charcoal. Avoid regular yet popular due to their low price manufacturers that can be often found at a regular grocery store.
How did I pick the best ones?
Using my own knowledge and exchanging experience with other BBQ enthusiasts, I have created an overall list of the most popular manufacturers of lump charcoal. Then I carefully checked out each of them and eliminated the ones who offer lump charcoal with different types of additives ( fillers and other chemicals ) from the list.
Burning charcoal has a significant impact on the food's flavor so if it contains different unwanted additives then you will certainly feel it later in your food ( not to mention the health aspect ).
I encourage you to take good care of what we all use and what we eat which is why I only promote 100% natural hardwood lump charcoal free from any chemicals.
Having a finished list of such manufacturers, I moved on to buying their products so that in the next stage I can compare them all in practical tests.
How did I test ?
The tests were pretty time-consuming, as they took few weeks. I wanted them all to take place in the same conditions, which is why it took so long. Sadly, I don't own several ceramic grills so that I would be able to see the results all at the same time.
I cooked nearly everyday and everyday I would use lump charcoal from a different manufacturer. Cooking went the same when it comes to the type of meat and the temperature on the inside. My task was to monitor and describe everything related to the charcoal.
First and foremost, I started by rating the chunks of charcoal and the composition as well as the percentage of different size of pieces to the entire bag. Then I measured the charcoal burning time, the time to reach the right temperature and the maximum temperature.
At the next stage, I moved on to regular meat smoking where I once again used new charcoal in order to start new tests. At this stage I observed the effectiveness, as in the charcoal burning time, its caloric content and how much ash it produced.
I conducted the tests of this type individually for each manufacturer of lump charcoal on my list. Then I compared the results and made short reviews for the best manufacturers of hardwood lump charcoal.
Why choose Lump Charcoal ?
When it comes to charcoal, you can choose between lump charcoal or briquettes. Each of them has their upsides and downsides and, depending on your cooking style and the type of smoker or grill, you will have to choose what's better for you.
Personally, I use both types of charcoal, but I pay special attention to whether they don't have any chemical additives and are 100% natural. Without a doubt, lump charcoal's properties make it great for ceramic kamado type grills, but you can easily use it with other types of grills and smokers.
PROS:
Starts burning fast
Burns Very Hot
Very Small Ash Production
Real lump charcoal is 100% natural without any additives
CONS:
Tends to cost more
Burns much faster
Isn't good for creating heat zones
What to pay attention to?
Naturalness– Real lump charcoal doesn't contain any additives in form of chemicals or fillers. High quality lump charcoal is first and foremost 100% natural and made of the right type of hard wood.
Size of pieces– It is the best for the big and medium-sized chunk ratio after opening the bag to be as high as possible compared to the smallest ones. If majority of the bag are small chunks then change the manufacturer as they provide poor quality charcoal.
Amount of dust and wood chips– It is unacceptable after opening the bag for a very large part of it to be dust, wood chips and small pieces of charcoal. That's another aspect you should definitely watch out for as it's a sign of poor quality of the charcoal.
---
How to Light Charcoal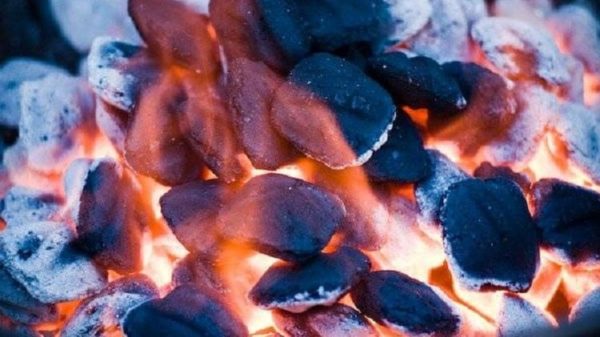 When it comes to authentic BBQ flavor, nothing beats cooking with charcoal. It adds a rich, smoky layer of flavor you just don't get with gas grills. Yet despite the fact that many people prefer charcoal flavor, they've been turned off to grilling with it by the misconception that it's difficult to light and hard to use. However, if you're using high-quality charcoal and follow a few simple steps, it takes only a little more effort than grilling with gas.
Using pure hardwood charcoal not only adds to the flavor of your food, it's more efficient. We recommend using all-natural lump charcoal. Unlike briquettes, which are uniform in appearance, lump charcoal is irregular in size and shape. That's because you're actually getting chunks of real wood that's been kilned to remove moisture and sap. Pure and all-natural, there are no chemicals, additives, or fillers. Great for use in kamado grills, lump burns hotter than briquettes and produces less ash. If there's a drawback to lump charcoal, it's that it can take longer to light and it burns unevenly, causing hot spots.
While we love lump charcoal, there are advantages to using briquettes. Because lump gets so hot, it can be hard to control, especially when you want to maintain low-and-slow temperatures. Because of their uniform size and shape, briquettes provide a consistent and predictable heat. They also light easier and burn longer. If you opt to cook with briquettes, use high-quality ones like Humphrey's Hardwood Charcoal Briquettes, which are 100% all-natural and contain no chemicals, additives, or fillers. Stay away from briquettes that have been presoaked in lighter fluid, which can leave a chemical residue on food and affect its flavor.
Ways to Light Charcoal
If you're using lighter fluid to start your charcoal or wood fire, stop immediately! Lighter fluid is dangerous to use, leaves a chemical residue, and changes the flavor of food. There are other, better, ways to quickly and easily start your charcoal without resorting to chemicals.
Lighter Cubes
Made of paraffin, lighter cubes are non-toxic, smokeless, flavorless, and odorless. They ignite instantly with a simple match and burn with a consistent flame that lights the charcoal for you. If you're going to be smoking and only need to achieve a low temperature, you can just bury a cube into the top of your charcoal pile and light it. After several minutes, a few coals should be burning, enough to get you climbing toward 250°F. If you need to get your grill really hot for direct grilling, you can let the fire continued to build or, instead start off by placing 2 or 3 cubes in your charcoal to get more burning and raise the temperature quicker. Inexpensive and easy to use, lighter cubes should be in every griller's stockpile.
How to Use a Charcoal Chimney
If you're grilling steak and burgers and want to build a hot fire quickly, you can use lighter cubes with a charcoal chimney. Safe and easy to use, they utilize natural airflow and rising heat to light all your charcoal quickly. To use a charcoal chimney, just follow these simple steps:
Place 1 or 2 lighter cubes underneath the chimney (there is a small space in the bottom of the chimney designed for this). You can also use balled up newspaper instead of fire-starters.
Place the chimney on your grill's charcoal grate.
Load the chimney with charcoal so that it's crowning out of the top.
Light the lighter cubes through the holes in the side/bottom of the chimney using a lighter or long match.
Once the top crown of charcoal is glowing and you cannot see any black pieces of charcoal, pour the charcoal onto the charcoal grate using a fireproof mitt.
Put the chimney in a safe place where children or pets cannot touch it until it has cooled.
Electric Charcoal Starter
For those grillers who want their charcoal lit even faster, electric charcoal starters are a convenient option that make it as easy as pressing a button. Both the Looftlighter and Bison Airlighter use a super-hot flame to ignite charcoal in as little as two minutes. Another electric starter that doesn't light quite as quickly, but is a little more affordable and just as effective is the Charcoal Companion Electric Charcoal Starter
Last Updated on January 4, 2020 by Judith Fertig