Barbecue is one effective way to gather your friends and family and have quality time with them. With all the new inventions in the market like different types of smokers, grilling has been made easy and fun for all. However, one of the biggest debate on grilling is still on the 'Lump Charcoal VS Briquettes" topic. In this article, we are going to discuss the same and also review some of the best lump charcoal and charcoal briquettes out there.
There is just something about a barbecue that gets everyone excited and on their feet. Be it summer or winter, no one ever says no to a good old-fashioned grilling in the backyard. And why would they say no anyway? Not only do you get good food but you also get the opportunity to have family time. To make your barbecue successful, read on to find out what is the best charcoal for smoking.
What is the Best Charcoal for Smoking?
Since many types of charcoals can be used to ignite the grill, amateur cooks are easily confused about which one to use. The market offers a huge range of different types like lumps of apple and cherry wood, coconut wood, briquettes, and lump charcoal. Thus, customers often get allured to the wrong kind of charcoal.
The biggest battle is still on Lump Charcoal VS Briquettes though. With pros and cons to each type, people cannot make a choice on one. According to research in 2012, 94% of the total charcoal shipped was made up by briquettes.
However, lump charcoal is quickly gaining popularity because people nowadays are favoring everything organic. Not only this, there are more than 75 brands producing lump charcoals now since people get sold on the word, 'Natural'.
We have compared both lump charcoal and charcoal briquettes along with their pros and cons in the following article. Keep on reading to learn how to grill like a natural chef even though you might be an amateur.
Lump Charcoal:
Lump charcoal is produced by burning wood in the absence of oxygen. This not only removes the natural chemicals and sap out of the wood but also leaves the lump dry with no moisture. Thus, this type of charcoal, also known as natural hardwood charcoal, is favored by cooks for its purity.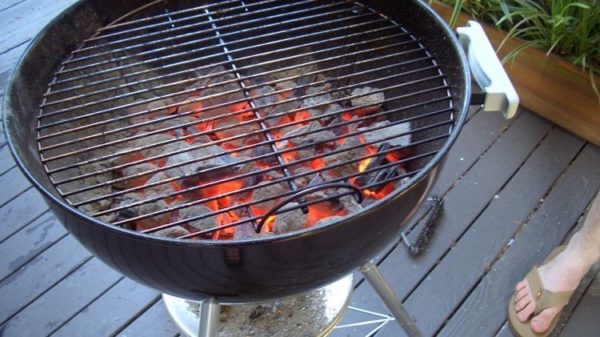 To begin with, lump charcoal is made from specific woods that upon burning leaves a wonderful essence in your food. Also, it burns with the least amount of ash and saves you from multiple respiratory health issues. Thereby, you get the sought after smoky smell and taste in home-cooked food that you normally find in restaurants.
Apart from this, charcoal of this type burns hotter than any other which makes it perfect for searing meat. Since lump charcoal is also very responsive oxygen, you can easily control the temperature of your grill. This is especially made possible if your grill contains adjustable air vents.
Another positive feature of lump charcoal is that it does not include any additives or lighter fluids. Therefore, it makes sure you get the best flavor in your meat with no added chemical aftertaste. Thus, this charcoal remains to be the most organic option in the market.
Lump charcoal has another advantage that it lights up faster than briquettes. Since chefs often find the time it takes to start up the grill very frustrating, many have switched to lump charcoals to save them. However, this also has a drawback. This charcoal burns out faster and needs to be constantly replaced.
Another disadvantage of lump charcoal is that it comes in varying sizes which makes it harder to grill. With inconsistency in sizes in each bag, there is also the hazard that small pieces and dust might block air flow in your grill.
Pros:
No additives
Lights faster
Natural
Burns hotter
Lesser ash production
Cons:
Burns out faster
Inconsistent
Briquette:
Similar to lump charcoal, briquettes are also made by burning pieces of wood in the absence of oxygen. However, additives are added in the manufacture of briquettes compared to lump charcoal which is all natural. Also, it is produced from wood by-products instead of solid blocks of wood.
Additives are used to hold the material in the blocks of wood together. Thus, you get uniformly round shaped chunks of wood that are even easier to stack. Apart from this, briquettes are often made using lighter fluids and various chemicals to make starting the grill easier and quicker.
Even though adding chemicals in the charcoal might give you multiple benefits, people still prefer organic options over synthetic ones. Such charcoals give a distinct chemical smell and many users have complained of tasting the additives in their food.
On a positive note, briquettes are known to burn more consistently than lump charcoal. This enables you to control the heat and maintain the temperature for a longer time. Also, you do not have to handle these as much as lump charcoals.
In addition to this, this type of charcoal burns for a longer time and requires replacement less frequently. Since briquettes are also cheaper than lump charcoal, you can save a lot of cash at every barbecue.
Even though there are a lot of positive points to this charcoal, there are a lot of drawbacks too. Firstly, upon burning, briquette produces a lot of ash. Not only is it irritating, but it is also quite harmful to people with respiratory diseases.
Secondly, it takes much longer to light and hence can be very frustrating for chefs. However, one of the major disadvantages of briquettes is harmful additives. Due to this, cooks have started switching from briquettes to lump charcoal.
Pros:
Can maintain a stable temperature
Cheaper
Uniform shape
Burns longer
Cons:
Contains additives
Produces a large amount of ash
Produces a chemical smell
Lights up slowly
Lump Charcoal VS Briquettes – The Ultimate Debate
Although we have discussed both types of charcoal above in great detail along with their pros and cons, most of you must still be confused about which one to opt for. To further help you out, we have compared some of the most important features in the following table.
| | | |
| --- | --- | --- |
| | Lump Charcoal | Charcoal Briquettes |
| Additives | No | Yes |
| Ash | Least | Most |
| Burning Time | Shorter | Longer |
| Lighting Time | Faster | Slower |
| Temperature | Hot | Less hot |
| Price | Expensive | Cheaper |
What are the Best Lump Charcoals in the Market?
By now, you are already aware of the multiple qualities of lump charcoal. If you prefer organic products over synthetics than this product is definitely made for all your grilling needs. However, when it comes to purchasing one, you might get easily confused about opting for one from the vast varieties available. Thus, we have provided two of the best lump charcoal reviews in the following section of this article.
Jealous Devil is a US-based brand that uses South American hardwood to make its charcoal. Since they use only the best high density and quality hardwood, you get the best product from this brand.
Contains:
Jealous devil has produced this charcoal with multiple positive qualities. First of all, it comes in a heavy duty craft paper bag. This makes sure that your bag is very durable and can be used again for your next barbecue.
Secondly, Jealous Devil only adds large lumps in their packaging and have minimized the dust found in each bag. Not only does this reduce waste, but it also makes sure that your grill does not get choked with smaller lumps and dust.
Moreover, this product is 100% natural, using only the highest quality South American hardwood. Also, this brand does not add any chemical or filters and even rejects scrap wood for all their products. Thus, you get the best lump charcoal consistently in each bag you purchase.
Features:
This product ensures no heavy smoke or sparks every time you burn it for grilling. With low ash production, you will not have to deal with irritation and constant coughing. Apart from this, using this charcoal results in easy clean-up after every barbecue. Hence, this lump charcoal is perfect for both charcoal grills and smokers.
Due to being 100% natural, you get three times longer burning time and two times hotter temperature. With cooking power of over 7000 cal/g, you get the bets seared and smoked meat every time.
Since lump charcoals are pure and organic, you will not taste any of the chemicals in your food. This brand has made sure to only provide a mild smoky flavor with a really subtle aroma that does not overpower any dish. Hence, you can even get restaurant quality food at home using Jealous Devil's lump charcoal.
Pros:
Two times higher temperature
Three times longer burning time
Con:
Makes a mess due to dusty packaging
User Critique:
This product has been given very high ratings by satisfied customers. They have complimented Jealous Devil on manufacturing this lump charcoal with minimum ash production, good temperature maintenance, and even coal size. Apart from this, they have also loved the mild smoky flavor it leaves behind.
Check latest price on Amazon!
---
Fogo, coming from the word 'Fire', is a well-known brand producing premium quality charcoals. They use only the best dense hardwood from Central America for each and every piece of coal.
Contains:
This brand hand-selects each piece of charcoal that they add in a bag. Apart from this, they only use selected oak hardwood trees to produce natural lump charcoal.
Moreover, they only add large chunks to each bag such that almost 80% of them are larger than four inches. Not only do you get a longer burning time, but with fewer small pieces and minimal dust, your grill's air vents will also not get clogged.
Fogo has made sure to produce this charcoal from only hardwood trimmings. Also, it has no added ingredients like chemicals or filters. Thus, you get all-natural oak charcoal that burns with a clear smoke every time.
Features:
This brand has produced the ultimate lump charcoal which gives restaurant quality food at every barbecue. You can use it to cook anything, from meat and fish to even vegetables. Apart from this, you can utilize this charcoal in any type of pellet smoker or grill. However, it is best suited for Big Green Egg.
Fogo lump charcoal has the ability to light up quickly, taking a mere 15 minutes only. This is a very sought after quality since chefs quickly get frustrated if it takes much longer to start the grill. Apart from this, this charcoal even burns at a much hotter temperature, making it perfect for searing meat and for low and slow cooks.
Since this lump charcoal burns for a longer period of time, you do not have to replace it frequently. Also, it does not even produce sparkling upon burning, thereby reducing a lot of accidents.
Because this lump charcoal is made from the best oak hardwood found in America, you get a mild and mellow smoky flavor in each bite.
Pros:
Lights up quickly
Burns longer
No additives
No sparkling
Cons:
Lighter fluids are not recommended with this charcoal
Takes longer to reach high temperatures
User Critique:
Customers have loved this brand of lump charcoal. Not only have they complimented the size of each chunk and the price, but they have also remarked on the mellow smoky flavor this charcoal leaves behind in the food.
Check latest price on Amazon!
---
What are the Best Charcoal Briquettes in the Market?
If you think briquettes are better than lump charcoals and you are looking to purchase some, do not worry as we have got you covered. The next section of this article contains some of the best charcoal briquette reviews. Thus, read their features along with their pros and cons and order the one that suits best to your needs.
Kingsford Company is the leading manufacturer of charcoal in the US with over 80% market shares.  Thus, this brand makes the best quality briquettes for all your grilling needs.
Contains:
This brand uses all of the best North American ingredients along with real wood to give you 100% natural briquette. Kingsford uses only the best wood chunks rather than undesirable wood scraps.
Since it is completely organic and does not contain any additives, it is a very healthy option compared to those that leave a chemical flavor in the food.
Apart from this, it comes in 2 bags of 7.7 pounds each which makes it perfect for all backyard barbecue parties.
Features:
This brand of charcoal briquette lights up very fast, taking only 15 minutes to start cooking. Compared to other brands, this is almost 25% faster. Furthermore, Kingsford charcoal briquettes have more edges on each piece. Thus, it provides better airflow and faster lighting.
In addition to all this, briquette burns for a longer time with a higher temperature and stable heating. Therefore, you can cook multiple types of food including perfectly seared meat. With consistent heating, you have more control over the temperature and thus, you get a better grilling experience.
Since charcoal briquettes are totally organic and made from real wood, you get an authentic smoky flavor to every food that you grill. With the positive feature of heating up quickly to high temperatures, this charcoal briquette is perfect for every day to expert grilling.
Pros:
Lights up in 15 minutes
Charcoal has more edges
Longer burn time
Consistent heating
Con:
User Critique:
Users did not have much to complain apart from its small packaging and price. They have complimented the easy lighting and long burning time.
Check latest price on Amazon!
---
Bayou adopts responsibly managed forestry to manufacture charcoal briquettes and thus can be called a renewable resource.
Contains:
This brand has produced briquettes from 100% high-density hardwood. To be precise, it uses the same hardwood for briquettes that it uses for Bayou lump charcoals. Thus you get the best quality briquettes using this brand.
Apart from this, you do not get any filter like crushed limestone, chemical additives, or even sawdust in your briquette. It is simply high-quality hardwood bound to cornstarch.
Features:
Since this product does not contain any additives or chemicals, you get smoke with the least amount of ash. Along with this, you do not get that undesirable taste of chemicals in your food too. Instead, your food has that restaurant quality smoky flavor that you do not normally get with many brands.
In addition to all this, Bayou's charcoal briquette burn for a longer time and provides consistent heating. Thus, not only can you control the temperature of your grill, but you can also enjoy long simmer-type cooking using this briquette.
With the added feature of faster lighting, this brand has reduced the chef's frustration by minimizing the prep time.
Pros:
Less ash
No additives
Burns longer
Lights faster
Cons:
Irregular chunks of briquette
Dust particles found
User Critique:
Customers have loved the quality of these hardwood briquettes and commented on the nice clean taste and easy regulation of the temperature. However, some have pointed out drawbacks like irregular chunks, dust, and even the slow lighting time.
Check latest price on Amazon!
---
Conclusion:
The debate on Lump Charcoal VS Briquette is not coming to an end anytime soon. With both having their own pros and cons, it is quite hard to reign one champion over the other.
However, we hope that you have gained enough knowledge of both types of charcoal to win any local debate with your friends. Choose the best charcoal amongst the ones reviewed above for the best grilling experience at your next barbecue party.