So, it's the middle of winter and you've been dying to fire up your electric smoker to cook up some nice hot and tasty smoked meats, but you aren't sure if it's the right time or place to do it. Worry not, with these tips you will be well on your way to smoking the finest foods in that nasty cold wind. You're about to learn about what extra equipment you're going to need, some tips and pointers on what you should do with your smoker differently when it's colder outside, and finally, I will leave you with what I think to be the best electric smoker on the market for cold weather. First and foremost, let's get started with some tips for setting up in the cold!
Setting It Up
Your main priority is to prevent as much wind, rain, snow, and cold from cooling down the smoker. Here are some foolproof ways of achieving that. You're going to want to either build a shelter for it to get as much coverage from the rain or snow as possible. You can use some plywood and nails or screws to build a shelter for it fairly easily, covering it from the elements but you still should be able to access the controls when you need to, so don't fully enclose it. It is not advised to use your smoker in inside a home or in a garage as the smoke can still damage the house, and carbon monoxide is no joking matter. The next thing we need to do is keep it hot.
Keeping the Smoker Hot
The biggest issue with heat loss is when you open the lid or door you release all of that built up hot air and replace it with bitterly cold air instead. I would advise to check your food only when you need to and consider getting a couple things to make this experience a bit easier. The best thing you can do to prevent from opening the lid or door so much is getting a wireless thermometer that can stay in the meat the whole-time cooking. There are several Bluetooth and Remote style wireless thermometers on the market that you can keep in the food the entire time it's cooking without any worries. Now that we have the lid issue covered, we will move on to the next issue, heat retention.
Got to Keep It Insulated
The outside air is going to cool down your smoker, that's just common sense, so what do you do when you get cold? You put on some layers! I personally like to wrap the electric smoker with furnace insulation but you can always use water heater blankets and sometimes the smoker's manufacturer even offers jackets for their smokers. Make sure when insulating the outside of your smoker not to cover any of the vents, as that will prevent the smoker from working properly. You can find everything you need to insulate your electric smoker at the hardware store.
While on the topic of insulation, your going to want to be using the right electrical cord when your outside in the cold. A heavy duty insulated outdoors extension cord is recommended for the job, you don't want to ruin a feast by a circuit blowing from the cord not being able to handle the environment. Make sure to check your extension cord for any cuts, nicks, or tears and make sure to repair or replace it if it's damaged. That's pretty much all the extra tools we need to be cooking in the winter so here are some tips on how you will need to do things differently.
Weather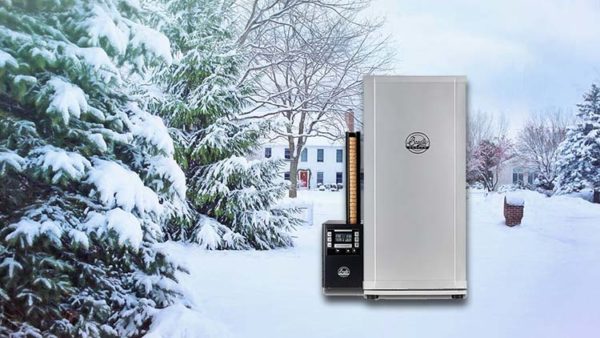 It's a fact that even with all of your preparations the winter weather is still going to make it difficult to cook outdoors. I wouldn't recommend cooking outside in an ice or hail storm, or a torrential downpour, or a white-out snowstorm unless you have some shelter to keep you warm too. Try and pick a day that you know will be a bit on the milder side, you don't want to be caught inside with your food outside when ice pellets the size of golf balls are coming down.
Pre-heating the Smoker
In the winter it will take longer to heat up then normally, but you should still always wait at least 10 minutes before you put in your woodchips, pellets or sawdust. Check your smoker's manual to see what kind of wood you need to use and how much you need to put in. When there's smoke, it's time to put the food on. This step is very important, if you don't preheat you will lose a tremendous amount of moisture in your meat.
There's Way Too Much Smoke
A common problem while cooking in the winter is that it will just naturally steam from it being so cold outside, but you don't have to worry much about that. The most common misjudgment people have is thinking they should put more woodchips in at once since it's going to take more fuel to keep it going in the cold. This is not recommended and will cause the smoker to produce way too much smoke, just go with the recommended amount and add more when needed.
Overview
If you've followed these instructions and everything has gone according to plan then you should have an easy time following your recipes. You won't need to open the lid and check as often with a wireless thermometer, which will cut down the time significantly by preventing heat loss. Your insulation and shelter will keep the electric smoker from having to be fully exposed to the elements and a properly maintained heavy duty power cord should keep the power flowing to your smoker. Pick a good day, don't forget to preheat and follow your smoker's instructions properly and you'll be well on your way to a great meal.
There're a few other things that should be mentioned as well, in the cold weather you should keep warm too. Make sure to dress appropriately when going outside even if its just for a minute, that's an easy way to get sick or if the cold weather is sever enough you could get a case of frostbite as well! Wear sweaters, gloves, coats, or hats if you need to!
Cold Weather Electric Smoking Checklist
Pick a good day
Provide some outdoor shelter for the electric smoker
Insulate with an electric smoker jacket or heatproof insulation such as furnace or water heater insulation
Keep vents uncovered
Use a wireless thermometer
Use a heavy-duty outdoor extension cord
Preheat the electric smoker
Follow your recipe instructions
Avoid checking meat too often
Enjoy!
You've got all the information you need now to effectively use an electric smoker outside when it's cold. I hope that this collection of information helps you out when deciding on whether you should cook outside or not when it is cold.
My personal favorite – Bradley Smoker BTDS76P 990216 Bradley Digital 4 Rack Smoker
The Bradley Smoker BTDS76P 990216 Bradley Digital 4 Rack Smoker is an outstanding product. It's perfect for big parties or a nice homecooked smoked meal. It gives you complete control from the temperature of the smoke to the time you want to cook it for. It can also automatically shut off for you when the cooking is done.
When using a smoker in the winter you are looking for a couple things. First you need a smoker that you don't have to open too often, so this one works perfectly as you don't have to add more wood to it yourself. Second you should get one that doesn't have a glass window in it. It's the same principal as building houses, the windows let a lot of heat out and a lot of cold in. In a cold weather situation, you don't want to have windows on your smoker, you want to keep as much heat inside that thing as possible.
One of the main things this product does compared to its competitors is the auto-feeding of the wooden biscuits. It's a very set-and-forget style of cooking. Each biscuit lasts 20 minutes so it's easy to tell how many biscuits you will need when using the smoker, say you need to smoke your ribs for 3 hours, you're going to need 9 biscuits to get the job done.
Set up is a breeze with all the components being removable. The 11 x 13 polished steel racks are super easy to clean and the drip tray keeps the mess contained pretty well. You can completely remove the control unit from the smoker, perfect for when you need to store the electronics inside for winter.  It's a compact design that builds huge flavor and it's a big hit at any meal.
Let's take a look at the Bradley Smoker BTDS76P 990216 Bradley Digital 4 Rack Smoker Features:
17 in. wide, 31 in. high, 14 in. deep
42 lbs.
4 customizable polished steel racks
Set accurate times and temperatures
Automated digital thermostat
Automated biscuit feeder
Exterior built from high grade steel
Auto-off feature
Drip tray included
Bottom pan included
Biscuit weight rings included
Wood biscuit catcher bowl included
1-year warranty
Removable control unit
Uses 3 cords to connect power and sensors
Pros:
One of the best things I love about this electric cooker is how I don't need to fuss around with the sawdust and woodchips in the augur style machines. I find this does a great job and you still can get some intense smoke flavor out of it. The auto biscuit feeding mechanism makes it a must have for when it's cold outside and you don't want to be opening and closing the rid very often as it will slow the cooking time down quite considerably.
The Bradley Smoker BTDS76P 990216 Bradley Digital 4 Rack Smoker is built tough, a stainless-steel exterior, polished steel interior, and sturdy steel frame is going to be strong enough to last the test of time. I love how the control unit pops in and out very easily and the simplicity of setting it up is as easy as plugging in three cords, 2 power cords and one cord for the temperature sensor.
There are plenty of flavors of wood biscuits to chose from and you can order them from amazon at a reasonable price. Definitely check out the hickory and mesquite wood biscuits, those are my favorite.
Cons:
I personally haven't had any issues with this electric smoker. I have been able to use it outside no problem and it starts up without any troubles every time I go to use it. Some people think the controls are in a bad spot but considering the size of the smoker there really isn't anywhere else they could go. It only makes sense that they would be off to the side of the unit that is producing the most heat.  I am also glad that the control panel is removable so I don't have to worry about the electronic components getting damaged.
Bradley 4 Rack Digital Smoker
Dimensions: 17W x 14D x 31H in.
Unique 4-rack smoker with simple smoke controls
Easily set time, temperature, and smoke levels
Last update on 2023-12-06 / Affiliate links / Images from Amazon Product Advertising API
That being said there aren't many downsides to this unit, I thoroughly enjoying using it whenever I can, it makes for a great meal.
Conclusion
Overall, the Bradley Smoker BTDS76P 990216 Bradley Digital 4 Rack Smoker is an impressive machine, it does everything needed and more. It's built very strong and I have a feeling I'm going to have mine for a long time. It's great for hosting parties but it's just as good to use for a regular dinner too. It's so easy to clean and the flavor that comes out of this thing is phenomenal.
If you're looking for something that's easy to use, easy to clean, and will make your food taste a whole lot better, then the Bradley Smoker BTDS76P 990216 Bradley Digital 4 Rack Smoker is going to be something you might want to check out, you won't be disappointed.
Last Updated on January 4, 2020 by Judith Fertig