Grilling is a popular summer activity, and hot dogs are one of the most popular items to grill. But what if you forget to take your hot dogs out of the freezer in time? Can you still grill them? Can you grill frozen hot dogs?
In this blog post, we'll answer the question of whether or not you can grill frozen hot dogs. We'll also provide some tips for making your hot dogs taste great.
Can You Grill Frozen Hot Dogs?
The short answer is yes, you can grill frozen hot dogs. However, it will take a bit longer than grilling regular hot dogs. There are a few things to keep in mind when grilling frozen hot dogs.
First, make sure that your grill is fully heated before adding the frozen hot dogs. Second, be careful not to overcook them. They will likely take a little longer to cook than regular hot dogs, so keep an eye on them.
Although frozen hot dogs can be grilled, it is ideal to grill beef hot dogs that have properly thawed out. They cook more evenly and have extra flavor. By the time frozen hot dogs are warming up in the middle, the outside might already be overcooked.
If you're looking for a quick and easy grilling option, you can choose frozen hot dogs. Just be sure to follow the guidelines above for the best results.
How Can You Thaw Frozen Hot Dogs?
There are a few ways to thaw frozen hot dogs. These include:
The Refrigerator Method
This is the most common way to thaw frozen hot dogs. If you have time, thaw them in the refrigerator. Place them on a tray and put them inside the fridge. Do this 12-24 hours before cooking.
The Cold Water Method
This is another popular way to thaw frozen hot dogs if you are short on time but still want to cook your hot dogs fresh. It is as simple as submerging them in cold water. Change the water every 30 minutes until they have thawed.
The Microwave Method
This is the quickest way to thaw frozen hot dogs, but it's not always recommended because it can cook the hot dog unevenly. Place them on a microwave-safe plate and defrost for about 45 seconds until they are soft. If you need more cook time, defrost in 20-second increments until they have thawed.
What Are Some of the Best Ways to Cook a Hot Dog?
There are many different ways to cook a hot dog, but some of the best include grilling, boiling, and microwaving. Let's look at each of these in detail:
Grilling
In this cooking method, you'll need the following tools: a good grill and tongs.
You should first preheat your grill to high heat for about 20 minutes.
Next, place your hot dogs on the grill grates and let them cook for about 12-15 minutes until browned and crisp. Make sure to rotate them every few minutes to ensure even cooking.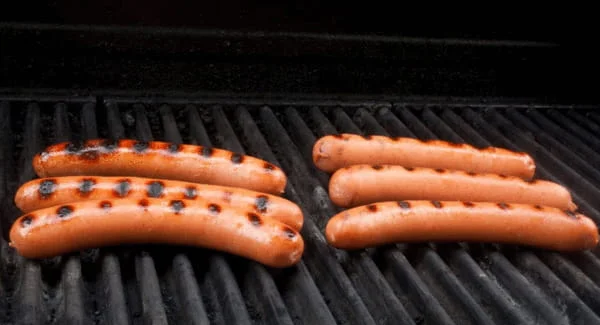 Boiling
Boiling is a very easy and quick method to cook your hot dogs and only requires a pot of water and a stovetop. Bring the pot of water to a boil and then add the hot dogs. Let them cook for about six minutes or until cooked through.
Remove them from the pot with tongs and serve them in a bun with your favorite toppings. You can also roast hot dogs over an open flame for about eight minutes, turning frequently until browned all over.
Microwaving
Microwaving is the easiest way to cook hot dogs because you can do it in less than five minutes. All you need is a microwave-safe dish and about one and a half minutes per hot dog.
Place them in the dish, making sure they are not touching, and cook on high power. Once they are cooked through, remove them from the microwave using oven mitts or a towel to avoid getting burned.
Common Mistakes People Make When Cooking a Hot Dog
Many things can go wrong when cooking a hot dog at home. Here are some of the most common mistakes that people make when cooking a hot dog:
Not preheating the oven or grill: This is one of the most common mistakes people make. If you don't preheat the oven or grill, your hot dog will not cook evenly and it may not be cooked all the way through.
Putting the hot dog on an unclean surface: Another common mistake is putting the hot dog on an unclean surface, which is a bad idea. Always make sure that the grill or pan you are using to cook your hot dog is clean before use.
Not cooking it long enough: Cooking a hot dog is not just boiling water. It requires more minutes of cook time and attention than just throwing it into a pot of boiling water for few minutes. You should cook a hot dog for at least 20 minutes on medium-high heat or until it's fully cooked through.
Cooking it for too long: If you leave your hot dogs in the oven or grill for too long, they will burn and become blackened all over instead of just being cooked through evenly. A good hot dog should have a few nice browned spots here and there.
Not giving it enough time to rest: Letting your hot dogs rest for a few minutes after cooking will make them taste better and be more tender. If you cut into one immediately, all of the juices inside will run out which means that there won't be much left inside when you go to eat it.
Using too much oil or butter on the grill: If you use too much oil or butter on the grill, your hot dogs will end up being greasy. A light coating of cooking spray or a dab of butter is all you need to prevent them from sticking to the grill.
Serving them cold: Do not serve your hot dogs cold! They should always be served hot and fresh off the grill or oven. If you have any leftovers, store them in the fridge and reheat them before serving.
Not using a bun: A hot dog is not complete without a bun. Make sure to use a good-quality bun that will hold up to the moisture and grease from the hot dog. You can also put toppings on the bun such as onions, pickles, mustard, and ketchup.
Hot Dog FAQs
Below are some of the most commonly asked questions about hot dogs:
Are hot dogs healthy?
While not considered a healthy food, hot dogs are a relatively low-calorie and low-fat option when compared to other types of fast food. They also provide some protein and vitamin B12. They are high in sodium, eat them in moderation.
Where do hot dogs get their name?
The term "hot dog" is a popular theory that dates back to the late 1800s when German immigrants began selling hot sausages in New York City.
They were known as dachshund sandwiches, or "dog wagons," and the name was eventually shortened to just "dogs." But some historians say the name was derived from a cartoon created by Thomas Aloysius Dorgan in 1901 of dogs eating sausages.
Is there more than one type of hot dog?
Yes, there are different types and varieties to choose from—from beef and pork to turkey or chicken. But regardless of which type of meat you choose, all hot dogs are usually made with a combination of pork, beef, or turkey.
What are some toppings you can use on a hot dog?
Here are some of our favorite toppings for hot dogs:
Ketchup
Mustard
Relish
Sauerkraut
Chopped onions or scallions (green onions)
Chili
Bean dip
Cheese (American, Swiss, cheddar, etc.)
Jalapeno peppers
Do hot dogs come pre-cooked?
No. All hot dogs must be cooked before eating. They can be boiled, grilled, or microwaved. You should not eat a hot dog that is pink in the center as it could contain harmful bacteria.
Are there any vegetarian or vegan-friendly hot dogs?
Yes. There are several brands of vegetarian and vegan-friendly hot dogs on the market today. Some popular brands include Tofurky, Beyond Meat, Field Roast, and Gardein.
Where do hot dogs get their shape?
Most hot dogs are made with a machine called an extruder, which has a mechanical arm that pushes the piece of meat through small holes. This forms the sausage into its traditional tube shape.
How long do hot dogs last in the refrigerator?
Hot dogs can usually be stored for up to two weeks if kept tightly wrapped and refrigerated. They will start to spoil after three or four days if left out at room temperature.
Final Thoughts
If you're looking for a quick and easy way to cook hot dogs and wondering whether you can grill frozen hot dogs, then the answer is yes. However, this isn't necessarily the best option available. If you want to grill up your own delicious fresh hot dog on a BBQ with all of your favorite toppings, we recommend allowing it to defrost.
Just be sure to keep an eye on your frozen hot dogs. They may just take a little longer to cook than traditional hot dogs. If you want to make things even easier, try grilling them on skewers for a fun and festive presentation.
Last Updated on April 29, 2022 by Judith Fertig