Who doesn't love rotisserie chicken? I know that you will go over the river and through the woods for this type of roast chicken, so don't even try to deny it.
If you can't get enough of rotisserie chicken, maybe you shouldn't try to quench that desire. You can have as much of it as you want at home.
Your journey to making the best rotisserie chicken starts here, where we hook you up with the right oven for that. Keep reading.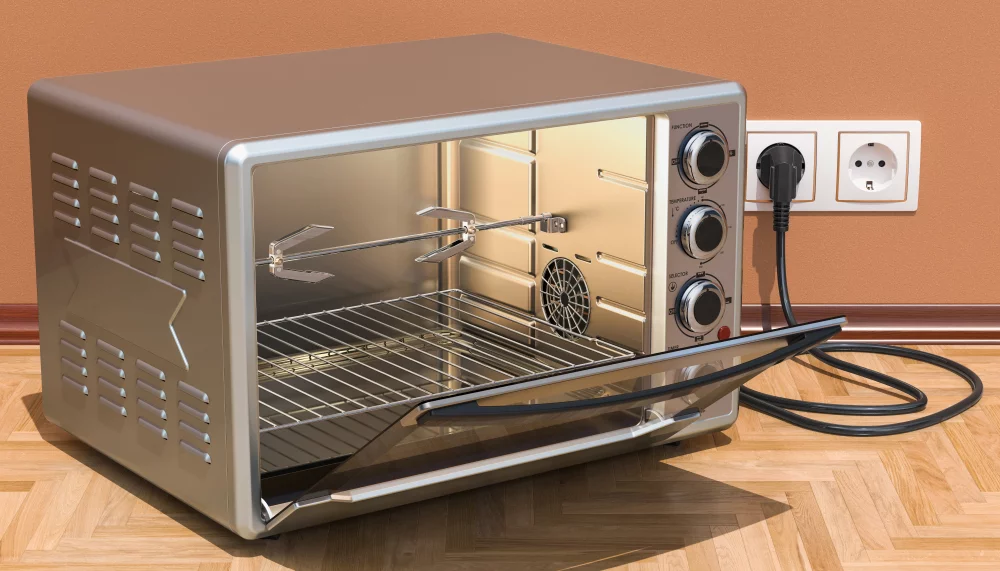 Best Rotisserie Ovens Buying Guide
I used to survive mainly on take-out for dinner. But with such meals, you have no control over the flavor of the ingredients and additives used. Additionally, you can quickly see your waistline start to bulge and your abs disappearing one after the other.
I have been there, and I knew I had to find a way to cook my meals at home or sentence myself for life at the gym.
In the process, I learned how the best rotisserie oven can help you cook meals quickly and effectively no matter how inexperienced you are in the kitchen. I bought one of these ovens, and now my DIY rotisserie chicken tastes like heaven.
Plus, I get to cook many other foods on it, and I have better control over the calories on my plate. Here are some of the buying criteria I used.
The interior capacity
Some ovens are just too small. They can make it hard to fit a whole bird in there and cook it evenly. You will not get the best results with such an oven.
Even though rotisserie ovens are typically made for compactness, I would advise that you go with an oven that can accommodate at least four pounds of meat at one time.
You might also want to consider models that come with double compartments so you can cook, steam, or roast a couple of items at the same time. You will be able to do much more and save energy and time.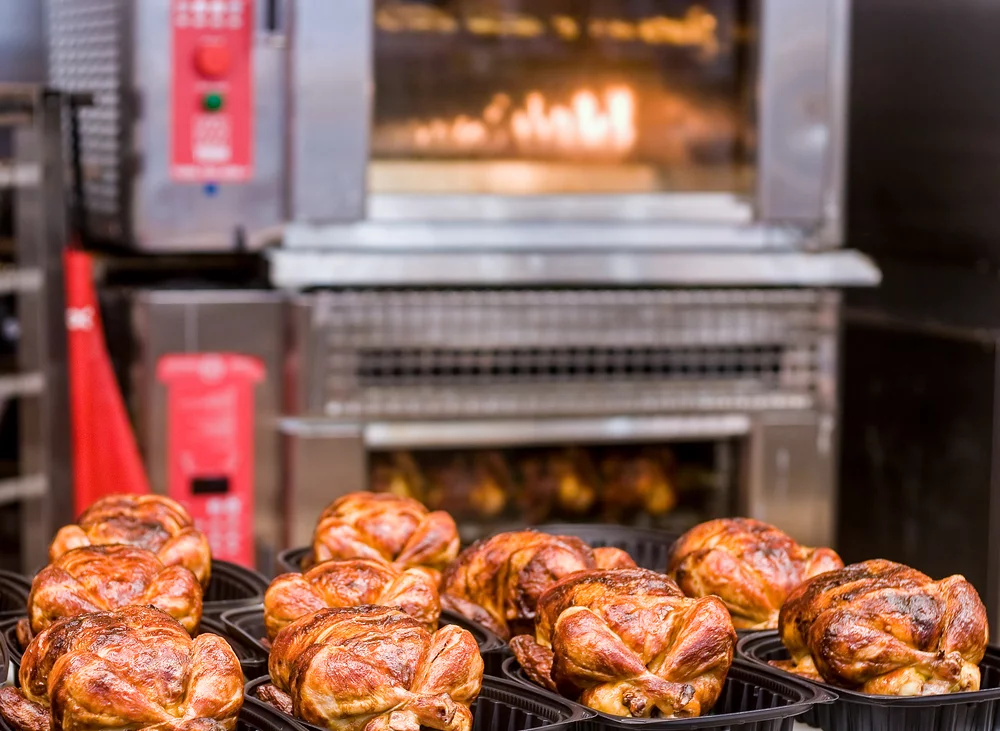 Cooking settings
When I first went shopping for a rotisserie oven, the number one consideration for me was a control panel to simplify the process of cooking. See, I had no experience in the kitchen, but I knew that much of the process would be automated with the right oven.
Consider an oven that can let you set the right cooking temperature and cooking time. I have found that preset controls deliver reliable results and take the guesswork out of meal preparation. Also, consider a wider cooking temperature range so that you can bake, broil, warm, and do much more on the same cooker.
Ease of use
The best rotisserie oven models are the rectangular type if you want an oven that makes it easier to set your meat on a spit for grilling.
You might also want to consider ovens with parts that are dishwasher safe. Getting grease out of the pan or rack can be a painstaking process; these models save you the headache.
A complete array of accessories
You can only do as much with your oven as your accessories allow. The list of accessories to consider in a rotisserie oven includes racks, pans, trays, and skewers and lifters. These additional items help with versatile functions, from baking to broiling and roasting. The more accessories the oven comes with, the more it can do.
Durability and value
Consider the design and construction of your oven before you close the deal. It wouldn't be wise to pour hundreds of dollars into a cooking appliance that only ends up serving you for less than a year.
I would advise that you find an oven that has some warranty assurance. If you can, find details about the materials used in the construction. Stainless steel and aluminum are the recommended materials.
Costs
Consider how much you have to spend. Large-sized models and those with numerous high-tech features will cost you more than the standard oven. For simple roasting and baking, I recommend going with a cost-effective make.
Best Rotisserie Ovens of the Year
Sale

Elite Gourmet Counter Top Toaster Oven Rotisserie, Bake, Grill, Broil,...

8 Multi-functions for rotisserie, broil, bake, toast, keep Warm, plus oven-top grill, griddle and steamer with dome lid.
Includes convection heating for even heat distribution and faster cooking times.
Healthy rotisserie cooking for delicious poultry or roasts, while eliminating unwanted fat and grease.

Last update on 2023-12-06 / Affiliate links / Images from Amazon Product Advertising API

Editor's Comments
If you are after a versatile rotisserie chicken oven, then maybe your search ends here. The MaxiMatic ERO-2008S oven doesn't only grill but it also broils, bakes, toasts, and steams. These extra cooking features could prove helpful for anyone who wants to experiment with additional recipes.
I like the fact that they have included an adjustable timer on this model. Although it's nothing out of the ordinary, it could significantly improve your cooking experience—it eliminates the guesswork.
This product may also inspire you with its simplicity and ease of use. A control panel makes it effortless to set the timer and temperature for whatever you are heating. Once you set that right, it's pretty much an automatic cooking experience; you can go back to watching reality TV.
You might also appreciate its adjustable cooking temperature of between 150°F to 450°F. This could help you use this countertop toaster for cooking a variety of different foods. If you are a seasoned cook, you should find virtually limitless uses for this appliance.
The MaxiMatic ERO-2008S rotisserie toaster oven is designed in such a way that you can cook your meats inside while you grill other items at the top. You might find that to be incredibly time-saving. The oven has a 23 L capacity.
Pros
It is a multi-functional toaster oven
Its parts are dishwasher safe
Multiple compartments for cooking various foods at the same tome
Adjustable cooking temperature
Cons
No air circulation mechanism
Outside surfaces are not sufficiently insulated; it heats up and makes it hard to operate

Last update on 2023-12-06 / Affiliate links / Images from Amazon Product Advertising API

Editor's Comments
If you find the MaxiMatic ERO-2008S a little too small for rotisserie cooking, you could try the slightly larger Cuisinart TOB-200N toaster oven. It has a capacity of 28.3 L, meaning that you should be able to roast a four-pound chicken in it without trouble.
The Cuisinart TOB-200N boats the same digital control as in the previously reviewed oven. These controls harmonize the timer and temperature settings. What that means is that even for a beginner, making roasted chicken at home could be as easy as 1-2-3.
The manufacturers have also included a heat sensor on this product. A feature such as this can assist in regulating and maintaining the right cooking temperature. It can prevent overheating and or cooling, both of which can drastically affect your cuisine.
Another great feature is an interior that the manufacturer says is easy to clean with a non-stick surface. The exterior is made of stainless steel that makes for a sturdy and durable oven. A front pullout crumb tray is another feature that could enhance your ease of use with this cooking appliance.
Pros
Cuisinart TOB-200N is a large capacity rotisserie oven
It has digital controls for simple cooking
A temperature regulation function enhances cooking results
Easy to clean and non-stock interior
Cons
Consumes more power than the MaxiMatic ERO-2008S

Last update on 2023-12-06 / Affiliate links / Images from Amazon Product Advertising API

Editor's Comments
The Hamilton Beach 31104 Countertop Oven is another considerably large oven that can accommodate up to five pounds of chicken, according to the makers. The large interior would also be capable of providing two 12″ pizzas and two 9″ X 13″ casseroles all at once. This size could significantly ease your cooking when you are hosting several guests.
The Hamilton Beach 31104 Countertop Oven boasts a bake/convection setting that the manufacturers claim will bake items at double the speed of conventional ovens. The convection function simply helps with air circulation for even and faster grilling. This feature is missing in the MaxiMatic ERO-2008S.
The oven is made for baking, roasting, or broiling, meaning that you get versatility and value for money with this item. Its components include a removable drip tray, two oven racks, a broiler rack baking pans, and a rotisserie skewer and lifter.
The oven is branded as a revolving rotisserie, which assures that your meats will roast evenly without the need for turning. That means a hands-free cooking experience for you—no excuse to order takeout.
Despite the remarkable features on this oven, beware that the glass door could crack at high temperatures. And unlike the Cuisinart TOB-200N Rotisserie oven, there is no heat sensor feature here to aid in temperature regulation. That could lead to a disappointing outcome if you are not a skilled chef.
Pros
Can be used for baking and broiling, apart from roasting
Has a large cooking capacity
Comes with timer and temperature control features
Cons
Does not always heat to the set temperatures
The glass door is a safety risk at high temperatures

Editor's Comments
The main highlights of the Wolfgang Puck Rotisserie Series Pressure Oven include the moisture sealing and pressurized interior that could enhance the flavor and texture of your foods. It is believed that this function, which mimics the workings of a pressure cooker, helps your food to taste better because of retained nutrients.
The oven is sealed as well, meaning that your meats can remain tender without the risk of drying out. The pressure sealing feature here might also help with faster cooking. It supposedly makes it possible to cook up to 70 percent faster. The oven works using the low-pressurized chamber to infuse heat and flavor and keep your food moist.
Like some of the earlier reviewed items, you get multiple functions with this oven, including grilling, baking, toasting, warming, and broiling. In short, you can do more with this oven, including baking cookies, roasting poultry, or making those oh-so-yummy oven-baked hot dogs.
To sweeten the deal, the manufacturers have thrown in a recipe booklet and user guide, which could be great for beginners. You might not need to consult Google in order to discover how to cook rotisserie chicken—too many cooking opinions online, enough to confuse anyone.
Pros
Pressure sealed interior for faster cooking and better flavors
Moisture sealing leads to tenderer delicacies
A power-saving design
Multiple functionalities
Cons
Quality control issues; might arrive with damaged/ missing accessories
Replacement parts are hard to find

Sale

Ronco ST5000PLGEN Showtime Rotisserie Platinum Edition

Removable heat shield helps brown your meat to absolute perfection
Exterior handle stays cool and allows you to easily access your finished meals
World class rotisserie oven designed to start cooking immediately and quickly, using 1/3 less energy than your conventional oven

Last update on 2023-12-06 / Affiliate links / Images from Amazon Product Advertising API

Editor's Comments
The biggest selling point of this rotisserie oven is the removable heat shield whose main function is to infuse a rich brown tan on your meat. Better presentation means a better appetite.
The Ronco ST5000PLGEN Showtime oven boasts a non-stick interior that could make cleaning an effortless task, as in the case of the Cuisinart TOB-200N. The makers also mention that the pan is dishwasher safe. That, for you, means more convenience and time-saving.
Unlike the MaxiMatic ERO-2008S Toaster Oven reviewed earlier, this oven solves the heating challenge on the outside with its insulated handle. For me, this is a thoughtful safety feature that should make cooking a painless and enjoyable task.
The oven is apparently designed to facilitate faster cooking. The product specs state that it uses 1/3 less energy than conventional ovens. At the same time, there is no engineering mechanism or evidence that we noticed on the product description that necessarily supports this claim.
In my opinion, the worthwhile features in this product are the easy-to-clean and non-sticky surface. The safe pan included is also dishwasher safe, which means you can get done with your cleaning tasks more quickly.
The product comes complete with accessories and a recipe and guide booklet that could be of significant help to any first timer in the kitchen.
Pros
Removable heat shield for browning your chicken
Insulated handle
Low energy consumption
Easy to clean
Cons
A single temperature setting
The rods for supporting the chicken feel flimsy and might be susceptible to breaking

The Best Pick
The Wolfgang Puck Rotisserie Series Pressure Oven stands out as the best rotisserie oven of the year. Its superior features include pressure sealing and moisture sealing. The two features help to improve the flavor and texture of the food and reduce energy consumption in the cooking process.
Compared to the other reviewed ovens, you might also be able to cook much faster with the pressure sealed interiors of the Wolfgang Puck oven. It works like a pressure cooker, but in this case, you get diverse functions from roasting to broiling and baking, among others. You get to do much more with a single kitchen appliance.
Last Updated on August 17, 2020 by Judith Fertig