Kabobs are among the most eaten commodity in the barbecue world. They are perfect for summer, and eating them is just as fun as it is cooking them. The secret to a juicy kabob is not just how you prepare the meat. It's also the vegetables that keep it from drying out.
But how do you cut onions for kabobs? What is the quickest way to cut them? How big should they be? No need to worry. Invite your family over for a barbecue because this guide will answer all your questions.
What Are Onions?
Onions – also called bulb onions – belong to the Allium family, which also contains leeks, garlic, and chives. It is a nutritious vegetable that is high in carbohydrates and fiber, making it good for your gut. Onions have a strong and distinctive flavor and are used as a major ingredient in many dishes.
The most common meals that incorporate it are pizza, soup, and stew. A pigmented, dry outer layer covers onions, which you'll need to peel off before consumption.
What Are Kabobs?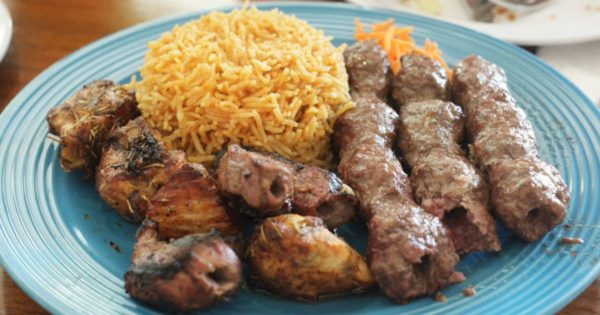 Kabobs, sometimes also referred to as shish kabobs, are a type of barbecue dish made by putting meat and different vegetables on a skewer. You can use either a wooden or metal skewer for your kabob.
You can use just about any meat in a kabob, such as chicken, beef, lamb, or even fish. As the cook, it's up to you to choose the vegetables for your skewer. Generally, they include onions, cherry tomatoes, green bell peppers, and mushrooms.
You can cook kabobs on grills or ovens. But for the classic barbecue taste, we recommend cooking them over a charcoal grill.
How Is an Onion Used In a Kabob?
It is best to slice onions into a square shape. Make sure that the size of the onion slice is not smaller than the meat pieces. The corners of the slice should poke out just enough that they enclose the meat from the sides after they're cooked.
You'll use onions intermittently in a skewer. Adding too many onion slices could mask the flavor of the meat. It is best to use more than one vegetable in your kabob for the added variety of flavor.
How to Cut an Onion For Kabob?
Step 1: Peel the Outer Dry Layer
Take a single firm onion. The onion's skin is papery, giving it its typical pink or yellow color. This layer has no flavor or any water content, so it is of no use to us in preparing kabobs.
Try grabbing onto a free edge of this layer and peel it away. The layer underneath should be much softer and juicier compared to the top skin. You can simply discard the dry skin. It has no use in any other recipe, so saving it is pointless.
If you want to get slices with more flavor, peel away another one or two layers along with the dry skin. This will ensure that you're using only the juiciest and tastiest layers of the onion.
You should now have a subtly colored onion that is soft and round and has a stem end with root hairs poking out of it.
Step 2: Cut the Stem End of the Onion
Do you notice the hairy-looking end of the onion? Those are the roots of the plant. These may be covered in the dirt if you didn't thoroughly wash the onion before cutting.
Take a sharp knife and slice the root end of the onion in a single stroke. Cut just after the stem end merges with the bulb. You can discard this or store it for use in some other recipe.
At this stage, you should have a peeled onion that is cut flat from one end.
Step 3: Slice the Onion Into the Proper Shape and Size
Now that you have prepped your onion, it's time to cut it. Just get ready for some tears! Take a sharp knife and cut the bulb in half from the top down. I recommend that you also discard the innermost three to four layers of the onion, as their flavor is too strong and will dampen the meat's taste.
Next, cut the two halves crosswise. Make sure that each piece you have is roughly the same size or slightly bigger than your meat cuts. You can trim each piece as needed. It is also preferred if the meat cuts you use in your kabobs are almost the same size as the grates of your grill.
Depending on the size of the onion you used, you should now have five to seven slices of onion, with more than two layers in each. They should all be of similar dimensions.
Step 4: Separate the Layers
You may think that you'll use the slices you have cut in the kabobs just as they are – and yes, you can use them. But there shouldn't be more than a single layer of onion on a skewer. This is because the individual onion pieces will cook more evenly than multiple layers.
Use your finger or a fork and poke gently between the layers. They should separate easily. When you pull the layers apart, take care that the thin skin-like covering around each layer doesn't come off as well.
You should now be left with evenly cut pieces of onion with only one layer on each piece.
Step 5: Soak the Pieces In Water
This step is for the people who find the taste of onion too strong. There is a quick and easy workaround to it. Take a bowl filled with cold water and put your slices into it. Let them soak for five to 10 minutes. The water will extract all the extra flavor of the onions and the slices will have the perfect flavor and intensity.
After 10 minutes, use a sieve to collect the slices and drain off all the water. You will be happy to learn that onions soaked in water can resist burning if the heat on your grill is too high. This resistance owes itself to the extra water the slices absorbed while they were soaking.
You should now have juicy onion slices that, although wet, will make the perfect addition to your kabobs.
Step 6: Precook the Onion
If you want to thoroughly cook your onions and ensure they aren't raw in the middle while grilling, you should follow this step. Take a pan and add a bit of oil or butter to it. Put your onions into the pan and set the temperature to medium.
Stir the slices for five to seven minutes using a wooden spatula. Make sure that all of the slices receive an even amount of heat. The slices should be lightly golden and softened when you remove them from heat.
Take the pieces out of the pan and put them out on a plate to cool before you put them on a skewer. The onions will now be soft enough that you can put a skewer through them with ease.
At this stage, you should have a plate full of soft and lightly cooked onion slices, waiting to be put into your kabobs.
Step 7: Put the Onion Slices Onto Your Skewer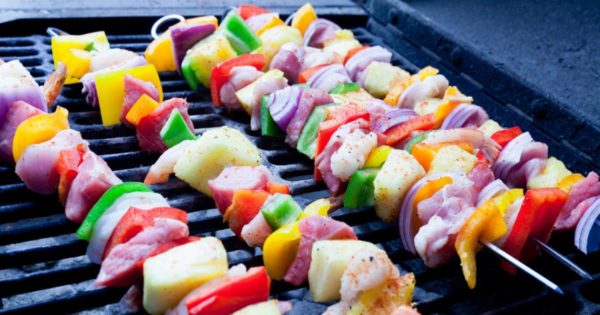 Are you confused about whether the beef comes first or the onion? That's easy.
The vegetables that you have cut will always be on the outer-most part of the kabob. Another kabob-specific guideline is to always use more than two vegetables in your kabob.
You can replace a vegetable with sliced mushrooms if fungi are more to your liking. Another thing you should keep in mind is to always add meat after a slice of vegetable – that is, meat should separate the slices of vegetable in your skewer.
Adding onions to a skewer is easy. Just take a skewer and add every slice onto it from the sharp end. Make sure that the onion is perfectly centered for the best presentation.
You should now have a skewer filled with meat and vegetables, ready to be put on a grill.
Conclusion
That's all it takes to cut the perfectly sized onions for your barbecue party. The most important thing is that the size and shape referenced in this article are the standards for all vegetables used in kabobs.
We discussed not only the fastest and most efficient method to cut onions, but we also gave you tips on how you can make your chicken or beef kabobs come out delectable. Serve your kabobs with homemade sauce, and you have the perfect recipe for a fantastic family get-together.
We hope this article helps you cook to the best of your ability!
Last Updated on September 3, 2022 by Judith Fertig