Not all pellets burn at the same rate. Whether you are craving brisket or pork shoulder or just want to enjoy a simple outdoor cookout with your friends, chances are you need to know a thing or two about pellets and that smoker sitting in your yard.
But how long do pellets last in a smoker? Do weather conditions matter? Does the quality of pellets have any effect on their durability? You want to make sure your barbeque is a hit. The last thing you need is smoker pellets going out as you cook.
In this article, we will discuss how long pellets last in a smoker and what factors influence their burning.
What Are Pellet Smokers?
A pellet smoker, or a pellet grill, can be used to smoke, grill, or bake meat. Working with pellet smokers is simple – you just open the lid and smoke your meat to your liking.
Smokers provide a tempting mix of user-friendly features and flexible cooking options. After laying your food, adjusting the temperature, and filling the pellet hopper, you hardly need to touch the smoker. It can cook just about anything and adds a unique smoky taste to slow-cooked meat. Some people use it as their go-to for all of their outdoor cooking.
How Do Pellet Smokers Work?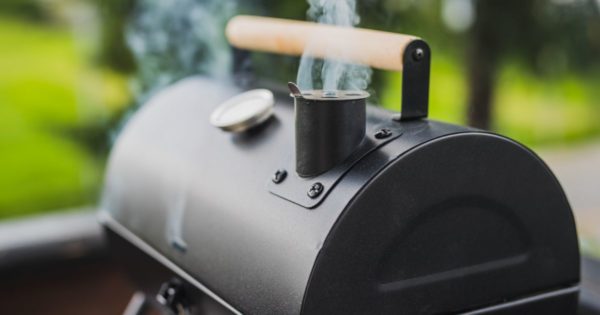 Pellet smokers work in a similar way to pellet furnaces.
Most pellet smokers have a hopper attached on the side or at the back. The hopper works like a repository for the supply of pellets to be used in the smoker. A hopper can typically hold up to 15 to 22 pounds of wood pellets, which should be enough for up to 25 hours of cooking.
The wood pellets travel from the hopper to the burn pot through the auger. The auger works on an electric motor, which allows it to feed the pellets to the burn pot until a specific temperature is reached – measured by the internal thermostat – where it then slows down or stops feeding pellets.
To maintain the combustion in the burn pot, you need proper airflow. This is where the fan comes in. The fan also helps the cooking and smoking process of the pellet smoker by distributing the heat across the cooking chamber and allowing the meat to cook evenly. Like the auger, the fan is also controlled by the control panel, and its speed can not be set independently.
Finally, the burn pot is where the pellets and air meet as the hot rod igniter creates combustion.
Pellet Smoker vs. Grill
Although the two terms are used interchangeably, there are some crucial differences between a pellet smoker and a pellet grill.
While smokers enable cooking at low temperatures in a controlled environment, pellet grills are outdoor electrical cookers – improving on the strengths of conventional smokers.
While smokers are mostly used for smoking food, wood pellet grills offer numerous cooking methods such as smoking, grilling, baking, and roasting. They also have added features such as ovens, smokers, gas grills, and charcoal grills.
Smokers may use firewood, charcoal, wood pellets, or a mixture of these while pellet grills only use pure hardwood pellets.
Despite using wood pellets as fuel, pellet grills still require power to operate. On the other hand, conventional smokers do not use power.
How Pellets Are Made
Pellets are leftover timber, sawdust, and wood chips compressed into small, compact pieces.
Cutting the wood to size is typically the initial stage in the manufacturing of pellets. A wood chipper is the go-to tool for this. Some pellet manufacturers begin the production process with sawdust and wood chips rather than using larger chunks of wood.
A hammermill's drum receives the chips and sawdust. Hammers swing against the drum as the mill runs, shredding the chips and sawdust into progressively smaller pieces.
To get rid of any moisture after the wood has reached a uniform size, it needs to be dried. Even after drying, some moisture remains in the wood, usually below 10%.
The wood is then processed through a pellet mill, which creates long, thin rods from the material. The wood produces lignin – a polymer that enables the wood dust and bits to bind together – as a result of the high pressure exerted in the pellet mill. The size of the die used in the pellet mill determines the length, thickness, and density of the wood pellets.
The pellets must cool completely before being packaged. A cooling tower lowers the temperature of the pellets and makes them harder. Once they have completely cooled, pellet makers place them in bags or a storage silo.
Wood Pellet Consumption
A general rule of consumption is one to three pounds of pellets per hour. However, if it is windy or cold outside, you might burn through pellets faster than usual.
Some types of wood pellets burn more quickly than others. You might burn through flavor-specific pellets faster than conventional pellets.
Finally, the size of the meat you are smoking can influence how quickly pellets burn. You need more wood pellets when smoking a larger piece of meat, like a beef brisket that needs 12 hours to cook.
Depending on how much you use, a 20-pound bag can last anywhere from six to twenty hours. For a 20-pound bag of pellets, the cost ranges from $20 to $40. It is worth the extra money, though, if you're looking for a quick and easy way to cook food in your smoker.
Factors Affecting How Long Wood Pellets Last in a Smoker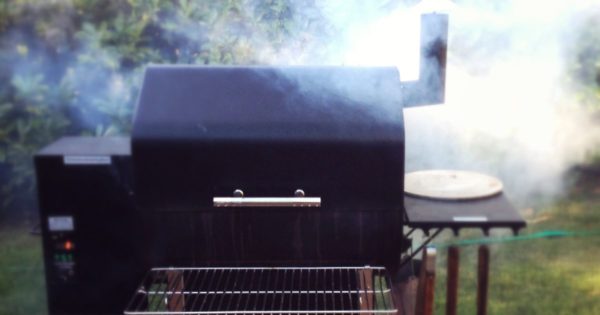 Heat
Since the amount of heat required to smoke or cook meat can vary greatly, it is only normal that the number of pellets needed and how long your pellets last would vary as well.
You need more pellets if you want to cook your meat at greater temperatures because pellets burn more quickly at higher temperatures.
Weather Conditions
When determining how long your smoking pellets will last, it's also important to take the weather into account at the time of smoking.
You will need to use a lot more fuel to operate your pellet smoker in cooler weather to maintain the desired smoker temperature. As a result, your pellets will not last as long because preheating will take longer, and you will likely need to cook your meat for longer than you would in other conditions.
Pellet Type
Your choice of wood pellets will have a significant impact on the flavor, quality, and cook time of your food. You can choose from many pellet flavors – cherry, mesquite, oak, and pecan, to name a few options. More crucially, the kind of pellets you use will affect how quickly they burn.
It is not surprising that cheap pellets typically burn more quickly. This is because the majority of cheaper pellets contain flavored oils. Admittedly, these oils will improve the flavor of your meat.
However, it will do the opposite with regard to fuel conservation. Pellet smokers burn through these flavorful oils far more quickly to maintain the temperature of the smoker.
Another important factor is the brand of the pellet. On the market, there are numerous pellet brands. Some brands will surely last longer than others.
For the majority of grill masters, it will take some trial and error before they are certain which brands last longer and which don't. I firmly suggest choosing reliable brands to prevent disappointment.
Additionally, shorter pellets burn much faster than longer ones. Comparing the size of the pellets before buying will save a lot of trouble.
Apart from size, wood pellet density also defines how long it will last in the smoker. In short, dense pellets will last longer than loose, soft pellets.
Smoker Type
The kind of pellet smoker you're using must also be taken into account. Insulation is crucial, no matter which of the top pellet smokers you choose.
Smokers with better insulation naturally hold onto heat longer. They do not burn through pellets as quickly as a result. My recommendation? Consider investing in a grill thermal insulation blanket if you want your pellets to last longer.
Why Should I Use Wood Pellets
Wood pellets are excellent for outdoor cooking enthusiasts with low maintenance requirements because they don't need to be soaked like charcoal and wood chips do.
They are food-grade and safe to use in a smoker without any pretreatment. Just keep in mind that you should use a proper cooking tool for your smoker.
Wood pellets burn hotter and more slowly than wood chips because they are compressed under pressure. This makes it easier to control the smoker's temperature. And because the temperature of the smoker affects how long it takes to cook, this is a major advantage. Additionally, because they burn hotter, they last longer, too. Over time, it can save costs.
Wood Pellets vs. Heating Pellets
You're likely to see heating pellets and grilling pellets when you shop for smoker supplies. Although manufacturers produce these pellets using identical techniques, there are key differences between the two.
While it is okay to use grilling pellets for your smoker, it is probably not the best idea to use heating pellets.
Manufacturers use different kinds of wood to make grilling and heating pellets. Pellets intended for cooking are created exclusively from hardwoods like hickory or oak. Because grilling pellets are food-grade, they are free of binders and other additives.
Hardwood and softwood can both be used to make heating pellets. Pine is a softwood species that, when burned, releases a resin or sap. In general, you should steer clear of using heating pellets in your pellet smoker because the resin might give meals an odd flavor.
The fact that heating pellets are not approved for use with food is another reason to not use them when cooking. The pellets can include additives or fillers manufactured from materials unsafe for human ingestion. Use only pellets designated as cooking pellets in your grill or smoker.
What Do I Need To Know About Wood Pellet Storage?
Beware of Humidity
When storing wood pellets, an important thing to consider is humidity. Wood pellets last longer in lower humidity. Pellets can last up to six months if the humidity is lower than 10%.
Keep the Pellets Away From Moisture
It's important to keep the wood pellets away from any moisture or damp places. Moist conditions can make the wood rotten or moldy, leaving it unfit for use in a smoker.
Keep the Pellets Indoors
You can give your pellets a longer lifespan by keeping them indoors. You may have a heating or cooling system, depending on where you live. That guarantees year-round consistency in temperature. A humidifier/dehumidifier can also help you to regulate the humidity.
Use the Right Container
Do not store the smoker pellets in their original bag. Don't even use zip-lock bags. Instead, I recommend using an airtight sealed container to prevent any foreign elements from harming your pellets and leaving them worthless.
Conclusion
As you can see, smoking the ideal piece of meat involves more than just lighting the smoker and setting the temperature.
While smoking meat is an easy and enjoyable activity for outdoor cooking enthusiasts, it is also sophisticated enough to create an amazing combination of flavors, temperature, and protein types.
Using wood pellets is a terrific, worry-free way to start your smoker immediately. Choosing the right wood pellets for your smoker can make all the difference.
You can have wonderful, delicately smoked meat whenever you want by buying a universal blend or a single flavor of wood pellets and keeping it on hand. You'll never worry about how long wood pellets last in a smoker.
Last Updated on September 3, 2022 by Judith Fertig