Recently, smokeless grills have become more popular in the barbecue industry. They are viewed as a healthier alternative to conventional grilling techniques. So, how do smokeless grills work? Keep reading to learn everything you want to know.
Consider the smokeless indoor grill as an oven with an open top and bottom that does not cook food with propane or charcoal. Instead of using charcoal or wood to heat the metal bars, the grill uses electricity and infrared heat.
It is made to emit a smaller amount of smoke than other grills. As a result, the smokeless grill does produce some smoke, but not enough to be bothersome or set off a fire alarm.
Because they prevent smoke from escaping into your living space, smokeless grills are fantastic for people with allergies or asthma. Here's our list of the best smokeless indoor grills.
How Do Smokeless Grills Work?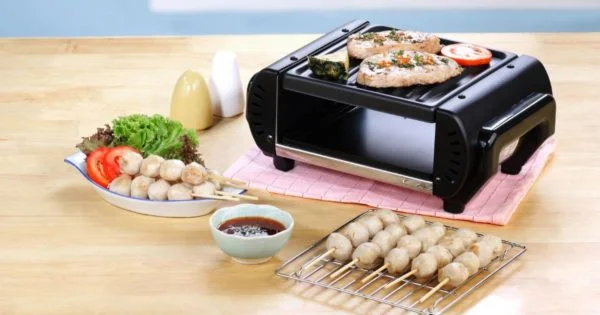 Infrared Technology
Smokeless infrared burner technology is used in these grills. The smokeless indoor grill uses strong infrared burners. Smokeless infrared burners are becoming more popular, yet wood and coal stoves still rule the market. The infrared burner produces infrared heat energy by using electricity rather than fuel, which stops regular fuel combustion.
As a result, the smoke that is released is very little and comes from the food rather than the fuel. With this technique, there is less off-gassing, smoke, and burning for a more extended period of time.
The majority of gas and charcoal grills use combustion to produce heat. This method involves burning fuel, such as wood or coal, to create energy. Smoke is consequently created.
Electric Fan With a Smoke Extractor
A smoke extractor is a hood that collects smoke, and the electric fan in a smokeless grill is utilized to provide airflow in the grill. This grill has a turbo smoke extractor and an electric fan that can remove odors and smoke.
As a result, you can cook without being concerned about the smell in your house.
Drip Trays in the Smokeless Grill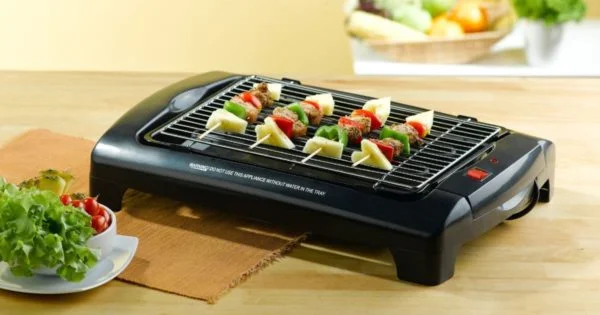 A flat plate called a drip tray is put underneath a barbecue or smoker to capture the drippings and make cleanup simple.
They are often made of metal and contain a little hole in the center where water is kept so that when moisture is released during grilling, there are no smoke clouds. Grills have drip trays that catch fats, dripping juices, grease, and other liquids as they are being grilled.
As a result, it won't drip onto the heat source, which would result in smoke. At the same time, this is the primary cause of smoke in conventional grills. The drip pan keeps the grill smoke-free.
Glass Lid With a Non-stick Surface
The smokeless grill's non-stick surface makes cleanup a pleasure because you won't have to worry about food clinging to your grill.
Additionally, the grill surface coating decreases the amount of oil or other types of fat required for grilling, resulting in less smoke. Learn about the best oils for grilling.
While not all grills have a glass cover, the ones that do will help keep the heat inside and prevent smoke from entering the house. To some extent, the lid aids in flavor infusion and even smokiness.
Benefits of Using a Smokeless Grill
Even Distribution of Heat
Smokeless electric grills offer a terrific alternative to traditional barbecues with their electric grilling plates. These plates swiftly cook food and evenly distribute heat. In contrast to conventional grills, where you can never be sure that you will get a delectable meal every time, they also make sure that the food is cooked uniformly all the way through.
Fast and Efficient
Since smoke can cause coals to flare up and burn your food, smokeless barbecues are sometimes hailed as the most effective sort of grill. Technology for infrared heating is quick and effective. The grill pan heats up in about one minute.
Additionally, the metal tray helps to retain heat and is a good conductor of heat, so you can spend more time cooking and less time waiting for your grill to heat up. This grill heats food more quickly than most traditional barbecues thanks to its increased heat output.
Friendly to the Environment
Using a smokeless barbecue to cook your food is environmentally friendly. While cooking, they don't produce any smoke or hazardous gases. Compared to other grilling techniques, this makes smokeless grills a healthier option.
Saves Energy
Over time, a smokeless electric grill might reduce your gas expenses. You also save a ton of money by avoiding the need to purchase charcoal and other necessary grilling supplies.
Very Easy to Clean
The smokeless electric grill is simple to clean after use. You don't have to be concerned about the ash and charcoal contaminating your food, clothing, or furnishings.
How to Maintain and Clean a Smokeless Grill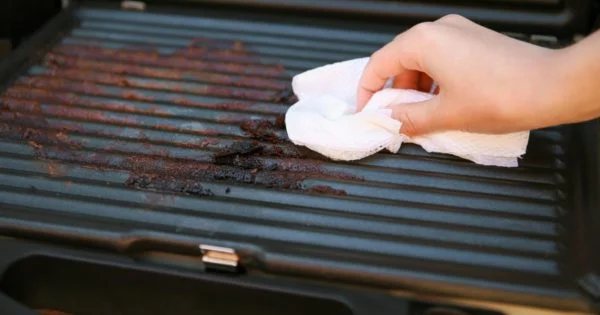 It only takes a few easy steps to clean a smokeless grill. You can turn it off once your food is done cooking. First, remove the drip tray and grill grate. To remove the oil, clean both surfaces with detergent, then dry them with a dry cloth.
Even a smokeless barbecue can be cleaned in a dishwasher. Just put it on the top rack, and you'll be good to go! You should always follow the manufacturer's instructions to ensure you're being as safe as possible.
An excellent investment is a smokeless indoor grill. But you must properly maintain your grill if you want it to be usable all year. In order to achieve the best flavor and have your grill survive for a long time, it is crucial to maintain it. You must clean your grill at least once or twice per month.
Conclusion
Innovative indoor grills, called smokeless electric grills, let you cook inside without any smoke. With a smokeless electric barbecue, as opposed to conventional gas or charcoal grills, you don't have to wait for your flammable grill to heat up before you make dinner.
Last Updated on September 18, 2022 by Judith Fertig