Stainless steel grills are one of the most popular grilling accessories because they're virtually indestructible. They can handle even the most excessive heat without chipping or bending. But, that doesn't mean that these grills aren't tough to clean when it comes to charred food pieces being stuck all over the surface. With this handy guide, we'll help you restore your grill back to its former gleaming glory by revealing the best way to clean stainless steel grills!
How Often Should You Clean the Outside of a Stainless Grill?
It isn't necessary to deep clean your grill after every single use. The grill grid will automatically be disinfected after every time you use it because your grill needs to be placed over burning hot coals to warm up.
This extreme heat will kill any and all germs or bacteria on the grill surface that your food touches. That being said, a lot of people still prefer to clean their stainless steel grill grates after every use because regular cleaning will ensure that your grid stays nice and shiny.
Ideally, you should clean your grill when the outside looks grimy, blackened, or greasy – even if this is the case after one use. But, you can always resort to storing it in a grill bag if it's still relatively clean.
A grill that's used daily should be cleaned every one to two weeks. People who grill foods three to four times a week only need to deep clean their grill every two to four weeks. Those who only barbecue every now and then only need to clean the grill when it starts to look dirty or greasy.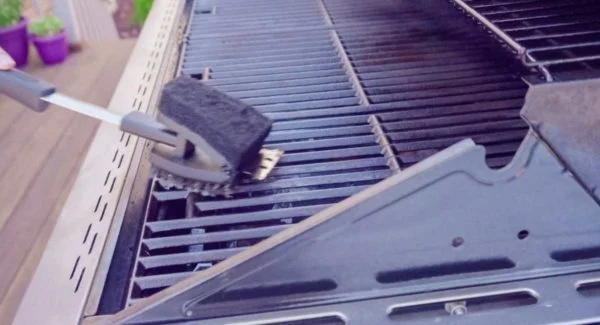 Store Your Grill in a Grill Cover
When your grill is out and uncovered, it's exposed to all sorts of natural elements. The idea of preparing food on a grill that was recently covered in insects or dust isn't an appealing thought to most people.
Storing your grill in a grill cover will keep it nice and clean until your next cooking session. These covers will also keep your grill in good condition because grill bags are designed to keep dust out, while also letting any moisture out without any coming in.
Even better, your grill will stay nice and dry even when it rains or in a humid climate. Like we mentioned before, an important feature of a grill cover is that it allows any excess moisture inside to escape. This will help prevent erosion and damage to your grill.
High-quality grill coversare usually made from a thick vinyl outer layer to help protect your grill from impact. The cover is then lined with felt to help prevent any moisture from entering.
Grill enthusiasts will recommend that you always store your grill inside its storage bag whenever you're not using it. We recommend the same. Your grill should be returned to the bag as soon as it cools down or as soon as you have dried it properly after cleaning it.
The Best Way to Clean Stainless Steel Grills
Before we go into detail on the best way to clean stainless steel grills, you should know that the cleaning methods might differ slightly for different types of grills. Grills can be supplied with porcelain grill grates, cast iron grill grates, or traditional stainless steel grill grates. These are the three main types of stainless steel grills:
Charcoal or Wood Grills – While charcoal or wood grills vary in size, brand, and functionality, they all have a relatively large ashtray for the wood or charcoal to be set ablaze. A stainless steel grid is then placed over the fire to grill foods once the fire is ready. These grills can have either an open top or a lid with a temperature gauge. Keep in mind that these don't include burners.
Gas Grills – Although a stainless steel gas grill can look very similar to a charcoal grill, they cook foods way differently. Gas grills cook food using gas and don't come with an ash collection tray. Gas grills usually have a series of burners beneath their grid and a drip tray below the burners to catch any oils or other spills that drop from the food as it cooks.
Combination Grills – Combination grills have two or more sides. They can either be used for cooking on charcoal or gas, because one side is designed with gas burners and a drip tray or can be used as a traditional charcoal tray. These grills also come with additional accessories, such as hot plates or offset smokers.
With any of these grills, you need to wait until your grill is cool enough to the touch before you handle it or attempt to clean it.
With charcoal or wood grills, the ash collection tray needs to be emptied out quite frequently. Too much ash can negatively affect the temperature of your flame and it can get in your way while you're washing your grill.
While gas grills don't have ashtrays, you can still remove the drip tray in order to give it a thorough clean.
Necessary Tools
Cleaning products (baking soda, dish soap, and white vinegar)
Microfiber cloth
Putty knife
Sponge
Water
Grill cleaner (optional)
(Steer clear of harsh chemicals or oven cleaners, as these could damage your grill.)
Steps for Cleaning Inside Your Grill
Once you've collected all of your cleaning products, you can get to work! Here is a quick review of the best steps to get your grill cleaned quickly.
Step 1
Remove the ashtray or drip tray from the grill.
An ashtray should be emptied into a trash can. Be very careful if you're handling warm ash. Remember that if the ash is still hot, you could end up melting a plastic trash can or even setting the house on fire. You can use the putty knife to scrape any small pieces of ash out of the tray.
For a gas grill, you need to remove the drip tray and scrape it down using a putty knife. Try to scrape off as much of the grease and charred products as possible.
Step 2
An ashtray usually only requires a bit of rinsing to get rid of most of the dirt. Drip trays are a whole different story. The grease and oil isn't as easy to remove. Fill your drip tray with a mixture of soapy water and let it soak while you tend to the rest of your grill.
Step 3
The stainless steel grates on your grill are constantly being exposed to intense heat and charred food scraps. It isn't going to be easy to maintain that chrome shine on your grid. Most people simply brush these grids using either a grill brush or wire brush. The open flames will actually get rid of any food residue or food debris for you either just before or after cooking your food.
But, don't worry, you can still give your grill grates a proper cleaning if you have your heart set on it. Simply place your stainless steel grates in a sink or tub filled with hot water and soap and allow them to soak while you work on the rest of your grill.
Step 4
Create a baking soda paste by mixing three parts baking soda with one part water. You can also use dish soap and warm water to create a similar paste.
Step 5
Coat every inch of your grill interior with the baking soda paste. The water solution will break down the grease. Allow this paste to sit for 15 minutes before you proceed. If your grill is particularly dirty or greasy, then feel free to let the soapy solution sit for even longer.
Once the time is up, you can wipe a piece of paste off to see if the dirt is lifting. If the dirt and grease aren't coming off then you can layer the paste on again and let it sit for longer.
Step 6
Grab a damp cloth and wipe off all of the baking soda paste. If the dirt and grease spots aren't budging, then you need to create a paste with baking soda and white vinegar. Allow the mixture to sit on the area for at least 15 minutes before you rub the paste away with a soft sponge.
Steps for Cleaning Outside Your Grill
You don't want to scrub the outside of your grill too hard, otherwise it could leave scratches on the surface. Use the following steps to help you clean your grill while protecting its exterior.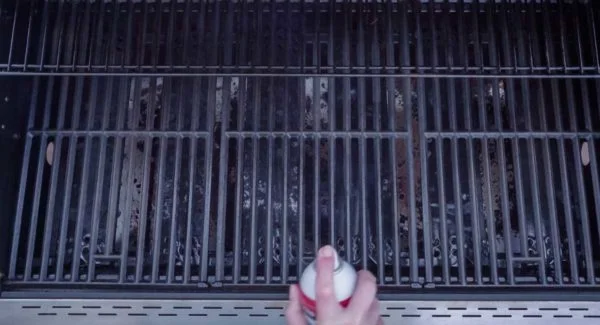 Step 1
Grab some liquid dish detergent, a soft sponge, and scrub the sides of your grill. Rinse with some water.
Step 2
Treat stains by applying a baking soda paste. Let the paste sit for 15 minutes before you wipe the grime away. For stubborn stains, you can create a paste from baking soda and vinegar and apply it onto the designated area. Allow the paste to sit for 15 minutes before trying to wipe it away again.
Step 3
You can now wipe off all soap using a damp cloth with clean water. Grab your microfiber cloth or another soft cloth and rub the stainless surface until your grill is nice and shiny.
Steps for Cleaning the Drip Tray or Grid
We already recommended soaking the drip tray or grid in a mixture of soapy warm water. Soaking will help loosen the grease and any charred food pieces from your stainless steel surfaces. After soaking your grid or drip tray for a couple of hours, you can try the following steps for further deep cleaning.
Step 1
Grab a soft sponge and scrub the surface to loosen any of the leftover grease and food residue.
Step 2
If the tray or cooking grates still aren't clean enough, you can create a baking soda and vinegar paste to cover over the entire surface. Allow the baking soda paste to sit for at least 30 minutes before you attempt to wipe it down.
Step 3
Keep repeating these steps until your grill is nice and clean.
How to Use a Grill Cleaner Properly
Grill cleaning products are specially designed to cut grease on any part of your grill. These cleaners can be used all over your grill and can significantly reduce your cleaning time. They are usually sold in a spray bottle to ease application.
You can simply apply the stainless steel cleaner all over the dirty surfaces and allow it to sit for the recommended time. Most of these cleaners only need to be wiped away using a microfiber cloth or paper towel for your grill to be nice and shiny.
Conclusion
The best way to clean stainless steel grills is with a grill cleaning product that's specifically designed to loosen grease. But, if you don't have these products, you can still use other natural cleaning products around your house that can be just as effective.
We hope that you enjoyed this guide and welcome you to have a look on our website for other guides and product reviews. With the help of our site, any person can become a BBQ master in no time!
Last Updated on August 31, 2021 by Judith Fertig