Although brisket and flank steak are among the most delectable beef cuts, they are known to be challenging to prepare. The flank is located closer to the belly, along the sides, and the brisket comes from the breast area near the bottom of the cow.
While flank steak benefits most from high-heat cooking, brisket performs better with lengthy, slow cooking techniques. We set out to take a look at brisket vs flank steak, and determine the difference between the two.
Brisket vs Flank Steak: The Differences
Brisket Basics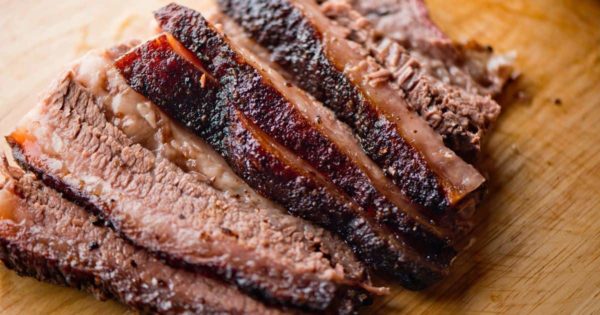 The brisket is a big chunk of beef obtained from the cow's pectoral region. Entire packers, usually called whole briskets, can weigh more than 20 pounds.
The brisket is naturally tough because the pectoral muscles in the cow's chest receive so much action during its lifetime. To tenderize the meat, it must be cooked for a long time at a low temperature.
The flat, which is the larger area and is referred to as the first cut, and the tip, which is also known as the second cut, are the two parts that can be separated from the brisket. The tip is juicy and tasty, while the flat is slimmer.
Find out what is the best wood for smoking brisket.
Flank Basics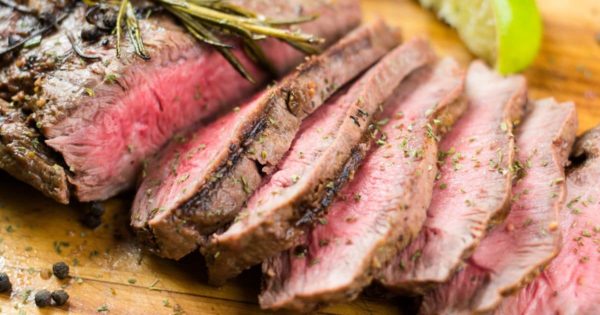 Since the abdominal muscle behind the chest region – the flank – is used to make the flank steak, the name "flank" is descriptive. The cut originates from another muscle that receives a lot of exercise because it's located on the underbelly.
Although flank steak is relatively lean, it can also be rough if it isn't prepared properly. Another similarity between brisket and flank steak is that both may be downright unpleasant to eat when cooked improperly.
Be aware that flank steak is occasionally offered under a different name. For example, the term "bavette steak" may be used on restaurant menus. The term "London broil" may also be used by some butchers. This refers to a method of preparation rather than the actual cut.
Fat and Cartilage
Unlike brisket, flank steak has very little to no fat, but both types of meat have some cartilage and tendon. The butcher frequently removes the extra sinew on the flank during processing, although it's occasionally left in place.
The more marbling or fat found inside the brisket's muscle, the more tasty and tender the finished product is. The outside layer of fat, referred to as the deckle, can be almost entirely removed for a lower-fat brisket.
Learn how to cook brisket like a pro!
Texture, Flavor, and Marinades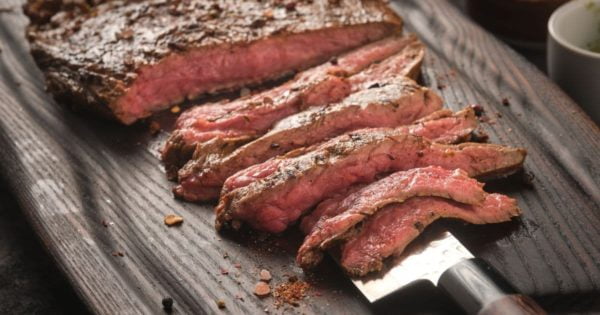 Although they both have a rich, meaty flavor, flank steak and brisket are known for being rather challenging if not adequately prepared. Regardless of the cooking method, marinating the meat beforehand will help the steak become softer.
Brisket and flank can be seasoned with strong seasonings due to their robust flavors. Frequent marinade components include pepper, garlic, cumin, and acids like lemon or lime juice. When flank steaks are cooked quickly, the marinade aids in tenderizing the meat and making it more palatable.
Bone or No Bone?
While brisket is occasionally served bone-in, flank steaks are never sold that way. The ideal method for cooking bone brisket is slow smoking because the lengthy cooking time allows the bone to impart additional flavor to the meat.
Due to their same origin, flanken, which is another name for short ribs, is occasionally mistaken for flank steak.
Various Cooking Techniques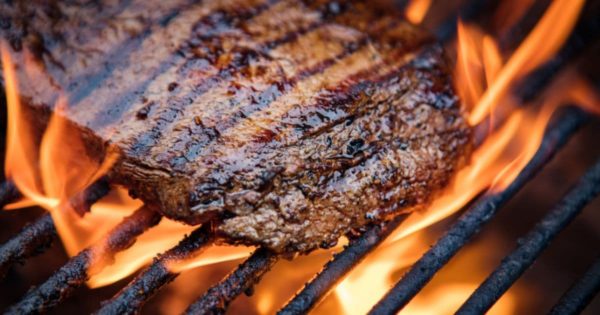 Brisket is most frequently prepared as one big piece because it responds the best to the slow cooking method. Long cooking durations and low heat aid in melting the fat and dissolving cartilage, keeping the meat juicy and enhancing its flavor.
Flank steak has a low natural fat content, so it cooks most effectively when it's done quickly, like over a hot grill. For soft, flavorful meat, slice brisket and flank steak thinly and against the grain.
Cooking Temperature
For smoked brisket, 210 degrees is the recommended goal temperature. Once you've set your temperature, cook the meat until you're happy with your steak. On the other hand, if it's cooked for too long, the brisket will become dry.
Flank steak is best enjoyed when it's cooked to medium rare. When the steak's interior reaches 130 degrees, we advise removing it from the grill, letting it rest for approximately five minutes, and then slicing and serving the meat.
The Cost
Prices for flank steak typically range from $7 to $14 per pound. That is a really affordable price for steak, considering that tenderloin, one of the more expensive cuts, can cost between $25 and $30 per pound.
The average cost of beef brisket is about $5 per pound, but big-box stores may offer higher discounts. In contrast, your local butcher may charge slightly more, but to their credit, you'll be able to see what you're purchasing.
On paper, these figures can make brisket appear to be a better deal. But it's not quite that easy.
You can end up spending more money overall since, among other things, brisket is typically sold in larger servings. Due to the prolonged cooking process, the overall meat output will also be reduced.
The final word? The most excellent option when cooking for a large group is probably brisket. For smaller groups, you can opt for flank steak instead.
Which Is Better?
Which meat cut, beef brisket or flank steak, is preferable? Your cooking technique will determine the answer to this question. Because of its lengthy muscle fiber, beef brisket is ideal for braising and smoking.
Even though flank steak contains a lot of connective tissue, it is more suited for grilling and searing due to its shorter fibers.
This means that if you want something simple, like tacos or fajitas, go with flank steak rather than beef brisket because it will be less expensive.
Conclusion
Now that you understand the differences between brisket vs flank steak, you can avoid buying a brisket flat when you are meant to get a flank steak or vice versa. Despite certain similarities, these slices require different cooking methods. You don't want to be taken off guard when it's time to start the smoker.
Last Updated on September 18, 2022 by Judith Fertig