It's looking to be an excellent year for meat lovers—lots of time to grill, smoke, and barbeque—and lots of new tools, too. Wood smoking takes you back to the basics—uncorrupted flavors and juicier, tenderer meats.
Grills have their roles, but there is only much that they can do for a carnivore with high expectations. Here, we sample some of the best wood smokers of the year so far to help you take your outdoor cooking to the next level.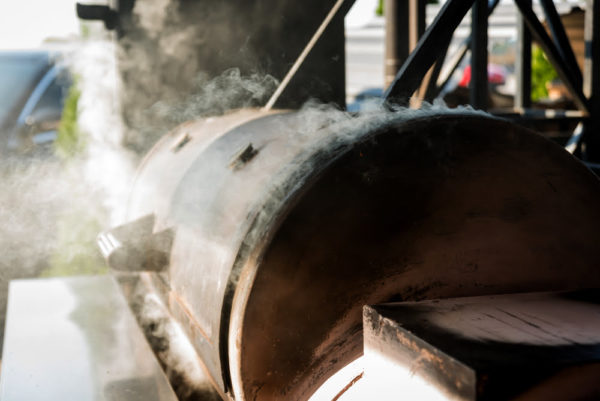 The Best Wood Smokers Buying Guide
Once you start smoking with wood, you will never go back to propane or electricity. I am speaking from experience here. Until I got a real wood smoker, I never knew how barbeque should really taste. Authentic smoke flavors are irresistible.
Nowadays when I take out my smoker, my neighbors find an excuse to visit me and linger around till mealtime. But before I became the barbeque doctor of the block, I had to buy one of these reliable wood smokers. Here are the buying criteria I used.
Size matters
There are many sizes and shapes of smokers on the market. The best size is the one that allows you to cook your food in a single round.
Some people would say that a smaller smoker is suitable for smaller families, but don't you get visitors? For that reason, we recommend that you buy a larger model in case you have to host a large crowd during the holidays.
Energy efficiency and durability
There is a lot of physics that goes into achieving a well-smoked piece of steak. The material make-up of the smoking chamber must be able to contain and transfer heat well. The best smoker features heavy-duty metal construction to seal in the heat and tenderize the meat to your liking.
You also have to consider the material of the grilling surface and grates. The best material can take in the heat without bending or breaking.
Portability
I have a wood smoker model with foldable legs, which makes it effortless to carry around. You can haul it onto your truck with ease and take the party to the mountains or the beach.
Nevertheless, other factors come into play here, including weight and dimensional compactness. Go for a compact wood smoker for the best mobility, but if you have to buy a larger one, find one designed with wheels.
Cleaning and maintenance
Let's call a spade a spade; cleaning a wood smoker can be a significant pain in the backside. Before you whip out that card, consider first how easy it is to clean the product you have in mind. The best models come with pans for draining oil and ash pans for catching and disposing of ashes.
Also, for most wood smokers, the grates, grills, and water pans are all removable. Think about how easy these are to clean. Are they made of non-stick surfaces? Are these components dishwasher-safe?
The best smokers can grill
Versatility is essential when buying these devices. The best wood smoker can function as a grill when it is time to sear burgers, vegetables, and seafood. Nonetheless, this should not be a deal-breaker; many of these products are also exclusively meant for smoking.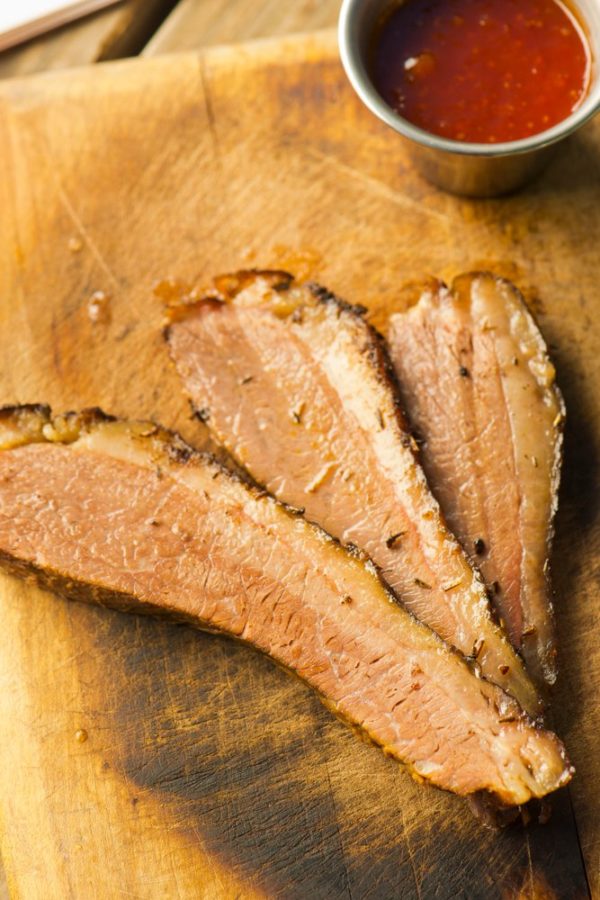 Meat thermometer
Smoking meat is a precise endeavor—you need a way to measure the exact cooking temperatures to get the best results. When buying a wood smoker, consider a model with a thermometer as one of its accessories. This will help you track and maintain the right temperature to avoid overcooking your food.
Temperature adjustability
Even the most "rudimentary" wood smokers will be fitted with fans and vents to help you adjust the cooking temperature in the smoking chamber. A few pellet smokers may come with digital temperature control functions. The bottom line is that the more control you get over the smoker, the better your food will come out.
The Best Wood Smokers Reviews of the Year
Dyna-Glo DGO1176BDC-D Vertical Offset Charcoal Smoker

Vertical design lends itself to naturally rising heat, achieving greater efficiency and improved smoke flavor. Offset design keeps direct heat away from the food, allowing for slow cooking.
Six height-adjustable cooking grates accommodate various sizes of food. 784 square Inch of total smoking area; 1176 square inches of total cooking space with 25-pounds capacity per grate.
Porcelain-enameled steel charcoal chamber is designed to keep briquettes stacked tightly for improved burn efficiency.

Last update on 2023-09-22 / Affiliate links / Images from Amazon Product Advertising API

Editor's Comments
Dyna-Glo DGO1176BDC-D is an offset kind of wood/charcoal smoker that features separate wood-burning and smoking compartments. The design enables you to add more wood while cooking without having to open the cooking chamber. This should help with fuel efficiency, and experts also postulate that it results in richer flavors.
The Dyna-Glo DGO1176BDC-D is constructed from a porcelain enameled steel wood chip box. This design is a possible sign of longevity. It should work great with the cast iron smoking rack that is made to resist warping when you turn up the heat.
An included electronic pulse ignition system can help you ignite this grill without much struggle. I also like the fact that it's been made with a large cooking area: 784 sq. in. That means you maybe be able to smoke several pounds of food all at once when you are hosting a large crowd.
Additionally, this smoker comes with six height-adjustable cooking grates that could help with versatile cooking when it comes to both food types and sizes. An included temperature control function sets it apart from many other wood smokers on the market.
Pros
Made of heavy-duty, sturdy materials
Separate smoking compartment for burning efficiency
Designed for cooking precision
Cons
Does not heat to the required temperature
Vent system is not well designed; wood burns too fast

Last update on 2023-09-22 / Affiliate links / Images from Amazon Product Advertising API

Editor's Comments
The Traeger Ranger TBT18KLD is a wood pellet smoker that should deliver to your expectations whether you're cooking at home or on the road. It has features for maintaining the desired temperature as well as a timer for ensuring that your smoked treats come out at the right time.
Be sure to use it where there is an electricity supply, though. Unlike a charcoal smoker, this is an electric grill that utilizes wood pellets for flavoring.
Its grilling area is 184 sq. inches, which means that you should be able to smoke enough for food for a family of two. For carrying convenience, there are lid latches that close the whole contraption so you can carry it like a suitcase.
In my opinion, other worthwhile features on this model include a keep-warm function that could help with energy efficiency. The grill plate is heavy-duty and forged out of cast iron for reliable performance and durability.
You will find the digital arc controller a handy inclusion for setting the preferred cooking temperature in five-degree increments.
Even with all these attractive features, it's important to point out that this is a considerably weighty smoker. It might not be ideal for a van-lifer.
Another possible flaw is the grease draining feature that might occasionally leak oil onto your surfaces.
Pros
Temperature setting feature
Large grilling surface
Sturdy grilling components
Cons
Too heavy
Some models leak oil

Last update on 2023-09-22 / Affiliate links / Images from Amazon Product Advertising API

Editor's Comments
If you don't mind a cylindrical charcoal smoker, this Weber Smokey Mountain Cooker might serve you well. Weber Smokers have a positive reputation worldwide that should inspire your confidence in this product. I find that the smoker excels in simplicity of design and portability.
Unlike the partly technologized wood pellet smokers that you'll find on the market, this one has no dials or controls. It may be more suitable for seasoned users that know how to play around with charcoal and vents for great tasting meals.
The Weber Smokey Mountain Cooker has a considerably large cooking area that could work well for you if you have a large family to cater to. The estimated maximum cooking temperature of the grill is 190°F. That's technically sufficient, I believe, to achieve tender and great tasting meats.
The Weber smoker comes with a user guide to aid in easy assembly. This oven can be used as a stepping stone if you are just starting in the world of barbequing. The only thing you require to do is light it up and control the temperature by adjusting the vents.
The sealed design helps to keep the interior humid for softer food. There is a water pan feature at the base that collects the drips, so you don't have to worry about making a mess.
The charcoal grill comes with two cooking grates that you can take advantage of to cook all your food at once. It has a thermometer fitted at the top to track cooking temperature for accurate results.
Pros
A simple and portable design
It has a larger cooking area
Comes with a thermostat and two grates for efficiency and versatility
Cons
Maybe be problematic for beginners to use

Last update on 2023-09-22 / Affiliate links / Images from Amazon Product Advertising API

Editor's Comments
Unlike the Traeger Ranger TBT18KLD Wood Smoker, you don't need electricity to operate this smoker. It comes with sufficient capacity to hold 30 pounds of pellets, according to product specs. You can cook with the wood pellets from start to finish for authentic smoked flavors.
The REC TEC Grills RT-590 Bundle is made portable with its foldable legs. Even so, beware that this is a fully stainless steel smoker that might be a little heavy to manage. But you can expect durability out of that robust construction.
The smoker can heat to temperatures of more than 500 degrees. That, together with the fact that temperature adjustments are possible at five-degree increments, makes this product a worthwhile consideration for cooking various food types.
One other feature you might like here is the PID controller that should help you maintain a constant temperature when cooking with this model. The design includes an octagon-shaped chamber that could help with energy efficiency.
The cooking surface is 772 sq. inches, a specification that may help you do more with the grill in less time.
Pros
Temperature control feature included
Foldable legs for easier transport
A larger cooking surface
Cons
Weighs a little heavier than the other models in this review

Last update on 2023-09-22 / Affiliate links / Images from Amazon Product Advertising API

Editor's Comments
Another option for your 100% wood smoking is the Pit Boss 700FB Pellet Grill. This grill doesn't require electricity or propane to get started. Nevertheless, it has some advanced digital controls that could help you get a flawless smoking experience.
You can set and adjust the temperature to a precision level that is most suitable for the type of food you have in the oven. The smoking area is 700 square inches. That means you should be able to smoke all your foods at once.
The grills used in this product are made of cast iron, which for me is an assurance of durability and even heating. The cooking area is layered with a porcelain coating that could significantly enhance the ease of cleaning when working with this grill.
After you have finished cooking and the contraption has cooled, cleaning could be as easy as wiping the interior surfaces with a piece of clothing.
Temperature control happens via a dome and exhaust shield. It helps with convection and air circulation that should lead to a consistent heating temperature for better cuisine results.
The smoker can heat food to temperatures of up to 600 degrees Fahrenheit. The design is such that the smoke remains contained inside so you can get that magical smoke ring on your meats.
Pros
It comes fully assembled
An included sliding plate for searing your meats
Large cooking surface to cook for your whole family comfortably
Cons
Temperature calibration is faulty, risk of overcooking
The grates are prone to breakage

The Best Pick
The Pit Boss 700FB Pellet Grill stands out as the best wood smoker of the year. It is a full wood pellet smoker with extensive features that should guarantee great smoky flavors no matter what you are making for dinner. The smoker grill has a considerable cooking area to help you cook for many people at once.
You can adjust the temperature between 170 and 600 degrees Fahrenheit. That means you may be able to cook a variety of foods on this grill. Durability is on the cards with the cast iron grate material.
The Pit Boss smoker's design also encourages even heating and effortless cleaning. These features, among others, make the Pit Boss 700FB Pellet Grill our top recommended wood smoker of the year.
Last Updated on August 6, 2020 by Judith Fertig