Japanese grilled chicken, also known as yakitori, is a culinary trend that is catching on. You might have had it on vacation or at a tailgating party, but did you know that you can make these treats at home? All you need to create these flavorful meats is a yakitori grill.
Now don't go searching for where to find the best yakitori grill. We have done the legwork for you, so all you have to do is read on.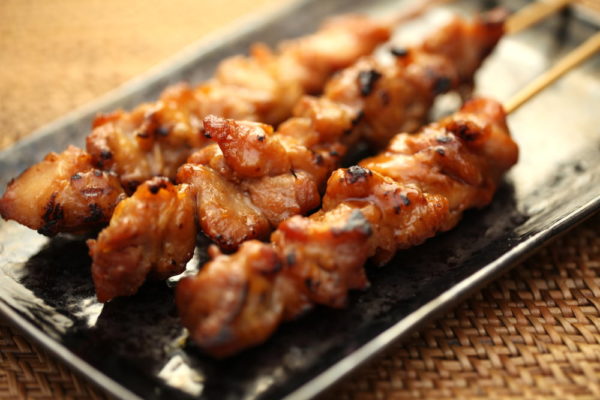 How to Buy the Best Yakitori Grill
The yakitori grill is traditionally a box-shaped grill, about two feet long, made of clay with a wire grate for the cooking surface. But for a modern meat lover who is seeking speed and ease of use, there are several modified models that you can choose from.
At the same time, you will need to manage your expectations depending on what yakitori grill you purchase. Initially, I was among those who expected a yakitori grill to handle giant skewers and kebabs.
In reality, yakitori grills are designed for lower heat output than standard grills offer. I learned that over time. Nonetheless, considering the factors below could ensure that you get the best performance from your grill, and soon you should be serving up the best yakitori in the neighborhood.
Size
The best size for a yakitori grill depends on your needs. A larger cooking surface could be ideal when you have many guests.
On the other hand, smaller grills could be the best choice for your personal or family grilling. When preparing barbeques for a family of three, for instance, you wouldn't want something bulky. You would want a grill that's easy to move about.
Shape
The traditional yakitori grill is a rectangular shape, which provides an efficient cooking surface for your skewers. You will find models of all shapes in the market, but the best choice remains the rectangular-shaped grills. They are easier to maneuver.
Air outlets
Ventilation is a must-have feature on all grills, yakitori or not. Your chicken needs air circulation for uniform grilling so that half of does not remain undercooked. For charcoal grills, cutting out air supply means that you would have to manually do the fanning, which would take up all your time and attention while grilling.
Therefore, consider a yakitori grill that has sufficient ventilation mechanisms.
Ease of use
Some models come fully assembled so you can get into grilling at the drop of a hat. Others might take a bit of fumbling before you can get the fire started. The best choice depends on your skill level. Beginners may benefit more from a fully assembled design.
Some yakitori grills come with foldable legs, which makes them easier to store and carry around. Other designs include rubberized leg stands for stability and wooden bases for tabletop grilling. All these can help enhance your barbequing experience in different ways.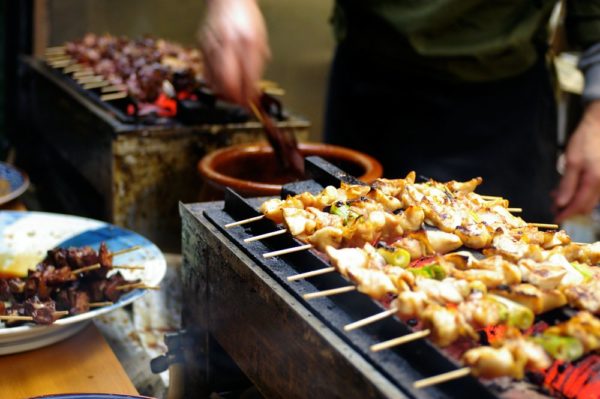 Material of construction
Yakitori grills are food preparation surfaces, so please ensure that the material they are made of is food-safe. Choose stainless steel grills to avoid rust and corrosion; you don't want to confuse rust-stained steak with expertly roasted meats.
Durability is also an essential factor to consider. The best grill material should put up well under heat. This especially goes for the grate/wire mesh surface. It needs to be sturdy enough to serve you for a long time and resist warping.
Charcoal-based versus gas grills
For authenticity and an enjoyable Japanese-like grilling experience, go for the charcoal-based yakitori grills. Though using charcoal might sound like hard work, the whole experience will reward you with better-tasting food.
However, if you are after speed and possibly ease of use, you might want to choose the gas grill options.
The Best Yakitori Grills on the Market
Last update on 2023-09-21 / Affiliate links / Images from Amazon Product Advertising API

Editor's Comments
This product features stainless steel, both inside and outside. This material assures durability as it is rustproof, and ease of cleaning.
This is a lightweight grill, weighing 16.8 pounds. For users that continuously need to move their grills when it's time to barbeque, that sounds like a convenient feature.
Party Griller is a sizeable yakitori grill with dimensions of 32″ L x 8″ W x 34″ H. This size could accommodate a considerable volume of barbeque tasks for your social gatherings.
I like the fact that its legs are detachable, which makes portability and storage hassle-free. It could fit with ease on your truck if you have to ship it to a picnic site at the park.
Now, one other highly convenient feature is the vents on each side of the handle. These help to control the heat through air circulation. Proper ventilation is a must for a tasty barbeque.
You might also appreciate that it comes fully assembled. That way, you can hit the ground running with your Saturday afternoon hobby; you only have to get the charcoal ready to start roasting some ribs.
Please note that even with its many exciting features, the wired grill surface is not sturdily constructed. It starts warping after a short time of use. You might have to pay extra for replacements.
Pros
Durable and sturdy stainless steel construction
Sizeable grill surface
Ventilation mechanism
Cons
Grill surface prone to warping
Changes color after a short time of use

Uten Barbecue Grill Portable Lightweight Simple Charcoal Grill Perfect...

★ GO ANYWHERE: This tiny portable charcoal grill can go with you and your family for a road trip or a beach party etc. Perfect for 3-5 people family/party.
★ COMPACT and STURDY: Made of cold-rolled iron and premium chrome Wire mesh. Heat-resistant and scratch-resistant. Legs are more sturdy than similar products.
★ FOLDABLE EASY STORAGE: It can be folded away after you use. Handle designed make it save space and is convenient to take it to anywhere to have fun.

Last update on 2023-09-21 / Affiliate links / Images from Amazon Product Advertising API

Editor's Comments
Compared to the party griller, the Uten grill is a small yakitori barbequing machine. It has cooking surface dimensions of 13.8″ x 10.6″. Its compact nature is good for portability and storage, but it might be woefully limited if you are hosting a large crowd of friends and relatives.
The design features short, foldable legs that are convenient for carrying. There is also a carry handle included so that after folding the legs, you can carry the grill like a briefcase. Cool, huh?
The construction material is cold rolled iron. Now, you might want stainless steel for all your culinary tools, but cold-rolled iron also performs considerably well against rust. A milling process is used to achieve smoother steel surfaces where moisture and air cannot be trapped; it is a reliable rust-proofing technique.
The Uten yakitori barbeque grill uses a chrome wire mesh for the cooking surface. The chrome material has a super smooth surface for ease of cleaning and is also known to be heat resistant. Unlike the Party Griller, you get to escape high replacement costs with this model.
This yakitori grilling device also comes with a ventilation mechanism comprised of 12 airway outlets. The ability to regulate temperature could be the trick that provides you with high-quality barbeque and yakitori.
Pros
Small size for portability and ease of storage
Chrome wire mesh for the cooking surface is heat resistant and easy to clean
Cons
Too small for big skewers
Not entirely rustproof

Editor's Comments
The StyleMbro grill can supposedly handle barbeque, takoyaki, robata, and yakitori. It is a small design, like the compact Uten barbeque grill seen above.
Its small size may be a good thing for transportation and storage; its compactness also makes this grill a suitable model for indoor use. Beware, though, that you may only be able to barbeque meats for a maximum of three people at a time.
For indoor use, the StyleMbro Japanese grill boasts a wooden base plate that should help to protect your counters and tabletops from heat damage. Be sure to use it in rooms with sufficient ventilation if you choose to use it indoors.
The included stainless steel charcoal holder performs acceptably well and is a durable tool. The grill similarly features ash openings for heat control.
You might find the StyleMbro Yakitori grill easier to use than the other models reviewed earlier. Its design ensures that ash falls through the charcoal holder, making it easier to maintain a strong charcoal flame. Cleaning is also made easier with this careful design. All you have to do is shake off the ash and then clean the grate and the charcoal holder.
The grill has a full-body steel construction, including the cooking surface. You, therefore, should not have to worry about rust or warping.
Pros
Can be used indoors and on tables/countertops
Holes in the charcoal holder help in ash management
Sturdy stainless steel construction
Cons
Small; meant for individual use
Ventilation doesn't work effectively; you will have to keep fanning the charcoal

Sale

ITTA X-large 28" Barbecue Charcoal Grill Stainless Steel Folding...

It's time for BBQ, enjoy with your family and your friends! This BBQ grill is suitable for 5-15 persons.
Made of 430 rust-resistant stainless steel for years of worry-free use. Heat-resistant and Not easy to be deformed. Safe and healthy and non-toxic smoke. Included with the grill is a set of tongs plus...
The Grill comes with an easy-to-follow instruction for stress-free assembly without tools, just open it and put four feet down and fold the legs and it is ready to go with handle after using. Its...

Last update on 2023-09-21 / Affiliate links / Images from Amazon Product Advertising API

Editor's Comments
Looking for a yakitori grill for bigger parties? The ITTA X-Large 28 Barbecue Charcoal Grill might be the ideal choice. This Japanese charcoal grill can handle large-capacity barbequing for up to 15 people. The product dimensions are 28.7 x 13.0 x 27.5 inches (73 x 33.5 x 70 cm).
It features foldable legs, which assists in easier portability. Even better, the rubberized leg stands add stability and reliability to your grilling operations.
The ITTA yakitori grill has a full-body steel construction. The manufacturers have used 430-grade steel for the grate, the charcoal holder, and the exterior parts. This quality of steel fairs well where there is a high risk of corrosion and cracking. The grill should thus serve you for a long time to come.
Unlike the Party Griller, you will have to do your own assembling with this product. It's a bummer if you are a rookie, but the product comes with a user manual to help.
You might also appreciate the air ventilation on either side of the grill. These openings help air to get in for consistent and sustained charcoal burning.
The makers have further sweetened the deal with a free set of tongs and two barbeque wire meshes, large and small. These accessories could save the day when your wallet can't handle any more expenses.
Pros
Dual-sided airways for heat control
Foldable legs with non-slip rubber caps
Large grill surfaces for big groups
Stainless steel construction all through
Cons
Its wire mesh is a little flimsy

Editor's Comments
This grill features a stainless steel plating construction that can help to keep away rust and corrosion. The makers have also enhanced the material with powder coating to deliver more strength and resistance to damage.
The Iwatani Yakitori grill is a small barbequing stove with dimensions of 409 (width) × 214 (depth) × 131 (height) mm. This grill may, therefore, not be suitable when hosting large parties.
Its design features continuous ventilation all around the oven base. This design will achieve constant air circulation for continuous burning.
This is a gas grill, which means operations may be a little easier and cleaner for those who have a hard time with charcoal. Being gas-powered, this means that you can prepare your barbeque treats indoors.
According to the product specs, this grill sustains continuous heating at 25 degrees Celsius; one gas can lasts 90 minutes. You also have a temperature adjustment that should provide good control over the amount of heat getting to your skewers.
All these features point to acceptable performance for a small gas grill of its kind. Cleaning is also easy with its removable top parts.
The item weighs 5.3 pounds. You will, therefore, be able to move it around with ease.
Pros
Lightweight
Easy cleaning
Heat control
Cons
Low heat output
Hot and cold spots

The Best Pick
The ITTA X-Large 28 Barbecue Charcoal Grill comes with our best recommendations. Ideal for up to 15 people, its large dimensions and grilling surface are not the only things going for it. The foldable legs make it easy to transport and store, and the rubberized caps on the legs help with stability when preparing your meats.
Other features that make this model stand out include its full-body steel construction; the 430-grade steel used is a sign of strength and stability. This machine similarly features air ventilation on the sides. These airways optimize combustion, achieving consistent heating throughout the cooking surface.
Beyond its impressive features, the product comes with free tongs and two sets of barbeque wire meshes. These are the reasons why we would recommend the ITTA X-Large 28 Barbecue Charcoal Grill for your barbequing pursuits, especially when you plan to prepare some chicken yakitori.
Last Updated on May 26, 2020 by Judith Fertig