Curing salt is used for food preservation. It helps to kill bacteria and keep your meats free of toxins for many days.
There are different types of curing salts. Some are used for foods that are meant to be cooked while others are used in foods that can be eaten without cooking. Let's explore the five best curing salts for awesome BBQ in 2020.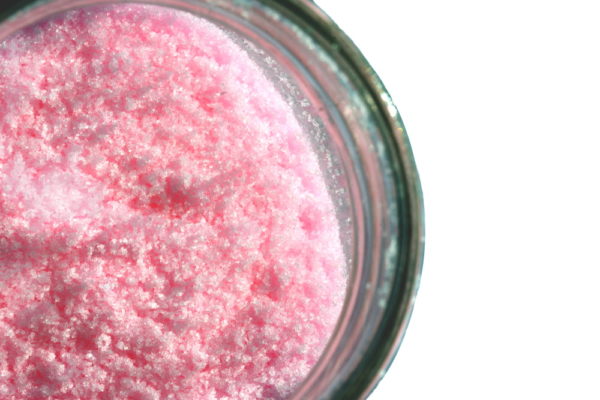 Curing Salts Buying Guide
Click to jump straight to each topic:
Any beginner can easily get confused with the different types of curing salts available on the market. I was too. Pink salt no. 1, Pink salt no. 2. Prague, Instacure … these were all confusing to me, and I had no time to digest information on each of them.
I would, therefore, buy random salts with no method behind it. For a long time, my curing exploration often resulted in cured meats with a strange appearance, inferior flavor, and even unwelcome odors.
So, finally, I took the time to learn the basics. Here is what I found out about buying the right curing salts for barbeque:
Fast curing salts include Prague no.1 / Instacure no.1.
Salts labeled as Instacure no. 1 or Prague no. 1 are ideal for fast curing, meaning that they are to be used for foods that will eventually be cooked before heating. Fast curing salts can be used for curing bacon, jerky, corned beef, and pastrami, among others.
Also known as pink salt no. 1, these curing salts are used for short-term meat preservation, often a period not exceeding one month. The formulation of fast curing salts includes sodium chloride (table salt) and sodium nitrate. The curing process involves soaking your meats in a brine solution.
Slow curing salts are Prague no. 2 / Instacure no. 2
Also known as pink salt no. 2, these curring salts are ideal for meats that will be consumed without cooking. This includes sausages, Culatello, and Braesola, among others. Prague no. 2 salts are excellent for long-term meat preservation.
Slow curing salts contain sodium nitrate and sodium nitrite. The preservation process with these salts is dry-curing, where there is no addition of liquid on your meats.
The best salt product indicates usage guidelines.
Curing salts are cosmically different from table salt. They cannot be used randomly. If used in excess amounts, they can result in various diseases and conditions like cancer. If used in insufficient quantities, they can also make your food unsafe by failing to kill bacteria.
Typically, the usage guidelines for Prague no. 1 are 0.25% of the weight of your meat. That translates to about one teaspoon for every five pounds of meat; this applies to Prague no. 2 as well. The best salt brands should indicate the directions on the product package.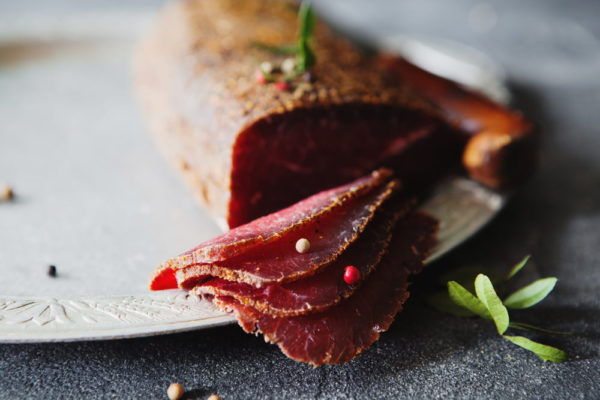 There are different shades of pink; choose the darker one.
Fresh meat appears either as pink or red, and a change in color could indicate that the process of decay has started. If BBQ presentation matters most to you, it would be best to find products with a deeper hue. They will make your barbeque look authentic and tasty.
But that's not all that there is to it. Given that curing salts contain chemicals that could be harmful if used in large amounts, it's necessary to differentiate them from table salt or sugar. A deeper pink color is unmistakable even for family members that don't know anything about curing.
Go for re-sealable packaging
A transparent packaging lets the pink show and announces that "this is not table salt." I prefer such products because then I won't have to worry about extra DIY labeling.
It is also essential that the package be re-sealable. Salts, as you know, absorb moisture, and this could affect their bacteria-killing potential. Using a sealable package helps to keep the salt from turning into a solid block.
Go for large packets
Most brands provide large portions for their curing salts, starting from one-pound packages to two pounds and so on. If you calculate cost versus weight, you find the products that come in larger packets generally cost less per ounce of curing salt. Small-sized packages, on the other hand, will have you spend more money per ounce of curing salt.
Fine granulation
Find a product with small and even granules for easier curing. Such salts dissolve quickly in brine solutions and have better preserving characteristics in dry curing.
The Best Curing Salt for Awesome BBQ
Last update on 2020-07-03 / Affiliate links / Images from Amazon Product Advertising API

Editor's Comments
Anthony's Pink Curing Salt is marketed as a gluten-free salt. It could be the ideal choice for people struggling with celiac disease. The salt is suitable for wet curing of fish, sausages, and other types of meat, according to the product specs.
The package weighs two pounds, which makes it a remarkable bargain; you might be able to cure several hundred pounds of meat before you have to think about shopping again. But you will need proper storage conditions if you intend to use it for a long time.
I like the fact that they have packaged it in a reusable bag that also helps to seal out moisture. Leaving your salt in this bag could help it retain its quality for a long time. There is a lower chance of it turning into a solid brick due to moisture.
Anthony's Pink Curing Salt is a "pink" salt, which means that your preserved meats will retain their pink or red color. Discoloration in meats is often associated with decay and flavor loss and can be an appetite killer.
The composition of this curing salt includes sodium chloride and sodium nitrate. The pink dye helps to differentiate it from table salt. That could be helpful when you can't remember which jar contains what type of salt in your kitchen.
Pros
Evenly granular
It's pink, thus easy to differentiate from table salt
Quality packaging
Cons
Unsafe if used in large amounts
No indication for use

Morton Curing Salt, Tender Quick Home Meat Cure, 2 Pound

Morton Tender Quick is a fast-cure mix so you can cure meat, poultry or game right in your own kitchen
It gives meats a tasty cured flavor and characteristic pink color
Works particularly well with small cuts of meat, such as pork chops, spareribs and poultry

Last update on 2020-07-03 / Affiliate links / Images from Amazon Product Advertising API

Editor's Comments
If you buy by brand, Morton has a longstanding reputation in salt production. This product could, therefore, be worth your consideration. Like Anthony's Pink Curing Salt, Morton provides you with a two-pound package. You might, thus, save a significant amount of money with this item.
However, the packaging is not transparent. They have used a black paper bag, and so it is hard for buyers to tell what color of salt they are purchasing.
Morton Curing Salt Tender Quick Home is pink, just like the previously reviewed product. It could be handiest for people who want to preserve the pink and fresh appearance of their different cured meats.
The ingredients in Morton Curing Salt, Tender Quick Home include sodium nitrate and sodium nitrite. These two have potent anti-microbial properties that should help to both cure and preserve your meat for longer than the sodium chloride + sodium nitrate mixture in Anthony's Pink Curing Salt.
Even so, you need clear guidelines for usage because these salts have been linked to many health issues, according to the Mayoclinic.
Another curing component included here is propylene glycol. This ingredient could help with additional flavoring for your food, but beware that, as with many other curing ingredients, it can be toxic in high amounts.
Pros
Good weight versus price bargain
Retains the pink/red color of the meat
Recognizable brand
Cons
The bag is not see-through
This is not a meat tenderizer; the name is a little misleading

Medley Hills Farm Prague Powder Curing Salt 1 lb - #1 Pink

Contains 1 lb. of Premium Curing Salt Prague Powder No.1 Pink Curing Salt. Also Known as pink salt , DQ curing salt , curing salt #1 prague powder no. 1 or Instacure no. 1
RTM Distributors is the only authorized seller of Medley Hills Farm Products. For your protection, select only "Sold by RTM Distributors" as the seller.
Use 1 oz per 25 lb of product or 1 level teaspoon per 5 lb product

Last update on 2020-07-03 / Affiliate links / Images from Amazon Product Advertising API

Editor's Comments
Unlike the Morton Instacure no. 2 curing salt reviewed earlier, this is a Prague powder no. 1 that comes in a one-pound package. And just like Anthony's Pink Curing Salt No.1, the ingredients in this product include sodium chloride and sodium nitrate.
Pink curing salts no. 1, such as this product, work well for foods that must be cooked or smoked before eating.
It's also important to note that the color, in this case, is a dimmer shade of pink. If the reddish-pink look of meat is essential in your barbeque preparation, this might not be the best option. It, however, works well on corned beef, ham, pastrami, and fish.
Unlike the earlier reviewed salts, this product comes with clear directions for use. Usage is one ounce per 25 pounds of meat. This detail can save you time if you are a beginner and minimize your risk for health complications that result from excess usage of curing salts.
The packaging type used is re-sealable, which could make it easier to preserve the quality of your curing salt for a long time to come.
One thing to watch out for is that the grains feel coarser than the earlier reviewed options. Also, the salt has no ingredients to help with flavoring.
Pros
Reusable bag
Clear directions for use
Effective in small amounts
Cons
Light-colored; might not help when the presentation is all that matters
Not finely grained

Last update on 2020-07-03 / Affiliate links / Images from Amazon Product Advertising API

Editor's Comments
This curing salt is Prague powder no. 1, which means that it contains sodium chloride and sodium nitrate. It might not be as useful for long-term preservation as the Prague powder no. 2 in this review, but it does work as expected for short-term curing.
The salt comes in a sealed bottle containing one pound of salt. Because curing salts are generally used in small amounts, this product could last for hundreds of pounds of meat. The packaging has the potential to preserve the quality of your salt for a long time. It keeps the salt dry and prevents clumping.
The lid also makes it easy to measure the right amount of salt for application to your meat. With salts like these, too much or too little could severely affect your health.
It's also a good thing, in my opinion, that they have included usage guidelines on the side of the jar. Usage is four ounces per 100 pounds of meat.
This salt is for use on foods meant for cooking along with semi-dry food types. According to the manufacturers, Hoosier Hill Farm Prague Powder Curing Salt can be used for curing sausage, jerky, fish, bacon, salami, and pastrami, among others.
Pros
Quality packaging
Directions for use included
Generous packing
Cons
Not for long term food preservation
It's light pink and could be hard to differentiate from other salts in the house

The Sausage Maker - Insta Cure (Prague Powder) #1, 4 oz. Curing Salt...

This Packet Contains 4 oz.
A basic cure used to cure all meats that require cooking, brining, smoking, or canning.
This includes poultry, fish, ham, bacon, luncheon meats, corned beef, pates and other products too numerous to mention.

Last update on 2020-07-03 / Affiliate links / Images from Amazon Product Advertising API

Editor's Comments
Sometimes all you need is a little bit of salt for a few dollars to begin your BBQ curing hobby. The Sausage Maker is one such salt, coming in a four-ounce package that may be ideal if you make BBQ only on an occasional basis.
Beware that even though this is pink salt, it is almost whitish, thus you should properly label it if this item is kept in your kitchen. It could be a health tragedy if this curing salt were to be mistaken for and used as table salt.
The Sausage Maker is Prague number 1. It contains part table salt and part sodium nitrate. It's intended for less than a month of food preservation.
The small packaging has its advantages, but it also makes this salt an expensive option, considering the ample sizing of its contenders.
The salt can be used on meats that need cooking, smoking, brining, or canning.
Pros
The small size is for occasional users
Works as expected
Cons
Costs more per oz. than the large-sized options
Easy to confuse with table salt

The Best Pick
Anthony's Pink Curing Salt No.1 stands out as the best option. All curing salts have a similar formulation, but the manufacturers have differentiated this brand by making it gluten-free. That means it would be the safest option for those with celiac disease, unlike the other reviewed items.
It's also a liberal sizing of two pounds, giving you more value per dollar. This single purchase can potentially help you cure several hundred pounds of meat.
Its packaging is also clear and re-sealable, unlike some of the other products. The bold pink color makes it easy to differentiate from table salt, and the re-sealable bag should help preserve the quality of the salt for as long as it lasts.
Last Updated on