Ah, how the smell of barbeque makes us drool! If only we had the technique and time to make it all the time. If only we could learn the tricks. The alchemy starts with the best BBQ smokers, as I have learned.
This review takes a look at the best barbeque smokers of 2020 to transform your grilling experience.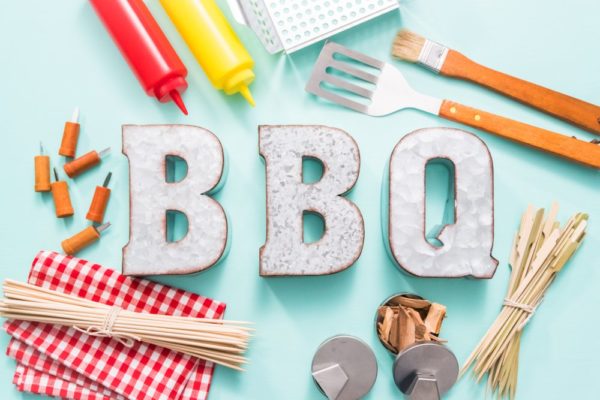 BBQ Smoker Boxes Buying Guide
What kind of witchcraft goes on inside a BBQ smoker to achieve rich flavors?
About a year ago, I made up my mind to severe ties with all things meat. I had health reasons for this decision (not the misplaced idea that eating meat makes you a merciless villain in the ecosystem).
Long story short, I learned that not everyone could be vegetarian. For a few months, I was surviving only on fruits and vegetables. Then one day, I passed by my neighbors as they were having a barbeque. The smoke is what got to me, throwing me into a salivating frenzy.
My eyes nearly popped as I moved closer and saw the magnificently seared meats. The aroma was so delicious that it made me go "weak in the knees." I didn't even wait for an invitation to start digging in.
That's how I said bye to all my vegetarian beliefs and decided I'd rather spend a full day at the gym than live without steak.
It turns out my neighbor was using a barbeque smoker box, hence the delightful aromas and tempting flavors. Since I fell from grace that afternoon, I've learned so much about barbeque smoker boxes from my meat-loving neighbor.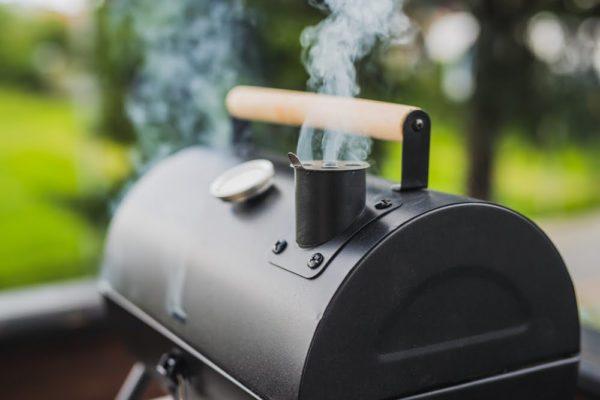 An offset smoker produces the best results
Offset smokers have separate compartments for the food and smoker. They are cheaper but have a steep learning curve for beginners.
When buying an offset smoker, the craftsmanship of the contraption matters a great deal. Stainless steel or cast iron are the materials of choice for durability and food safety. Insulated handles are a must-have to protect your hands during the cooking process.
A pellet smoker scores well on authenticity and ease of use
These smokers use wood pellets that add an irresistible smoky flavor to your foods. When you are looking for that authentic smoked barbeque experience, pellet smokers are your best option.
Features to look for include temperature control and an automatic pellet feeding system. These features will make your food preparation a hands-free operation.
Choose a charcoal smoker if you are looking for speed and versatility
A charcoal smoker can burn pellets as well, giving you greater flexibility of use. When using charcoal smokers, your meats will cook faster compared to all other types of smokers. Many of these models are also budget-friendly and highly portable.
Things to look for in a charcoal smoker include temperature adjustability—so you can cook different foods at their right temperatures. You should also have easy access to the charcoal compartment. Dampers and smoke chimneys enhance the cooking experience.
Buy an electric smoker for ease of use
Electric smokers use a hot coil for cooking your food. To get that smoky flavor, you have to place wood pellets over the coil during the grilling process. The smoking action does not work as dependably as in charcoal or pellet smokers, but these devices are hassle-free.
You can do the smoking indoors and not have to worry about suffocation or the risk of defacing your walls.
A gas smoker is the best alternative to an electric smoker
When you need a barbeque smoker that produces the right amount of smoke while still remaining easy to use, go for the gas smoker. These models use wood or sawdust, but the source of heat is propane or natural gas.
The Best BBQ Smoker Boxers
Camp Chef XT 24 Pellet Grill - Pellet Smoker & Grill for Outdoor...

Pellet Grill and Smoker: The Camp Chef XT 24 Pellet Grill and Smoker is the perfect outdoor cooking tool for anyone who loves delicious, smoked flavor
High-Quality Pellet Grill: With PID technology, you can hold the tightest temperatures possible, ensuring that your food cooks evenly
Smoke Control: Set your Smoke Number on this pellet smoker between 1 and 10 for a custom smoke taste that will take your outdoor cooking to the next level

Last update on 2023-09-21 / Affiliate links / Images from Amazon Product Advertising API

Editor's Comments
Smoke is said to be the fifth taste, and if you want to get the best of it in your pork or chicken, pellet smokers perform better than charcoal smokers. Camp Chef SmokePro Deluxe is a pellet smoker that comes with features that you might like.
Features such as?
An ash cleanout system—this ideally helps to keep the combustion going. It's a big deal in smokers and grills and can make or break your whole smoking experience.
An ash-free smoker doesn't just burn consistently, but it's also easier to light when starting. The cleanout system also, reportedly, keeps ash from blowing onto your food, which often happens when it piles excessively high.
One other likable aspect here is the size of the grilling area. The rack surface area of 570 square inches could be large enough to accommodate all your meats at one go. This ample space is not typical for a charcoal smoker.
Oh, so how easy is it to use?
There is an automatic auto-start feature that the manufacturer says helps with quick ignition. Lighting grills can be a bit of a chore, so this feature should save you time.
It might also be easy to control the temperature to achieve the desired barbequing results, as the device comes with a temperature selection system. You can also monitor the temperature levels via an LED temperature readout.
Pros
Achieves authentic smoky flavors
Easy ash cleanout system
Effortless start with an electronic ignition
Temperature control features
Cons
The temperature control function is erratic
Not economical on pellets

Pit Barrel Cooker Classic Package - 18.5 Inch Drum Smoker | Porcelain...

EFFORTLESS: Whether you're new to outdoor cooking or an expert trying to perfect your craft, cook perfectly every time with the Pit Barrel's 360º All-Round Heat Dynamics. Our vertical barrel cooker...
VERSATILE: The cooking possibilities are endless. For the perfect smoked meat, grill or hang ribs and brisket using the hooks and steel grill grate or use our custom GrillGrate for sear-marks and to...
DURABLE: Each Pit Barrel Cooker is made with a superior-grade porcelain enamel finish that looks great and is designed to withstand everything from the internal heat to weather conditions

Last update on 2023-09-21 / Affiliate links / Images from Amazon Product Advertising API

Editor's Comments
This is a charcoal smoker with a design that majors on simplicity. There is minimal assembly required to start prepping your meals in this smoker, according to the manufacturers.
What's the design like?
It's a barrel with a coal basket section and eight stainless steel hooks for hanging your meat, plus a grate for the searing action. This design makes it one of the easiest models to operate, a quality that could be invaluable for beginners.
Why is it featured among the best?
The hook system that it uses works excellent for smoking large pieces of meat. Experts say that hooking pieces of meat vertically allows them to cook evenly, as opposed to using a grate.
But versatility is on the menu as well. The device comes with a grate to compliment the vertical cooking experience.
What about temperature control?
Here is a significant drawback; there is no temperature control with this smoker. The design allegedly supports shorter cooking times "without the need for temperature control," the product specs states.
There is a vent feature included at the bottom that you can open or close to control combustion and, to no small extent, the cooking temperature. But don't expect much temperature variability using this feature if you let the coals get too hot before you put the lid on.
You might also be able to get consistently low temperature for slow cooking by leaving the hanger bars in when you cook. They control the airflow between the top of the smoker and the vent.
Pros
Simple and easy-to-use design
Uses both a hook system and a grate
Strongly built structure
Cons
Hard to control the temperature

Camp Chef 36 in. WiFi Woodwind Pellet Grill & Smoker - WiFi &...

ALL NEW WIFI & Bluetooth PID controller automatically maintains cooking temperature with 4 meat probe ports, 4 meat probes.
160 F to 500 F temperature range from slow smoking to grilling (25,000 BTU).
Dial in your smoke level with our Smoke Control with settings 1 - 10.

Last update on 2023-09-21 / Affiliate links / Images from Amazon Product Advertising API

Editor's Comments
Like the SmokePro model from the same manufacturer, the Camp Chef Woodwind is a pellet smoker that boasts nifty features, including digital temperature control and an auger feed system for the pellets.
The temperature control ranges between 160 and 500 degrees Fahrenheit, and that means that you can cook, smoke or grill, not just meat but a variety of food as well.
The cooking area is 570 square inches
Just like the SmokePro version, here you have a considerably large cooking surface that could accelerate your meal preparation process. This might prose advantageous when hosting a party. The manufacturer says that it is "large enough to cook for an entire neighborhood."
Oh, that must be a lot of space.
And space is not the only advantage. There is the typical ash cleanout system, which could make it easier to light the grill, clean it, keep the fire burning, and keep your food ash-free.
Is it easy to use?
The Woodwind smoker is built for multitasking, the manufacturer says. The automatic pellet feed system makes the cooking task hands-free.
Additionally, the temperature control function means that you don't have to sit around turning things or opening and closing vents. And there is a sear box with an option to get the temperature to 900 degrees Fahrenheit for a seared finish.
A seared finish? What's that?
It's using very high temperatures to get a caramelized or browning finish on a food item. Works best for those that want their chicken and steaks crunchier.
Pros
Easy to light
Ash cleanout system helps with combustion and ease of cleaning
Temperature adjustability makes it more versatile for various foods and cooking styles
Cons
The pellet feeding system doesn't work smoothly
Temperature swings unsteadily

Char-Griller E1224 Smokin Pro 830 Square Inch Charcoal Grill with Side...

CHARCOAL GRILL & OFFSET SMOKER - Charcoal Barbecue Grill & Smoker with Side Fire Box attachment perfect for high-heat grilling and low and slow Texas-style smoked barbecue
MULTIPLE COOKING AREAS - Smoke a brisket on the 580 square inch primary cooking area and grill burgers and hot dogs on the 250 square inch Side Fire Box cooking area (830 square inches total)
HEAVY-DUTY CONSTRUCTION - Made from heavy-gauge powder coated steel with a double bottom for increased durability, and nonstick cast-iron cooking grates for maximum heat retention

Last update on 2023-09-22 / Affiliate links / Images from Amazon Product Advertising API

Editor's Comments
Eight hundred thirty square inches of cooking space is what you get with this baby. That space is even bigger than what you get with the Chef Camp models, which can be a convenience if you are hosting a big crowd.
This is an offset charcoal smoker with a traditional design, including a side firebox. It has a separate chamber for the food and the smoker.
The offset design may make it easier to add charcoal and dump ashes without dismantling the whole grill during the cooking process.
But that's not all there is to it.
The construction material used is powder-coated steel, which means that the smoker box could serve you for many years to come. The cast-iron cooking grates are non-stick and resistant to warping.
The grill stand features wheels that aid in portability. But there are no wheeling handles, so that's something to watch out for.
Is there a temperature control feature?
There are adjustable dumpers to control heat. A heat gauge in the hood lets you monitor the temperature. This feature might not be as convenient as the digital controls in the Chef Camp models.
For effortless cleanup, a dump ash pan is included to help with ash disposal. This feature may help to strengthen combustion and enhance your grilling experience.
Pros
Sturdy construction
Easy cleaning
Inbuilt temperature control feature
Cons
The paint on the smoker starts to peel after a short time of use
The smoking action is second-rate

Last update on 2023-09-22 / Affiliate links / Images from Amazon Product Advertising API

Editor's Comments
You can still smoke your ribs without burning charcoal or wood. Electric smokers give you this ability and can be highly convenient for an urbanized meat lover. The Masterbuilt MB20073519 is an ideal model.
A smoker that uses electricity … how does it work?
Like all electric smokers, this model uses a metal rod that glows or burns once plugged in. This is the heating element. What you have to do then is put some wood pellets on it and let them burn to produce smoke.
This model features a temperature control function that lets you control the cooking action. You can set a lower temperature for slow cooking to achieve tenderer meats and high temperature for faster cooking.
Electric smokers are easier to work with.
If you are looking for a happy-go-lucky grilling experience, electric smoker boxes might be your best option. For instance, the temperature control function in this model works via Bluetooth. So, you won't have to sit around "tending the fire."
What are the design conveniences of this model?
It has a handle and wheels, making it easily movable. There is also a wood chip loading system that should make the process of adding wood a stress-free endeavor. And there is a built-in thermometer for monitoring the cooking temperature.
Pros
Easy to set up
Highly portable
Easy to use
Cons
Connoisseurs might consider the smoke flavoring "inauthentic"
Actual smoking starts past the 230-degree mark, takes time

The Best Pick
For ease of use, convenient features, and authentic smoking experience, the Woodwind Camp Chef Smoker Grill with Sear Box stands out from the rest. This is a pellet smoker that delivers a delicious smoky wood flavor.
There is a digital temperature control feature that lets you play around with different heating levels between 160 and 500 degrees Fahrenheit. This versatility can enable you to cook a variety of foods with the same grill, saving you the hassle of having to light up your gas/ electric cooker.
An auger feeding system makes it a breeze to load pellets in this oven. I also like the large cooking area. With 570 square inches, you might be able to load your burgers, full chickens, and steak and cook them in a single round.
The ash cleanout system makes it easy to clean this grill when you are done. This feature also helps to maintain consistent combustion next time you light up the machine. The smoker comes with a searing box that can help you achieve a seared finish for your food at high temperatures.
(I'm suddenly craving BBQ.)
Last Updated on August 6, 2020 by Judith Fertig