Investing in a new pellet grill very often comes with the problem of which manufacturer to choose. Today I will compare Pit Boss vs Traeger which is the two manufacturers responsible for manufacturing some of the most popular pellet grills as of now.
If you're wondering which of them is better then this article should make it all clear to you.
I know that it's hard to find something substantial in this topic as most people provide subjective opinions. I will try to take an objective look on the topic and answer you about both manufacturers so that after reading this article you have no doubts which manufacturer will be better for you.
Below you will find not only the key differences between Traeger and Pit Boss, but also what I believe to be their best models.
In the Traeger vs Pit Boss clash my choice would be Traeger, find out why in my comparison.
Pit Boss vs Traeger – General Differences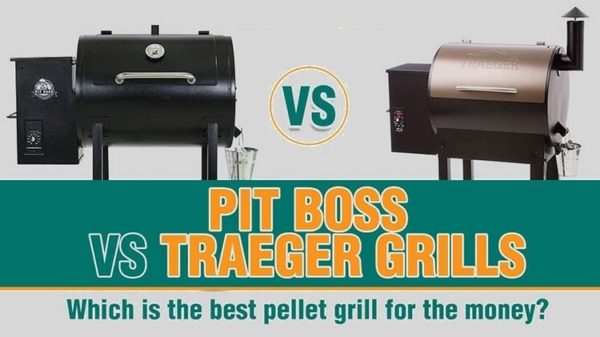 In previous years my choice would always be Pit Boss but with 2019 and arrival of a new, completely revamped series from Traeger, my opinion has changed a little, although I still appreciate some of the Pit Boss models more.
It looks like Traeger has finally noticed that there's no point standing in place and relying on the recognizable "Traeger" brand and it's necessary to get to work and give people a grill that is up to today's standards.
However, I'd like to remind that my opinion might suddenly change when one of the manufacturers introduces something new. That's why I encourage you to check and compare the current models from each manufacturer. Check the date of the article you're reading as well because it might turn out it is for 2015 for example.
The key differences between Pit Boss and Traeger
Price – First and foremost, the grills from Pit Boss are much cheaper than grills of the same size from Traeger. Pit Boss is a less renowned brand that went for inexpensive pellet grills where you pay for the product and not for the brand.
Warranty – All models from Traeger are covered with only 3 years of warranty whereas Pit Boss offers whole 5 years of warranty for their products. I just want to remind that the price for a Traeger grill is much higher than for a Pit Boss one.
Location of the fire pot – In Traeger the fire pot is covered with a steel heat deflector and located to the left. In a Pit Boss grill, on the other hand, the fire pot not only doesn't have a heat deflector but is located in the center. How does it look in reality? It is hard to say which is better, but both solutions certainly give great results.
Brand and Marketing – In this regard, the favorite is definitely Traeger, which is an icon not only of pellet grills but the whole BBQ community as well. The Traeger brand is perfectly familiar to every grilling enthusiast. When it comes to marketing, very popular people are willing to show their fondness of the brand, on top of that they are a sponsor of many important events or teams participating in tournaments. Pit Boss, on the other hand, is simply an inexpensive pellet grill that may be familiar to many people but in terms of marketing and relations it doesn't represent an extraordinary level like Traeger does.
History of the Brands
Traeger
Joe Treager ( the creator ) is the manufacturer responsible for creating the pellet grill industry. The first model was created in 1985 and it got patented the next year.
Thanks to that, since 1986 Traeger was the only manufacturer with a monopoly for manufacturing pellet grills. This could end badly or well, luckily the result was most certainly positive. Traeger is responsible for promoting the pellet grill, which these days is gaining in popularity year by year.
First during the period when the patent was in force it was a company based in Oregon but later it all changed when the company was sold and changed its location.
The patent expired in 2006 which led to creation of many companies, each of which aimed to create something new and better. The result of this is plenty of great manufacturers who offer high quality pellet grills.
Despite that, all those years after the patent expired the Traeger brand is still the most popular manufacturer of Wood Pellet Grills, selling the most of them out of the entire competition.
Pit Boss
It was one of the first manufacturers who decided to compete with Traeger ( the company was founded in 1999 ). However, unlike many other new manufacturers who went for quality and technology, Pit Boss went for price.
Their models are available in nearly the same sizes as Traeger grills with a significant difference in price in favor of Pit Boss. It was meant to be an inexpensive pellet grill that will attract a bigger number of customers and it actually did come to pass.
Pit Boss is also the manufacturer of Louisiana Pellet Grills
A very interesting bit of trivia is the fact that the manufacturer of Traeger ( Joe Traeger ) joined the Pit Boss team by taking part in perfecting their grills.
Pit Boss Grills – The best models
At the first glance, it seems that Pit Boss has plenty of models in their offer but in reality most of them are based on the same structure and only differ in additional features.
It is pretty chaotic, it would be better to simply create one model with the ability to configure it in any possible way.
Either way, as of now I have selected two models that I believe are the best out of their offer. I invite you to check out my suggestions and thoughts on the pit boss grills below.
Pit Boss 700FB Wood Pellet Grill
My favorite model offers whole 700 square inches of the main cooking area and makes a great answer to Trager Pro Series 780. Pit Boss undoubtedly wins the duel in terms of price and warranty, but it loses when it comes to technology.
This pellet grill needs to be seen as a basic model with no gadgets that may indeed increase the convenience but also the price by quite a lot. That's why if you want an inexpensive and good pellet grill then you have to focus on simplicity or else you will spend a fortune on a well-equipped Traeger model for example.
The digital controller is pretty precise although it's too bad that it is not a digital PID controller with a better temperature range. As of now, you have nearly 10 settings to choose from in the range of 180-500 degrees F which is more than enough for all tasks.
What I really like is whole 5 years of warranty, which is especially rare in this price range. For example, most competitive models that are even twice as expensive only offer 2-3 years of warranty.
I believe that it is one of the best inexpensive pellet grills and if you have a limited budget then it's a good idea to seriously consider this model. It is also what I think to be the best model from Pit Boss in every regard, especially in the price to value ratio.
Check the Latest Price on Amazon.
---
Pit Boss 440 Deluxe Wood Pellet Grill
Much smaller and therefore much cheaper, one of the cheapest pellet grills on the market. A great choice for those less demanding, beginners or those who really don't cook much.
Why would you need a big pellet grill if you're never going to use its cooking area anyway? Pit Boss 440 Deluxe only offers 440 square inches ( 340 main area + 100 rack ) and makes a great alternative to the much more expensive and slightly bigger Traeger Pro 575.
The small yet well-built structure is very good at holding temperature even with such a simple controller. The new Traeger series have a definitely better controller but the difference in price is enormous.
The temperature range of the digital controller is 170 to as high as 600 degrees F ( in reality the maximum temperature is more within 450-500 degrees F which is high enough ).
The downside is a tiny pellet hopper with capacity of just 5lb. Even with a low pellets consumption this grill will not make a great solution during a very long cooking without you present. Of course you can always buy a slightly bigger model complete with a bigger container if that is your priority in a grill.
Check the Latest Price on Amazon.
---
Traeger Grills – The best models
When it comes to Traeger, the number of models is big, but luckily the whole offer was divided into several different series. The key changes of the last decade actually took place at the beginning of 2019 where some of the series were revamped and different labels were introduced.
It is those changes that made me a little confused when it came to choosing which brand is better in the Traeger vs Pit Boss clash.
Right now Traeger mostly manufactures three revamped series plus several older ones including portable grills for example or other less known models.
The most popular series ( mostly new ones )
Traeger Pro Series 575 & 780 – The basic series available in two sizes, directed more towards those less demanding. Models equipped with a new digital controller, Wi-Fi technology and several basic yet useful features.
Traeger Ironwood series 650 & 885 – In terms of size it is the middle tier that has met the expectations of most people. The Ironwood series was expanded with changes in the structure such as a side shelf or double side walls that are there to improve the internal insulation. On top of that, you get a few useful features such as the super smoke mode for example.
Traeger Timberline Series 850 & 1300  – It comes with all the same things as the Ironwood series plus a new pellet sensor feature that allows to monitor the condition of pellets in the tank directly from your phone using an app. On top of that, you have much more place at your disposal, a bigger side shelf and one in front of the grill. In simplest terms it's a series for decided, demanding and most of all well-off people.
Portable Series – A series better known under the name of "Tailgater Pellet Grill"
Traeger vs Pit Boss – Conclusion
I'd just like to remind that I approached this topic objectively and my goal was not a negative activity against either brand.
As of now, I believe that a much better choice in terms of price to value ratio is the Pit Boss brand. That doesn't mean that Traeger makes bad grills, I just believe that their price is too high compared to what they have to offer.
If money isn't a big issue to you then you are certainly going to be very satisfied with one of the models from the new Traeger series. Their latest models not only come with a much better controller but also many useful and interesting features. However, in the final Traeger vs Pit Boss comparison my choice is Pit Boss due to the high difference in prices.
Last Updated on December 1, 2019 by Judith Fertig