As far as smoked briskets go, having an inefficient wrapping method can prove to be quite disastrous. Knowing how to wrap a brisket in butcher paper properly is a vital step.
If it's not wrapped the right way, you can expect your brisket to turn out greyish, tough, and dry but not in the right parts. Quite frankly, these are the exact characteristics you're not looking for in a brisket.
You'll require an equal amount of confidence, patience, and know-how to produce a delicious batch of smoked brisket.
It might be a tough cut, but if prepped and smoked the right way, a brisket is one of the best delicacies you'll ever have.
In this short guide, we'll explain in detail how you should wrap a brisket in butcher paper to get the best results and why having the best smokers at your disposal always comes in handy.
Let's get started.
How to Wrap a Brisket in Butcher Paper?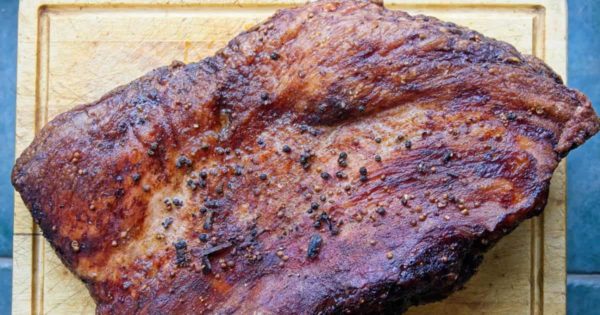 Wrapping a brisket with butcher paper is not quite the same as using heavy-duty aluminum foil.
It's important to note that the shape of the brisket will not hold when you're using butcher/peach paper instead of foil.
With the latter, it's pretty easy. You wrap it, and the foil naturally holds the brisket.
So you need to make sure to pay careful attention to the following steps. You'll be requiring ample counter space for the following steps.
Wrapping the brisket at an optimal internal temperature is equally crucial. Anywhere between 73.8°-76.67°Celsius or 165°-170°Fahrenheit is ideal.
The following technique has been popularized by Barbeque Expert Aaron Franklin.
To start, get your hands on some good butcher paper. You can find them at your local butcher shop.
If you're finding it hard to choose, simply refer to our listing of the best butcher paper for smoking.
The next important step in Aaron Franklin's technique is to determine how much butcher paper you'll need. As a rule of thumb, use two separate sheets of butcher paper for wrapping the brisket.
Using the brisket as your reference, cut off two pieces of butcher paper that are 4x longer. Don't worry if the length isn't exact, just measure it roughly. Overlap the paper by layering them on top of each other. Place it away from you.
Now, the most interesting part: Take the brisket and place it along the length of the butcher paper.
Make sure you're placing the brisket in a way that the side with more fat is on top.
You should have enough butcher paper left over so you can wrap the entire brisket with it.
Start by wrapping the bottom side. Go around the top, and as you do that, tightly press the sheet of butcher paper against the brisket.
Once you've gotten to this stage, begin folding around the sides. This will make it possible for the paper to tightly hold on to the brisket.
If you've done these steps correctly, the butcher paper should be laid out away from you.
When you're done folding both sides, go ahead and turn the brisket over once. Roll the brisket away from you.
Once again, start folding the sides inwards. The only difference with this step is, the ends of the paper should be closed in.
Layer the top corner twice using butcher paper. Roll over the moist brisket one more time. Doing this will ensure that the brisket tightly holds onto the paper and keeps it secure.
These steps, if done right, will ensure that the hunk of meat stays protected and doesn't burn to a crisp. The double layer of paper you wrapped at the bottom will ensure this.
Why Use Butcher Paper for Wrapping Brisket?
There are several reasons why using butcher paper wrap is a lot better than using aluminum foil.
It enhances the resting process.
If you've used aluminum foil to wrap a brisket, you must've noticed the juice from the meat oozing out and dripping away.
This liquid is gold ( It probably would've made your meat juicier and more tender), but it goes to absolute waste.
The brisket in aluminum foil traps direct heat between the meat and the foil, hence the accumulation of the juice. But that doesn't happen when you use butcher paper. A brisket wrapped in butcher paper allows airflow and doesn't trap heat.
That way, the brisket is able to absorb whatever juices ooze out back into the meat as it quickly cools down during resting. Doing so even improves the crispiness of the crunchy bark, similar to Texas Crutch.
There are many environmental hazards to using sheets of aluminum foil wrap. The US Environmental Protection Agency reports clearly state the harmful effects of aluminum and the waste generated over time.
Although recyclable, the sheer amount of waste in landfills is outrageous. Did you know that it takes about 400 years for aluminum foil to decompose?
In comparison, the risks associated with butcher paper are minimal. It's made using renewable materials. The decomposition time period of butcher paper is approx. 2-6 weeks.
FAQs
Should I use aluminum foil or butcher paper to wrap the brisket?
Taking into account the result and other factors such as versatility and sustainability, we recommend using butcher paper for wrapping your brisket. Check out this Aluminum Foil vs. Butcher Paper video to learn more.
I'm smoking a brisket. Should I keep the fat side up or down?
Remember this Golden Rule: When smoking a juicy brisket, the brisket's fatty side should always lie face down.
This way, the brisket looks much better and keeps all the seasonings within it intact. On the contrary, the brisket will dry out if the fat side is facing up.
Summary
That was all in our detailed guide on How To Wrap A Brisket In Butcher Paper. Butcher paper makes sure that your brisket turns out juicy, tender, and soft.
Other than briskets, you can also wrap any big cuts, hams, or even shoulder cuts using butcher paper.
We hope you've enjoyed reading our guide. We'd love to know how you wrap your briskets. Let us know by commenting down below.
Last Updated on November 10, 2022 by Judith Fertig