Weber is a household name when it comes to grills. Their Smokey Joe series includes charcoal grills of all sizes and shapes.
These portable grills are popular among campers, beachgoers, and everyone who likes to grill on the go. In this article, we'll discuss the top Smokey Joe grills. But first … a buying guide to the best grills.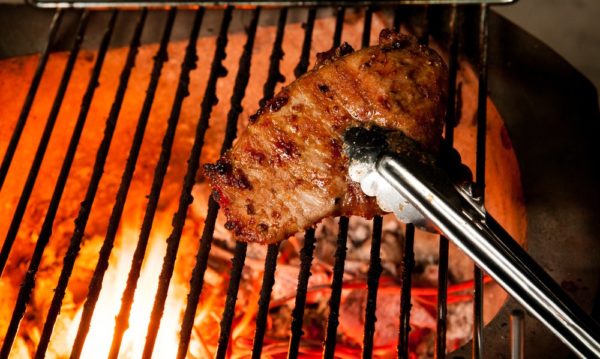 Smokey Joe Grills Buying Guide
I have used many portable barbeque grills, and I can say that nothing compares to the ease of use and performance that you get with a Smokey Joe. At the same time, there are many Smokey Joe models out there, and they are not all the same in design.
For the best performance, you have to find a grill that matches your needs. Here are my two cents on the issue.
Temperature management
The best grill must have vents accurately positioned for improved air circulation and combustion. Without this feature, you might struggle with coals that become cold, resulting in frustrating barbeque attempts and unevenly cooked meat.
I prefer the vents on the side and at the bottom of the bowl as that's where the actual burning occurs.
A sturdy and safely built grate
The grate is the part that holds your food and takes the heat. So, it must be up to the task. With the grills I have used in the past, the grate often warped after a short time.
Try to make sure that your grate is made out of cast iron or steel. Chrome-plated steel also puts up well to heat. Whatever material you choose for the grill, it must be rustproof and food-safe.
Cooking area size
All the Smokey Joe grills are made to be compact and highly portable. It's no wonder, then, that they feature small cooking areas. But how small of a grilling surface can you tolerate?
I often host friends during the weekend, so my favorite options would include the 18 – 22 inch Weber grills. They are convenient when you want to put everything on the fire at once and save yourself time and energy.
Smaller grills are suitable for small families or personal grilling.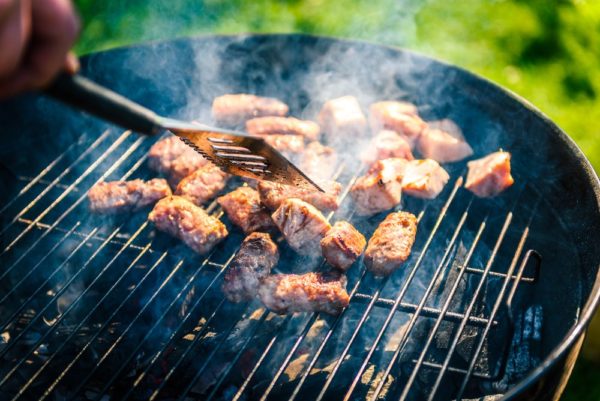 Dampers might come in handy
Experts insist that your grill must have an intake and exhaust damper for temperature control. They work in the same way as the ventilation system, letting in or closing off the air. Dampers can be a highly convenient feature for a grill with bad ventilation.
Ash removal system
I have worked with grills that have no ash removal system, and it's not pretty. When ash builds up, it chokes out air and reduces the combustion of your coals. You would then need to regularly remove the ash manually for a consistent burning and successful cooking.
A grill design that comes with an ash-removal system makes your work easier.
Size and portability
Lightweight Smokey Joe grills are preferable because you can move them around with minimal assistance. However, lightweight models often tend to have a comparatively small grilling area, so that's one sacrifice you will have to make.
Alternatively, you could find a bigger model that's fitted with wheels on its stands. That should make it possible to move the grill easily, even when someone is cooking on it.
The Best Smokey Joe Grills of 2020
Sale

Weber Smokey Joe 14-Inch Portable Grill, Black

Load up the car and hit the road with your Smokey Joe portable charcoal grill. Its durable, lightweight, compact design is perfect for grilling on the go - whether walking to the beach or taking a...
Holds up to five burgers made with a Weber burger press
Compact and lightweight for grilling on the go

Last update on 2023-09-22 / Affiliate links / Images from Amazon Product Advertising API

Editor's Comments
At just 9.5 pounds, you should be able to transport this barbeque device to your car without the help of your buddies. But be sure to invite them along on your grilling trip because the considerably wide cooking area (14 inches) on Weber 10020 will mean that you can prepare enough meaty treats for everyone at a single go.
This is a charcoal grill designed for use on the go. For speedy cooking outdoors, the manufacturer has designed a porcelain-enameled lid to cover the grill. This can come in handy for covering your food from windblown dust, but its primary function is to retain heat for faster grilling.
You can supposedly control the temperature inside the grill with the use of the included aluminum dampers. If that works as expected, you should be able to achieve constant and even heat distribution.
Another feature that possibly helps with efficiency is the aluminum ash catcher. Getting ash out of the way will ideally help you achieve consistent combustion without having to keep stoking the fire.
The all-metallic construction is something that you might appreciate if you are looking for durability. The aluminum body and steel cooking grates are all rust-resistant. The bowl, on the other hand, is porcelain-enameled, giving it a sleek finish that you'll likely want to show off to your friends.
Oh, and there are vents as well, which help to keep the fire burning. All forms of combustion need oxygen. Remember to open them all the way if you want to barbeque more quickly.
Pros
Durable construction
Lightweight and portable
Vents included for temperature control
Dampers included for temperature control
Cons
Legs are thin and flimsy
You have to remove the lid for the coals to burn efficiently

Sale

Weber Jumbo Joe Charcoal Grill 18 Inch Black

Travel with taste, or grill up a quick meal on your patio with the Jumbo Joe portable charcoal grill. The compact size with larger grilling area and convenient carry handle is perfect for any weekend...
Holds up to eight burgers made with a Weber burger press
Compact and lightweight for grilling on the go

Last update on 2023-09-22 / Affiliate links / Images from Amazon Product Advertising API

Editor's Comments
The Jumbo Smokey Joe has the compactness that is typical with every model in this series of Weber grills. However, this is an 18-inch grill, which means no more two, three, or four rounds of turning and tossing meats in the fire to feed your family and friends. You should be able to cook everything at once.
But that slight increment in size comes with some extra weight too. Can you carry 18.5 pounds of metal alone? Probably not, so you might want to call some friends to help you transport the grill.
One thing that you might appreciate with this model is its carrying lid lock. It is designed to facilitate easy transportation of the grill. You might be able to safely move it around even after the grill is lit, provided you have enough muscle power.
As with the earlier reviewed model, this model provides some temperature regulating dampers. This might seem to be a redundant feature, given that there are ventilations and a lid with which you can control the fire's intensity.
The materials used in the design of this portable grill include a steel cooking grate. This choice in the material could help to minimize the risk of warping that's common with other grills in the market. You have an aluminum ash catcher as well that should serve its purpose beautifully and durably.
The stand features heavy-gauge steel material while the bowl and lid are porcelain-enameled—all satisfactory features, in my opinion. The classy finish and color might make you want to leave this device lying around in your living room for ornamental purposes.
Pros
Assembly is easy
Not lightweight, but you can serve many people at once
The included stand makes it possible to grill on a table safely
Cons
The handle is plastic; it has poor durability
The lid closes too shallowly

Sale

Weber Smokey Joe Premium 14-Inch Portable Grill , Black

Grab the handle of your Smokey Joe Premium portable charcoal grill and throw a BBQ, tailgate, or grill lunch anywhere you go. Its lightweight design and carry handle make it easy to pack up your...
Holds up to five burgers made with a Weber burger press
Compact and lightweight for grilling on the go

Last update on 2023-09-22 / Affiliate links / Images from Amazon Product Advertising API

Editor's Comments
Weber has branded this as a portable kettle barbeque. Fourteen inches of cooking space is what you get, and that's just roomy enough for four or five burgers. In other words, it serves a small family but would not be ideal for tailgates and beach parties where you have large numbers to feed.
Unlike the Jumbo Smokey Joe grill model seen earlier, this griller is super lightweight, coming in at 9.5 pounds. You might appreciate, thus, how easy it will be to move it around without assistance.
The rest of the design remains similar to the other models in the Smokey Joe grill series. You can expect a porcelain-enameled lid that helps to seal in the heat and enables you to cook your dinner faster. But watch out because sealing the lid curtails airflow to the burning coals.
There are three vents in the lid that help with airflow, but their performance might not be consistent. The barbeque kettle similarly has the typical dampers to help with temperature management.
One thing is missing on this grill's design; there is no ash catcher. This not only makes it hard to clean the contraption but also interferes with its burning efficiency. That might cost you time and money.
Pros
Durable material including steel and aluminum
Ventilation system helps with combustion
Cons
No ash catcher—design is meant for slow cooking
Thin and flimsy aluminum legs don't hold steady

Last update on 2023-09-22 / Affiliate links / Images from Amazon Product Advertising API

Editor's Comments
If you need a grill that you can easily move around even while cooking, the Weber Bar-B-Kettle is possibly the choicest model.
It's a charcoal grill with a similar design to the other Smokey Joe grills, except that it features wheels on a tripod-like stand. The Bar-B-Kettle has the same smooth, shiny, black finish as the other models. This design could get you in good spirits when your lambchop cravings come to roost.
You might also appreciate its wide cooking area. A 47-centimeter diameter for the grate could help you grill several sausages and burgers at a go. You will find that convenient when you are looking to save time.
The manufacturers even state that this barbeque kettle can handle fish and grilled fruit. I have never barbequed a fruit on a Smokey Joe Grill, but I like its sturdy construction.
A chrome-plated grate takes in the heat with minimal chances of warping. The interior and exterior of the bowl and lid are steel-made. The top is finished with porcelain to help with heat retention.
Pros
Easy to assemble
Acceptably wide cooking area for a portable grill
Excellent heat retention
Cons
Quite heavy; weighs 26.9 pounds

Sale

Weber Original Kettle 22-Inch Charcoal Grill

Stay true to the modern version of the kettle that started it all—the Original Kettle, invented by Weber's founder, and loved around the world. Its ultra-durable, porcelain-enameled lid and bowl...
Holds up to 13 burgers made with a Weber burger press
One-Touch cleaning system provides hassle-free ash cleanup.Removable, aluminum ash catcher

Last update on 2023-09-22 / Affiliate links / Images from Amazon Product Advertising API

Editor's Comments
You can expect the same features here as with the other Smokey Joe Grills. These include the steel-plated grate that should serve you for a long time without warping under heat. The porcelain enamel bowl looks sharply finished as well, and it helps to contain the heat within the grill for speedy cooking.
Unlike the Smokey Joe premium, there is an ash catcher included here that should ease your cleaning process and also facilitate reliable combustion for your coals.
Another remarkable thing, in my opinion, is the fact that this grill comes with a briquette measuring cup. That could be very convenient for fuel management.
The setup process is moderately uncomplicated. You will need a screwdriver, but the package comes with a plastic wrench for attaching the handle lid.
One thing to watch out for is the leg positioning. Fixing this in place takes some patience, and if you do it incorrectly, everything could tumble over when you start to cook.
A cooking area of 22 inches makes this grill one of the most prominent Smokey Joe grills on the market. This space can handle several good-sized pieces of chicken and burgers, which could prove invaluable when you are hosting large crowds.
This model comes with wheels that make portability a cinch, even when cooking. I also like how the steel grate is hinged to make it easier to load charcoal.
Pros
Durable and sturdy construction
Ash management feature
Vents included below and above for heat management
Cons
Quality control issues; product may come with defective handles
The lid isn't attached to the base; may fall off during transportation

The Best Pick
The Weber Jumbo Smokey Joe Charcoal Grill 18 emerges as the top choice. It's a compact and lightweight model that can still accommodate sizeable grilling on its 22-inch wide grate. An included lid lock and carrying handle make it relatively easy to move the grill around even when it is lit.
Temperature regulation mechanisms are included. These are the dampers and ventilations that you can close for slow cooking or open for speedy barbequing.
Apart from that, the metallic construction, including a steel grate, an aluminum ash catcher, and a steel stand and bowl, favors strength and durability. This Smokey Joe grill could serve you for many years to come.
Last Updated on May 27, 2020 by Judith Fertig