Life is short, and 2020 has taught us that in categorical terms. If there is any way to maximize joy and happiness in life while you still can, please do. If you love smoked ribs, pork shoulder, and seared chicken, getting an offset smoker could be the best investment that you make for happiness.
This review rounds up the best offset smokers of the year and shows you how to buy a worthwhile product.
Buying the Best Offset Smoker
I am not a chef de partie at any fancy restaurant, but my dad introduced me to the game at a tender age, and I have never quit. I know my grills and smokers inside out.
The meats taste better and more flavorful with an offset smoker. The design supports slow and low cooking where the food is suspended in a separate chamber away from direct fire. The outcome is intoxicatingly deep and rich beefy flavors.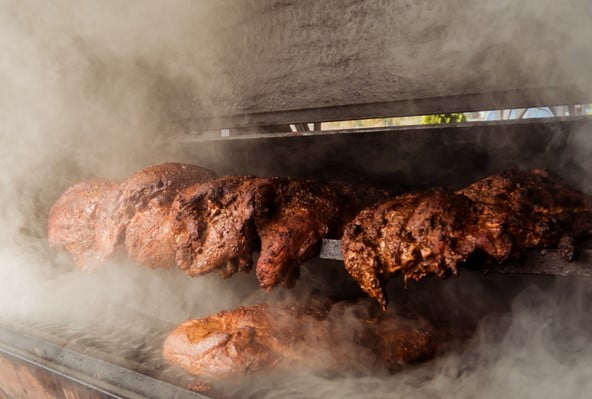 But cooking efficiency is not the only reason why I love to use offset smokers. Most of them have a larger cooking area compared to other models. If you cater to large gatherings like I often do (2020 as an exception), these appliances will do you justice. Just maintain your social distance these days.
If you are looking for a smoker that works right, saves energy, and leads to delicious smoky treats, keep reading for tips on how to get started:
Choose designs with heavy metal construction
Heavy gauge metal helps with sturdiness, durability, and all those related factors. Most importantly, though, it offers superior heat retention.
The nature of offset smokers is that the combustion happens outside, on the far end of the grill.
Without reliable heat retention, it could take a whole day for your food to cool. Go for steel made smokers with a thickness of not less than a quarter-inch.
Proper ventilation is a must
Your charcoal or pellets need proper oxygenation for consistent and even burning. The best offset smokers feature strategically positioned vents and dampers to help with that. The ventilation and temperature control function should be easy to adjust so you can attain perfectly smoked foods without breaking a sweat.
Choose a vertical orientation design for more space
There are two types of offset smokers; those with a vertical orientation and those with a horizontal or flat design. If you want a smoker with a larger cooking capacity, go for a vertical smoker. The rise allows for several stories of grates so you can smoke your meats, fruits, and vegetables all at once.
But if you need a smoker that allows for easier storage and faster cooking, go for a horizontal model. They are more compact, and heat flows faster from the offset burning chamber to the grill area. They tend to be more fuel-efficient than their vertical counterpart.
Easier to clean heat resistant grates
Porcelain-enameled cast iron is the gold standard for grates. They are resistant to warping, and the paint doesn't chip. The glossy finish lives through all the heat and makes for easier cleaning as well.
Cast iron grates also have a better ability to retain heat for long periods of time, which helps with even heat distribution.
The best models feature an integrated thermometer
An included thermometer takes the guesswork out of the whole cooking experience. You can track and control heat to attain the right cooking temperature for your favorite foodstuffs. If a thermometer is not part of the design, keep looking.
Wheels for portability
Sometimes you have to move the smoker around during a cooking session. At such times, you will appreciate a smoker with wheels for moving the loaded unit around your patio.
Even when they are not lit and packed with pounds of meat, these appliances are heavy, so wheels are critical to have in all cases.
Find a cooking area that matches your needs
There are offset smokers with thousands of cooking area in square inches. There are also compact models with only a few hundreds of square inches of cooking space.
If you cater to many family members and guests, it will help to buy a bigger offset smoker. But if you want something compact and easier to maneuver and store, consider the smaller and lightweight models.
The Best Offset Smokers of the Year
Dyna-Glo DGO1174BDC

Dyna-Glo DGO1176BDC-D Vertical Offset Charcoal Smoker

Vertical design lends itself to naturally rising heat, achieving greater efficiency and improved smoke flavor. Offset design keeps direct heat away from the food, allowing for slow cooking.
Six height-adjustable cooking grates accommodate various sizes of food. 784 square Inch of total smoking area; 1176 square inches of total cooking space with 25-pounds capacity per grate.
Porcelain-enameled steel charcoal chamber is designed to keep briquettes stacked tightly for improved burn efficiency.

Last update on 2023-09-21 / Affiliate links / Images from Amazon Product Advertising API

Editor's Comments
Dyna-Glo DGO1174BDC is an offset smoker with a vertical orientation.
This design maximizes the cooking area and speeds up convectional heat flow. You get six adjustable cooking grates fitting in that vertical cooking area.
The total cooking surface is 1890 sq. inches, and each grate can reportedly handle 25 pounds of food. That capacity means that you can barbeque all your foods in one go.
These grates are height-adjustable, which means that you can control what type of food is closest to the heat. The offsets design further leads to better flavors by keeping away direct heat from your food while elevating smoke flow to the cooking area.
The construction features a porcelain-enameled charcoal chamber that could be vital for the efficient burning of charcoal.
I like the ash management system that entails a removable ash pan and a sliding grate in the charcoal chamber. This system can be essential in bolstering combustion by guaranteeing substantial oxygenation in the offset burning chamber.
Other features worth appreciating here include an adjustable flue that could enable you to modulate the amount of smoke reaching the food. You should be able to get the precise tasty flavor you seek.
On the other hand, a built-in thermometer will certainly be elemental for your successful cooking, just so, you know, you don't serve half-cooked meats to your in-laws.
Pros
Vertical design boosts convection and smoke flow
Gigantic grilling capacity for big families and parties
On point ash management system
Temperature regulation
Cons
It takes time to heat up
Customer service 'leaves a bad taste in the mouth.'

Char-Griller 1224 Smokin Offset Smoker

Char-Griller E1224 Smokin Pro 830 Square Inch Charcoal Grill with Side...

CHARCOAL GRILL & OFFSET SMOKER - Charcoal Barbecue Grill & Smoker with Side Fire Box attachment perfect for high-heat grilling and low and slow Texas-style smoked barbecue
MULTIPLE COOKING AREAS - Smoke a brisket on the 580 square inch primary cooking area and grill burgers and hot dogs on the 250 square inch Side Fire Box cooking area (830 square inches total)
HEAVY-DUTY CONSTRUCTION - Made from heavy-gauge powder coated steel with a double bottom for increased durability, and nonstick cast-iron cooking grates for maximum heat retention

Last update on 2023-09-21 / Affiliate links / Images from Amazon Product Advertising API

Editor's Comments
You get the same offset design as the Dyna-Glo for classic Texas-style barbeques. One difference, whereas the Dyna-Glo Offset Smoker has a vertical orientation, this model has a horizontal orientation, a design that could be ideal for speedy smoking.
Smoke and heat flow with ease from the offset burning area to the smoking zone. The horizontal design seals it in, optimizing grilling performance and flavor.
Physics aside, the build and construction on this model support durability and even heating. The firebox is a powder-coated steel chamber. The grill barrel and cooking grates are made of cast iron, which is known for its non-stick properties plus its even heat distribution.
In addition to the offset design, the charcoal drawers are made for removability. That means that you can add charcoal and remove ash with ease for uninterrupted cooking.
Like the first entrant in the review, the Char-Griller 1224 Smokin Offset Smoker comes with a temperature gauge for precision in your grilling, smoking, and searing operations.
I also like that there is a portability aspect to it. There are two wheels included as part of the stand. This could be of significant help when the rains show up an announced, and you can't cook outside anymore.
Beware, though, that its horizontal design limits cooking space. The total cooking surface on this unit is 580 square inches, which is a fraction of the 1890 square inches you get with the Dyna-Glo Offset Smoker reviewed above.
Pros
The horizontal design is good for speedy smoking and storage
Wheels are included for portability
Charcoal and ash management made easier
Good temperature control
Cons
Horizontal orientation sacrifices cooking space
Cast iron cooking grates may be susceptible to rust

Royal Gourmet Grill with Offset Smoker

Sale

Royal Gourmet CC1830S 30" BBQ Charcoal Grill and Offset Smoker | 811...

811 Square Inches: Includes 443 sq. in. porcelain-enameled steel wire cooking grates, 184 sq. in. chrome-plated warming rack and 184 sq. in. offset smoker.
Tasty Smoke Flavors: The offset smoker is firmly attached to grill to ensure good circulation of heat and smoke. Easy to open side door to add charcoal and remove ashes; air vent stokes fire...
Adjustable Pan: 2-level height-adjustable charcoal pan creates better heat control and holds up to 4.4 lbs. of coal.

Last update on 2023-09-21 / Affiliate links / Images from Amazon Product Advertising API

Editor's Comments
The Royal Gourmet Grill with Offset Smoker has the storage-friendly orientation vis-à-vis the Char-Griller 1224 Smokin Offset Smoker. This design could be the right one for faster cooking, but beware that it eats into the cooking space.
The cooking area is 800 square inches, which falls short of what you get with the Dyna-Glo DGO1174BDC. But this should be an okay size if you only plan to cook for your family or a small group.
You will have the ability to control ash and speed up burning. There is an ash pan included for that—it makes it easier to tend the charcoal and dump ash for seamless combustion.
The Royal Gourmet Grill with Offset Smoker comes with a temperature gauge for precision in smoking and grilling. There is an air vent included on the side so your fire doesn't go off without you knowing.
Plus, the access door on the offset chamber is designed in a way that supports easier charcoal management.
This model, like the Char-Griller 1224 Smokin Offset Smoker seen earlier, features wheels for portability. If you're careful, you might even be able to wheel the unit around in the middle of your cooking operations.
Further, durability and reliable performance are guaranteed by the porcelain-enameled cooking grates. The finish makes these grates hard, scratch-resistant, and elegant for a long time.
Pros
Better charcoal and ash management
Horizontal orientation for easier storage
Considerably large cooking area
Cons
A cover is not included
The grill is too short, which can make cooking a backbreaking task

Char-Broil 12201570-A1 Offset Smoker

Last update on 2023-09-21 / Affiliate links / Images from Amazon Product Advertising API

Editor's Comments
The Char-Broil 12201570-A1 Offset Smoker is a compact unit with a horizontal orientation. You get a total of 430 square inches of cooking area in the main chamber and inside the firebox. This capacity may be more suitable for smaller families or when hosting smaller crowds.
The offset design promotes steady heat flow to the cooking area. The construction features heat dampers that could make a bit difference in your temperature control. You can open or close these, depending on how much heat you require in the cooking area.
The porcelain-enameled grates promote even heating and quicker cleaning. The product specs similarly boast of easier and seamless ash removal, but there is no mention of an ash pan.
You might also like the included wheels that make it possible to move the smoker even when it's lit. There are also cool-touch handles to help with this.
As always, you'll find a lid-mounted thermometer on the cooking chamber, which you can use to monitor the internal temperatures. You can use the readings for precise temperature regulation to achieve great tasting food.
You get extra space for your utensils and spices. This grill smoker is designed with a side shelf you can use for easier storage and accessibility of your accessories and condiments.
Pros
Dampers for reliable temperature management
Wheels for portability
Thermometer included
More space for accessories
Cons
Smaller cooking area
Instances of loose welds

Z GRILLS ZPG-450A 2020 Wood Pellet Grill & Smoker

Z GRILLS ZPG-450A 7 in 1 BBQ Auto Temperature Control Grill, 450 sq....

★ULTIMATE 6-IN-1-- Barbecue wood fire pellet grill: bbq✓bake✓roast✓braise✓smoke✓grill
★FAN-FORCED CONVECTION COOKING--eliminates the need for a rotisserie and creates a versatile environment for grilling, roasting, smoking, braising and baking.
★2019 UPGRADE--Temperature and Pellet Feed Control System. The new upgrade digital control board auto ignites the grill and allows you to set the cooking temperature from 180°f to 450°f.

Last update on 2023-09-21 / Affiliate links / Images from Amazon Product Advertising API

Editor's Comments
Unlike the other smokers in the review, the Z Grills ZPG-450A is a wood pellet smoker complete with tech control features. This might be the offset smoker of choice for grilling adventures on a city balcony.
For starters, it's a horizontally designed smoker so it could fit with ease in compact storage spaces. It's a small-sized smoker that could be ideal for bachelors, bachelorettes, and small families.
The smoker features advanced temperature controls. Like most cooking ranges, it packs the potential to supply 25000 BTUs of cooking power. The exclusive advantage here is speed. You may be able to do a bit of grilling and smoking every day because it takes just a few minutes.
The Z GRILLS ZPG-450A 2020 Wood Pellet Grill & Smoker cooks with electricity and utilizes wood pellets to add a smoky flavor to your foodstuffs. That makes it easier to use than charcoal and gas offset smokers.
The start and temperature control functions are all by the press of a button. You get a clear temperature display that lets you attune the heat for better flavor.
The other advantage here is versatility. This unit can grill, roast, braise, and smoke your favorite cuts, veggies, and fruits at the same time. Let's just say that it might give you the biggest bang for your time and money.
Pros
25000 BTUs for faster cooking
Automatic start and temperature control
Oil drain included for a tidier experience
Cons
It's difficult to assemble
Temperature does not stay steady

The Best Pick
The Z GRILLS ZPG-450A 2020 Wood Pellet Grill & Smoker stands out as the best offset smoker of the year. Unlike its peers, this is an electrical wood pellet smoker designed for speed, user-friendliness, and versatility.
It breaks down the complexities of charcoal and gas smokers with simple start buttons and temperature control features. You get 25000 BTU of cooking power to speed up the process as well.
The pellet smoker is designed for grilling, roasting, smoking, and searing. This means you get to play around with different recipes. It is made for easier cleaning, and an included oil drain sure helps with this aspect of your cooking task.
These features, plus compactness and portability, make the Z GRILLS ZPG-450A 2020 Wood Pellet Grill & Smoker the best offset smoker of the year.
Last Updated on September 23, 2020 by Judith Fertig