Big BBQ flavor, anytime, anywhere. The Traeger Tailgater allows you to take the Traeger wood-fired flavor you love on-the-go. Weighing only 62 pounds and featuring EZ-Fold legs, the Tailgater can go from backyard to trunk to parking lot, and you'll never break a sweat. Become a pregame hero with epic pulled pork and ribs that have the authentic smoked flavor true BBQ fans love. Bring the Tailgater to the cabin or camping for incredible slow-roasted wood fire meals that will make you the envy of the great outdoors. Wherever you to take the Tailgater, it brings along Traeger's ability to grill, smoke, bake, and roast at the push of a button.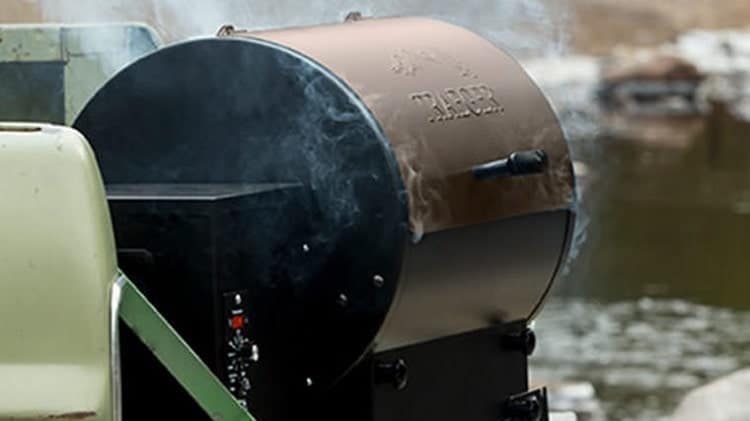 Powder-coated bronze lid.
300 square inches of total grilling area is perfect for small gatherings.
A digital controller with an LED display allows you to automatically maintain the cooking temperature.
2 wheels allow you to easily move the Tailgater around.
Plugs into a standard 110v outlet.
Don't forget to get pellets and a cover for your Traeger. BBQ Queens also carries a full line of Traeger accessories.
Specifications
Fuel Type: Pellets
Configuration: Freestanding
Primary Cooking Grid Width: 20 in.
Primary Cooking Grid Depth: 15 in.
Primary Cooking Grid Size: 300Sq. Inches
Overall Cooking Grid Size: 300 Sq. Inches
Number of Cooking Levels: 1
Cooking Grid Material: Porcelain Coated
Color: Bronze or Blue
Exterior Material: Powder Coated Steel
Features: Digital Control Board
Overall Height: 43 in.
Overall Width: 48 in.
Overall Depth: 31 in.
Ease of Use: 5
Traeger® Tailgater Expert Review
If there's one thing I value above all else, it's versatility. The Traeger Tailgater's ability to serve as a portable pellet grill that can be taken on the road and a small backyard smoker makes it a pellet grill worthy of consideration.
Reasons to Buy
Bigger isn't always better, and what excites me about the Tailgater is its modest size. Unlike the PTG+, which is strictly a portable grill, the Tailgater is a tweener. At just 36 inches tall and only 62 pounds, it's compact enough to take camping or tailgating. However, it also has enough room for 2 whole chickens, 3 full racks of ribs, or multiple pork butts. Big enough to use in the backyard full-time, I see the Tailgater as much more than just a part-time grill for road trips or pre-gaming, it's.
If its compact size makes the Tailgater portable, its fold-away legs make it easy to pack and load. Let's be honest, you can take the legs off any pellet grill with a little effort, but Traeger designed the Tailgater to breakdown and setup in minutes. I don't have to reach under or behind the grill to loosen nuts and screws. Nor do I need tools. The legs are secured by front-mounted screws with simple hand-twist knobs. Those convenient foldaway legs also decrease the Tailgater's packing size to about 20 inches tall.
Lastly, I love the Tailgater's price tag. It's not often that you find a quality pellet grill for under $500. With the Tailgater, you get Traeger quality at an affordable price, making it a great choice for someone who interested in a good pellet grill but not a big investment. As someone who already owns a gas grill, at that price I'd consider getting the tailgater as a dedicated smoker.
Reasons to Keep Shopping
The Tailgater's strength, it's size, is also its weakness. If you want to feed more than a few friends, I suggest moving up to slightly larger Traeger's like the Lil' Tex Elite or the Pro Series 22. And even though it's incredibly portable, the Tailgater may be too big for extensive traveling. If you're looking for a pellet grill that won't take up much trunk space, I suggest the Traeger PTG+. Finally, like all Traeger's, the digital controller is less precise than the PID controllers found on more advanced pellet grills. If you want an affordable pellet grill with PID control, I recommend the Louisiana grills LG 700 or the FireCraft Pellet-Q450.
Have a question? Ask us
Brian  – How do you light a pellet grill?
Hi Brian! It's extremely easy! Once the grill is plugged into an electrical outlet, is as simple as powering the on. Some pellet grills have digital control boards with a power button, and some (like the Traeger Tailgater) has a control knob that can be used to turn the grill on. Once the grill is on, a heating element – often called a hot rod – will ignite any pellets that drop into the firepot.
Lisa L – Is there a place that shows the temperature range of the pellet grill?
The controller (on the left hand side of the grill) will have a temperature readout telling you exactly what the temperature is inside the grill at that given time. While the temperature range for pellet grills change between each manufacturer and model this Traeger Tailgater unit has a range between 180-375 degrees. It also has a smoke setting which goes lower than 180 degrees and a high setting that is best suited for higher temp grilling (400+degrees) Please let us know if you have any other questions and thanks for visiting our site!
Last Updated on July 30, 2019 by Judith Fertig