For a memorable camping or backyard party, you need a tailgate grill. With the right model, you could serve your family the tastiest meats and finger-licking foods regardless of your skills in the kitchen.
You don't need cooking classes to grill a mean steak. Let's get you started with the five best tailgate grills of the year and buying guide.
Tailgate Grills Buying Guide
Of course, the primary feature for a tailgate grill would be its compactness and portability. Beware, though, that some brands take advantage of that to create flimsy and unbalanced tailgate grills.
I have encountered such, and they can be a nightmare, and even unsafe to work with. Here are a few considerations to help you get a reliable grill for tailgate parties.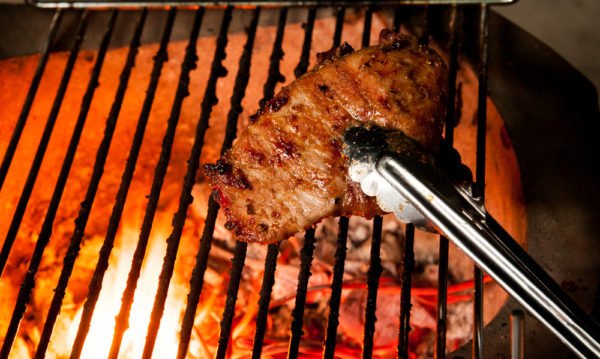 Choose your fuel wisely
Grills use electricity, charcoal, or liquid propane. For obvious reasons, a tailgate grill doesn't use power, so you have two options, charcoal or liquid propane.
I would recommend charcoal grills if you are after the real taste of barbecue—sweet, smoky flavors and a tender texture. But if you are looking for ease of use, go with the liquid propane models. You won't ever get blackened hands from handling charcoal.
You can light a gas grill in a fraction of a second, and after that, temperature control is by the turn of a button.
Your tailgate grill must be highly portable
Whether it's a gas or gas propane grill, portability is a must. That means the appliance should be lightweight; however, you'll want to ensure that it is made with durable materials such as stainless steel for balance and longevity.
The best models weigh less than 20 pounds. You can easily lift them to the back of your vehicle. If your tailgate grill weighs more than that, it should come with a foldable stand and wheels for portability. But realize that a bulkier contraption might not fit in the back of your car, so the smaller, the better.
The right grill should be stable as well. You want to be able to load it with fuel and food without it wobbling during cooking. A wobbly grill could send you to the emergency room with third-degree burns.
A larger cooking area will serve you right
Even though tailgate grills are naturally smaller, look for a model with a larger cooking area. The most modest cooking capacity on a tailgate grill can be less than 200 square inches, while the largest can be over 300 square inches.
With the latter, you can prepare more food at one go. You get to serve all people without cooking a second or third round.
Consider the ease of temperature control
Temperature control is smooth and easy on a propane gas grill. If you choose the charcoal option, look for features such as vents and dampers that help with temperature control.
The best charcoal grills are fitted with a thermometer for precise temperature monitoring and modulation.
Porcelain-enameled grates and cook box
Go for a tailgate grill made for durability so it will serve you well for many years. Porcelain-enameled steel, cast iron, or cast aluminum are some of the solid materials for your cookware.
This construction not only helps with rust and scratch-resistance but also accelerates cleaning. Porcelain-enameled surfaces are non-stick, making it easier to wash away grease.
The Best Tailgate Grills of the Year
Weber 51040001 Liquid Propane Grill
Weber Q1200 Liquid Propane Grill, Red
One Stainless Steel Burner Produces 8500 BTU-Per-Hour To Heat 189 Square-Inch Total Cooking Area
Porcelain-Enameled Cast-Iron Cooking Grates And Cast Aluminum Lid And Body
Built-in lid thermometer, folding side tables, glass-reinforced nylon frame and removable catch pan
Last update on 2023-09-21 / Affiliate links / Images from Amazon Product Advertising API
Editor's Comments
The Weber 51040001 Liquid Propane Grill is a compact and relatively lightweight tailgating grill coming in at 26 pounds. You might find it a little easier to move around compared to other models on the market.
You may also find the Weber grill to be highly energy efficient. It runs on small propane tanks of 14.1 and 16.4 inches. You should be able to get up to five hours of grilling per single container.
I like that they have included a thermometer on this model. It helps with precision in temperature control for the best barbeque results.
The package doesn't include a stand. Even then, the weber 51040001's design is compatible with major foldable table models and truck beds. If you have one of these already, you have all you need for successful cooking in the wilderness.
This grill may be the best choice if you are looking for something with a decent grease management system and easier cleaning. The porcelain-enameled cast-iron grates are non-stick and robust. The cast aluminum lid supports durability; it is resistant to both rust and scratching.
The grill uses stainless steel burners, each one producing 8500 BTU of heat per hour. This heating power may significantly speed up your food preparation in the outdoors.
Like many other tailgate grills, the cooking area here is small. One hundred eighty-nine square inches of cooking space is all you get as the design focuses primarily on mobility and portability.
Pros
Robust and durable construction
Effortless cleaning
Designed for maximum portability
Cons
Stand not included
Design fault with the regulator; not enough gas passes through

Cuisinart CCG190RB Portable Charcoal Grill, 14-Inch
Sale
Cuisinart CCG190RB Inch BBQ, 14" x 14" x 15", Portable Charcoal Grill,...
196-SQUARE-INCH CHROME PLATED GRATE: The 196-square-inch chrome plated cooking rack gives a spacious cooking surface is able accommodate lots of food at one time while still distributing heat evenly...
DUAL VENTING SYSTEM: Features a Dual venting system, giving you the ultimate charcoal management and temperature control.
THREE SECURE LID LOCKS: The grill features three secure lid locks for easy and safe transport.
Last update on 2023-09-21 / Affiliate links / Images from Amazon Product Advertising API
Editor's Comments
I must start with how this contraption is sleek and stylish with its red lid and chrome-plated grates. If you are looking for something to show off to friends and family, this could be it.
The Cuisinart CCG190RB grill is compact and portable. It weighs a mere two pounds.
This charcoal grill is more than ten times lighter than the Weber 51040001 Liquid Propane Grill. That means anyone could handle it, unassisted, single-handedly, and without breaking a sweat.
Beware, though, that this size probably makes it exclusive for individuals and single persons. If yours is a tailgate hosted for many people, get ready for many rounds of cooking because the cooking space here is only 150 square inches.
You might appreciate how its design makes things easier when it comes to storage or cooking on a city balcony. Its small and compact design could serve you right then.
There is ventilation in two strategic areas for maximum combustion. The charcoal management system should make it possible for you to prepare your food in a fraction of your expected time.
There is an ash pan included at the base to help with a neater cooking experience. The ash catcher is enamel-coated, as is the firebox—this is an assurance of durability, easy cleaning, and beauty.
Pros
Small enough to grill anywhere
Elegant and presentable
Duo vents and ash pans
Cons
The paint is not heat resistant
The legs feel wobbly

Raptor Grilling Charcoal Grill Smoker – Barbecue for Camping, Tailgating & Travel
Last update on 2023-09-21 / Affiliate links / Images from Amazon Product Advertising API
Editor's Comments
With its design like a briefcase, this grill offers portability and mobility.
We have to admit that the name is not among the most recognized models in the market, however, and that we are stepping into the unknown here. Even so, there are head-turning features on this unit, from an attractive design to lid and side handles for ease of use.
A proprietary charcoal saving technology on this model can reportedly help you save $112 every year if you grill once a week. The fuel-saving works via a high-temperature lid seal. The brand doesn't divulge any more details than that.
The product specs similarly boast of a sizeable chrome-plated steel grate that you may find more versatile than the grates on the Cuisinart CCG190RB. The cooking space is 230 square inches, almost double what you get with the little Cuisinart grilling stove.
Another thing worth reporting here is the rapid cool-down technology. The Raptor grill can allegedly cool down from the highest temperature to zero on less than an hour. In my opinion, that makes this grill a recommendable choice for RVers, van lifers, and tailgaters. After cooking, it doesn't take long before you can transport it back home or wherever you are heading next.
And if you like smoked ribs and hotdogs except for the part where you handle charcoal, you might be in luck. This Raptor grill comes with a clean hands configuration that can reportedly help you cook without ever touching charcoal. The system includes a charcoal transfer port, lid stand, grate handles, and fuel basket handles.
Pros
Large cooking area yet portable
Sleek and ergonomic with useful handles
High-temperature lid seal
Cons
Assembling not an easy task
The lid handles are made of plastic and may melt after prolonged use

Coleman RoadTrip 285
Sale
Last update on 2023-09-21 / Affiliate links / Images from Amazon Product Advertising API
Editor's Comments
None of the earlier reviewed items comes with a stand, but Coleman RoadTrip 285 changes the game. It has a stand configuration that entails two wheels and folding legs. If you are looking for stress-free tailgate grilling, this grill might be your best choice.
The stand means that you don't have to bring a table on tour. The wheels on the stand mean that you don't have to break your back lifting the grill; just wheel it around.
The grill has three adjustable burners that should give you the grilling versatility you seek in the outdoors. You can grill your meats on one side as you steam your veggies on the other burners.
The manufacturer promises precise temperature control with these burners. Three temperature adjusting zones promote the usability of this grilling appliance. In other words, if you are preparing a diverse range of foods with different cooking temperatures, you got it made.
The propane grill has an acceptably large cooking area for a portable piece. You get 285 square inches of cooking space, which is bigger than what other popular models offer.
An integrated thermometer allows for accurate temperature reading and regulations. It makes it possible to grill at the right temperature for tenderer, juicier, and tastier meats.
There is a push-button feature that guarantees faster and stress-free lighting. The grill uses one fuel tank of 16.4 oz. which you need to buy separately.
Pros
Stand included (with wheels for portability)
Larger cooking area
Precise temperature controls
Cons
It's a little heavier and messier than similar grills
The pull-out table uses flimsy handles

Blackstone Table Top Grill 22 inch
Last update on 2023-09-21 / Affiliate links / Images from Amazon Product Advertising API
Editor's Comments
What you have here is a grill that uses a griddle for the cooktop as opposed to grates. The advantage of such a design is its even heating and seamless heat transfer. A grill with a griddle could be what you need for fuel efficiency—griddling uses lower temperatures than grilling.
You might also find the Blackstone Table Top Grill 22 inch easier to clean because of the griddle design. Beware, though, that choosing such models may mean sacrificing on smoke and char-grill flavor.
The Blackstone grill has a cooking area of 330 square inches. This is the largest cooking capacity in the review and, coupled with the griddle design, means that you could prepare diverse foods from eggs to meats, veggies, and sandwiches at once.
Like the Coleman RoadTrip 285, this tailgate grill comes with dual burners. They are independently controlled so that you can cook at different temperatures on each of them. I believe this could help with speed and agility, whether at home or on the road.
One common issue with grills that use a griddle is grease control. I think it's a good thing that this model comes with a channel at the back that lets all that oil drain when cooking. It flows into a container that can be emptied after cooking.
The appliance weighs 32 pounds, which I can personally rate as portable. It also feels compact and sturdy. There are fewer parts to fiddle with, so I would recommend this for a beginner.



The Best Pick
The Coleman RoadTrip 285 stands out as the best tailgate grill of the year. It has plenty in common with the other sleek and portable models, including Weber, Cuisinart, and Raptor. But for extra functionality and better usability, it comes with a foldable stand on wheels.
You won't have to bring a table for your grilling space in the wild. And you won't have to worry about lifting the whole thing while transporting it; just wheel it around.
Another unique feature on this unit includes its independently adjustable burners that can help you cook everything at once and save time.
The total cooking area on this grill is 285 square inches. That may not be as big as the 330 square inches you get with the Blackstone Tabletop Grill, but at least you get authentic charcoal flavors and tenderer meats.
Last Updated on September 5, 2020 by Judith Fertig