What's standing in the way of your barbecue dreams? Is it a matter of not having enough time? Or maybe it's the fear that it takes experience and ability to fiddle around with grilling tools to cook up a great barbeque.
Here is some good news for you: gas grills (particularly propane grills) produce delicious grilled meats. The process can be quick and hassle-free. Read on as we explore the best propane grills of the year and how to get the best deal.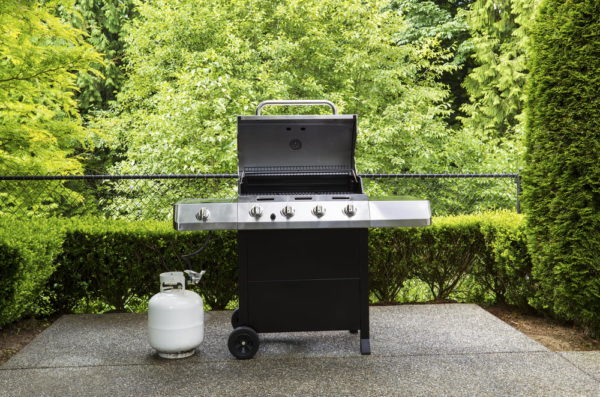 The Best Propane Grills of the Year Buying Guide
Cookouts have caught on. People are taking their grills out on decks and rooftops, and off to parks, making good of the available free time. If you are looking to host a memorable cookout, I have found that buying the best propane grill can greatly improve a barbecue experience.
When you know what features to look for, money should never be a problem. Here is what to consider when purchasing your best propane grill:
Temperature Control
The highest temperature, measured in British thermal unit (BTUs), should help you cook faster. Even so, slow cooking at low temperatures often results in great tasting barbecue. The best propane grill gives you an ability to control the temperature by working with versatile burners.
Portability and size
If you are looking for something to take with you as you are on the go, you'll want a small, lightweight, and easily portable propane grill. The best grills are designed to be carried like a suitcase and have a closing lid complete with a carry handle and foldable legs.
If you want something big, then it must come with a tripod stand and wheels. That way, you can transport your grilling from one place to another.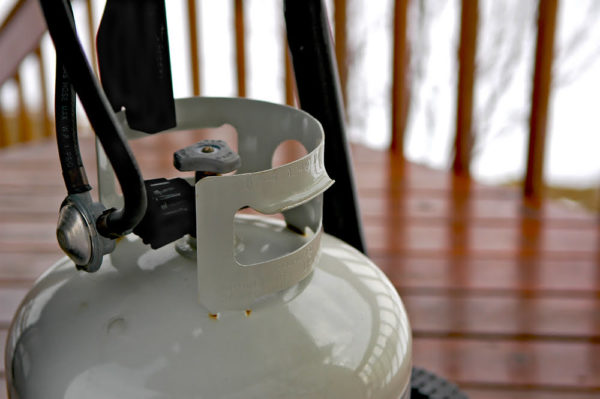 Construction
The most reliable propane grill construction is a stainless steel cook box and porcelain-enameled cast-iron grates. These metal parts help assist with durability and rust resistance. Additionally, the porcelain enamel helps with heat retention to improve fuel efficiency.
Size of cooking surface
Your choice here depends on your intended use. There are smaller propane grills with only hundreds of square inches of cooking area. They are ideal for small families.
On the other hand, there are bigger grills with thousands of square inches of cooking area, which work well when hosting a large crowd or in restaurants.
Ease of cleaning
Once you are finished with your finger-licking grilled dishes, the guests rarely participate in cleaning. The work falls squarely on your shoulders. We would advise then that you find a propane grill with removable components that are dishwasher safe. It will save you time and energy.
The Best Propane Grill of the Year Reviews
Sale

Last update on 2023-09-22 / Affiliate links / Images from Amazon Product Advertising API

Editor's Comments
The Cuisinart CGG-180T Propane Grill is small, which means that you should have little trouble packing and transporting it. Even so, its size might be a limitation when you are grilling for a large crowd or a big family get-together.
I like the way it's designed with foldable legs, though, and a lid-lock-plus-carry handle makes it feel a lot less bulky when you have it carry it around. You might also find that it is compact enough to fit on your deck, balcony, or whatever small space you plan to grill.
Despite its 145-square-inch grilling area, the manufacturers promise that you can cook ten chicken breasts on it at once. They say that space can accommodate up to four pounds of fish or eight burgers, which in my opinion should provide enough food for a large family.
This propane-fueled grill has a twist-start ignition, which enables you to start it with ease and save time. This model has been branded as a fuel-saving grill for the fact that it heats up quickly. The case is made of porcelain-enameled steel for durability and heat insulation. The insulation helps with heat retention for further energy efficiency.
The burner is made of stainless steel for durability. In contrast, the legs are made of aluminum and fitted with plastic caps to reduce the weight of the contraption while enhancing stability.
Perhaps the major downside to watch out for here is the low-temperature range. The Cuisinart CGG-180T Propane Grill only heats to 5,500 BTU with a limited ability to control the temperature. This can be limiting if you are looking to experiment with several grilled food menus.
Pros
Compact and highly portable
Sturdy metal construction
Comes with a drip tray to take care of spills
Cons
Hard to clean the grease box
Limited temperature control

Last update on 2023-09-22 / Affiliate links / Images from Amazon Product Advertising API

Editor's Comments
If you want more cooking space, then the Char-Broil Classic Two-Burner Propane Grill beats the Cuisinart CGG-180T Propane Grill. The Char-Broil propane grill features 280 square inches of cooking space, which means that you can host the in-laws without worrying about having to cook several rounds.
The other inspiring quality of this propane grill is that it comes with two burners, which means more flexibility for you in the cooking process. The grill can get to temperatures of more than 20,000 BTUs, which is an indication of faster heating and, by extension, a better cooking experience for you.
Like the propane grill reviewed earlier, this model features an equally sturdy construction. The case, firebox, grate, and lid are made of porcelain-coated steel. The two burners are made of stainless steel. This superior material design could help you get many years of use from the grill.
For ease of operation, the Char-Broil Classic Two-Burner Propane Grill stands on a tripod with wheels. These features make it a cinch to move the 43-pound grill to wherever the party is.
You might also appreciate that the porcelain-coated cooking surfaces are non-stick; it makes for stress-free cleaning. You can just wipe it with a wet piece of cloth and detergent and be done—no stains here.
Pros
It comes with an ignition system for easier starts
Comes with wheels and a tripod stand for portability and stability
Parts made of durable materials
The large cooking surface is easy to clean
Cons
Complicated assembly process
The igniter doesn't work well

Sale

Weber Spirit E330 Lp Black Grill

Equipped with upgraded features and the perfect size for hosting a BBQ or everyday family grilling
Sear station creates an intense heat zone to quickly add sear marks on meat; Built-in lid thermometer
Keep food warm or toast buns on the built-in warming rack and simmer BBQ sauce or sauté veggies on the side burner

Last update on 2023-09-22 / Affiliate links / Images from Amazon Product Advertising API

Editor's Comments
The Weber E330 grill has 424 square inches of cooking space along with 105 square inches of warming rack. That space should be sufficient when catering for your family or a sizeable number of guests.
The grill has a specially designed sear section that provides extra heat to leave the tell-tale brown ring that's a mark of excellence for barbeque aficionados. This section can reach temperatures of 7,500 BTU, according to the manufacturers.
Additionally, the grill has three main burners with 10,600 BTU each and a side burner that can crank up to 12,000 BTU. These extra burners may give you the versatility you need when prepping several food items at once. Their high-temperature outputs could mean that you get to finish cooking faster so you can have plenty of time catching up with friends.
Unlike the earlier reviewed grills in this post, the Weber Spirit E330 Lp Black Grill comes with a lid-installed thermometer. This should help you achieve the best results by accurately measuring and adjusting cooking temperatures.
The cast-iron grates in this device may be your best bet for faster cooking and ease of cleaning. Cast iron retains heat and lasts longer. The included porcelain coating makes it easier to clean. The lid and cook box are steel-made and porcelain-enameled for robustness through the years.
You can also expect ease of use, owing to the removable grease tray. In other words, it should make your cleaning jobs a walk in the park.
Pros
Features a searing and warming rack for increased flexibility
Retains heat for faster cooking
Made of hardy metal types
Cons
Set-up takes a long time
Expensive, but worth the price

Last update on 2023-09-22 / Affiliate links / Images from Amazon Product Advertising API

Editor's Comments
If you still need smoky flavors from a microwave-fast type of grilling gear, try the Oklahoma Joe's Longhorn Combo Smoker & Grill. This dual-fuel grill uses both propane and charcoal, allowing you to get an authentically flavorful cuisine.
As you would expect, this grill comes with two chambers, one for grilling with charcoal and the other one for propane. For charcoal smoking operations, you might appreciate that the appliance comes with an offset chamber –a separate compartment for burning charcoal. The design helps to improve speed and cooking efficiency.
For chefs that need unlimited cooking space, the Oklahoma Joe's Longhorn Combo Smoker & Grill has a 1,060-square-inch cooking surface, making it the biggest model in the review. You should be able to prepare enough food for a dozen guests and then some.
This gas grill features painted heavy-gauge steel construction, which could be an assurance for durability. The burner part is stainless steel, which generally puts up well under fire while the grates are made of cast-iron to heat up quickly while remaining resistant to warping.
The Oklahoma Joe's Longhorn Combo Smoker & Grill comes with three burners, each of which can give out 12,000 BTUs. You can expect, therefore, to have some sense of flexibility when preparing different meal items on this grill.
You will have the ability to vary temperature using one, two, or all three burners or by playing around with the multiple dampers in the smoking chamber.
Pros
It stands on a tripod with wheels for ease of portability
The lids are insulated for user safety
The lid-mounted thermometers help to establish and track accurate cooking temperatures
You can use charcoal or gas
Cons
Components are susceptible to rust
The wheels feel wobbly

Coleman NXT 50 Propane Grill Tabletop

Portable propane grill ideal for tailgating, picnicking, and camping
Delivers 8,500 BTUs of heat across 168 sq. in. of grilling surface
Even-Temp burners radiate heat evenly across the grill for consistent performance

Last update on 2023-09-22 / Affiliate links / Images from Amazon Product Advertising API

Editor's Comments
The Coleman NXT Lite is a portable propane grill featuring the same sleek and compact design as the Cuisinart CGG-180T Propane Grill. The small design (weight is no more than 20 pounds) means that you will have a highly portable grill.
The design includes foldable legs so that you can set up the grill on all kinds of surfaces, whether at home or on the road. The lid closes, and there is a carry handle, all of which make it possible to carry this grill like a suitcase. The Cuisinart CGG-180T Propane Grill would be perfect for tailgating or camping parties.
The cooking surface is 168 square inches. That may sound disappointing for buyers looking for bigger grills, but sometimes space is a sacrifice worth making for conveniences such as portability.
The heating temperature gets to 8,500 BTUs, which should serve you fine in your outdoor cooking endeavors. If you consult experts, they will tell you that slow-cooked barbeque tastes better, and sometimes slow heat is what you need for a great experience.
One other likable quality on this model is the InstaStart button that makes it easy to light the grill. Even for beginners, handling this grill should be a relatively hassle-free experience. The grates are also designed for even heat distribution, featuring a cast iron construction with porcelain enamel.
Pros
Small and lightweight design; ideal for travelers and campers
Features sturdily built grates
Ideal for slow-cooked and excellent tasting barbeque
Cons
The cooking space is fairly small
You will have to find your thermometer

The Best Pick
The Oklahoma Joe's Longhorn Combo Smoker & Grill stands out as the best propane grill of the year. Unlike the Cuisinart, Charbroil, Coleman, and other propane grill models in this review, this product can work with both charcoal and propane at the same time.
That means more versatility for you and a chance to up your barbeque game for an unforgettable summer.
The offset design of this grill makes for efficient smoking and reduces fuel wastage. It's also a good thing that they have separated the charcoal and the propane grilling chambers. That makes it easier to work with both fuel sources.
The cooking area of this grill is the largest in the review. You get a total cooking space of 1,060 square inches, which could be exceedingly helpful for professional chefs. Other qualities include a heavy gauge steel construction for the cook box and cast iron metal for the grates.
The Oklahoma Joe's Longhorn Combo Smoker & Grill has a total heating potential of 36,000 BTUs from three burners. These features and more set it apart from all other propane grills on the market.
Last Updated on August 6, 2020 by Judith Fertig