Do you always have to dash back into the house for drinks in the middle of a party? A patio cooler remedies this issue so you can relax and have fun outdoors with everything you need right there with you, chilled and fresh.
With these coolers, you can host your cookout or party with peace of mind. Let's discover the best patio coolers of 2020 and how to find the best buy.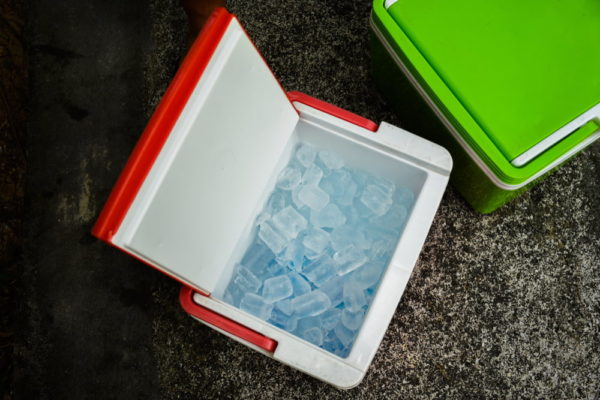 Patio Cooler Buying Guide
I love to entertain regularly. My parties usually take place outdoors with beer, barbecue, and noisy guests on the weekends. A while back, when I found myself in need of a patio cooler, I set out to build my own. It turned out to be a strenuous task, and the result was nothing more than an eyesore on my deck. I had to call in a professional to give it a clean finish.
After spending so much time and money on it, I found out that it wasn't that useful. My guests needed something portable for easier access to their drinks. I did a quick survey of the market and realized just how convenient and budget-friendly portable patio coolers can be.
I bought two patio coolers at a fraction of the budget I used for the DIY built-in cooler. They have served me reliably for many years, and they are always a central point of attraction for guests that show up to my place. Here are some of the considerations I believe every buyer ought to consider in a patio cooler.
Weight and size
The best patio cooler should be easy to carry or wheel around. Additionally, even though these coolers are designed for compactness, the best product should have sufficient storage capacity so you can comfortably manage the needs of your many guests.
When looking at sizes, consider the space on your patio and whether it will allow for easy storage of the product you have in mind.
Ice retention
Some patio coolers are designed for long ice retention; with others, the ice will turn to water in just a few hours. Find a product that can keep your drinks chilled for a good, long period of time.
The best designs feature double insulated walls and lids that slow down the circulation of air. Most of these products will have their ice retention time mentioned somewhere on the description list.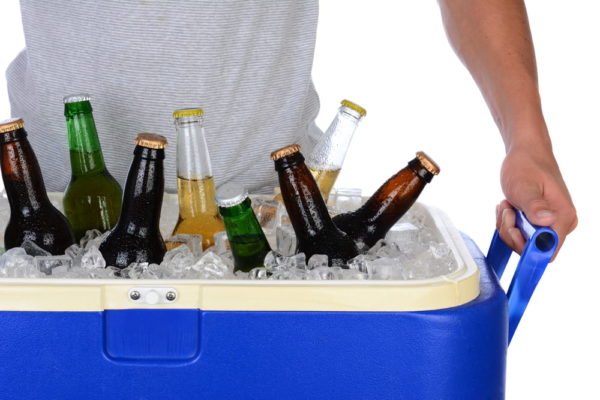 Durability
There are plastic patio coolers that work just fine. On the other hand, there are stainless steel and wooden coolers that not only cool your drinks but also greatly enhance the appearance of your outdoor space.
You'll want to find a patio cooler that can serve you for many years while fitting in well with your existing decor.
Stand and wheels
Nearly all patio coolers come with some form of off-ground support. Beware, though, that some models sit so low on the ground that they can cause back problems for whoever has to serve guests. I recommend choosing products that come with elevated stands and wheels for ease of use and portability.
The Best Patio Coolers of the Year
Igloo® 49271 Party Bar™ Cooler – Powered by LiddUp®

Fully insulated body for long-lasting ice retention
16 water-resistant, heat-free LED lights provide 360-degree interior lighting allows the party to continue when the sun goes down.
Heavy duty locking casters on a removable base makes it easy to move when full.

Last update on 2023-09-21 / Affiliate links / Images from Amazon Product Advertising API

Editor's Comments
The Igloo 49271 Party Bar is a small-sized patio cooler that may be more fitting for those seeking portability. Although the small storage space might be a limitation when serving many guests, its compact design allows for easier storage in small patios. The cooler has dimensions of 39.13 x 26.77 x 21.50 inches with a 30-gallon capacity.
The construction features an insulated body designed to achieve the longest-lasting ice retention. You should, therefore, get reliable chilling with this cooler even in the heat of the summer.
The other notable feature here is the LED lights. There are 16 of them and they are said to be water-resistant. When the lights are low and your outdoor party is at its peak, everyone will know where to find their drinks.
The Igloo 49271 Party Bar patio cooler is designed with robust caster wheels at the base. This removable base construction makes for easy mobility when the cooler is full and weighty with drinks. You can just roll your drinks to where they are needed. If it's a crowded party, you can detach the base and use the cooler as an ice chest.
Other notable features include dividers that you can use for storing wines, beers, and spirits. The cooler has a detachable lid that you can leave on when the sun is high and hot for improved cooling. You may take it off in the evening for an open bar experience.
Pros
LED lights to improve visibility and mood
Caster wheels that enhance portability when the cooler is full
Includes a complimentary bottle opener
Cons
May arrive with issues such as broken or missing parts
A bit higher on the price spectrum
Cons

Last update on 2023-09-21 / Affiliate links / Images from Amazon Product Advertising API

Editor's Comments
The first thing that stands out on this cooler is the sleek and glam design. With this patio cooler, you may be tempted to have parties every week just so you can show it off. You may find that its stylishness not only blends well with but also majorly enhances your patio décor.
The Belleze 80-Quart Portable Rolling Chest Patio Cooler features stainless steel construction. The exterior is shiny with compact dimensions of 36-1/4″ x 20″ x 34-1/2″. Unlike the Igloo 49271 Party Bar, this patio cooler stands on an elevated stand with wheels. This possibly means, therefore, that serving your guests will be less of a back-breaking task as you won't have to bend over repeatedly in the process.
Beware, though, that this is a slightly smaller model compared to the Igloo cooler earlier reviewed. Its capacity is 20 gallons, which means that you may need a complimentary cooling strategy if you have many guests.
Before you start fretting, realize that the design of the Belleze 80-Quart Portable Rolling Chest Patio Cooler includes a bottom shelf near the wheels. You can use that for extra storage, especially for empty bottles and beer cans.
Other features that you might find impressive here include the attached bottle opener, a drainage plug, and a cap catcher. These are all convenient features, I believe, for hassle-free parties and easier cleaning and maintenance.
Pros
Sturdy and stylish construction
Drainage plug included for effortless cleaning
Big wheels for better portability
Greater height design for effortless serving
Cons
The bottom tray is fussy to install
Quality control issues including possible dents on the exterior

Last update on 2023-09-21 / Affiliate links / Images from Amazon Product Advertising API

Editor's Comments
The Belleze 80-Quart Portable Rolling Chest Patio Cooler, seen a short while ago, could be suitable for a modern patio design. For those looking for uniformity in their vintage patios, the Merry Garden Cooler is a worthwhile consideration.
It has a stylish wooden exterior that could sync seamlessly with your deck and furniture. Its retro vintage feel would impress any artistic person.
The Merry Garden Cooler is smaller than all the other reviewed items; it has handles on the sides for trouble-free portability. The exterior dimensions on this product are 16.93″ x 22.64″ x 19.69″ while the internal cooler dimensions are 10.83″ x 16.39″ x 11.46″.
Even though wood and stainless steel are apples and oranges, you might expect the same durability here vis-à-vis the Belleze 80-Quart Portable Rolling Chest Patio Cooler. The reason for that is the hardwood eucalyptus used for the exterior. Experts believe that this hardwood type is resilient and resistant to rot and decay.
The cooler's design makes use of a double plastic wall for the interior, which assists in temperature regulation. Given the poor conductivity of the exterior surface, your drinks should remain fresher for longer. I also like that the product comes fully assembled. It saves time and effort, especially for newbies.
I, however, do not like the fact that there are no wheels included on this cooler. You must ready your arm for heavy lifting, which can be a major risk for accidents. Also, unlike the other coolers reviewed earlier, there is no complimentary bottle opener on this model.
Pros
Sleek and robust hardwood construction
Compact and highly portable
Reliable cooler design
Cons
Small capacity (10 gallons)
No wheels; poor portability

Last update on 2023-09-21 / Affiliate links / Images from Amazon Product Advertising API

Editor's Comments
If you like the stylish design of the Belleze 80-Quart Portable Rolling Chest Patio Cooler, the Outsunny could be another worthwhile consideration. It features an elegant construction that may significantly boost the appearance of your patio.
It is shiny black and stands high on elevated wheels with a secondary shelf at the bottom, much like the Belleze model mentioned. These large wheels will likely play a crucial role in portability when the cooler is stacked full of drinks.
The bottom shelf provides additional storage space if you plan to serve many guests. This product has a 20-gallon storage capacity that could prove useful when catering to a medium-sized crowd.
I like the elevated height design, which makes it easy to serve without bending. There is also an included bottle opener and cap catcher to enhance your experience.
On the other hand, the two-sided design of the cooler means that you can access the drinks from both the front and the back. This would be ideal for speedy self-service for your guests.
Additionally, there is an included drain plug that should make cleaning the cooler an effortless task. You can use this feature to remove water from the cooler with ease.
Pros
Durable and stylish steel construction
Comes with extra features such as bottle opener and cap catcher
You can access drinks from both sides
Wheels included for portability
Cons
Might rust upon exposure to moisture
May arrive with damaged parts

Sale

Last update on 2023-09-21 / Affiliate links / Images from Amazon Product Advertising API

Editor's Comments
This cooler chest follows in the footsteps of the Outsunny 80 QT Rolling Cooler in terms of design and aesthetics. The exterior features a rustic wooden design with an alluring wood-burning type of artistry. It just may feature in many of your friends' Instagram photos when you invite them over for a patio party.
The Backyard Expressions 905469 Outdoor Beverage Cooler is a midsized cooler of a 45-quart capacity. That's about 11 gallons, which is just about the same capacity as the Outsunny model reviewed earlier. Watch out, though, because you may need to have several of these coolers if you are hosting many guests.
Unlike the Outsunny patio cooler, this one comes with a bottle opener that should help you to achieve an enjoyable and seamless guest experience.
I love that they have also included side handles for ease of portability. These cast iron handles will most likely remain sturdy and reliable, no matter how heavily loaded your cooler is. What I don't like is the fact there are no wheels on this cooler. I have found that's always a major drag when guests have to line up for drinks at a stationary place.
Nonetheless, you might appreciate that the lid stays open with a lid support. There is also a drainage spout that speeds up your cleaning tasks.
Pros
Rustic and elegant design
Comes ready assembled
Has a cap catcher and bottle opener
Cons
Its capacity is somewhat smaller than other items
Not as sturdy as other patio coolers

The Best Pick
The Belleze 80-Quart Portable Rolling Chest Patio Cooler is our favorite option. Its sleek stainless steel design could be an exquisite addition to your exterior décor. The stainless steel construction also means longer durability, which can hardly be said for many of its contenders.
Unlike other patio coolers that sit low on the ground, the Belleze 80-Quart Portable Rolling Chest Patio Cooler sits atop a high stand complete with an under-shelf. The elevated height design helps to reduce back strain when serving guests.
The bottom shelf provides extra storage space that complements the 20-gallon capacity of the patio cooler.
Other features that set this patio cooler apart from the others in the review include an attached bottle opener, drainage plug, and cap catcher. These features help with convenience and ease of use. That's why we have settled on the Belleze 80-Quart Portable Rolling Chest as the best patio cooler of the year.