Chances are you've heard about the Big Green Egg. But unless you're a serious griller, you may not know Primo Ceramic Grills. As the most popular kamado grill on the market, the Big Green Egg name has become a stand-in for all kamado grills. In fact, if you ask the average American about kamado grills, you'll probably get plenty of blank stares. Inquire about the Big Green Egg and you'll be treated to scores of anecdotes about obsessed coworkers and Egghead friends.
Just because Big Green Egg is the best known kamado brand doesn't mean it's the only one or the best. There are a number of kamado grills and many are every bit as good, if not better, than the Big Green Egg. Primo is one such brand. Like Big Green Egg, Primo Grills are high-quality ceramic kamado grills that excel at high-heat grilling, low-and-slow smoking, and every type of cooking in between. Yet they're far from a copycat. Primo Grills have their own unique features and benefits that make them a worthy alternative to the Big Green Egg.
Primo's Oval Design Offers Versatility
One look at a Primo and you can see it's different. Unlike every other kamado grill, including the Big Green Egg, Primo Grills aren't round, they're oval. The patented design isn't a novelty, it actually offers more cooking versatility. Because it's round, the Big Green Egg doesn't allow you to effectively set up two-zone cooking—there's simply not enough space to establish direct and indirect cooking zones that have significantly different temperatures. Since Primo Grills are longer than they are wide, two-zone cooking is as simple as putting the coals to one side. Even on the smallest Primo, there's still plenty of room on the opposite side for indirect cooking, so you can easily grill steaks over the hot coals while roasting vegetables with convection heat. The Primo's charcoal grate also comes ready-to-use with an optional Firebox Divider to make it even easier to establish cooking zones.
The Big Green Egg is a quality kamado grill, but that's pretty much all you get with your purchase. In order to take advantage of that legendary kamado cooking versatility, you have to buy extra accessories. For instance, If you want to do multi-level cooking, you'll need to buy extra racks. Primo comes with a reversible split cooking rack that allows you to quickly and easily do multi-level cooking. By flipping one or both of the grates, you can move food 2 inches closer to or further from the heat. Primo also offers their All In One series, which packages the grill with a cart, 2 side shelves, grate gripper, and ash tool for one nice price. Big Green Egg doesn't do all-inclusive packages; everything must be bought a la carte.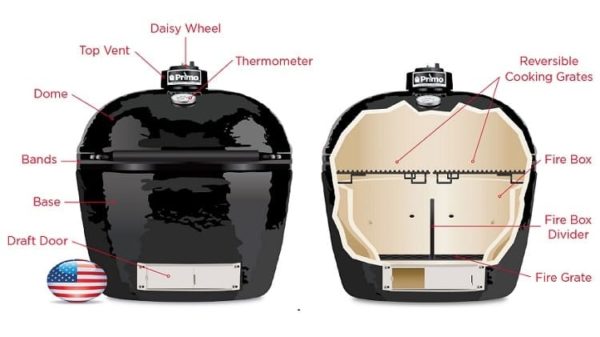 Primo Grills are Made In America
Where a grill is made doesn't necessarily reflect its quality. However, many people prefer to buy American and support U.S. jobs and industry. Proudly based in Tucker, Georgia, Primo Grills are the only kamado grills Made in USA. The Big Green Egg is made in Mexico.
Last Updated on May 14, 2019 by Judith Fertig